"Less stress, more joy" – this is the balance that Kimmy Fasani works to maintain. To hear her explain how she puts this principle into play in her every day life would inspire just about anyone with the confidence that they, too, could achieve this balance.
Fasani, who is embarking on the journey of becoming a mom, exudes a warm, relaxed energy, one that puts you at ease the moment you begin talking with her. While she's driven in her career goals, rising to the occasion to film some truly astounding backcountry parts alongside the best snowboarders in the world, her laid-back, thoughtful demeanor is the perfect juxtaposition to that, and is evidence that the words "mindful" and "athlete" can go hand-in-hand.
The evolution of her career as a pro snowboarder – which she recently declared doesn't have to end just because she is starting a family– is just par for the course as she enters this new chapter.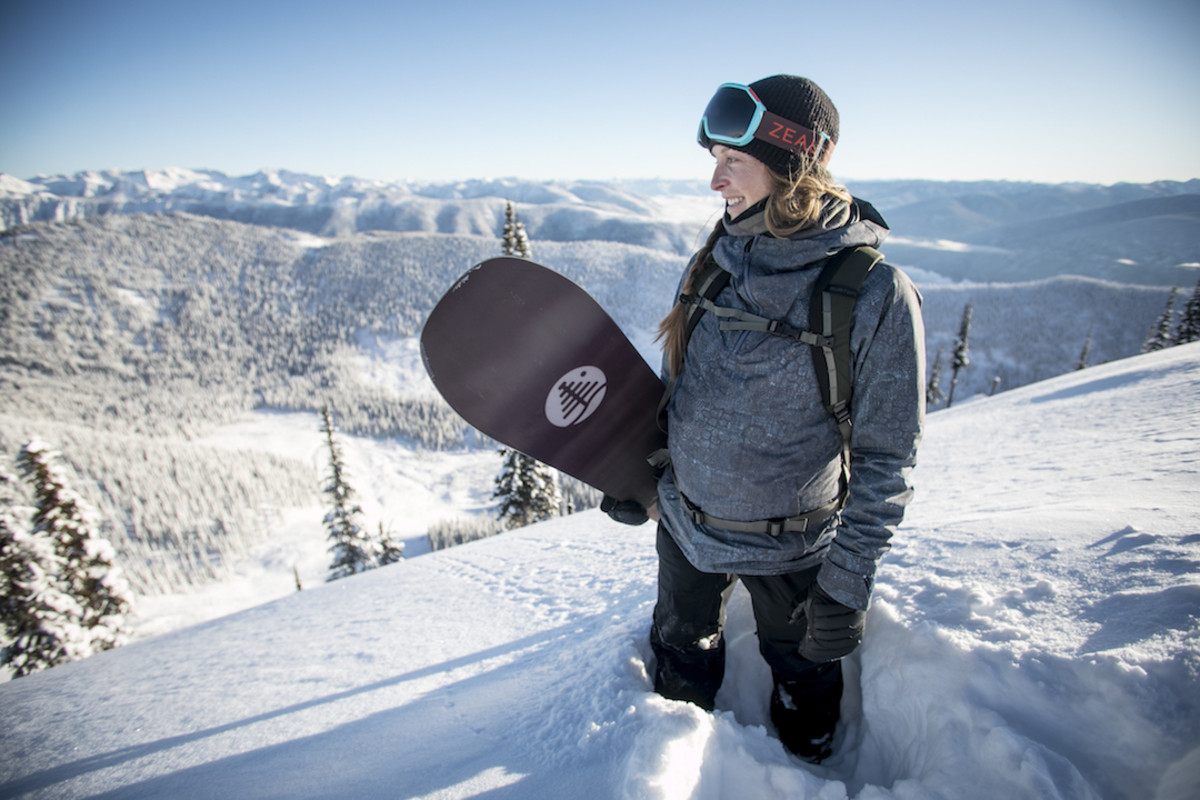 At the core of her beliefs about healthy living is the connection between mind and body. It's crucial to Fasani to stay active, eat good food and incorporate positive influences into her life – the most important being surrounding herself with nature and good friends. Sounds like the perfect definition of overall wellness, if you ask us.
ASN recently had the chance to catch up with Kimmy at her home in Mammoth, California. During a down moment between trail hikes and whipping up a new creation in the kitchen, Kimmy shared her philosophies about fitness, food and putting that "less stress, more joy" principle to work. Plus, an energizing recipe that also doubles as a way to use your leftover coffee or espresso grounds.
Talk about your connection with the mountains/outdoors and how growing up where you did has inspired you and shaped who you are.
I grew up in the mountains, first in Truckee/Tahoe and then in Mammoth. And grounding myself through nature my whole life has really impacted how I feel in life. There's a lot more space when you are always surrounded by nature. It gives you space in your mind, peace in your body and it elevates you to a different level. If you get really stressed, you have a place to go to release it.
For me, if I'm in a city or heavily populated area, I feel really claustrophobic. Part of that is because growing up in the mountains has given me a totally different outlook. Seeing the mountains all around me has really shaped who I am, because I saw that they are endless.
There's always another adventure to be had, or another trail to go on, or a new mountain to climb. Growing up in the mountains has definitely become part of my identity, as well as my lifestyle.
I find if you go away from it and then get back to nature, you find that release again, and you don't even notice it until you get back into that outdoor space or that small little community.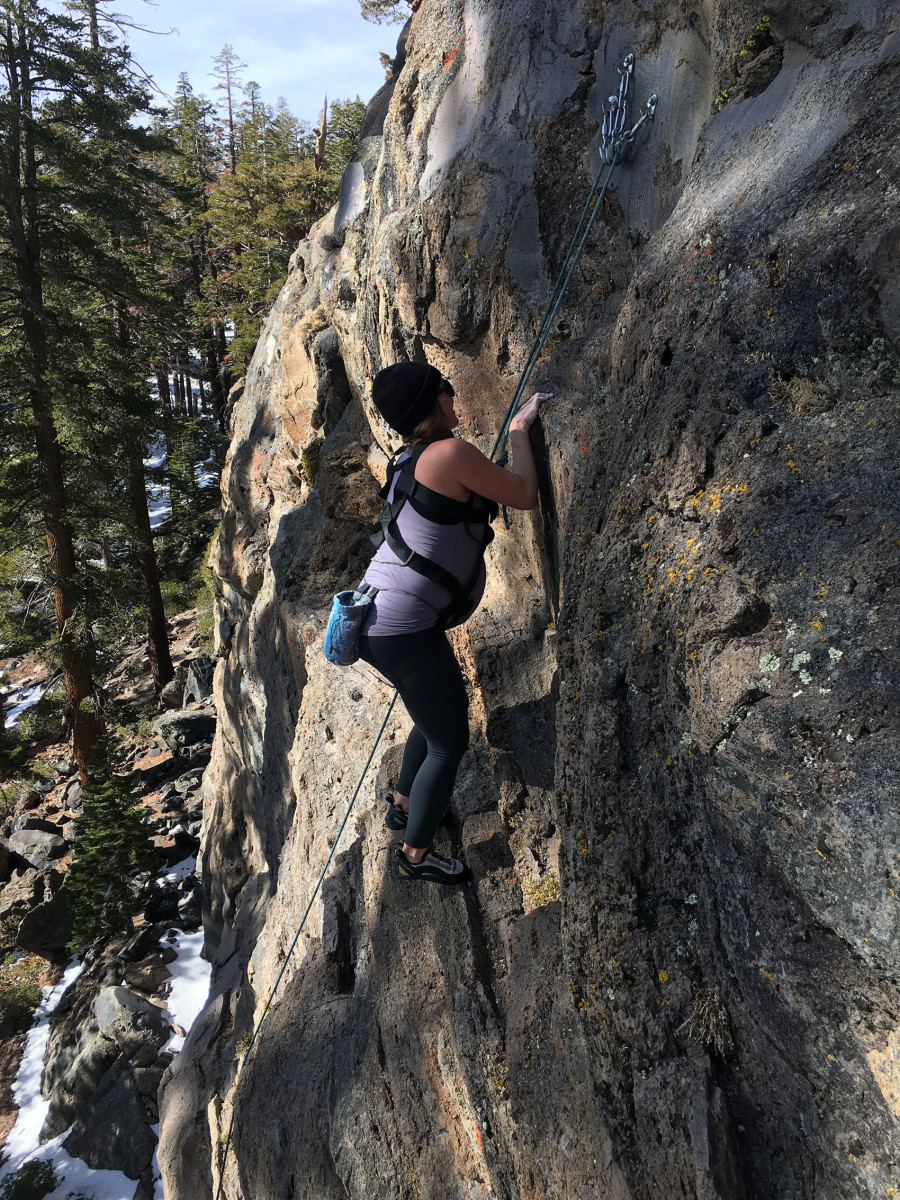 What do the words "health and wellness" mean to you and what are some of the ways you incorporate that into your every day life?
Health and wellness to me is your connection to mind and body. For me being healthy means I have peace of mind. I'm moving my body and breathing. And wellness is that I am taking care of all those aspects as well.
The best way to stay healthy and well for me is staying active, eating good food, and incorporating positive influences into my life. Being in nature, surrounding myself with good friends and keeping a really good balance of less stress and more joy.
When do you feel like you have that good balance? Have you found there are any tips and tricks that you do to keep that balance?
Totally. We are all so connected these days; it's part of our workload to be connected. I try to step away from my phone and my computer and go on a hike, a walk, go snowboarding, split boarding – whatever it is you can do to take time away and be in your own mind and body, and step away from distractions. That time you are able to spend meditating on movement helps you clear your mind and feel better – at least for me.
What is your fitness routine like and how have you seen that adjust/evolve over the years – not just recently with your journey of becoming a mom, but also in general as you've gone through the different phases of your life and career?
I've always recognized the importance of staying strong and active. But when I first started snowboarding, I would work out in the gym not really knowing what I was doing. I would work on legs and arms, just whatever felt good to strengthen my body.
I have a really hard time going to the gym and it's because I love too many activities outside. I go rock climbing or trail running, I go hiking, I like swimming … So, when I'm in Mammoth and separated from a trainer, I'm always moving my body but I'm not necessarily loading it with weights.
When I go down and see my trainer Brad at B Project, he gets me on a program where I do all-alignment non-compensation weight lifting, and that balance for me has been so positive because I've seen my body blossom and become so much stronger.
The combination of lengthening muscles and loading them with weights have made me the strongest I've ever felt in the past five years. In addition to working with Brad, I've also done all my other sports and also included triathlons. I just try to keep it really spontaneous, but keep the foundation with my training.
What is all-alignment non-compensation?
As an athlete going through a lot of injuries, there's ways that your body will adjust because of weaknesses caused by that injury. So let's say I hurt my left knee, my right leg might compensate for that left leg's injury and so therefore I have alignment problems with how I'm training. One leg might be weaker than another.
Brad focuses on making sure your body is 100 percent aligned on each side – that every muscle is working the same and is as strong as the other. Having that kind of a foundation really keeps your body in tune and makes it so when you need to perform at your highest, that nothing is inhibited. Your body is working together.
As I have gone through pregnancy, it's been a really interesting process because your body changes so much. Even though I've stayed really active, I've just learned how to taper my activity level.
I still try to keep my body moving, even if I only go one mile instead of five miles, it's still keeping the body lubricated, if you will, so I can bounce back after I have my child a little easier. Rather than just giving in to the "I'm just going to let my body rest," for the time period of being pregnant.
Have you had to work to mentally adjust your approach, or has the adjustment just happened naturally for you?
Definitely in the beginning I had to adjust my mindset when I found out I was pregnant. I had to adjust my activity level. You are carrying a life, so you need to be mindful that you aren't damaging your body, but I also think it comes really naturally because of the way your body changes. You just start listening to your body, and certain things don't feel good anymore.
A month ago I could walk two miles and be really comfortable. But now I feel really comfortable walking about a mile. It's kind of a universal acceptance, where I don't feel like I'm not getting enough exercise, I feel very satisfied. My body feels like it got a workout, because I'm carrying more weight.
In the beginning, before I was showing, my mindset had to change, and now it's that natural progression of using my body until I know it's tired.
Do you have a particular mantra or practice that you've stuck with that has always produced the best results for you? What is it, and why do you feel like it's worked so well?
That's a great question. There are a few. Let's say I'm out in the mountains, I'm always focusing on breathing and staying present. The breath connects the mind and body to what you are doing, and staying present allows you to let go of fear and anticipation.
If I find myself getting anxious I just try to bring myself back to what's happening right now. With health and wellness, so much is controlled by our minds. So if we let our minds constantly race and worry, we are not creating a healthy environment for our bodies.
Being an athlete and someone who loves to utilize my body to its fullest, and someone who doesn't like feeling lethargic and tired, I feel like really staying present and focusing on what I can do this very moment to make my body feel good has really kept me the happiest.
Are there any tricks to doing this that you've learned along the way?
Meditating. If I can't get a worry out of my head and can't fall asleep, I say the word 'sleep' over and over in my head. Even if thoughts are racing in the back of your mind, if you can put that word 'sleep' in the front of your mind it helps to dissolve all the other thoughts and worries, and allows you to decompress and hopefully your body will allow you to fall asleep.
The same thing applies if I'm standing at the top of a line in Alaska and I'm getting ready to drop in, but I'm a little worried or a little insecure. I try to go back to just using a few words or a mantra. I would just be like 'you can do this, you can do this.' Reassuring yourself with positive affirmations can really distract you from anxiety.
It's human nature to have emotions and anxiety, but it's finding little, quick fixes that with practice can really take you out of that mindset and help you let go of it. And before you know it, you are back to working without that anxiety.
If I'm on a trail run, or if I'm walking and I'm stressed about something, I'll try to count my steps instead of thinking about my worries. Within a few moments, you've forgotten what you are worried about because that counting is bringing you into the present moment.
Any time you get stressed and are just sitting at your desk, maybe instead of going out to lunch with your friends you go on a ten minute walk, go on a run, do something where you can move your body and really give your mind some peace and an escape.
Those endorphins you are producing are going to help you come back to your natural self. That clarity is no joke – as soon as you start doing something, no matter how tired I've been since being pregnant, if I went outside and went on a thirty minute walk, I've felt so much more energized.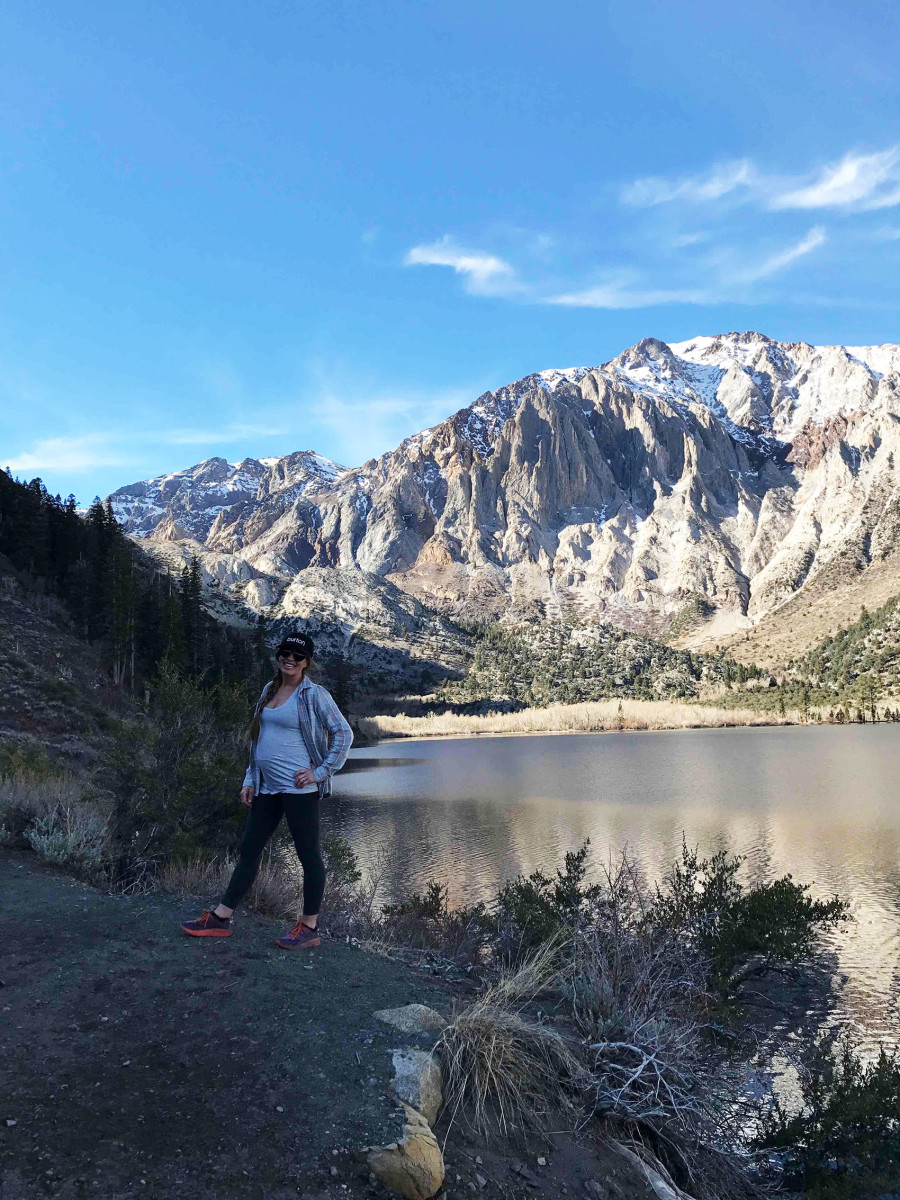 What is your mindset on healthy eating, and the type of fuel you are putting into your body?
I love cooking, so food has become something that is a passion and hobby for me. I feel the best when I am putting organic whole foods into my body. Don't get me wrong, I love a bag of Have'a Chips, but I really try to keep my diet clean.
I love salads, protein, veggies. When I'm really active I have my balance of carbs in there with brown rice. I think everything in moderation is good for you, if that's what your body wants. Remembering that just because your friend is a vegan doesn't mean you have to be. I think really believing in how your body feels when you digest food is important to understand.
For me, wheat and dairy never really sat well in my body. While I've been pregnant all I've wanted has been bread, cheese and avocado, and my body loves it. Because I'm developing this new life, my body needs carbs and fat. It's been a beautiful process for me, and it's been fun to learn the fermentation process and how breadmaking works. I have so much appreciation for that now – if you make it well, with organic ingredients it hasn't affected my body as much.
I think cooking has really shown me where food comes from, and it makes me appreciate the process of food even more. You see how much love and energy goes into food, so you are more mindful. You want to eat at a good restaurant that is putting good energy and love into the food because you know that's going to make your body feel better instead of going to grab something super fast that hasn't had too much thought put into it.
That has become my mindset over the years. Food is a lot more than just something we have to put into our bodies. It takes a lot of energy to prepare and if we do it right it can make us feel really good.
Is there anything in particular that that you feel helps fuel you and gives you the most energy when you are training?
For me, high protein is so essential. Really keeping that balance and not being afraid to have healthy fats, like coconut oil, that makes it so I have longer lasting energy. I'd rather invest in whole foods like avocados and healthy oils to give my body the energy that can fuel me all day.
I pride myself in aligning with brands that help me live this lifestyle, like Liv Bike, Clif Bar, lululemon. I can always have something in my bag with whatever adventure I am going into – it's something that sustains me and not a quick sugar rush.
I love that our society is accepting that trend in food and appreciating it for what it is, rather than trying to be low-calorie, low-fat – use what that product is made for and then make your body work it off so you are really utilizing the food in the way it's supposed to be.
Any last words about food?
Obviously, I do have a sweet tooth [laughs]. I believe in "everything in moderation." You shouldn't feel like you have to stick to a crazy routine unless that is what feels good to your body. Don't restrict yourself too much.
Kimmy's Energizing Espresso Granola
"Having a hearty breakfast keeps me energized for long days in the mountains," Fasnai told ASN. "This granola is a perfect meal to kick off my day or the ideal snack to throw in my pack for a tasty treat later. The hint of espresso in this recipe helps keep me me energized if I start losing steam on an adventure."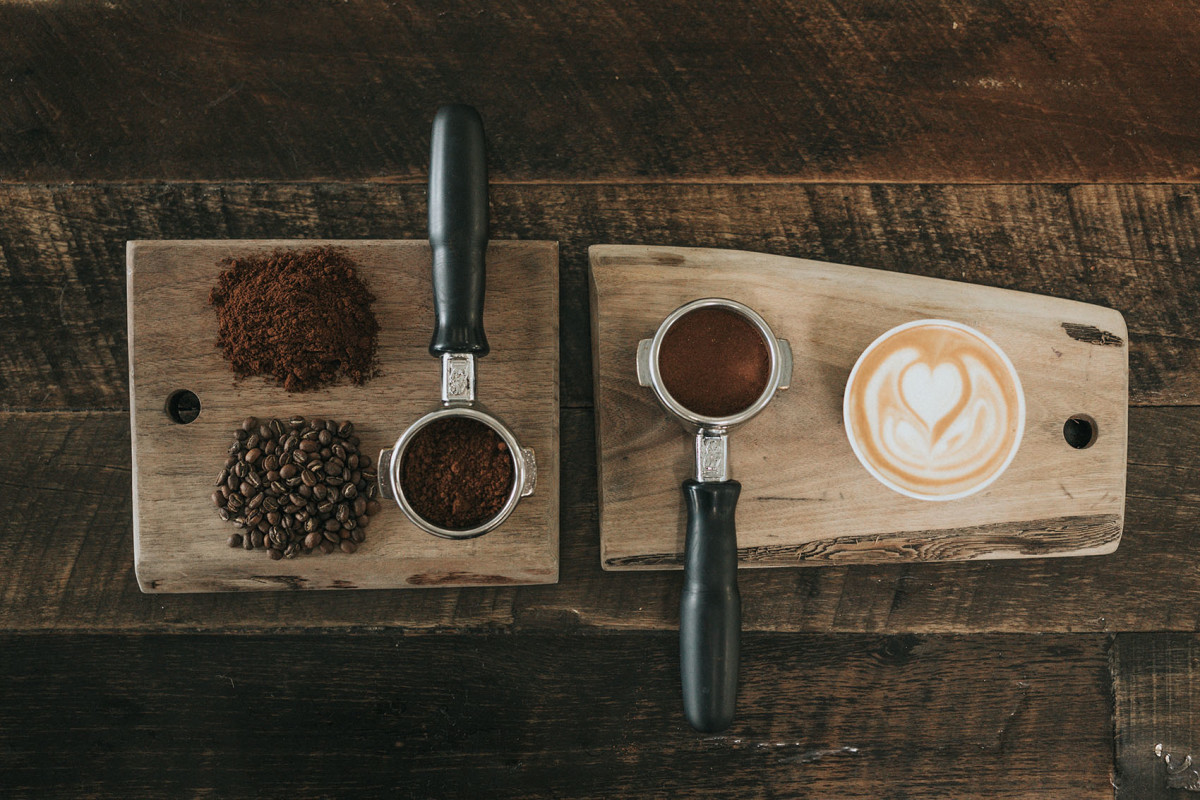 Ingredients
1 cup rolled oats
1/2 cup almonds , chopped
1/2 cup shredded coconut
1 1/2 tablespoons cooled espresso (I use the used espresso from my morning brew)
1 tablespoon coconut oil, melted
2 tablespoons maple syrup
1 teaspoon vanilla extract
1/4 teaspoon Cinnamon
Optional: 1/4 cup cranberries or dark chocolate chips
Instructions
1. Preheat oven to 325 and line a baking sheet with parchment paper or grease baking sheet with coconut oil.
2. In a small bowl, whisk together the espresso, coconut oil, vanilla, and maple syrup. In another bowl, mix together the almonds, oats, cinnamon, and shredded coconut (optional: cranberries/dark chocolate). Slowly pour the liquid espresso mixture over the dry ingredients and stir until the granola is coated.
3. Spread mixture across the parchment paper on the baking sheet and bake for 15 minutes. Stir and cook for another 10 minutes. Allow mixture to clump if desired. Remove from oven and let cool.
More What's Cooking from ASN
What's Cooking: Leila Hurst's Favorite Go-To Treat
What's Cooking: The Freshest Way to Prepare Your Fish After a Day at Sea
What's Cooking: Freediver Kimi Werner Shares Her Favorite Way to Cook Up a Fresh Catch
For access to exclusive gear videos, celebrity interviews, and more, subscribe on YouTube!