Tennis fans will tell you the US Open is America's biggest tennis tournament. But locals know that the Open really belongs to New York, and that attending puts you not only at the center of professional tennis, but right smack in the middle of one of the world's best places to eat: the borough of Queens. Arthur Ashe stadium, in Flushing Meadows, is located at the intersection of astonishingly diverse neighborhoods. You're a short walk from Chinese dumplings in Flushing, Italian subs in Corona, and endless street-cart options, featuring foods from all across the globe, scattered around the park itself.
You'd do well to just wander around and see where your stomach takes you, but that can always be daunting. So here are some places any true fan of food and tennis should seek out. 
Nan Xiang Dumpling House
Nan Xiang is known for its nearly perfect soup dumplings, as flavorful as they are cheap. Like, $5.50 for an order of six pork soup dumplings. But if soup dumplings on a hot August day aren't what you're craving, there's plenty more at the Shanghai eatery. Try the beef-stuffed scallion pancakes ($3.95), sliced cold pigs ear ($5.95), or a heaping pile of noodles in scallion sauce ($3.75). (38-12 Prince St, Flushing, NY, 718-321-3838)
RELATED: Milos Raonic and the Future of Tennis
Leo's Latticini Mama's
If you've caught a Mets game at nearby Citi Field, you may be familiar with the Italian fare at Leo's. At the park, they serve classic subs with roasted turkey, fresh mozzarella, and mouthwatering red peppers. But at their standalone location, you can get just about any sandwich combo you want, plus daily specials like stuffed manicotti or homemade roast beef. None of those will cost you over $10, so don't forget to save room for biscotti and cannoli. (46-02 104th Street, Corona, NY, 718-898-6069)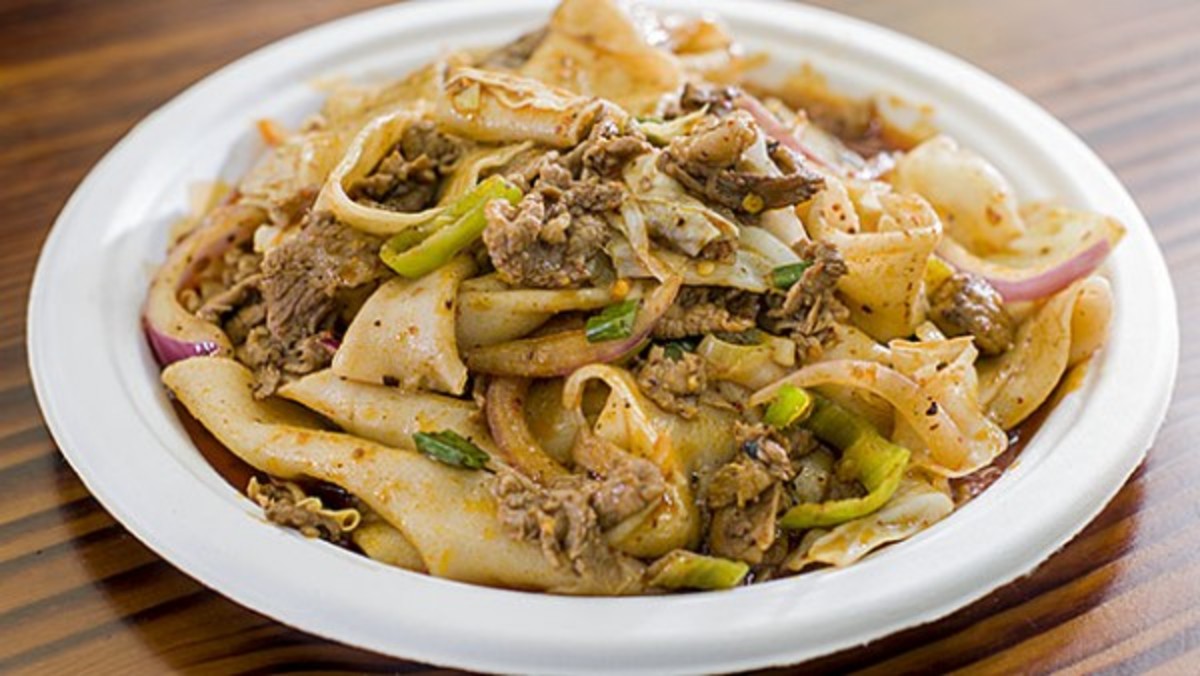 (The Spicy Cumin Lamb Biang-Biang noodles at Biang! Photograph Courtesy Biang!)
Biang!
For hand-pulled noodles that you'll never forget, seek out Biang! Restaurant, the sit-down offshoot of the famous Xi'an Famous Foods. Try the Spicy Cumin Lamb Biang-Biang noodles, or the fresh young chicken served with a singular long-pulled "longevity" noodle. There's also a well curated beer and wine menu to balance the fiery food. (41-10 Main Street, Flushing, NY, biang-nyc.com)
Benfaremo: The Lemon Ice King of Corona
Benfaremo's has been open for over 60 years (you may recognize the facade from the opening of King of Queens), and is still operated by the same family. Their ices are simple and satisfying, and don't come in flavors any crazier than bubble gum. They also offer candy apples, but why mess with a good formula? (52-02 108th Street, Corona, NY, thelemonicekingofcorona.com)
Tortas Neza
After losing his food-truck license, Galdino Molinero moved operations from his well-known Tortas Neza into a window adjacent to Juan Bar in Jackson Heights. Bring a friend for these tortas, or if not, starve yourself for a day. The tortas served here are monstrous; fortunately quality is equal to size. There's the Tortas Santos, with fried pork and oaxacan cheese; the Chivas, with eggs, chorizo and cheese; and the Tortas Cecina, made with sheets of marinated, cured beef, like Mexican prosciutto. Most will run just $6 to $8. The exception: the Torta Pumas, a $14 concoction of fried sausages, breaded chicken cutlet, a chorizo omelet, ham, head cheese, beans, and a slew of other dressings, served on a griddled bun the size of your head. (96-15 Roosevelt Ave, Elmhurst, NY, 347-666-1517) 
Fillmore's Tavern
The thing about eastern Queens is it's a bit spread out, so you'll need a car to hit Fillmore's. If you do have wheels (and a designated driver or a reliable car service that you can call), don't miss this neighborhood gem, a 103-year-old Irish tavern in Fresh Meadows. It's good for a beer or an Irish coffee — or a blackened steak if you're hungry — and you can sit back and imagine when it had to pretend to be a grocery store during prohibition. (166-02 65th Ave, Queens, NY, fillmorestavern.com)
New York Ganesh Temple Canteen
The kitchen at this gorgeous Hindu temple was originally created to provide food offerings for the temple's deities, but the South Indian, vegetarian menu became incredibly popular with devotees and non-devotees alike. You can't go wrong with the Canteen's selection of dosa (a thin, crispy crepe traditionally made with fermented rice and lentil batter), idli (steamed fermented rice patties), and uttapam (thicker lentil and rice pancakes with toppings cooked right in). Don't pass up the tamarind rice, tossed with peanuts, tangy tamarind sauce, and lots of spices. Oh, and nothing is more than $7, which means you can afford to sample everything. (143-09 Holly Avenue, Flushing, NY 11355, nyganeshtemplecanteen.com)
For access to exclusive gear videos, celebrity interviews, and more, subscribe on YouTube!