The third stop on Sierra Nevada's Beer Camp Across America tour is Denver, Colorado. As the home of the Great American Beer Festival, competition is a major part of this town's craft beer culture. We walked the grounds to find out from brewmasters, enthusiasts, and the experts running the booths why they think that, when it comes to beer, the Rocky Mountain region is the best.
1. It's the Fresh Water.
"Colorado is a source of fresh water for nearly the entire country. About 98 percent of all major rivers are headwatered here in Colorado. So water's fresh here in Colorado, it's clean, and brewers are excited to brew with it." — Steve Kurowski, Operations Director, Colorado Brewers Guild
2. It's the Great Outdoors
Who doesn't want to drink a beer outdoors? There are more activities here than almost anywhere else in the world. Beer is better outdoors because you've earned it. You're not sitting on the couch watching The Simpsons drinking beer. — John Bruner, Merchandizer, Elite Brands
3. It Has the Best Activities
"A lot of it is aggressive lifestyles. You rise in elevation and increase the alcohol at the same time — it's the way to go — a 'Devil may care' attitude. We like to play: hardcore skiing, hardcore mountain biking. Hardcore climbing. Hardcore scenery." — Tim Matthews, Head Brewer, Oskar Blues Brewing Company
4. It's the Brewer's Melting Pot
"People are trying out a lot of new shit. They're experimenting. We're a melting pot of a lot of different regional styles, so we get the Midwest influence, the West coast, the South, it's all coming together here. So we take the best of all of it and perfect it.' — Nick Nunns, Trve Brewing, Publican
5. It's Where the Talent Winds Up
"Stellar brewers with awesome training down here. Generations of people growing up here, getting trained and going out on their own. Hundreds of breweries training up guys, building a groundswell of brewers from this area. They've been quality since the 80s here." — Mike Frohlich, Head Brewer and co-owner at Laughing Sun Brewing Company in Bismark, North Dakota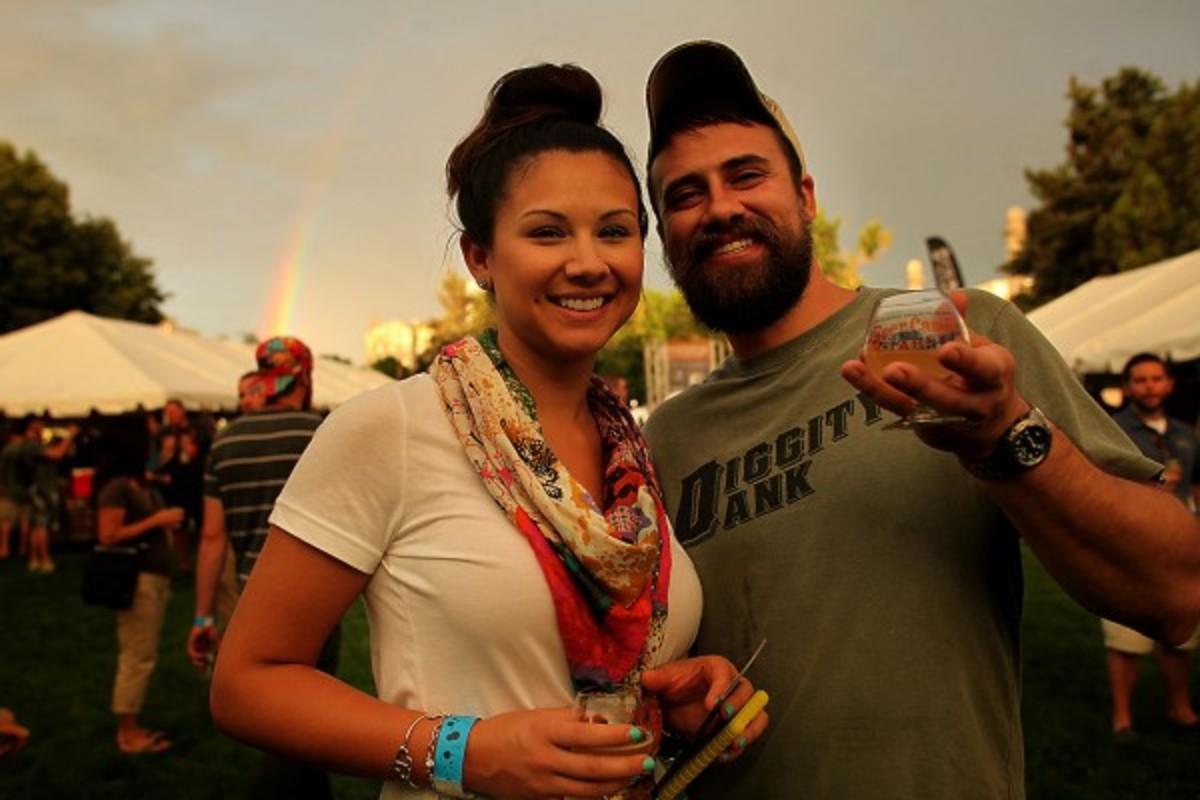 Photo by Bill Manley
6. It Has More Risk-Takers
"The consumer base in Denver is almost fearless. They're willing to try almost anything, but they still have really high standards. So if something's terrible, they're definitely going to let you know, but they're give it a chance." — Sydney Skilken, Trve Brewing, Denver, Brewery Valkarie
7. It's the Legal Weed
"We have legalized pot, so that kind of makes everything better." — Walter Becker, Avery Brewing Company, Events Specialist
8. It's a Tradition
"Beer is in the DNA of folks here. The new phase of craft beer is just so welcome here because we're so used to craft beer in Colorado. Honestly, it starts from the big guys in Golden, Colorado. They've been around for so long that people here have always thought of beer as something that's produced locally. As tastes and flavors change like the slow food movement, people want to get hyper-local and try stuff from local producers, and beer just falls right into that." — Scott Witsoe, Wits End Brewing Company, owner and head brewer
9. It Has Better Malts
"We're the best because of the locally sourced ingredients, like our malts, water and locally grown hops. Our malt is grown in the highest farming plane in the world so it dries and kilns better."  — Jan Chodkowski, Brewer, Our Mutual Friend
10. It's the Sunshine
"The sunshine definitely helps. We get over 300 days a year of sunshine. You wouldn't know it today, but normally it's great weather." — Nick Johnson, Tenth and Blake Beer Company, Distributor Beer Merchant in the Front Range of Colorado
11. It Has Better Beer Laws
We have amazing legislation in Colorado that lets small breweries and large breweries operate and be profitable, and brew great beer for the citizens of our state. We can have tasting rooms, self distribution, and independent liquor store system. Things like that allow our brewers to have a lot of flexibility on how they want to be profitable with their beer." — Steve Kurowski, Operation Director, Colorado Brewers Guild
For access to exclusive gear videos, celebrity interviews, and more, subscribe on YouTube!