With winter just around the corner, it's important to be sure you have the proper gear dialed in order to get yourself through the inevitable inclement weather. And an area that some people may overlook is where the rubber meets the road (or the dirt).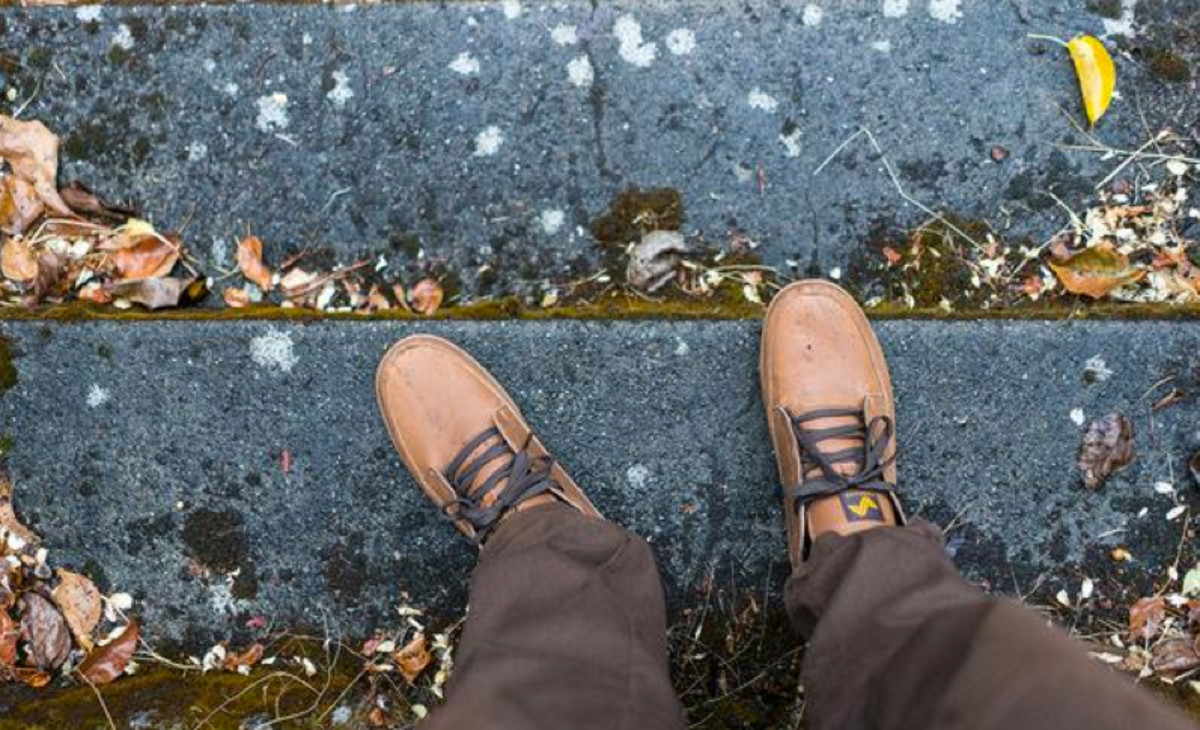 Proper winter footwear is key to maintaining an outdoor lifestyle when the temperatures dip and the ice/snow/rain is upon you.
Here, we've gathered three of our favorite winterized men's shoes so you can continue to get after it this winter, while keeping your feet warm, dry, comfortable and stylish.
Why we chose them: Vans is one of those brands that never seems to disappoint whenever they release a new shoe. When we caught wind of their new UltraRange line (made for rugged conditions and all things outdoors), we couldn't wait to slip a pair onto our feet.
Why we liked them: The UltraRange Hi MTE are the perfect blend of ruggedness and style. But perhaps one of our favorite attributes of the Hi MTE was that they don't feel overly heavy-duty. They are relatively lightweight and breathable (which is very nice when you want to wear them in more mild conditions) with their super comfy Vans UltraCush Lite midsole, which only expands their versatility in your footwear lineup. This does not, however, take anything away from their capability in frigid, harsh conditions. Not to mention their uber grippy co-molded rubber reverse waffle lug outsoles that assure you won't get the slip during those crucial moment off the grid.
Tester tip: These are a great "everyday" shoe. Don't let the technical specs make you think that these are only to be used on extreme endeavors. They're perfect for a day at the office, on the trail, in the classroom or around the neighborhood. The applications of this shoe are as versatile as it gets.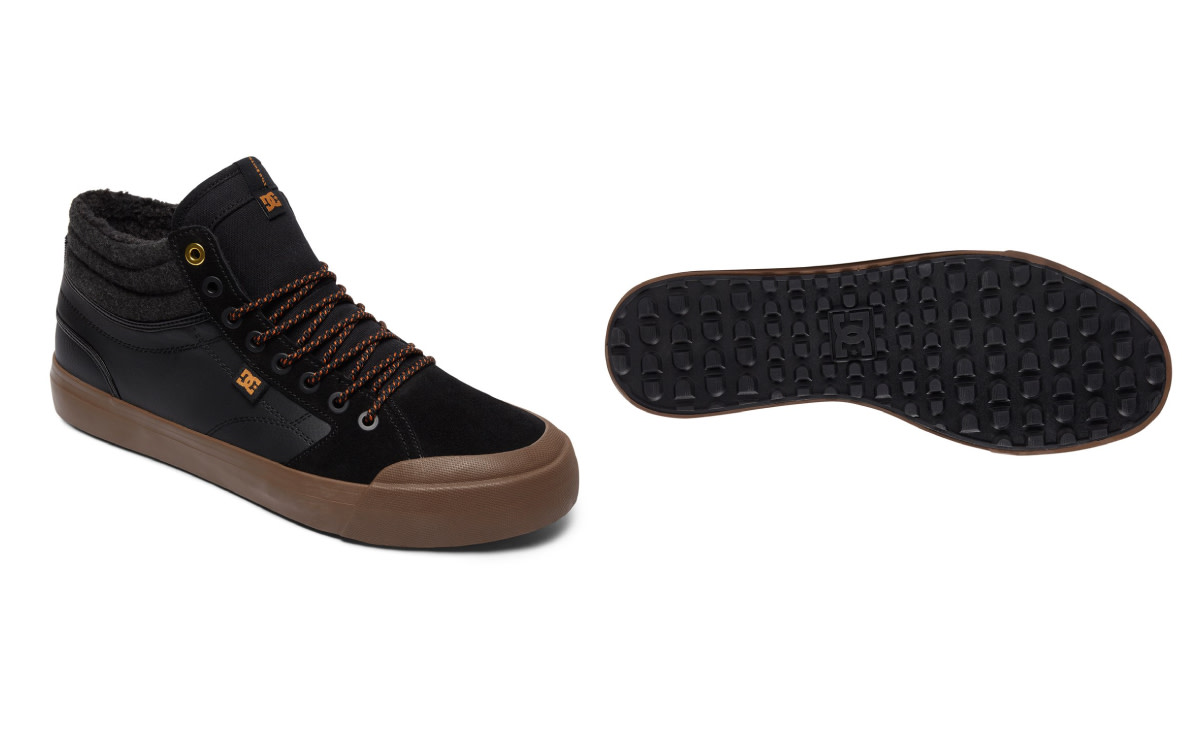 Why we chose them: While versatility is certainly something we can appreciate, we also wanted to test something that was geared a bit more to frigid weather. This is why we opted for the new sherpa-lined DC Evan Smith WNT. They're thick, solid, and as soft as any sherpa-lined boot we've ever tried.
Why we liked them: These shoes are meant to be used in extreme conditions. With its rubber toe "Hat," leather upper portion, sherpa lining and DC's signature Pill Pattern on the outsole (for optimal traction), the Evan Smith WNT is the only shoe you'll need when the rain begins to pour or the snow begins to fall. They are so soft and warm that we found these to be on our feet any time the weather came play.
Tester tip: When buying these shoes, keep in mind that they are much more heavy duty than your normal skate shoe. While you can certainly wear these anywhere you like (they do present like your normal high top skate shoe) you'll likely be saving these for those trips into the backcountry or out into the snow. Your feet may get a bit stuffy wearing these in mild conditions.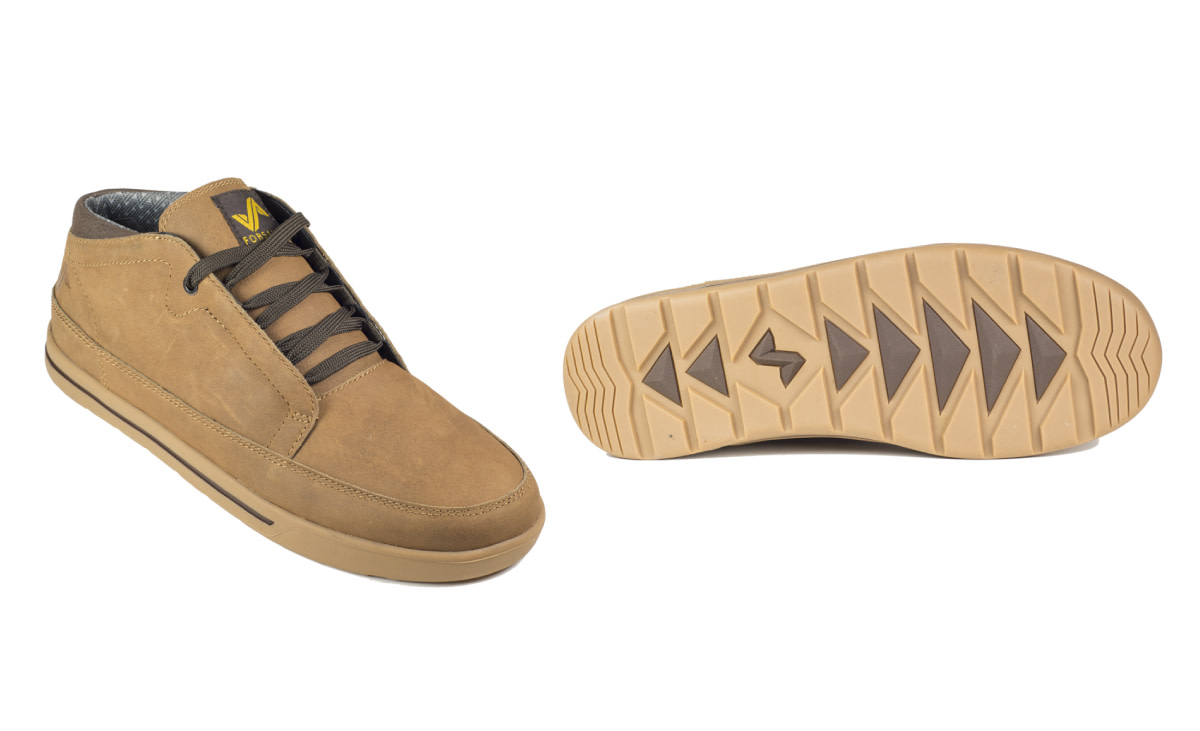 Why we chose them: We were in the market for something that could not only handle whatever winter threw at them, but could also be worn in a variety of more upscale social situations (e.g. out to dinner, the bar or even the office). Enter the Phil Chukka from Forsake. These chukkas have that perfect combo of classy style with a rugged build.
Why we liked them: The waterproof full grain leathers used to construct the Phil Chukka are as comfortable as they are functional. For a "work-place ready" chukka shoe, we found that the Phil simply fit the bill for our everyday routine when we felt like dressing it up a bit. Forsake's Peak-to-Pavement outsole on the Phil made is amazingly grippy on slick surfaces, without appearing too much like a hiking boot.
Tester tip: If you work in a professional environment where appropriate footwear matters, then this is the shoe for you. It blends effortlessly into the professional work environment, while still being able to hold its own as soon as you clock out and want to hit the outdoors. (You just might need to give them a good clean every now and again).
More Gear reviews from GrindTV
GrindTV's 2017 Winter Gear Guide is here
Make a difference this holiday season with these eco-friendly gifts
Why we chose the new SPY Legacy snow goggle this season
For access to exclusive gear videos, celebrity interviews, and more, subscribe on YouTube!