Recently, I was offered the chance to test out a rooftop car tent by Roofnest. From what I'd heard, rooftop tents change the car camping game, and I wanted to see what the fuss was about myself. I immediately said yes.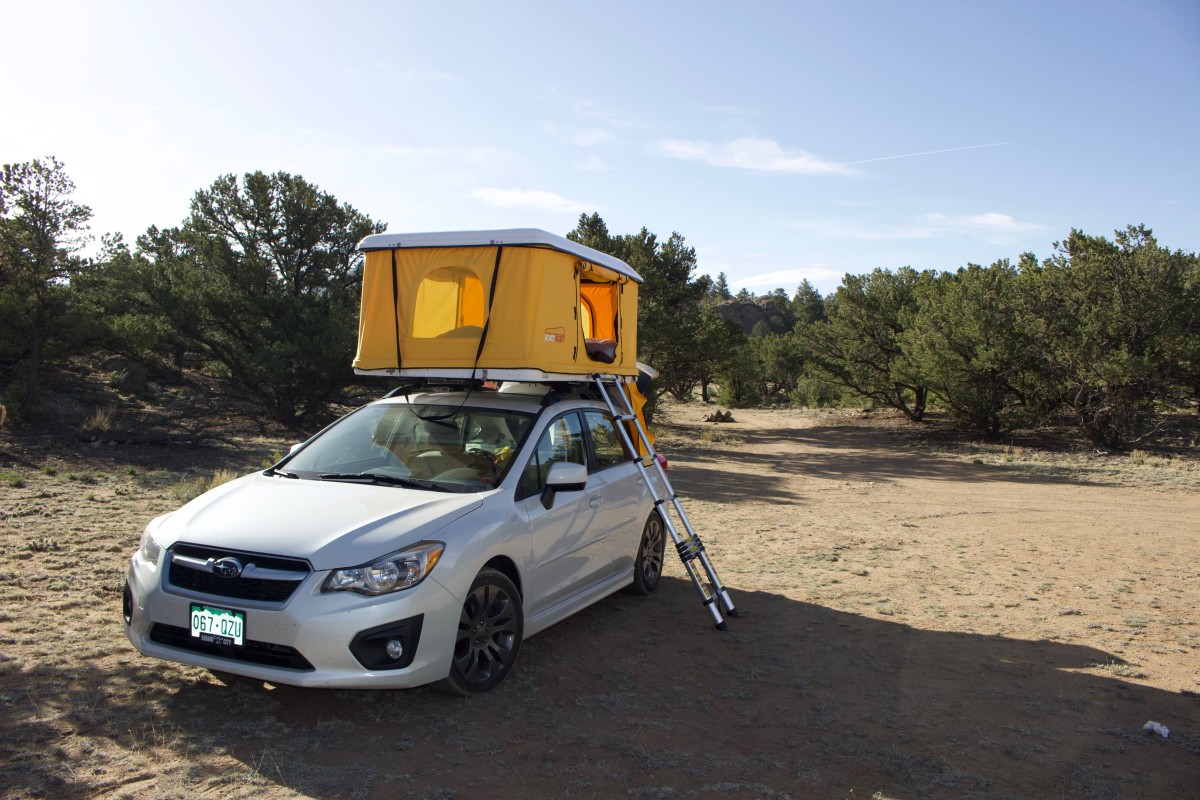 I'll often mix up my backpacking trips with a few car camping weekends during the summer, and figured that a tent on top of my car would make car camping that much easier. Plus, my least favorite part of camping is taking down and packing away my tent and sleeping bag.
I was told that with the Roofnest, assembly and disassembly would be easy, and that, (bonus!) I could leave all my blankets, pillows, and sleeping bags in the tent even when it was closed. I was excited and slightly skeptical to check out this new way of camping, but overall, the Roofnest didn't disappoint.
First Look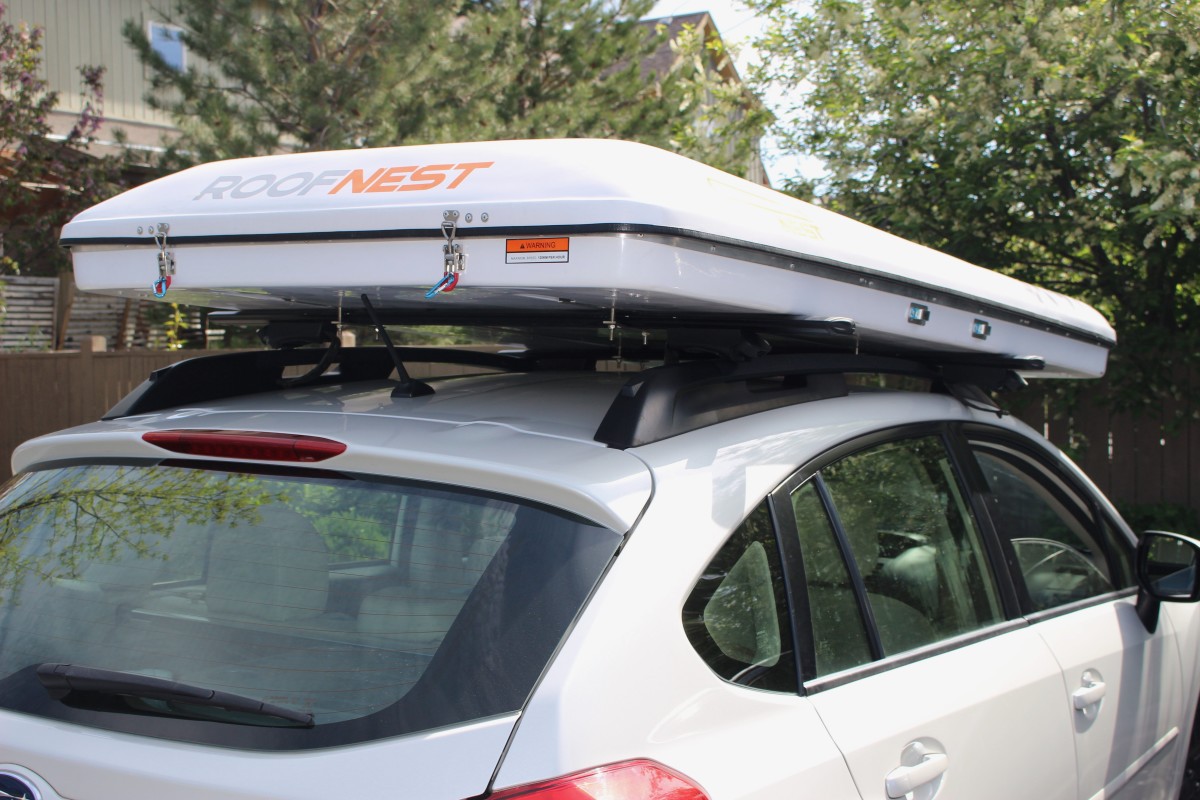 I met Tim Nickles, the founder of Roofnest, a few streets over from my place in Boulder, Colorado. With help from him and a friend of mine who tagged along, we were able to move the Roofnest Sparrow from his car to mine. To get the Roofnest on top of whatever car you are using (and smaller vehicles are okay: I've got the Subarua Impreza and she did just fine), you'll have to have crossbars that are no more than 3.5 inches across or 1.5 inches thick, which covers most crossbars on the market. The Roofnest is equipped with mounting hardware that will secure the tent to your crossbars. With a little help from Nickles, my friend and I were able to easily get the tent aligned, secured, and set up on top of my car.
He gave us a quick overview of how to pop the tent up, how to take it down, and any precautions to take while driving. We left from there for a three-hour car ride to Buena Vista, Colorado.
On the road, I felt confident that the tent wouldn't fly off and ruin my trip. I was also able to go the regular speed of around 70 miles per hour, and felt little lag. At first, I did keep checking that the front and back latching systems were fastened, but eventually, I was able to forget that my sleeping quarters were in fact on top of my car.
Settling In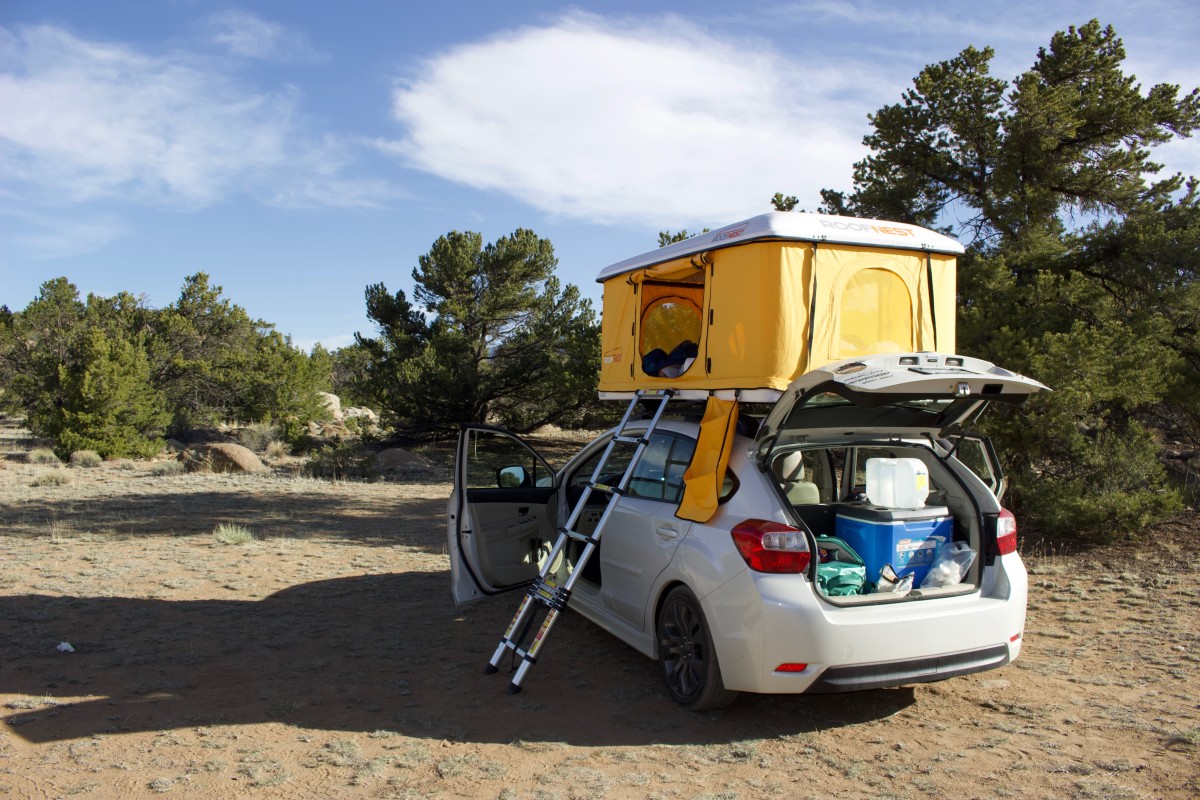 We headed to a campsite off the Arkansas River, just north of downtown Buena Vista. We were able to grab dinner before because having the ease of a rooftop tent also means that your campsite basically rolls with you – we didn't have to rush to set up camp and get cooking. Rather, we found our site and got ready to stay there for the night. Quickly and easily, we undid the fastening systems on the front and back, and watched the tent slowly rise up to its full and awesome potential.
The ladder is easy to set up and attach, as are the side pockets that can clip in on the outside of the tent or on the inside. We opened up the canvas zip closures from the mesh windows at the front and back, as well as the two side doors, to let a nice breeze in. We loaded in a few pillows, a sleeping bag, and a quilt, climbed up the ladder, and settled in.
Each Roofnest comes with a built-in, 7-centimeter foam mattress that is extremely comfortable. I didn't feel my friend move around in the night, and we had plenty of space both lengthwise and width-wise. (Being all of 5-feet, 5-inches, we didn't have a problem with space, but taller folks might; the newer Sparrow models are 46 inches wide and 82 inches long, while the larger Eagle models are wider, at 53 inches).
In the morning we needed to pack up camp, as we were driving another two hours south to Great Sand Dunes National Park. Without having to remove any of our bedding, we quickly used the straps to pull the front of the tent down and secured it, then did the same with the back. After double-checking that all of the tent material and straps were tucked inside the fiberglass-reinforced ABS hardshell cover and that all of the fasteners were clipped, we drove off.
Again, I quickly forgot that our tent was traveling with us on top of my car. Driving was fine, and knowing that we could technically pitch camp anywhere, we were a little more relaxed about our day trip and when to trek back to Buena Vista.
By the second night with the Roofnest, I was sold. I could easily see the game-changing capabilities a rooftop tent has when it comes to car camping. It was easy to install, set up, and take down, and was extremely comfortable. Plus, being on top of your car is fun and makes for some great views.
The Details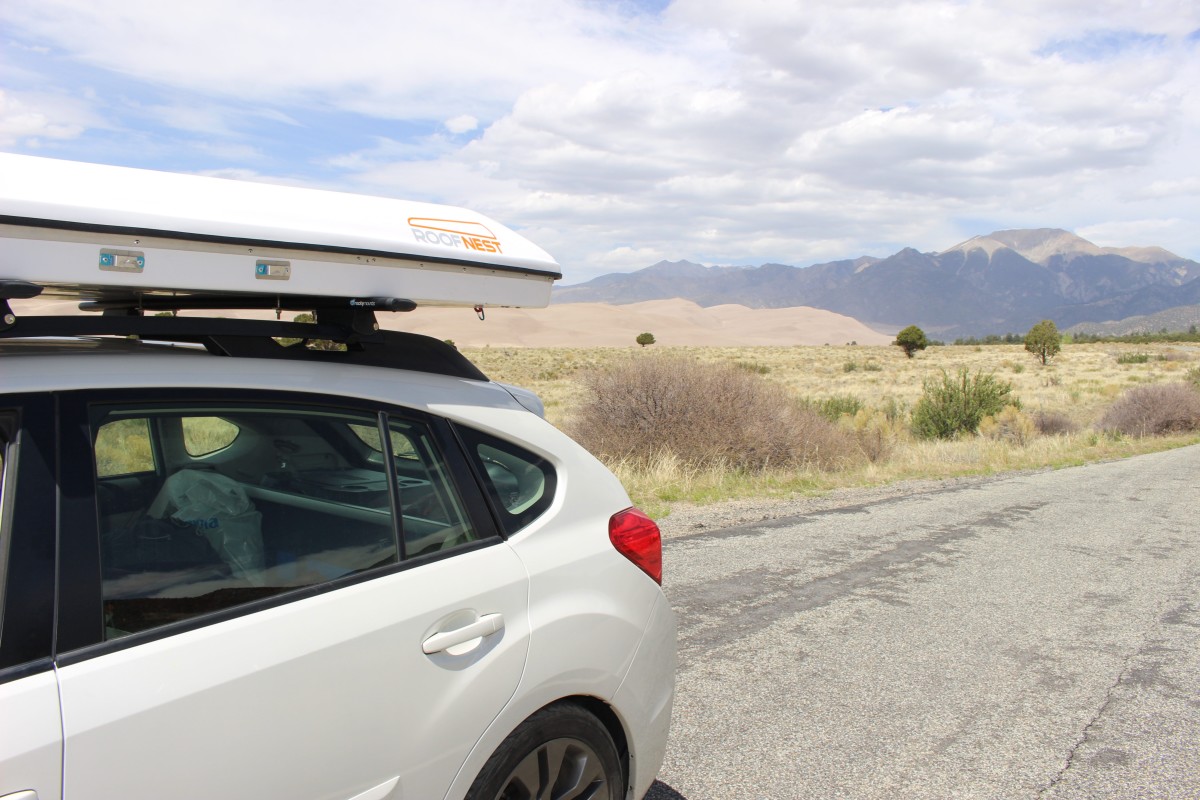 Although the Roofnest is perfect for car camping, it might not be for everyone. Families with little ones who have to pee a lot, folks with (large) dogs, or people who aren't able to climb up and down a ladder should opt for a regular tent. There's also the caveat of having to take the tent off during the week when you aren't camping, but that's your choice if you choose to remove it or not.
Roofnest has five models of the rooftop tent: three that are square shaped and two that are triangular. Also, the square Sparrow X has a built in roof-rack on top of the hardshell cover, so you can still carry bikes, kayaks, and whatever else you choose to load up. Each tent has a built-in mattress, windows and doors, as well as pockets inside and removable pockets for the outside.
Pricing starts at $2,195. Roofnest also sells a tent-insulation system, crossbars by RockyMounts, a down blanket, and cooler.
All Photos By Mattie Schuler
For access to exclusive gear videos, celebrity interviews, and more, subscribe on YouTube!