This article was produced in partnership with Blue Ribbon Group
Some may think "hard water" refers to it in its frozen state, but that's not what hard water actually means. It's the chemical hardness that's caused by the presence of two minerals—magnesium and calcium.
These elements are added to water as they pass through rocks and soil, where other contaminants also dissolve. And if you haven't taken the required steps to deal with that, you might have to face some undesired consequences such as scale buildup in pipelines, dry and itchy scalp/skin, discolored clothes, etc.
Also, the more the concentration of calcium and magnesium that rises in your water, the "harder" it will become. But don't stress—a reversal technique has been engineered by experts known as water softening. This process is carried out by water softening systems that work on simple principles of chemistry, such as the ion exchange process.
Various companies have stepped in and invented some highly efficient water softening systems, which can work wonders for you irrespective of your water source. However, if it's your first time shopping for a softening system, you may feel a bit intimidated, as there are several brands claiming to be number one. Luckily, we have you covered.
To save you time and money, we've come up with our list of the best water softeners. And not only this, but to clear out your confusions about whether to buy a water softener or not, or how to install it on your own, this article contains all the nitty-gritty details.
List of Top Brands for Best Water Softeners:
1. SpringWell's FutureSoft Salt-Free Water Softener: Overall Best Salt-Free Water Softener
2. Quality Water Treatment's SoftPro Elite Water Softener: Best Electronic Water Softener
3. SpringWell's Salt Based Water Softener: Premium Brand for Salt-Based Water Softening
4. Fleck 5600 SXT Water Softener System: Easy to Use Water Treatment System
5. Pelican Advantage Series Salt Water Softeners: Best Salt and Potassium Tank Water Softener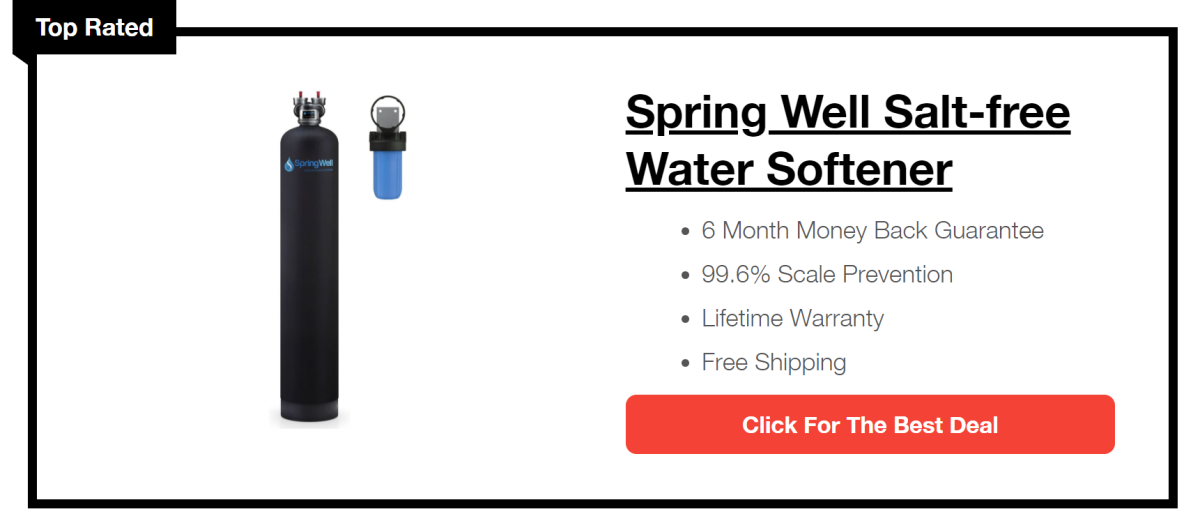 As it's clear from its name, SpringWell's FutureSoft is a salt-free system, unlike the conventional salt-based systems, so you can expect no brine left in your pipes once the water has passed through this softener. This two-in-one system not only works for softened water but also performs the job of filtering it.
FutureSoft is an eco-friendly water softening device that works by converting the water-hardening elements into their water-soluble forms so no clingy scales are formed inside your water pipelines and other appliances such as household appliances geysers. It's called the Template Assisted Crystallization Technology.
FutureSoft will not waste your water or electricity during the process, which is an excellent thing, as it will save you a lot in the long run. Also, it requires minimum maintenance, so no more worrying about cleaning the salt build-ups.
The manufacturers have invested decades in coming up with something that every family can benefit from. As a result, there is no doubt they deliver what they promise, and their customers' feedback backs that up. So, you can blindly go for this one, as it will prove to be a great value.
Pros
• Affordable option
• Softens and filters the water.
• 6-month refund policy
• Lifetime warranty offered on tanks and valves
• Free shipping
• Monthly installment payment plan available
• No water wasted
• Does not require electricity
• Equipped with ActivFlo Technology
• Water pressure will not be disturbed
• Hassle-free installation and low maintenance
Cons
• Does not provide complete elimination of water hardening materials
• Lacks a replacement filter
Our Opinion
We have loved everything about this water softener, from its certified components to its advanced water softening methodologies and hassle-free installation. Furthermore, it will not be wrong to say that its performance is unmatched.
It's entirely different from other water softening systems that use the ion-exchange method (unlike FutureSoft). Lastly, its sturdy and durable look is another attention-grabbing feature.
In a nutshell, FutureSoft is a big thumbs-up in our opinion.
=> Visit the Official Website of SpringWell's FutureSoft Salt-Free Water Softener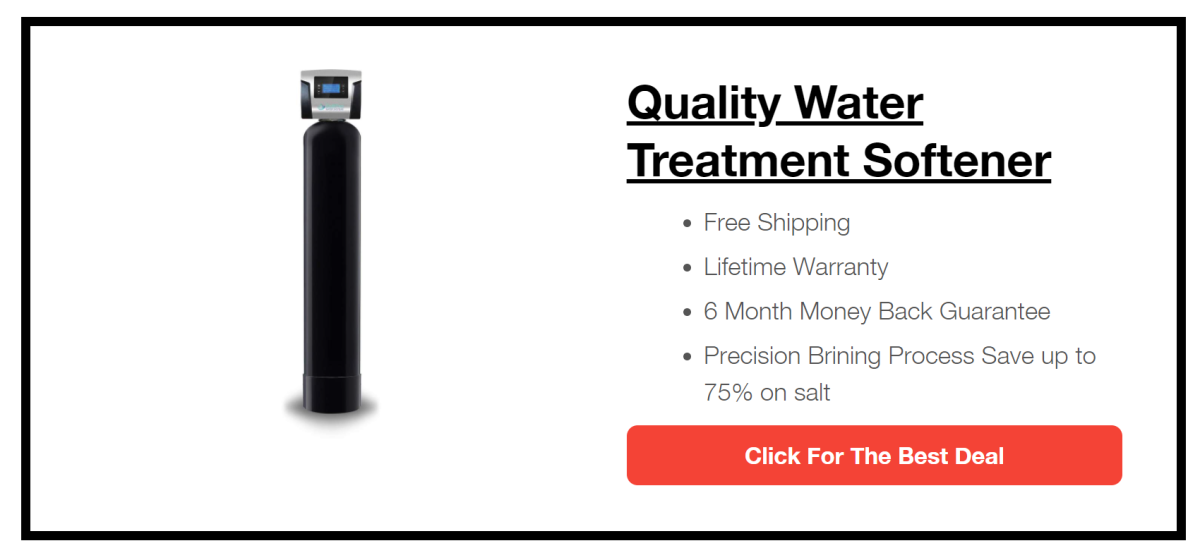 Quality Water Treatment's softeners have two variants — the city water softener and the well water softener. Specifically, we are going to be discussing the former one in this article.
This city electronic water softener comes with a lifetime warranty and up to 110,000-grain capacity. It has all that it takes to convert hard water into soft, be it a water brine tank holding a potassium solution for ion exchange or the mineral tank containing resin.
Then, we have the LCD that adds to its user-friendliness. Since we all find touch-system gadgets pretty easy to use, SoftPro's manufacturers have featured precisely that in this softener. All of the functions are clearly displayed on it and are just a touch away.
If you have had not-so-good experiences in the past with water softening systems because of having to spend heaps on salt, then let your worries set you free. SoftPro works on a different principle — Precision Brining. So, with this one, you will be saving up to 75% on salt.
Last but not least, the Smart Clean technology prevents bacterial growth from taking place in water even if you have not used it for a week.
Pros
• Cost-efficient in the long run by saving up to 75% on salt and 64% on water
• 6-month money-back guarantee
• LCD makes it easy to operate
• Smart Clean technology hinders limescale build-up or bacterial growth
• Compatible with household appliances
• Works efficiently, as it features Upflow technology
• Company's customer support is unmatched
Cons
• You might need a plumber to install it
• The higher the grain capacity, the more space it will occupy
Our Opinion
If this is your first time getting a water softener, you might find it a bit intimidating to install it on your own. So, we would recommend you hire a plumber. But, except for this difficulty that you may face, the softener works wonders. You will no longer find hard water deposits and mineral buildup in your pipes or boilers.
=> Visit the Official Website of Quality Water Treatment's SoftPro Elite Water Softener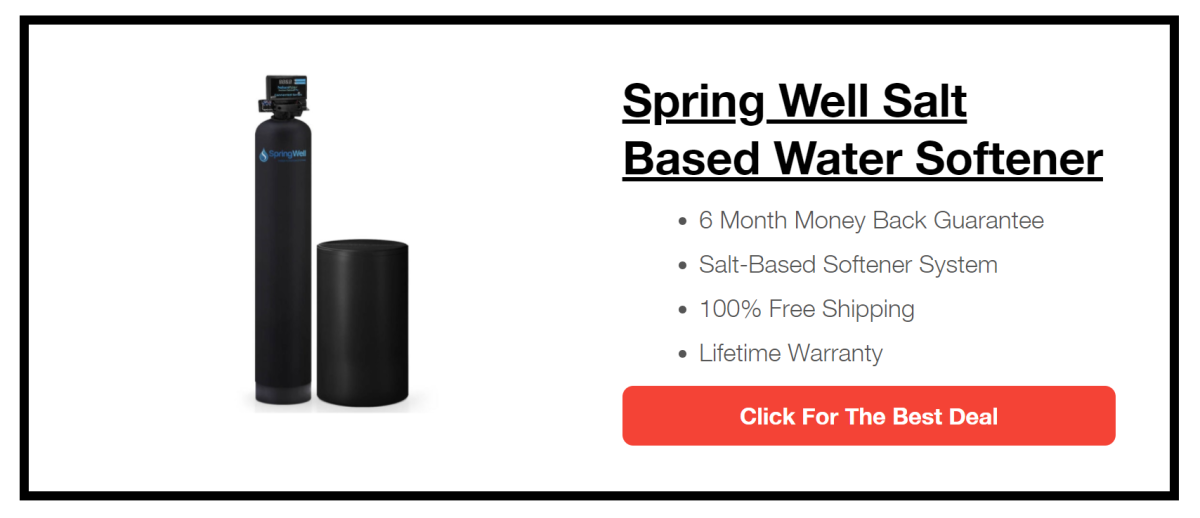 Another model of SpringWell's water softener has made it to our list because of some exceptional and worth mentioning features it has. As the name suggests, this one is a salt-based softener system that works on the typical ion-exchange principle.
Only certified components are used in making this salt-based water softener; therefore, its durability and efficiency cannot be questioned. Also, the innovative system head can be operated through SpringWell's app (that can be downloaded directly from the Play store) via Bluetooth.
Then, we have two polypropylene tanks that hold the brine and resin. Speaking of resin bed, it's pertinent to mention that it comes pre-loaded in the system, eliminating the need to fill it up manually. So, forget having to spend on that for up to the next eight years.
SpringWell is a company that focuses on the importance of "no pressure drop," even if you use all of the showers at once. The website contains all of the necessary information to guide you about which water softener would suit you the most. Also, installing one of their salt water softeners can help you save up to 40% of detergent.
Pros
• Free shipping
• 6-month refund policy
• Bluetooth technology makes it easy to control and operate
• Takes care of water pressure
• Resin comes pre-filled
Cons
• Comparatively expensive
Our Opinion
Let us give you a heads up if your water supply has high levels of iron because that might damage the resin. So, do not forget to install an iron pre-filter beforehand.
Otherwise, the system can be a great option to go for as compared to other cheap water softeners that will not bear the desired results. Also, the compact outlook of the system speaks for its durability.
=> Visit the Official Website of SpringWell's Salt Based Water Softener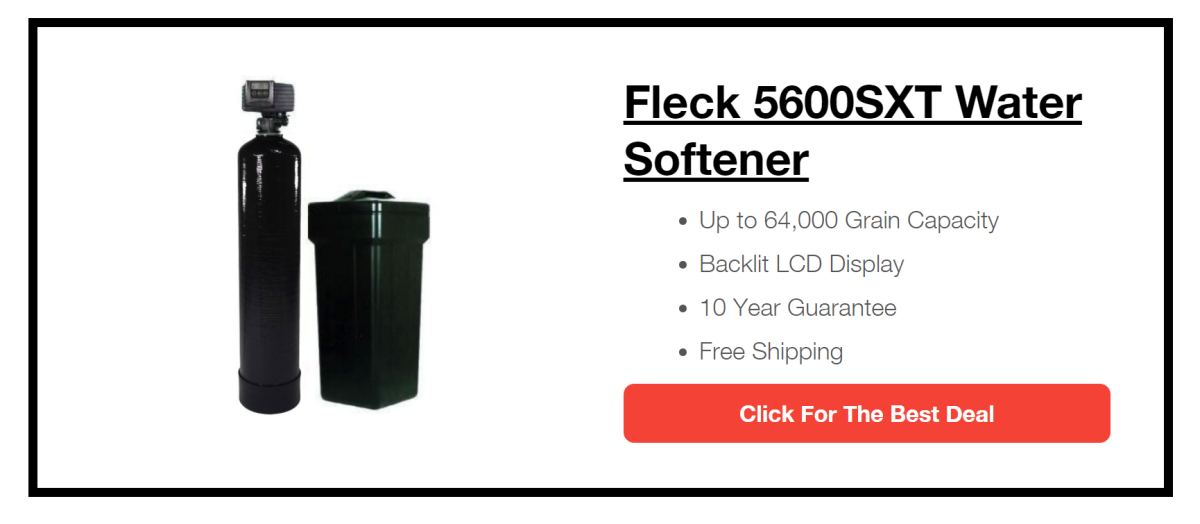 This affordable water softener can make a suitable option for those having a family of six members. Therefore, if you are looking for something like SoftPro or FutureSoft (as in water quality) for your home while being tight on a budget, Fleck 5600 SXT might be the right one for you.
It offers similar features as that of other premium water softening systems, so manufacturers have not compromised the quality, despite the fact that its price is considerably low.
The flow meter is highly programmable and prevents wastage of salt and water by running the regeneration cycles only when required.
Pros
• Flow meter is easily programmable and does not run the regeneration cycles unnecessarily
• Affordable
• Assembled in America
• Free shipping
• 5-year valve warranty
• 10-year tank warranty
Cons
• You will need to hire a plumber for installation
Our Opinion
Overall, considering the price tag it comes with and the specifications it has, we would definitely recommend it for household use.
=> Visit the Official Website of Fleck 5600 SXT Water Softener System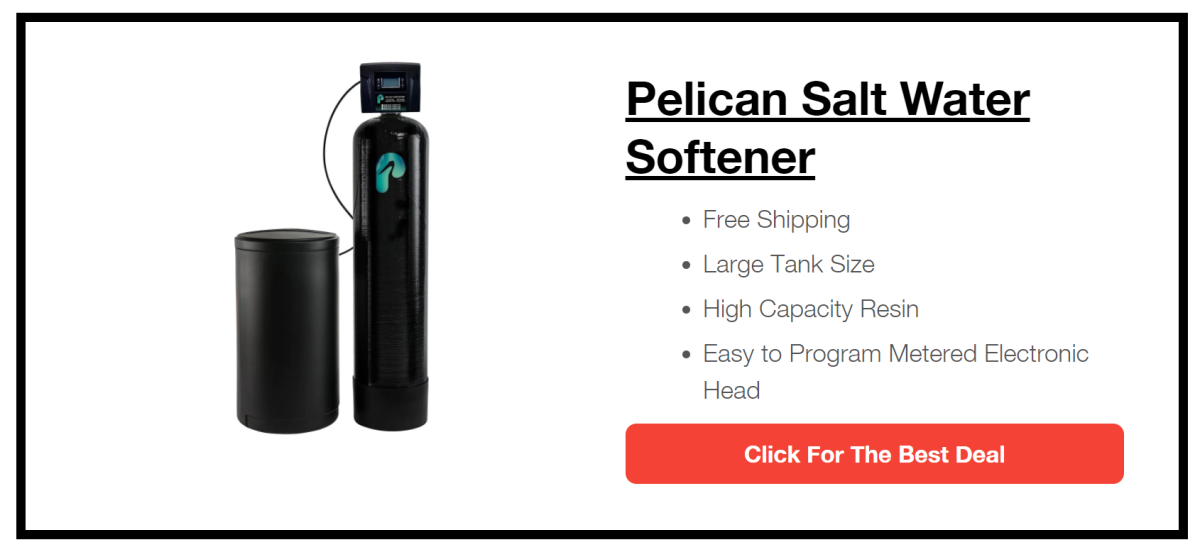 This Pentair Pelican water softener is yet another salt-based system on our list. It comes with a universal tank; therefore, you can use both salt or potassium. It's the first choice of many because it has a reasonable GPM rate and can support a house with up to six bathrooms, depending on which model you go for, without a drop in pressure.
Although it's priced higher, we can confidently say it will save you a lot in the long run since all of its components are of premium quality. Also, it wastes minimum water by performing backwash only when required.
Overall, the system is quite easy to operate, and you will just have to pay attention to the manual to understand how it would work. Then, you can set the backwash cycle schedule as per your requirement and even go for a double backwash for optimum regeneration and efficiency.
Also, if you live somewhere where power outages are a common thing, the Pelican water softener can make an excellent option for you, as it comes with an eight-hour battery backup.
Pros
• Fast and free shipping
• Double backwash option provides higher efficiency
• Battery can last up to eight hours
• Easy to operate
Cons
• Warranty is only for 12 years
Our Opinion
Except for the limited warranty, we love each and every thing about this water softener. However, what is important in our opinion is a good GPM rate, and Pelican's softener has not disappointed us in that regard.
=> Visit the Official Website of Pelican Advantage Series Salt Water Softeners
What Would Happen if You Keep Using Hard Water?
Why bear the harmful effects of 'hard' water in your home if you have a solution to save yourself? Hard water is simply unbearable, and is it not much better to consume minerals by the intake of regular food items? Of course it is. Therefore, we need to understand how the hardness of water affects us.
Let us start with small considerations like, even after having washed your hands with water using soap, do they still feel greasy and dirty? Or does your shower head looks like it has not been cleaned in ages? And does the rusty and pale look gross you out?
Not only this, but hard water can leave stains on the sink, making it appear grimy, and the cups and glasses in which you drink from can become full of yellowish spots.
Hard water makes the washing of clothes difficult in many ways, too, as it affects the working of detergents on clothes. Your white clothes will lose their brightness, and the colors of colored clothes will fade away.
Additionally, the hardness of water caused due to magnesium and calcium can damage your plumbing system, and the piling up of these minerals will affect your taps and pipe fittings. Even if you do not care about getting the adverse effects of water's hardness on your plumbing system at first, what you cannot neglect is the ineffectiveness of your soap and shampoo. This is because with 'hard' water, no foam or leather will be formed.
Thus, taking a bath with 'hard' water will not make you feel clean. This might also leave your skin itchy and your scalp dry, which will eventually affect the health of your hair, too.
It's a misunderstood concept that hard water is not always toxic. However, it does have a toxic effect, more or less, on your body and skin, which appears sooner or later. You can replace everything you feel affected by hard water, but you cannot change your body and skin.
Therefore, if you belong to an area where you cannot escape the hardness of water, you need a water softener as a solution to save yourself from the perilous effects of hard water.
Above all, if you drink hard water constantly for a long time, it can pile up the unwanted minerals like magnesium and calcium in your system and produce highly negative effects on your health.
The studies of scientific researchers have revealed that many diseases are closely related to hard water. The most commonly experienced serious health ailments can be cerebrovascular mortality, cardiovascular disorders, diabetes, kidney stones, complications in the reproductive system, sluggish digestive system, constipation, etc.
Keeping in view the above-mentioned facts, it's not wise to live deliberately with 'hard' water that causes so many threats to your health. Therefore, without wasting any more time, opt for a water softening system. And, undoubtedly, you will start noticing those healthy and positive changes from day one.
So, improving the quality of water can make your life qualitatively better and may get rid of many other troubles which are the result of hard water. Therefore, it should not take any longer to merely remove unnecessary and unwanted minerals from your water.
Variants in Water Softening Systems
There are two main types of water softening systems based on their functionality.
• Salt-Based or Ion-Exchange Water Softeners
• Salt-Free Water Softeners
Since we are going to be reviewing both types in this article, it's pertinent to discuss what they are, how they work, what they have in common, and what the differences are.
So, let us get right into it.
Salt-Based or Ion-Exchange Water Softeners
It's evident from the name that these softeners work by exchanging ions. Therefore, these systems make the water soft by removing the hardness-causing elements such as magnesium and calcium and replacing them with sodium ions.
As soon as the mineral tank is filled with hard water, it flows through the negatively charged resin beads. While we all know that negatives attract positives, these sodium ions do exactly that. They pull out the positively charged magnesium and calcium from the water, making it soft.
Salt-Free Water Softeners
These water softeners have been getting the attention of many U.S. citizens because they do not require any salt for softening water; rather, they use a filter.
While some find it great, others do not prefer it over salt-based systems. Because these are, in fact, water conditioning systems and not actually softening systems, calcium and magnesium are not practically removed from the water. Instead, their chemical composition is altered in a way that they do not build up limescale in your pipelines.
So, it depends on what you prefer because both salt-based and salt-free systems have their own perks and downsides.
What to Consider Before Choosing a Water Softener?
If you have finally decided to get a water softening system, consider the following factors beforehand.
• How hard is your water? Check for iron levels, especially because some water softeners are unable to flush it out thoroughly. So, you might need to install an additional filter for that.
• How much water do you consume per day? Or how many bathrooms do you have?
• How much can you afford to spend on a water softening system? This is highly crucial.
• Do some research and get some basic knowledge about functional technicalities or specifications of water softeners.
Considering these factors before purchase will make you quite at ease to decide as to what type of water softener would suit you the best. This would also save you from regretting spending money on the wrong product.
Water's Hardness Level
You certainly do not need a water softener if the water in use at your home is not 'hard.' But, how do you figure that out? It's easy.
You can run a water hardness check from the comfort of your home. All it would require is a transparent water bottle, tap water, and liquid soap. Just fill one-third of your water bottle with water and add a few drops of liquid soap to it. Then, shake it vigorously. If bubbles are formed on the top clear water, then it means your water is soft. But, if the soap dissolves and a cloudy solution is formed instead of bubbles, your water is hard.
To obtain more accurate results about grain level per gallon (GPG)  in your water, you can either get a hard water testing kit from your local home improvement store or order one online.
Also, knowing about the symptoms of hard water can help you choose a suitable water softener, and the appliances and plumbing system at your home can give clear indications about that.
Additionally, if you feel itching and irritation after taking a bath, it may mean the water you are using is 'hard.' You will also observe that your soap, shampoo, or detergent is not making the desired amount of lather.
Household Water Usage
Calculate how much water you consume per day, and then go for one that fits your needs. Going for a softener that is either too small or too big will not be a wise decision.
You all will admit that there is always at least one person in our homes who spends hours in the shower, consuming more water than anyone else does. So, do not forget to count that in too.
If you have a big family, SpringWell's FutureSoft will make a great one-time investment to easily save you a lot of money and fulfill your daily water needs.
Your Budget
Budget is the most important thing to take into account here. While many cheap options out there might attract you, make sure you do not wrongly invest in them, as you may end up regretting them. Why? Simply because quality comes at a cost.
A quality water softener will last for up to several years.
Steps Involved in Setting Up a Water Softener System
Now that you have learned which factors to consider before buying a water softener, the pros and cons of different softening systems, and the drawbacks of using hard water, it's time that we educate you about how you can install one in your house on your own.
• First, read the instructions given in the manual carefully and follow them precisely.
• Before putting water into your softening system, clean up water lines by turning all of the taps on and letting the water flow out.
• Cut the power supply and even turn off your water heater. The safer, the better.
• Choosing the best place to put the water softener is very important, as an inappropriate place can be highly risky.
Make sure the area is leveled and its temperature is optimum. Also, children must be kept away from that place.
• Now, it's time to find the head of the water softener to connect the discharge tube. Do this as per the instructions given in the manual.
• According to the manual, place the components like the bypass valve and copper tubing (which allows the water to flow towards the bypass valve).
• Then, the next step is setting up the brine tank.
• Once all of this is done, turn your power supply back on and run the backwash cycle.
Note: Once you are done installing the softener, check to see if the nuts and screws are properly fixed and tight. Ensure there is no leakage anywhere in the system.
The manual makes installation quite easy. However, if you still are not confident enough to install your water softener yourself, it would be better to hire an expert plumber.
Conclusion
Without water, we would cease existing. From cooking to bathing, cleaning floors to washing clothes, our life activities depend on water. Where water has countless uses in our daily lives, it's essential to realize that only clean water best serves these purposes.
The unwanted elements like magnesium and calcium make it dirty, polluted, and toxic, and using such contaminated water means jeopardizing our own lives.
The poisonous elements of water can produce adverse effects on life, and consequently, this life-saving element might become a life-taking one. It's undeniable that many people lose their lives to these water-borne diseases such as Cholera, Amoebiasis, kidney failure, Hepatitis A, etc.
In a nutshell, water softeners are different from reverse osmosis systems. Using soft water is crucial, and water softener systems can only ensure 'soft' water. Therefore, we must be aware of what makes our 'soft' water 'hard' and, hence, toxic.
Hard water produces negative effects in many ways, as it spoils plumbing, pipings, showers, and water taps. It also makes us feel uncomfortable physically.
But to every problem, there is a solution. If the hard water is a problem, the discovery of the technique of turning it into its soft version is the solution. This is the function that softeners perform.
Through this water softening process, the elements of magnesium and calcium are removed from the water. And besides these two obvious elements, almost 98% of other unseen pollutants and toxic elements are eliminated, too.
You can go for an option that fits your needs and budget just right. Whether you like a salt-based softener or salt-free, electric, or battery-powered softener, we have it all right here.
Below are some solid reasons to invest in a water softening system:
• It protects your pipelines and household appliances.
• It might keep you safe from water-borne diseases.
• It can make your clothes appear brighter and cleaner.
• It can help you avoid wastage of detergents and soap.
So, what are you waiting for? Choose the best water softener for your needs from our curated list above and start leading a cleaner, healthier life.
For access to exclusive gear videos, celebrity interviews, and more, subscribe on YouTube!