When you run long distances, you tend to need to pack some essentials: food, water, and, depending on the weather and elevation gain, possibly a windbreaker, hat, light gloves, emergency blanket, and a phone. It's impossible to carry all this without a pack, but most backpacks just aren't designed for runners — and will give you a chafed back, neck, and shoulders before you make it to the halfway point. Patagonia's Fore Runner Vest was made to meet this challenge. It's built as a hybrid vest, ostensibly molding the pack to your body. We put it to the ultimate test in the Icebug Challenge, a three-day, 45-mile run along Sweden's western coastline in Bohuslän.
RELATED: 72 Hours With Garmin's Fenix 3
Day 1: With the pack loaded, we lined up at the start with more than 100 other participants. After a couple of miles, our route climbed into the deep woods with a rolling, root-tangled single track trail that required our full attention. While focused on not tripping, we completely forgot about the pack. Nothing is bouncing thanks to its excellent suspension: two chest straps with low profile buckles secure the vest style pack to your body while two cinching straps on either side — one attached to the base of the pack, one to the base of the front stuff pocket — let you fine-tune the fit and further draw in the load. A quick-release string with a bungie runs from halfway up the pack, laces through the stuff pocket, and clips behind your neck for further load stabilization. Even with a full 2-liter reservoir tucked into the internal hydration sleeve, the load didn't move. Ten miles into Day 1, the close-fitting Fore Runner ran light despite its contents. 
Day 2: Despite its svelte design, the Fore Runner has plenty of pockets. So when we want to suck down a Clif Shot after an hour of navigating the trail, we don't have to stop, remove the pack, and dig around for food. The shoulder straps have cinching pockets big enough to hold flasks, a GPS, most phones, and shots or bars. We stashed lip sunscreen and anti-chafe balm in the smaller zip and Velcro shoulder pockets, and a hydration hose threaded through shoulder strap clips and guides, we had everything we needed without removing the pack. Post-run, back at our seaside cabin, it was easy to find our room key and ID in the pack's internal zip pocket. 
Day 3: Running with a pack, even one as form-fitting as this, will always have its downsides. But, unlike most running packs, this one just lets you stay focused without really ever getting in the way. Hopping and jumping through a sea of rocks is more work than running along the breezy coastline, so we were sweating early in the day's run. The Fore Runner didn't exacerbate the problem. Its mesh shoulder straps let the breeze through. The foam back panel has a mesh overlay that dissipates sweat quickly. And the DWR-treated pack is made from polyurethane coated nylon ripstop so it didn't absorb water — from our sweat or from a passing sprinkle of rain. The Fore Runner's cut gave us full freedom of movement, even in the scrambly sections. At the end of the day, our shoulders weren't sore, and we had zero pain in our upper body. It's a pack we'll keep in our gear closet for a long time — until we need to take it out for the next run. 
[$129; patagonia.com]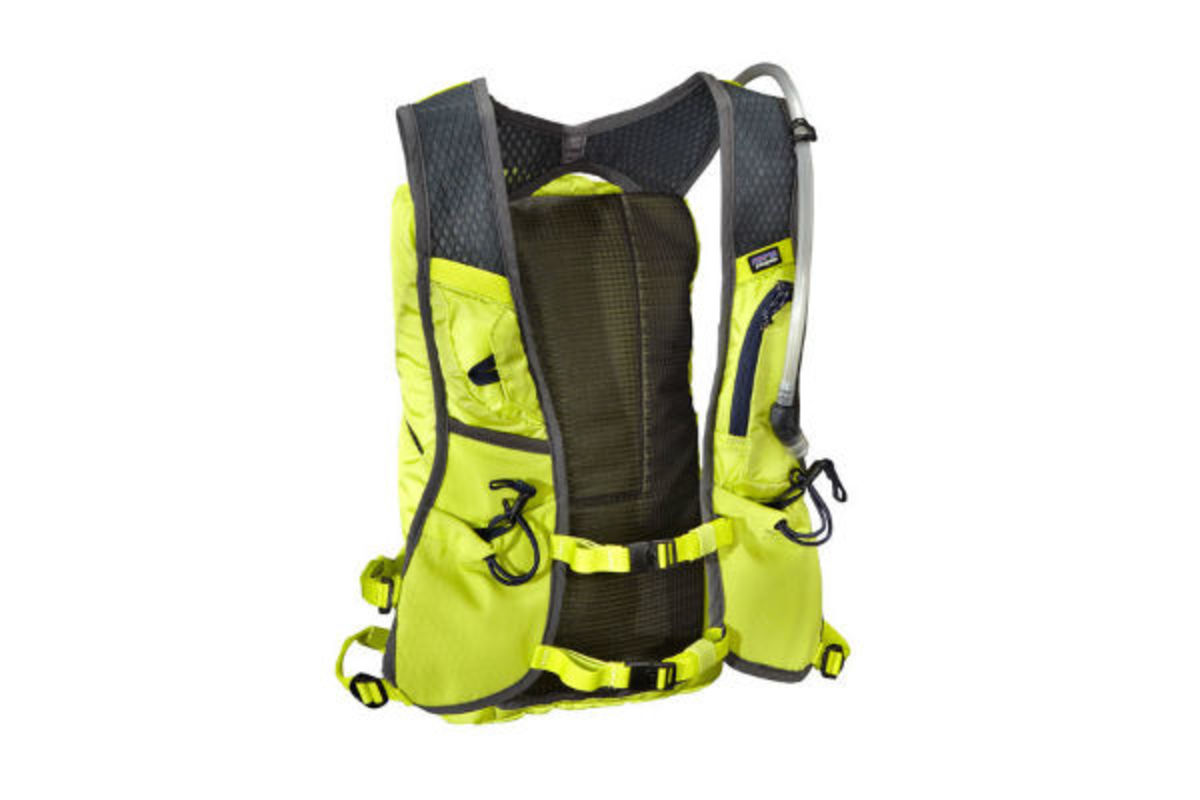 For access to exclusive gear videos, celebrity interviews, and more, subscribe on YouTube!