Investing in a Kickstarter project is a gamble. For every Pebble success story, you hear of another campaign with delayed delivery dates or outright flops. For example, the ZPM Espresso maker raised $370,000 in January 2012, and three years later, it had basically waived a white flag, serving as a cautionary tale of crowdfunding failures in a lengthy New York Times Magazine piece. So we're always a little skeptical about such projects until we can see a working sample.
A new darling on Kickstarter is the Everyday Messenger bag from Peak Design. At press time, the bag had raked in more than $2.4 million and had 25 days remaining. (Only 117 projects have ever garnered more than $1 million, according to Kickstarter's own stats.) Peak Design has a track record for successful photography projects, including its excellent Slide strap, but we still took a hand-stitched sample of the bag for a short test spin to see if it's worth all the excitement it's generating.
RELATED: Camera Bags for Any Photographer
Day 1: When the Everyday Messenger arrived, our first order of business was to load it full of camera gear, which is its primary purpose. Instead of the rigid foam dividers you find in other bags, the messenger uses flexible dividers that wrap around your lenses and camera bodies. The project's Kickstarter page shows those dividers folding neatly, origami-like, to cover lenses, but we found them to fold less cleanly when holding larger lenses (in our case, a mid-sized Canon 70-300). Those same flexible dividers, however, allow the bag to expand as you jam more gear inside. Packed full with a DSLR, three lenses, a flash, and other accessories, we appreciated the ladder-style hooks down the front of the bag, which snag the magnetic latch — no more fumbling with buckles or peeling back Velcro. If that's not fast enough for you, there's a zipper along the top of the bag that lets you reach directly into the compartment; it's especially handy when you're swapping lenses because you don't have to prop up the flap under your chin. It also allows you to cinch smaller loads into a more compact package. Not a photographer? Yank out the dividers, and it's still a capable messenger bag, with ample storage for just about everything you'll lug between home and work.
RELATED: The Top Cameras to Buy Now
Day 2: Much of our time is spent traveling and shooting photos in New York City, one of the last places you want to drag around something that screams "expensive camera gear!" While we find the bag's waxed-canvas exterior to be stylishly designed, it's subtle and doesn't draw any unwanted attention. Of course, the slick opening mechanism we liked the day before had us a little apprehensive in a crowded train, but it's a minor quibble. Even with a long commute standing on crowded trains, the bag proved comfortable slung over a shoulder. Our only gripe: Our bony collarbones wished for a bit more padding on the strap.
RELATED: The Best New Bags for Men
Day 3: You can tote this bag in a number of ways — handheld like a briefcase, over the shoulder, sling-style, or like a bike messenger using a third-leg strap for stability. It took a fair bit of adjustment for us to actually get our sample bag to fit (the straps were fairly short), but we made it work. We found the padded strap, again, just a little too meager for a long bike ride. And the bag is a fair bit more rigid than other messengers we tote around, but we're happy to have that to protect our gear. We felt confident that an iPad in the back compartment (large enough to hold a 15-inch laptop) would survive a pedal through midtown Manhattan. A bonus: Because of the bag's clean design, there are no loose strap ends flapping in the wind as you ride. Everything is tucked in or buckled down. Our only complaint was that we discovered the side pockets don't expand to hold a water bottle — or, in our case, a Hydro Flask full of iced coffee.
[$195 pre-order; $250 regularly; peakdesign.com]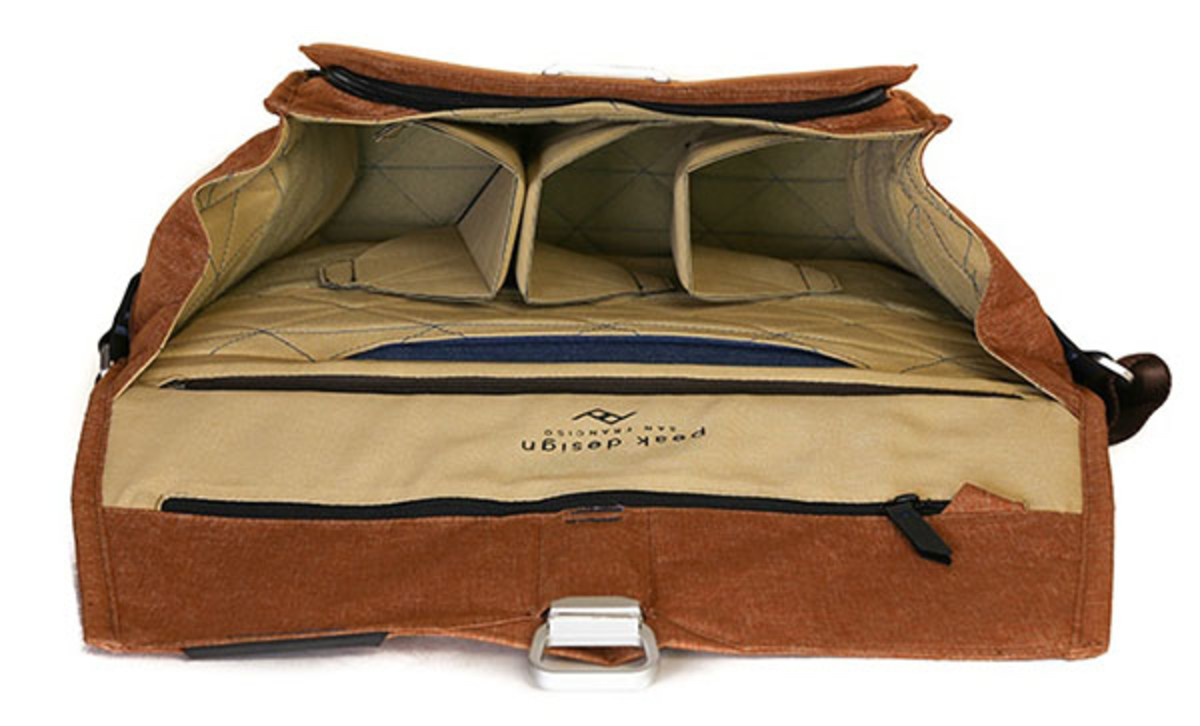 For access to exclusive gear videos, celebrity interviews, and more, subscribe on YouTube!