You have to give Samsung points for tenacity: They've been releasing slight variants (six in the last year) on their Gear smart watches since 2013, and it must be said they're getting better at it over time. The new Gear S can make and receive phone calls, which finally puts the consumer in a true hands-free scenario. But does it do $350 worth of additional heavy lifting? We put it to the test by wearing it around town for three days straight.
RELATED: 72 Hours With Garmin's Fenix 3
Day 1: The big difference between the Gear S and earlier iterations is that it has a built-in 3G modem, meaning you don't need to carry your smartphone to receive or make phone calls or send text messages. The watch does have its own SIM card and phone number (easily paired with your existing smartphone number). That said, you still need a Samsung smartphone with Gear Manager installed on it to get the watch going in the first place, or to add additional apps. And you have to pay an extra $5 to $10 per month to use the Gear S as a stand-alone phone. 
Unboxing and setting up were a snap. Strapping the rather hefty Gear S onto our wrist almost immediately elicited comments from curious observers due to its 2-inch, curved AMOLED screen. The upside is that the resolution is sharp enough to avoid severe eyestrain and makes tiny text actually legible. Plus, it was much easier to tap small app icons and navigate menus. In broad daylight, we had to seek a bit of shade to see things clearly, but that's par for the course. As for texting and writing emails, it was tough to use the minuscule keyboard, even with the bigger display. The display remains dormant as long as you're not moving around, but a built-in accelerometer wakes it up if you move your wrist sufficiently. An ambient light sensor dims or brightens the screen. We default-set the hardware home button below the screen to go to the mini-browser, which summons websites at will but can't yet stream video without a laborious work-around; you have to download videos and watch them later. On the positive side, the S-Voice software has improved — as long as you speak clearly in a quiet environment. And on a more disappointing note: You can reply to and receive emails without a Samsung smartphone in your pocket, but you can't compose a fresh email.
Day 2: Up bright and early, it was time to get active and put the Gear S to the test as a fitness watch. Samsung's S-Health app can track your distance and pace, measure your heart rate, log calories consumed, and even measure the outdoor UV level with a built-in sensor. The odometer measured distance accurately, counting both steps taken and total mileage on a two-mile, uphill hike. It also records your sleep data once your workout is over, which in our case, happened immediately after our trek. We later compared the Gear S to a treadmill's stats at the gym and found the heart rate sensor and step counter to match the accuracy of the exercise machine. Outdoors, a built-in GPS will keep track of your location and even provide step-by-step walking directions so you won't get lost.
Day 3: We were able to maintain adequate coverage in many parts of the city, and audio quality was clear and loud enough to use outside, though pairing the Gear S with a Bluetooth headset is a far better way to go. And as far as the extras the Gear S offers, only time will tell when it comes to Samsung's ability to attract developers by the hordes like Apple does — third-party apps are few and far between. There's a GPS golf app that looks promising, but it will set you back $30, which is no bargain considering the slew of free apps you can install on your smartphone (Swing By Swing is a particularly good one). GearGram will deliver your Instagram feed with full video support, and that only costs a buck. And Milk Music will have to stand in for Spotify for now. But in the end, is it worth the substantial price tag? If you're a dedicated hardware junkie, it gets a thumbs-up on its forebears. Just be prepared to attract some attention and for the inevitable: "Can you watch TV on that?" Not yet.
[$349; samsung.com]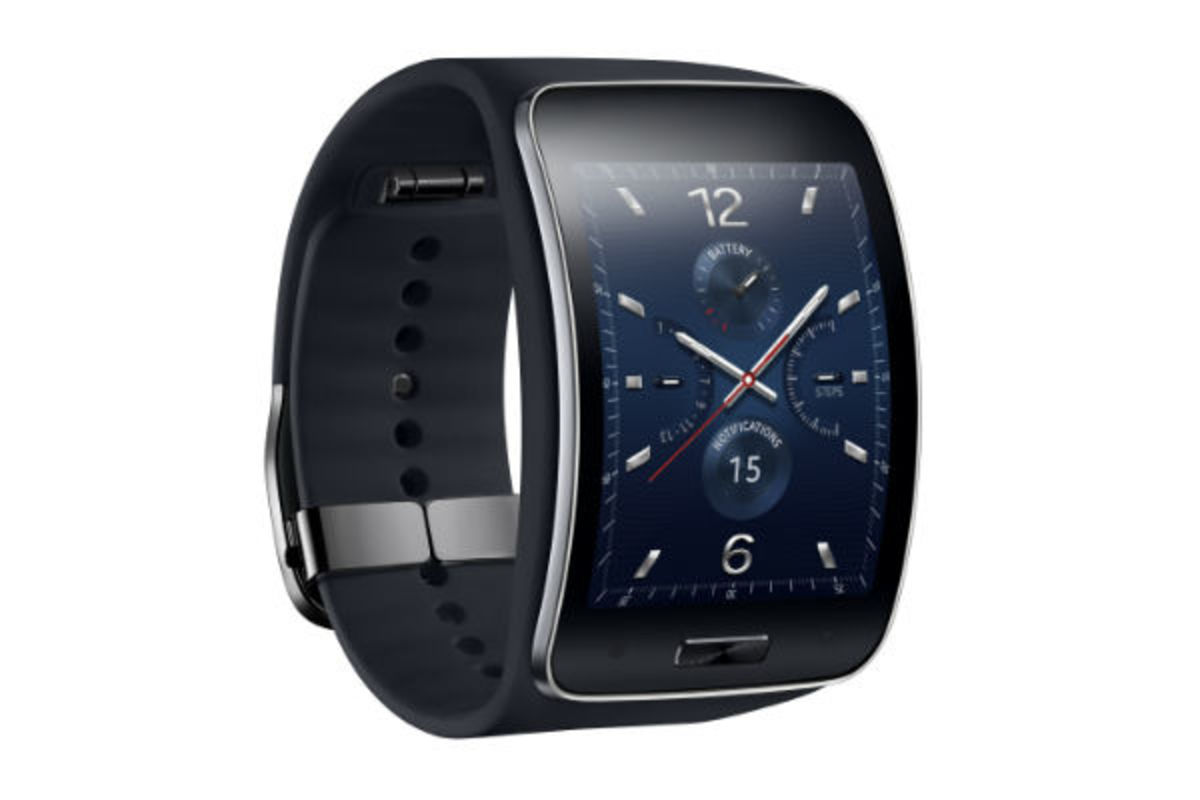 For access to exclusive gear videos, celebrity interviews, and more, subscribe on YouTube!