Ski jackets need to do three things: keep you warm, dry, and disappear from thought. If you're cold, wet or sweaty, or notice a bulky shell impeding movement, the jacket has failed you. That's why we took Volcom's new Gore-Tex ski and snowboard jacket for a three-day test drive at Northstar Resort in the Lake Tahoe area where, happily for the test, we came across some of the snowiest, rainiest, windiest skiing we have ever encountered. Here's how it fared.
RELATED: The 11 Best Cross-Country Ski Destinations in the U.S.
Day 1: Ski and snowboard jackets have become roomy in recent years. Gone are the form-fitting jackets that look sporty and slick — like a running or cycling shell — and in their stead something more in line with early snowboard stylings. Worries about swishing bulk quickly disappeared with this jacket, as it is insanely comfortable with a great range of movement. Also, importantly, the jackets are no heavier than more minimal shells — smart seams and materials have this jacket feeling lightweight. To note, the Paddington-yellow of the jacket we wore was both useful (we were easy to find) and handsome — toned down from the rampant reds and neons that line the slopes.
RELATED: The Best Ski Helmets to Buy Now
Day 2: Snow turned to sleet and later rain on the second day at Northstar, all carried by 40mph winds — just the right conditions to test the two layers of Gore-Tex and welded seams. As my ski partner, in his decades-old Gore-Tex jacket, quickly soaked through, the Volcom kept beading and the front two zipper pockets — bone dry throughout my testing — became the default storage for our wallets and cellphones. Today was a day where any pinhole would allow water in, and we found the one weak spot on the jacket; the side, fleece-lined pockets both have small holes holding bungy cords to attach keys or extra gloves. By the end of the day the water found its way into these crevices, leaving the pockets slightly damp. Not bad for the wettest day this skier has ever encountered.
Day 3: Another blustery day — with a bit more snow than rain — has us settle in and take solace in this sturdy jacket. Of course, three days in, anyone is going to find a few niggling details: The face mask attached to the hood is just too loose (and not adjustable) to comfortably fit over my nose; the hood does little but trap snow beneath my helmet and isn't detachable (or optional); and the single-button inside pocket is too flimsy to trust with any valuables. That being said, some two feet of snow and four inches of rain later, we're still dry and warm on the slopes, and have this jacket to thank.
[Available August 2015, $420; volcom.com]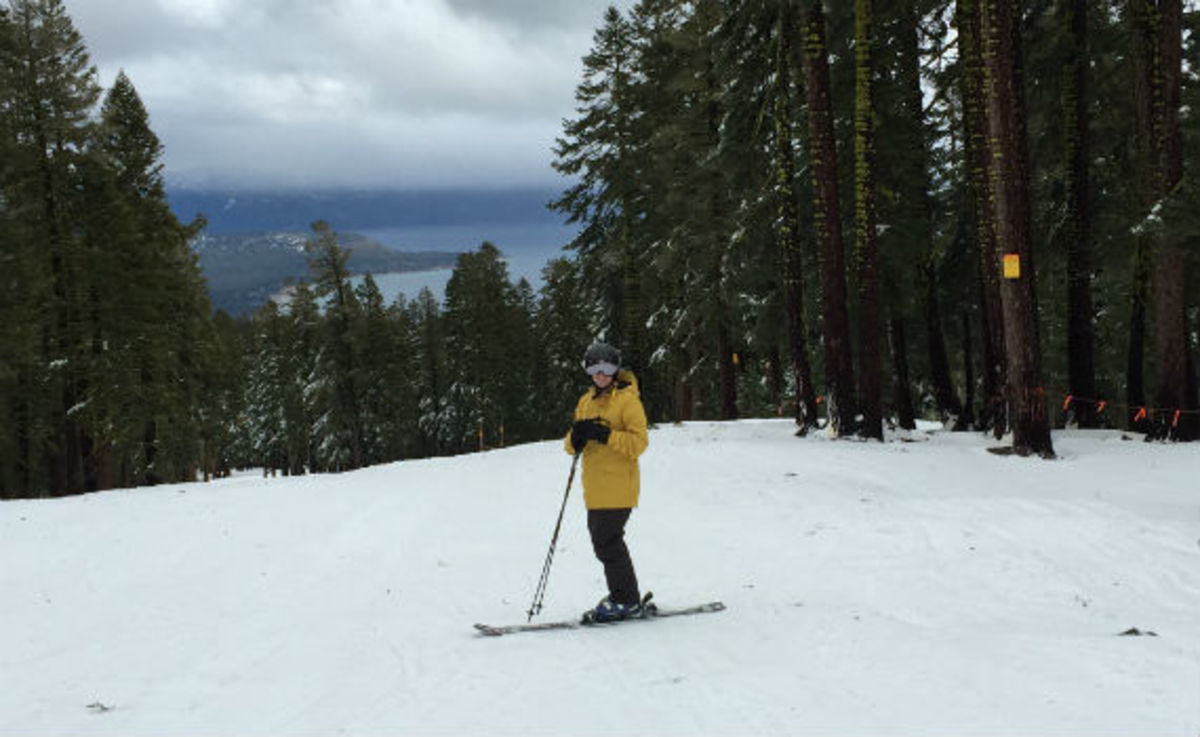 A rare moment of clear skies on a recent visit to Northstar Resort (in the back is a view of Lake Tahoe)
For access to exclusive gear videos, celebrity interviews, and more, subscribe on YouTube!