Personal drone technology has advanced quickly in recent months with the DJI Phantom Vision+ and the Blade 350 QX2 offering gimbal camera mounts that tilt smoothly as you fly them. Over the past year, Berkeley-based 3D Robotics released software that lets you draw an automated flight plan for a drone by using a tablet's virtual map. And now, the company has released the IRIS+, the first drone that can follow you around automatically.
RELATED: The 53 Most Innovative Things of the Year
The IRIS+ came about after 3DR studied the interests and needs of drone operators, especially those who use the quadcopter to create stunning aerial footage. The system can carry your GoPro Hero4, 3+, and 3, and track your every move if you have an Android device on hand, thanks to GPS and an app. Beyond the new tech, the company says it can fly for 16-22 minutes and has a lighter frame, long legs to protect your camera when it meets the ground, and "spin-on self-tightening propellers."
In an exclusive demo, 3D Robotics showed us how the new model flies. It looked like a spider with bright-blue legs when it flew about 50 feet in the air. With a quick click of a button on a Nexus tablet, the drone locked into its Follow Me setting. As we moved down a walkway, the drone stayed near us at all times, which is ideal for filming a boating trip, bounding over moguls on a mountain skiing trip, or just rollerblading on a state park path. And, you can adjust its position to follow behind, ahead, to the side, or even orbit around you at all times.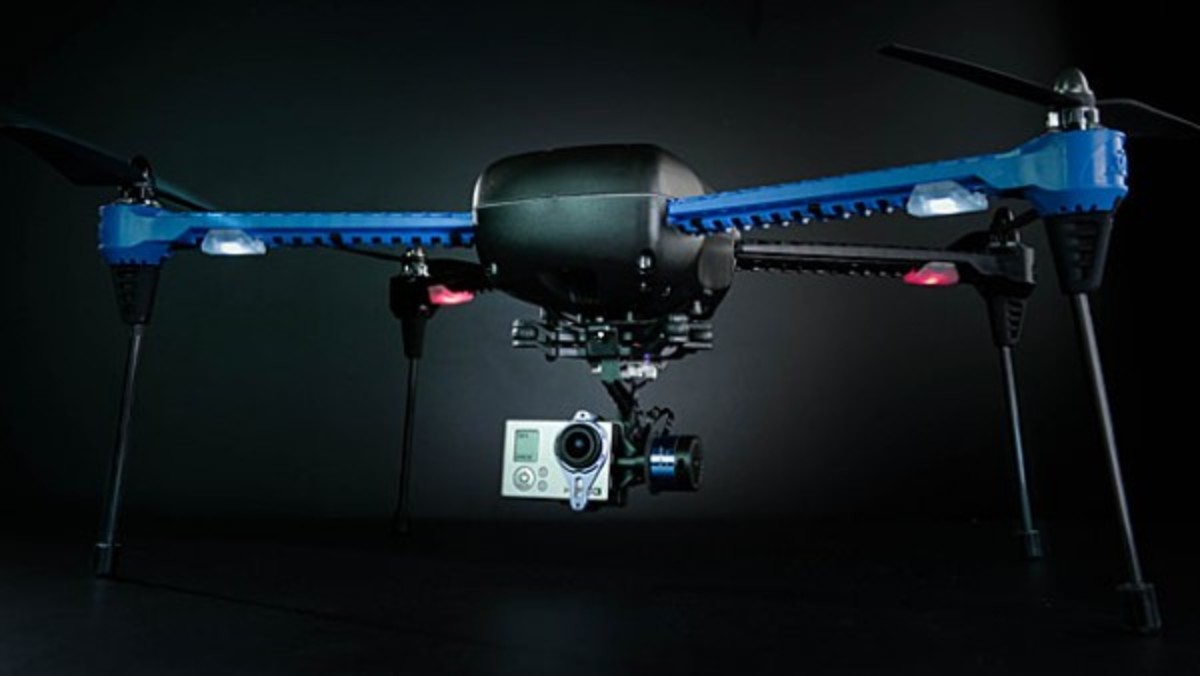 The flight controller, which looks like something you'd use with an RC car, can reach the IRIS+ within about a mile. 3D Robotics designed it to carry a payload of up to a pound. Even better, all of the components are easily replaceable: In one flight using Fatshark video goggles, we managed to drop onto a dirt mound and break both legs. No problem, said product designer Jason Short — the legs only cost about $2 each.
Short reinforced the idea that the IRIS+ is a result of listening to customers who want replaceable parts, easy customization, and even more software upgrades. The biggest need, he says, is for battery technology to evolve faster so that operators can fly for longer periods of time, record more footage, and perform more aerial stunts. 
[starts at $750; 3drobotics.com]
For access to exclusive gear videos, celebrity interviews, and more, subscribe on YouTube!