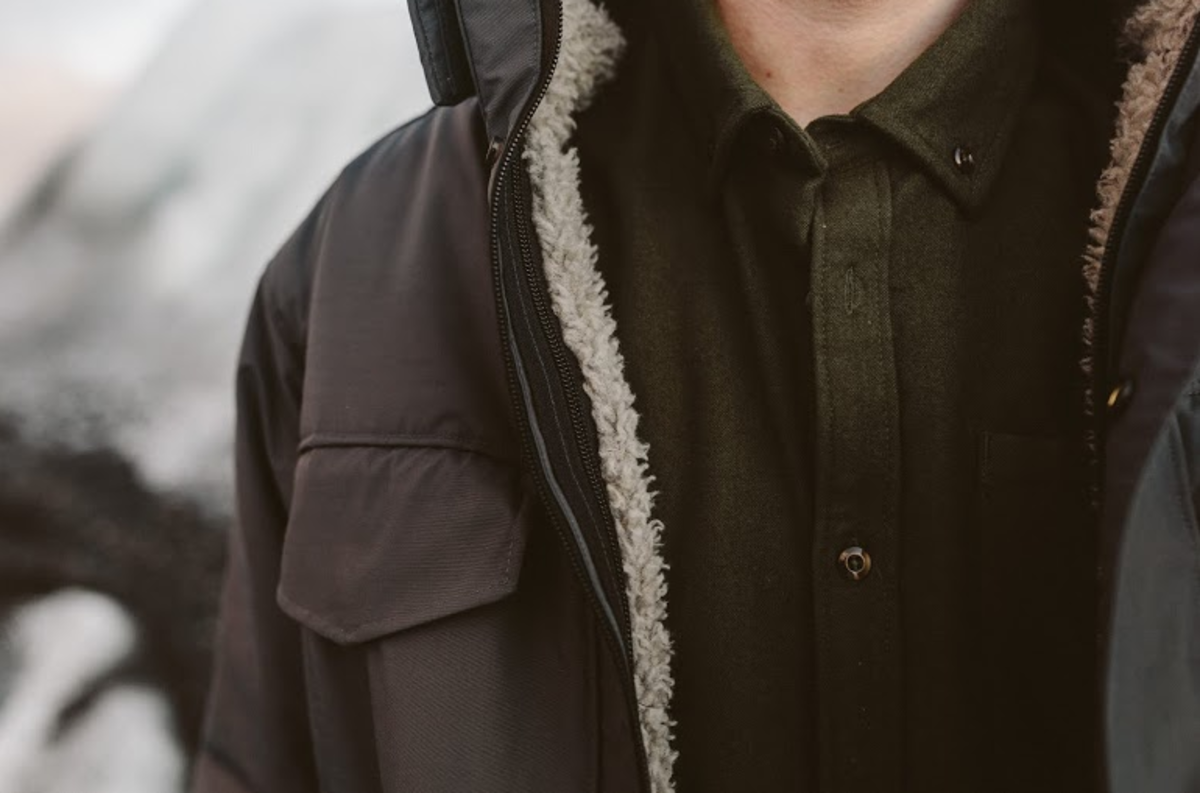 The bald eagle may have an argument here, but when it comes to patriotic symbols, it doesn't get much more American than the bison. Revered along the Great Plains, added to insignia and national coin and even petitioned for in Congress as the USA's national mammal, the American bison was woven into the American fabric before the country officially existed.
Now, thanks to apparel company United by Blue, the American bison has become an American fabric. Noting the impressive warmth properties of bison fur, the Philadelphia-based brand has developed an outerwear line utilizing a revolutionary bison-based insulation that performs as well as or better than leading sheep's wool insulations.
Sourced and made entirely in the United States, the Ultimate American Jacket and the Bison Snap Jacket are United by Blue's first push into a realm that has the potential to sustainably shift outerwear production back Stateside.
GrindTV caught up with United by Blue founder and president Brian Linton to learn more about the bison wool process and what it means to bring an all-American product to market.
Where did the idea for bison-wool-insulated outerwear come from?
Last year we launched a sock that was made from bison fiber. We developed it all in the U.S. by sourcing bison fiber from North Dakota, spinning the yarn in Massachusetts and knitting in Iowa. It opened our eyes to the local, sustainable natural-fiber supply chain.
The American bison is a species that only naturally exists here, and we actually realized that the fiber is a very viable fiber for warmth. Bison are naturally evolved to adapt to extreme climates from Mexico to Alaska, and it's that fiber that helps protect them.
Is there anyone else out there doing this?
There's some smaller businesses and craft companies utilizing bison fiber for scarves and hats, but we are the first and only ones using it for outerwear insulation. We pioneered that process.
There are varying degrees of bison fiber coarseness. The softer stuff is used in socks, hats and scarves. The coarser hairs never really had much purpose; they are very lightweight and have good loft, but they aren't good for yarn. In order to utilize those properties, we put them in a shell and bonded them with recycled polyester to make a super-warm insulation layer, and that's how our B100 fill was born.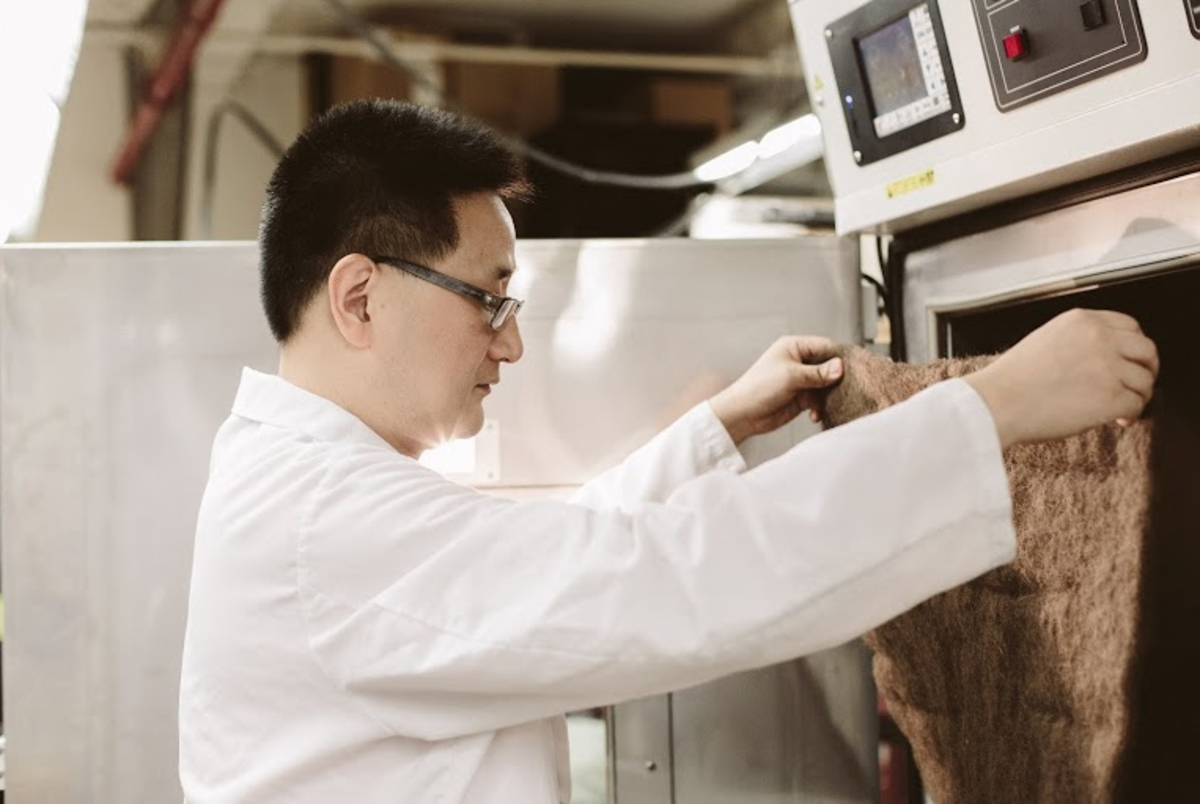 Yeah, how do you guys make the B100 fill?
The bison goes through a de-hairing process where the soft and coarse bison fibers are separated and then the coarser hair we blend with a recycled polyester and process it into sheets, essentially. So it's sheets of bison wool batting, and that specific blend allows a really nice loft and springiness.
It's lightweight, but easy to compress, and that's what is inserted into the shells of our jackets.
Is bison wool environmentally friendly?
Yeah, 100 percent. It's an amazing sustainability story. Basically the process is sustainable by the very nature of bison ranching versus wool or duck and geese down because bison are a native American species, so they are good for the grasslands that they are on.
A lot of the Great Plains needed bison to be healthy for the grass to be healthy. The bison industry is by and large a pasture-raised, grass-fed [model], not fed hay or liquid nutrients or growth hormones (it's illegal to use growth hormone on bison), so it's a very sustainable way to raise animals.
And then they are part of this local supply chain. Most of our wool is coming from Australia, New Zealand and other places. The U.S. wool industry isn't very strong locally, so having U.S. bison means better hyper-local supply chains.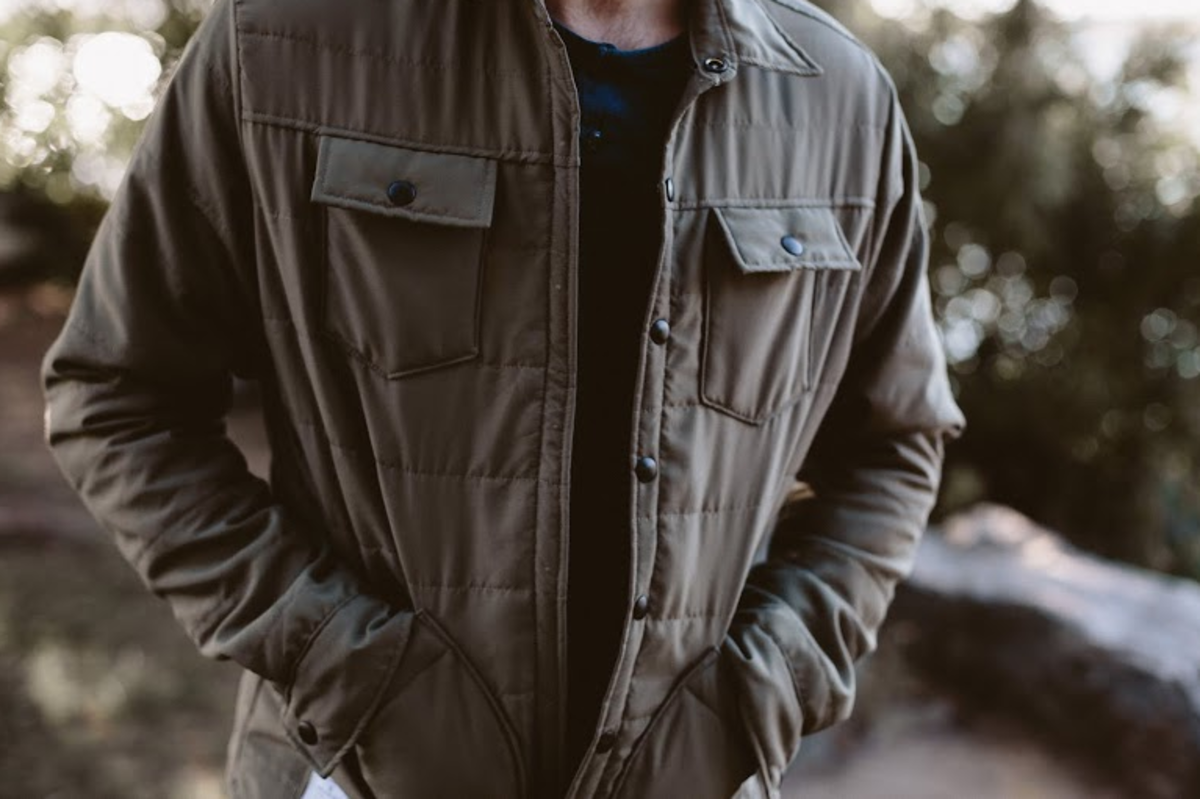 What are the advantages to bison wool over a traditional sheep's wool?
It is just as warm as what you'd get off standard-wool-insulated products. We've done tests and independent lab studies on our B100 fill and our Ultimate American jacket performs warm, but is still very breathable and comfortable.
On top of that, it's hypoallergenic. [Sheep's] wool has lanolin in it, which some people are allergic to. There's no known allergens in bison fiber. It's anti-microbial just like wool, so it doesn't grow bacteria like cotton does and other synthetics.
Our wool is also temperature regulating; it's why bison can survive in the heat of Texas but also the frigid temperatures of South Dakota. It gives that nice range.
What does it mean to produce an all-American product?
It's pretty exciting. We don't make all of our products in the U.S., and that's what is unique about this. It has been a journey to discover what it is to make something from the ground up.
In the apparel industry, you are developing a lot of different things, but you are not often going all the way to the fiber source in regards to procuring material from farms, so that's been an exciting thing to connect the dots and build a community around it.
More from GrindTV
Get bikini-ready with surfer Erica Hosseini
Crossing the country? Don't just travel, explore
The Weekly Grind: Nov. 16, 2015
For access to exclusive gear videos, celebrity interviews, and more, subscribe on YouTube!