A first listen to the Apple HomePod, the much anticipated smart speaker first announced in October 2017, confirms that it was worth the wait. The tech giant made the speakers available for preorder on January 26, and they'll start shipping and appearing in Apple stores on February 9.
So what can customers expect when they finally arrive? The Homepod stands at just under 7 inches tall, making its footprint smaller than the Google Home Max and more or less in line with the size of the Sonos One, its two main competitors. It'll come in white and Apple's signature Space Gray, and both colorways have glass screens on their tops that display the undulating wheel of colorful light that indicates when Siri is listening, processing a request, or answering a question or command.
And even though it's a relatively small speaker, the sound the HomePod was able to produce easily filled the generously sized rooms Apple set up as testing spaces. (One mimicked a home office, one felt like a library, and one was a functioning kitchen, living, and dining room.) Its base contains seven beam-forming tweeters that, in concert with its software, analyze the device's position in a room—and that room's shape—to produce better sound. It's got a powerful subwoofer and an array of six microphones, which means the guitar picks on a song like Ed Sheeran's "Shape of You" sound crisp and clear if you're standing right next to the HomePod, or if you're on the other side of the space. It also shone with Gregory Porter's "Holding On" and a live recording of The Eagles' "Hotel California," both songs that layer, well, a lot of musical elements over a main vocalist's voice. The HomePod managed to highlight every instrument without drowning out the singer, which happens all too often with other speakers in the category. This also means that no matter where you are or how loud your music is, Siri should be able to pick up on your voice when, say, you ask it to turn the music down.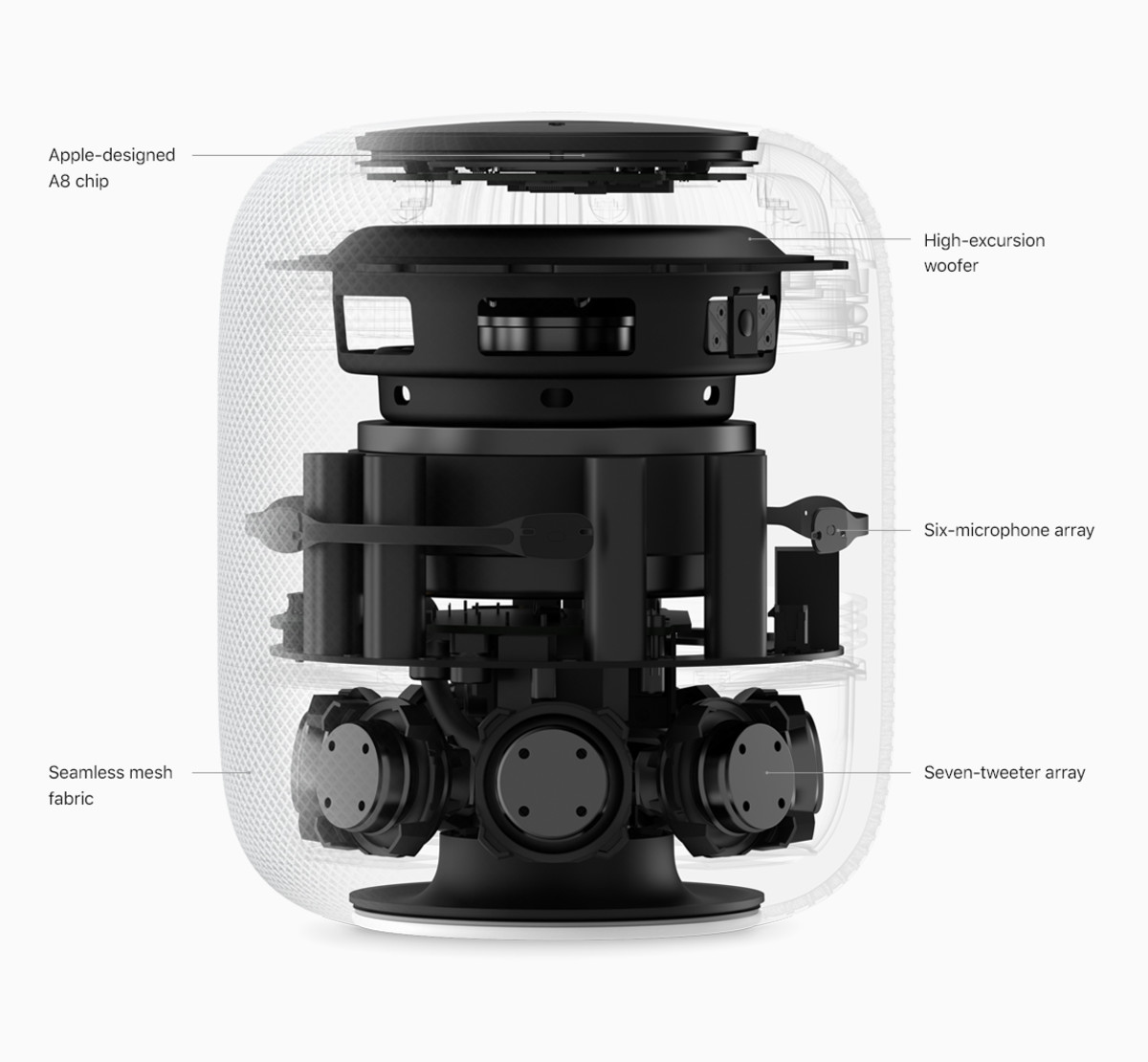 The device is optimized for use with an Apple Music subscription, which enables Siri to take advantage of the platform's deep knowledge and playlists. When asked to play the current Grammy nominees, Siri lit up one room with Childish Gambino's "Redbone," a contender for the Record of the Year award. And because Siri is now used on a staggering half a billion devices across the world, the voice assistant is only getting more and more sophisticated every day. It's part of what helps the HomePod work seamlessly with other devices added to the Apple Home app: set up a scene in your kitchen, for example, and you can say good morning to Siri and watch as smart devices come to life to help you get ready for the day.
So is it worth the $349 asking price? If you're already using Apple's HomeKit products to make your life more efficient, it's a slam dunk—with really great sound.
For access to exclusive gear videos, celebrity interviews, and more, subscribe on YouTube!