Gear
Apple Watch Ultra Review: 5 Key Features That Can Lure Garmin and Suunto Devotees
Apple Watch Ultra just debuted as the big kahuna in the Watch pantheon. Apple simultaneously debuted the Series 8 as well, but that widget retains the conventional Apple Watch design. The Ultra breaks with that ethos, keeping the "squoval" display, but doubling its brightness; adding an aerospace-grade titanium case; increasing case size to 49mm; and depth by nearly a third, growing thicker in comparison to the Series 8—14.4mm deep versus 10.7mm, respectively. And, okay, they added 40m dive capability and functional capacity from -4 degrees F to 130 degrees F. These are temps where you might not be so functional, but your wrist computer will be unfazed.
Still, specs and dimensions hardly tell the full story. So we tested a new Ultra for a week to find out how it tops all other Watches Apple's made. And how it may finally convince diehard devotees of Garmin and Suunto—traditional chronograph wearers—to look to Cupertino for their next timepiece.
Apple Watch Ultra Review: Top 5 Features
1. It's a Phone on Your Wrist
While it's not a new feature for Apple Watches, it's key to note that every Ultra comes standard with an eSIM and multi-band GPS, using the L1 and L5 GPS bands. Yes, other GPS watches have longer battery life (more on that below), but you can't use them as phones. Being able to ditch your smartphone and go for a two-hour bike ride, booking takeout halfway through to pick up on the drive home, is an ace in the Watch corner that's very hard to top.
Apple
2. Bigger Size and Physical Controls
Look, I've tested every iteration of the Apple Watch. While more recently Apple came out with both larger and smaller versions of the Watch, and you can "talk" to Siri on the Apple Watch to achieve certain complex functions, the reality is that inputs on a tiny screen, and even reading a tiny screen, can be a major challenge, especially in the midst of working out.
That's why the new 49mm size is clearly no accident.
It's just large enough to fit someone with a medium-sized wrist or larger, and not feel too small on that wrist. While seeming beefier and more substantial, it feels like you paid for something truly crafted. The Ultra weighs 61.3g vs. 39.1g for a 45mm Series 8 w/GPS and SIM card.
Despite the increased heft, it fits great, and didn't feel bulky during cycling, lifting, or running. That's because even though it's bigger than the Series Watches, it's still small for a GPS timepiece. The thickness is still on par with one of Garmin's smaller options in the space, the Fenix 7 Saphire Solar.
While the Ultra's display is only 1.8% larger by area than the Series 8 (in 45mm version) it's twice as bright. That larger, powerfully lit screen can show six lines of data versus five lines while using Apple's Workout app. But the real key here is legibility. Regardless of the app you're using or the watch face you've chosen, the intense display is just far easier to read on the fly, whether you're eyeballing an incoming text or trying to parse your mile split time for a 5K.
While I didn't dive or surf with the Ultra during testing, I did sweat a bunch, especially mid-run and mid-bike. I found entering a split interval or changing the view of what I wanted to see (say, my HR zones during a ride or my moving mile time) was just a little easier.
But even more pleasing is that you can program the Action Button, which is on the left side of the Watch, to instantly enter into a workout. There's no more toggling through menus to get to the Workout app. Further, you can "micro program" that, so it pulls up the specific kind of workout you do most frequently. On the opposite side of the Watch, both the Digital Crown is larger, with chunkier knurling, and it's protected. You're not going to hit that by accident. The side button on that right side of the Ultra case is also larger. Again, this is to enable you to feel this switchgear more easily, and it does make a difference.
I tend to wear cycling gloves, especially for mountain bike rides. With previous versions of the Apple Watch there was no way to easily use the switches. But on Ultra, particularly if you get cold hands, having functional buttons and dials that more closely emulate what you get from a Suunto or Garmin (or a more classic Swiss chronograph) just makes sense.
3. Multisport Workout Functionality
Thanks to the new Action Button on the left side of the Watch, as I've explained, it's easy to assign that to the Workout app, and even to assign that button to begin a specific kind of workout. And you can go yet deeper. First, if you like, you can assign another function to the Action Button, like the Stopwatch. Or, you can immediately enable the Apple Watch Ultra's Backtrack function. This will guide you along your GPS track to the spot where you began your hike, run, ride, etc.
But if you're a fitness junkie, the most likely scenario is to want the Action Button to shortcut directly into the Workout app, then you want the Action Button to do more.
For instance, during testing I set it up to head straight into the Workout App. From there, because I frequently warm up before a run by doing a 20-minute gravel bike ride, I made the in-workout function of the Action Button trigger my transition from bike to run. Here's how it plays out: Hit the Action Button at the start of the ride, come back, hit the Action Button to trigger the transition, load the bike into the car and change footwear, then hit the Action Button one more time to get an accurate recording of my run.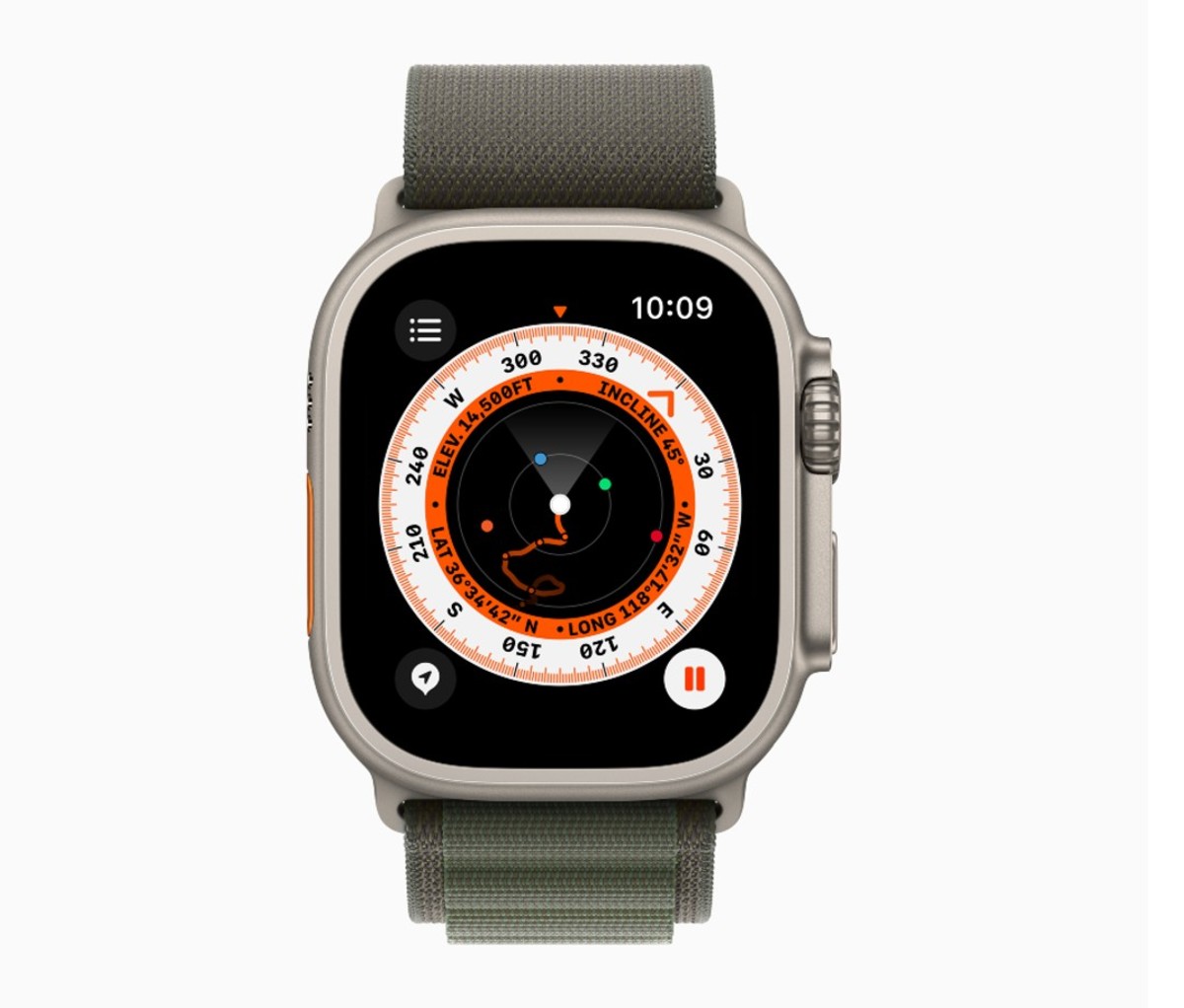 If you do want that to be a bit more seamless and instantaneous, you can use a race-focused mode that automatically begins that transition, but I wanted a way to tell the Watch I've switched workout modes without that transition being triggered automatically due to the complexity (and awkwardness) of switching from pedaling to running.  If  a lot of your multi-sport workouts include waiting for the treadmill to free up in the gym after your swim, this ability to customize the sports switch (and the order of the switch) is a godsend.
It's like the multisport function on a Garmin if you're doing a triathlon—all those actions and transitions are tracked and initiated at the press of a button. As such, you can just as easily pair other routines to customize multisport workouts, like open-water swimming, pool swimming, indoor cycling, and indoor running. There are default pairings in the Workout app, too, including triathlon (swim-bike-run), as well as run-bike-run, run-swim-run, etc.
4. Edge-of-Watch GPS Antenna and Beamformed Mics
Apple has made a big deal about adding its GPS antennas to the upper edge of the Ultra. This may enable faster GPS fixes in tree cover, or more accurate tracking when navigating home during that overnight hike. But honestly, a cooler feature is that the new Ultra has three microphones to pick up your voice better, and uses noise-cancelation features for the caller on the other end to better hear you when it's windy out while you're making that call from your wrist.
To test this, I rung a few friends and just had conversations with them. One pal remarked that I had put him on speaker but until I told him I was calling from my wrist he didn't have a clue. On my end, thanks to dual speakers that now produce 40 percent more volume, I had to turn the sound down so I wasn't bugging other people on the trail.
5. Battery life
Yes, the Achilles heel of all Apple Watches is still battery duration. Depending on how much you're tracking, you can squeak out about 24 hours from a Series 8 or earlier. But if you want to track your sleep, not just your daily routine, that still means a somewhat cumbersome cycle, which might look like: track workouts, sleep, then recharge the next morning. It fuels up fairly quickly, but if you're a morning exerciser you're running on fumes (so to speak) if you follow that schedule.
That's why up to 60 hours of life (rolling out later this fall) from the Ultra's 76 percent larger battery really will finally kick down the barrier to entry for many folks.
During one testing interval, I was able to eke out about 57 hours before, at 9% battery, the Watch asked if I wanted to switch to Low Power mode, which spikes some functions.
And mind you, I didn't baby the Ultra.
For the first day, and during three workouts, I used it with its eSIM enabled (you can always stretch battery life by toggling that off, since you can enable it whenever you want to make a call or text from your wrist). I streamed music to a pair of Airpods during all three workouts. I made a few calls from the Ultra and tracked two nights of sleep as well. Until the afternoon of the third full day, I had full functionality. You won't get anything near that kind of battery life from any phone on the planet.
Yet a strong competitor, the Garmin Fenix 7, which is about the same size as the Ultra and costs the same ($799), will run laps around the Ultra. Apple says its new kingpin can last up to 12 hours during constant GPS use in the standard power mode. Meanwhile, the Fenix 7 can last a whopping 57 hours on GPS tracking.
The Yeah-But Reason to Still Want an Apple Watch Ultra
If you're going to climb K2 or "merely" Denali, a Garmin or Suunto with far greater battery life makes the most sense. No question.
Even if you want to go for a seven-day hike in the Sierras, that's perhaps the right call, though a standalone GPS with a larger screen feels more right, if you ask me.
You can't reply to a text on a Garmin Fenix 7, though you can see them. And you can't take or make a voice call. Sure, if your paired phone is nearby you can vet the text and decide to respond or not. But that's going back years in Apple Watch tech terms. Yes, you can play music on a Fenix 7. However, to load tunes onto that timepiece you have to plug your watch into your computer. Again, what decade is this?
You can (and should) argue that these are apples (sorry, couldn't help myself) and oranges comparisons. The Garmin is definitely the logical choice for extreme-use cases. But just how many of us live in that realm all the time? You're an athletic person, but are you a professional athlete?
This is precisely why Apple has made so many inroads in the smartwatch space. They're not aiming at the edge of the market. They're aiming at the fat middle. Here, with the Ultra, they're making their very first play for a different sort of customer. If they don't hook you now, don't worry. Like with the iPhone, they've proven they're just going to keep making a better mousetrap.
For access to exclusive gear videos, celebrity interviews, and more, subscribe on YouTube!