Gear
Top-of-the-Line Japanese Knives to Elevate Your Knife Skills
You may not be an Iron Chef (yet), but it's safe to say your knife skills have come a long way in the past year. And while many opt to use European chef's knives, there's good reason to invest in Japanese knives. For one, their construction gives you precision when making very specific knife cuts, whether hasu-giri (diagonal cuts), sen-giri (matchsticks), or wagiri (thin rounds). For another, they're durable. And last but certainly not least, they tend to have a level of craftsmanship that'll melt your bespoke heart. Even if you feel a bit intimidated with their rectangular-shaped chef's knife or other unique styling, once you adjust, you may discover newfound speed and uniformity in your cuts. (Fun fact: An evenly diced onion cooks better than one that's sloppily butchered.)
So what's the main difference between Japanese and European knives? Think of European knives as perhaps more universal, and Japanese knives as elite specialists, says NYC-based chef, restaurateur, and cookbook author Jonathan Waxman. "The traditional Japanese knives have a one-sided bevel or cutting side, and are made from sharp, high-carbon steel. European knives are generally made with more stainless material—and thus are stronger—and they're beveled on two sides. European knives are harder to keep sharp and not as precise as their Japanese cousins."
With many Japanese knives and sets on the market, however, it's hard to narrow down your selection. That's why we tapped Japanese knives connoisseur—Hiroyuki "Zama" Tanaka, chef and owner of Zama in Philadelphia for his top tips for selecting Japanese knives.
Do your homework. Lucky for you, we did it for you in researching the best of the bunch at various price points (scroll down for our top picks), but Tanaka emphasizes the importance of comparing various options before making a purchase. "The first thing you want to consider when purchasing a Japanese knife is who made it and how it was made," he says. "You must research different brands within your budget and make sure the one you select is reputable and worth the price."
Make sure the weight and grip is comfortable in your hand. We've all got different hand anatomy, so what your brother-in-law swears by may not be for you. "The weight of the knife is truly your own personal preference," says Tanaka. "For example, I used to prefer heavier knives, but now I like them a bit lighter. I'd recommend holding a few styles before selecting the best one with which to start." When buying online, most sites offer return policies, allowing you to hold the knife in your hand before making your final verdict.
Be devoted to taking care of your knives. Like any kitchen tool, these knives need TLC to preserve and extend their use. "I'd say one of the most common mistakes people make when buying a Japanese knife is that they don't know or understand how to properly sharpen it, resulting in a dull knife," says Tanaka. "You are making an investment with your purchase, and you should be able to use the knife for a very long time. Ultimately, proper knife care and sharpening is just as important as brand selection and price."
FYI: traditional Japanese knives are sharpened at a 10-degree angle. (Some Japanese "style" knives may be sharpened between 15 and 22 degrees.) Now, it's onto the chopping block with our favorite picks.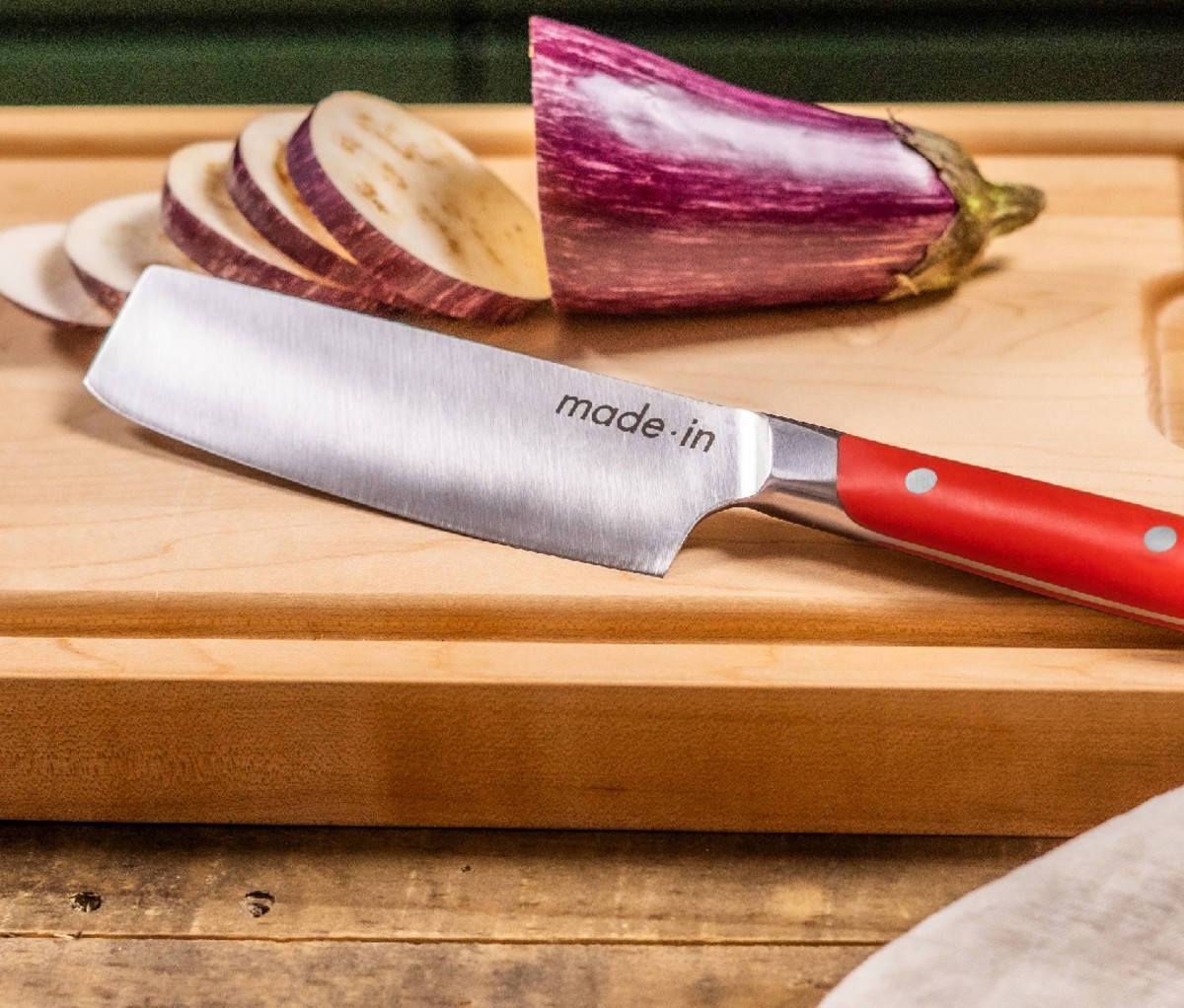 1. Made In Nakiri Knife
Choose from a red or black handle with this affordably priced workhorse of a veggie chopper. Featuring a full tang and 6.38-inch blade, we're big fans of this hybrid knife. (FYI: Typically more coveted, a full tang's knife blade extends fully along the handle as opposed to a partial tang where the steel only goes part of the way along the handle.) It's easy to hold, versatile in the kitchen, and a great standalone choice if you don't want to invest in a full set of Japanese knives.
[$89; madeincookware.com]
Get it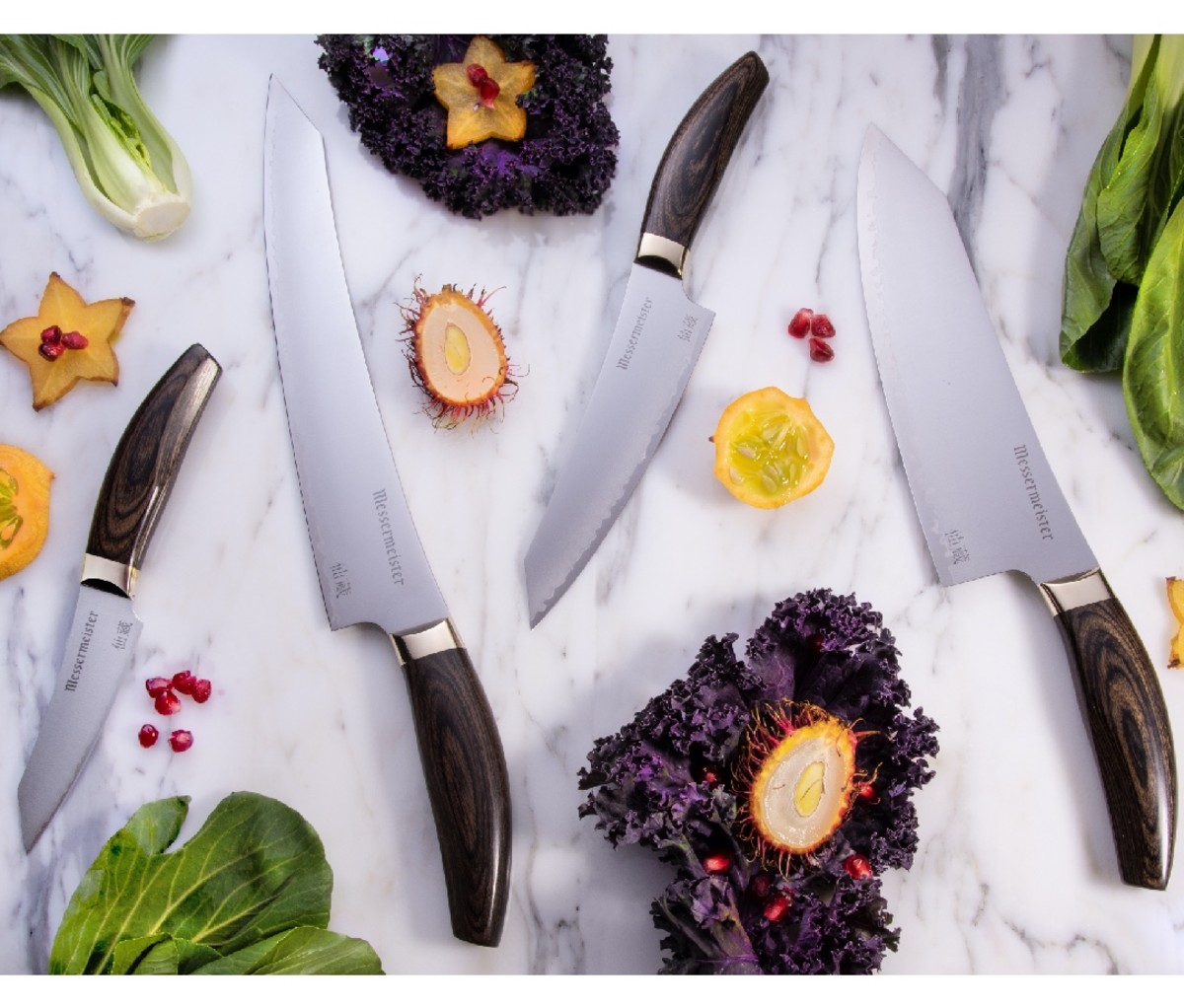 2. Messermeister Kawashima 5-Piece Magnet Block Set
Noted as Messermeister's sharpest knife collection, the brand collaborated with esteemed bladesmith Shoichi Kawashima to create this standout set, which is handcrafted in Seki, Japan, a city known for producing fine modern Japanese cutlery. With razor-sharp edges and a wide surface area, we especially appreciate the curved handle, which helps give your wrist some relief during long prep sessions. For storage, this set comes in an elegant wooden block that's magnetized for ease of use. You can also buy the Kawashima knives individually here. The price for these knives may seem steep, but it's well worth the investment for Japanese knives: "Just splurge and buy that special knife that might cost a bit more; you'll be rewarded with a very sharp, precise friend for life," notes Waxman.
[$800; messermeister.com]
Get it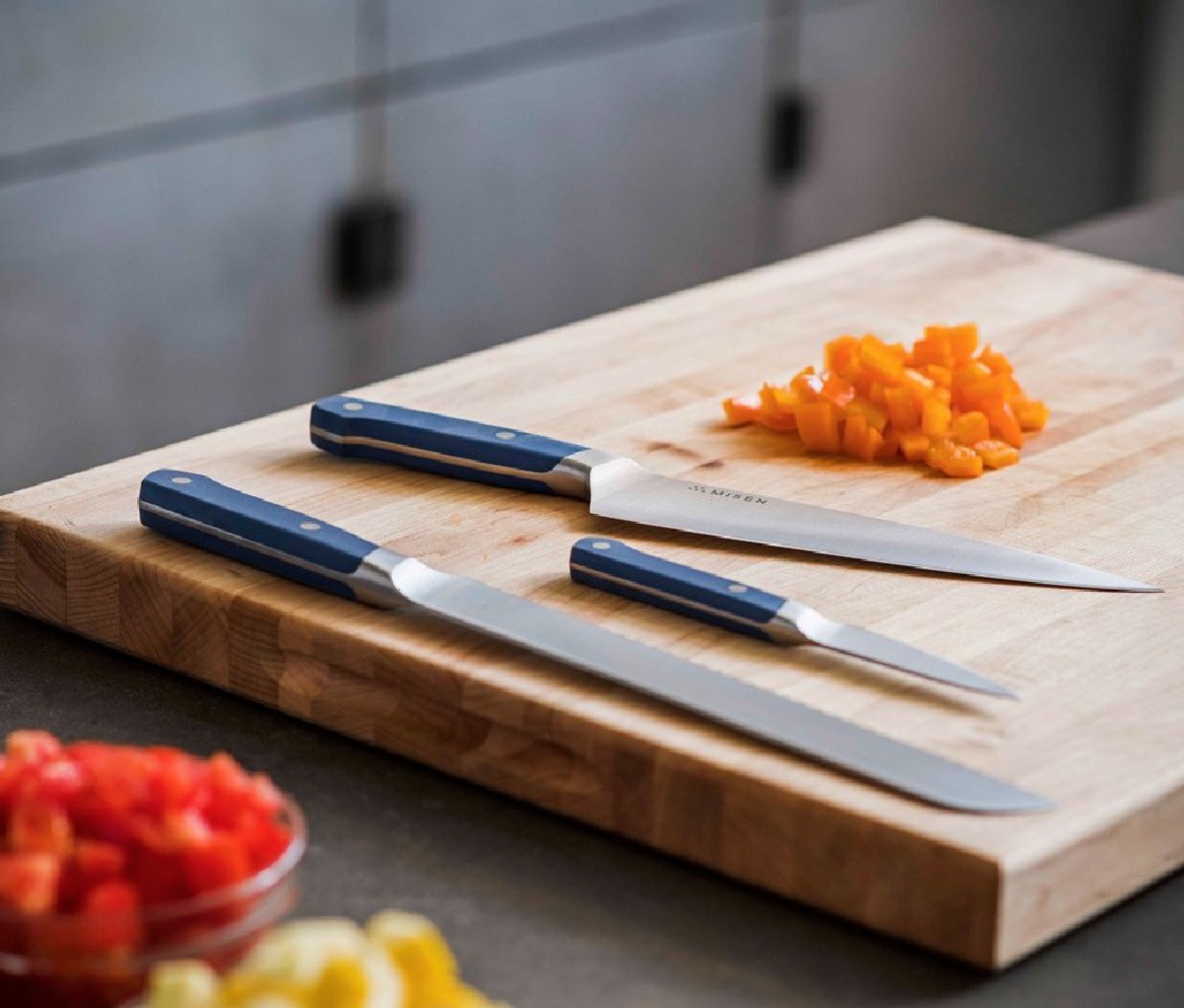 3. Misen Essential Knife Set
Looking for a chef's knife somewhere between a Japanese and European blade? Try Misen. They're made with Japanese steel (AICHI steel), and its chef's knife combines elements of both Japanese and German knives. Ideal for beginners, the 3-piece set includes a chef's knife, serrated knife, and paring knife, with the 5-piece version tacking on a Santoku knife (another general chef's knife with a more traditional Japanese blade shape) and utility knife. Considering these knives have an average rating of 4.9 stars from more than 2,000 reviews, you can feel confident these bad boys will make prepping a breeze.
[$130 for 3-piece and $200 for 5-piece; misen.com]
Get it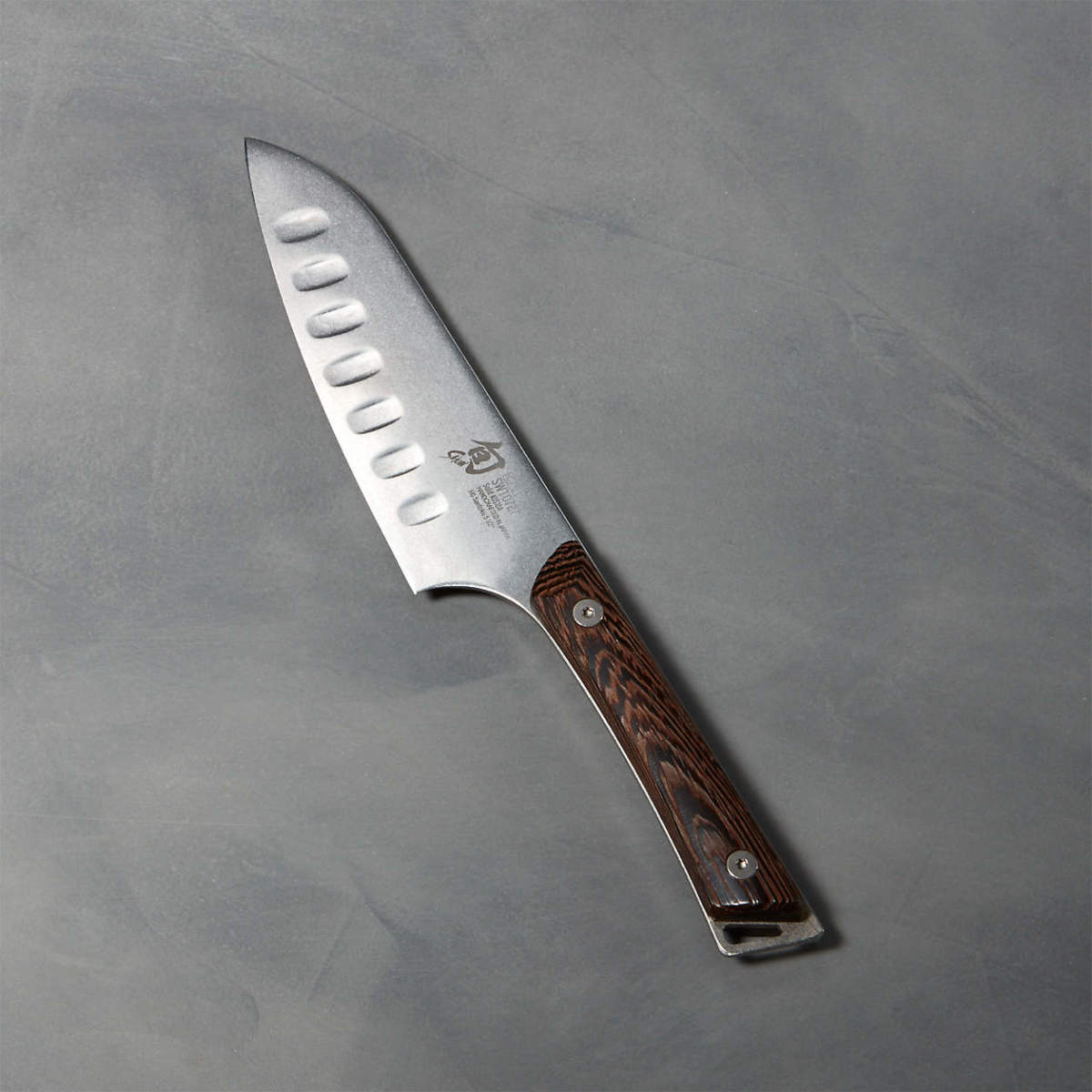 4. Shun Kanso Hollow Ground 5.5-inch Santoku
Part of Shun's Kanso Series, this knife is designed to be an easy-to-use tool in your kitchen arsenal. With incredibly tough blade steel and a long-lasting, attractive wooden handle, you'll wish you picked this up a long time ago. Also worth noting: The 5.5-inch blade has hollows to help prevent food from sticking to the blade and a stonewashed finish to keep your knife looking new by hiding scratches.
[$110; knivesshipfree.com]
Get it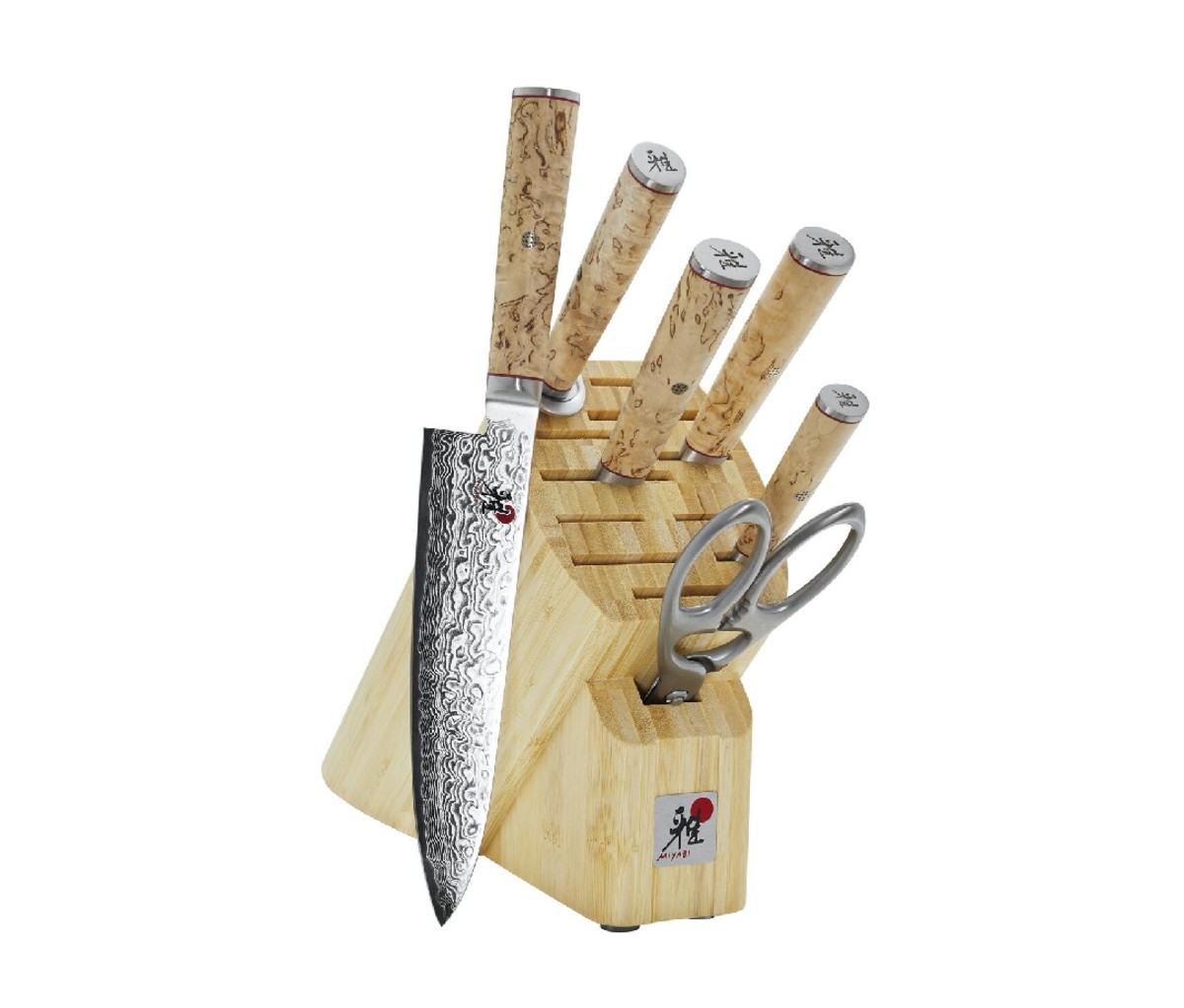 5. Miyabi Birchwood SG2 7-Piece Knife Block Set
If you're a serious home cook or willing to splurge, this top-notch set loads you up with all the major hitters you need in your kitchen cutlery lineup: a 3.5-inch paring, 7-inch Santoku, 8-inch chef's, 9-inch bread knife, stainless-steel kitchen shears, 9-inch sharpening steel, and a 12-slot bamboo block for storage. Designed with G2 micro-carbide steel—one of the hardest high-performing steels on the market,—the blades are also corrosion-resistant and hand-finished with a three-step process, featuring beautiful blade and handle designs. Made in Japan, these knives also offer a lifetime warranty.
[$2,000; zwilling.com]
Get it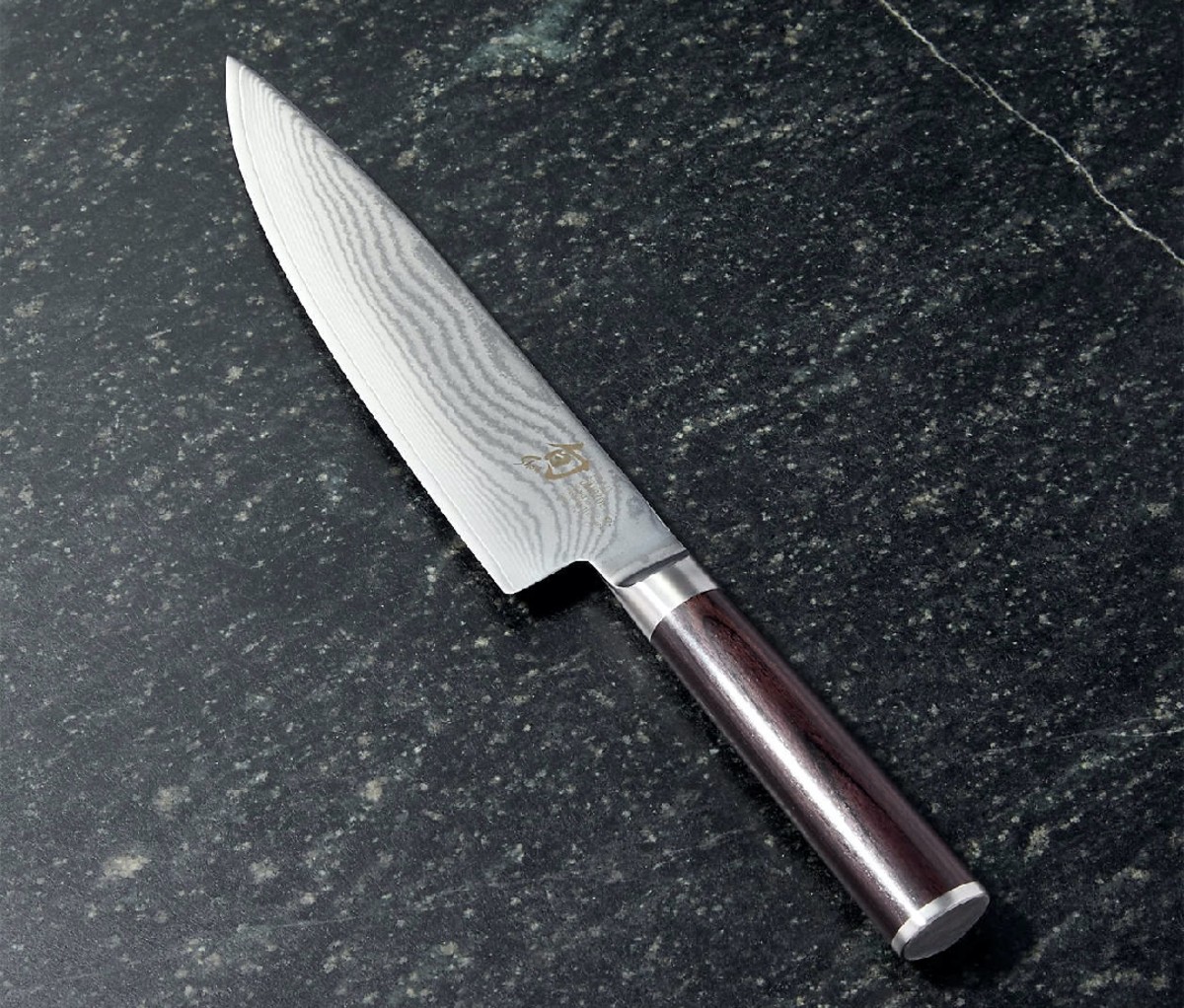 6. Shun Classic 8-Inch Chef's Knife
Use this multifunctional knife for chopping, slicing, mincing, dicing, and more. Featuring a traditional D-shaped handle and a curved cutting edge, even beginner cooks will find adjusting to this knife quite seamless. And talk about an impressive make: The blade is constructed with a proprietary cutting core of VG-MAX steel, clad in 34 layers of stainless Damascus steel on each side for a stain-resistant and supremely sharp blade.
[$160; knivesshipfree.com]
Get it
For access to exclusive gear videos, celebrity interviews, and more, subscribe on YouTube!