Gear
Lumbar Packs and Crossbody Bags You'll Wear Everywhere
Everyone loves a good comeback story, but fanny packs? Who'd ever expected (or wanted) to welcome those dorky accessories back on the scene? It's certainly no secret that trendsetters and tastemakers often dip into the lure of yesteryear. Now, they're resurrecting style relics from decades past we hoped wouldn't escape a '90s fashion time capsule—or at the very least our parents' closets. Luckily, most of the time these retro pieces receive a glow-up before landing back on the radar of fashion trends (matching terrycloth sets for the pool, anyone?). But the real revelation is that fanny packs never deserved their unappealing reputation in the first place—they're actually some of the greatest gear you can buy—not just for travel but everyday use.​
Today's more stylish iterations deserve a new name that eschews the image of a glaringly obvious American tourist abroad. So let's put a moratorium on the "fanny" and start by calling these handy sacks something else: lumbar packs, waist packs, or even bum bags (thank you, Brits). Whatever label you use, there's basically no denying the convenience of storing your essentials in one of these bad boys. And news flash: You don't actually have to wear the pouch on your waist like a human-marsupial hybrid. Go ahead and sling it over your shoulder. Or buckle it across your midsection (boom, crossbody bag). Here are six options that put the "hip" in hip pack.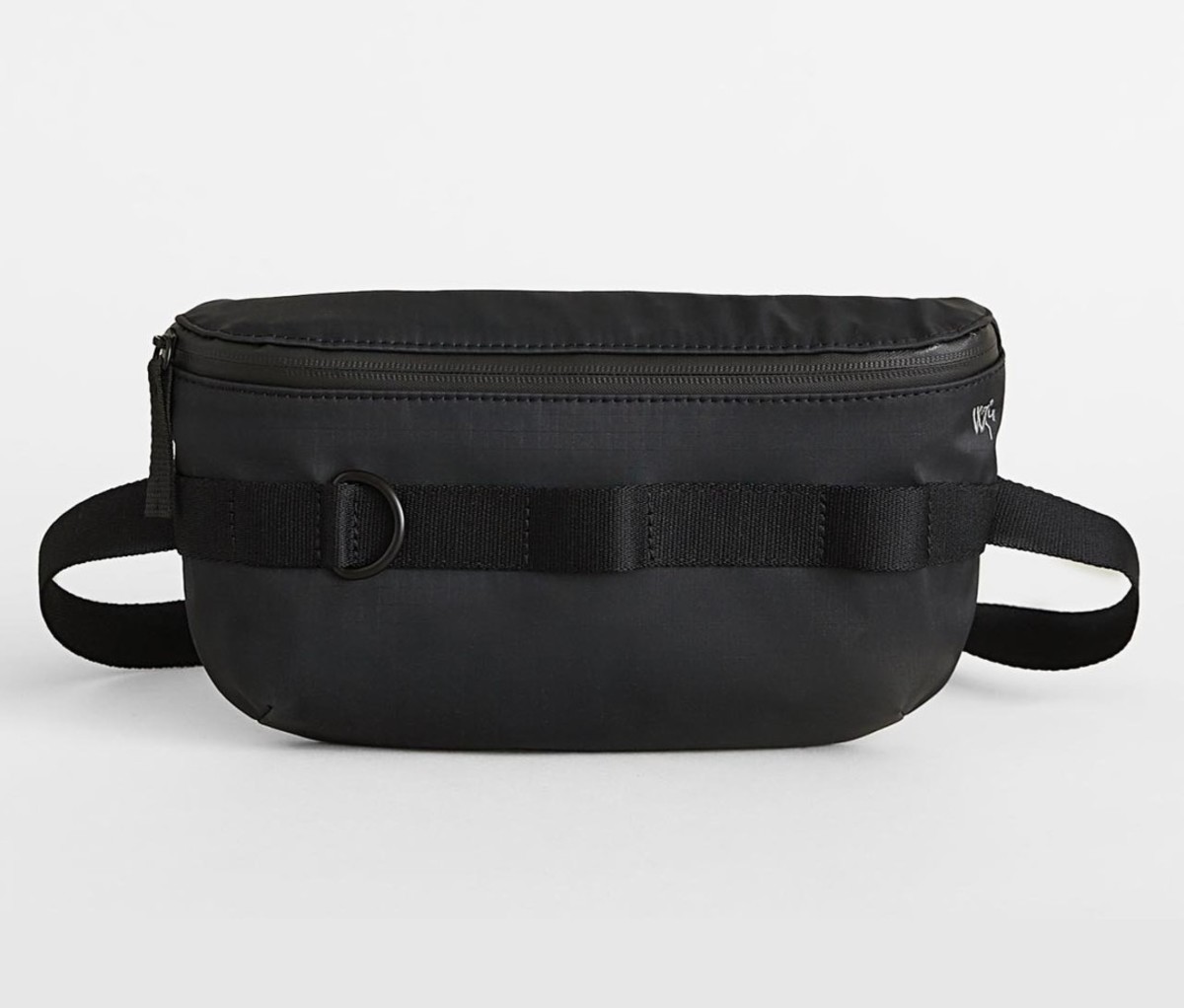 1. Want Les Essentiels Siza ECONYL Waist Pack
Founded by Canadian brothers Byron and Dexter Peart, Want Les Essentiels designs some of the finest leather goods and gear for the modern explorer. The brand has a collection of sustainable bags constructed in Econyl, a regenerated nylon material made from repurposed fabric scraps, fishing nets, and waste from landfills. The ergonomic Siza waist pack takes you from city streets to hiking trails with reinforced rip-stop construction, a padded mesh back panel with a hidden pocket, and a front D-ring for clip-on attachments.
[$235; wantlesessentiels.com]
Get it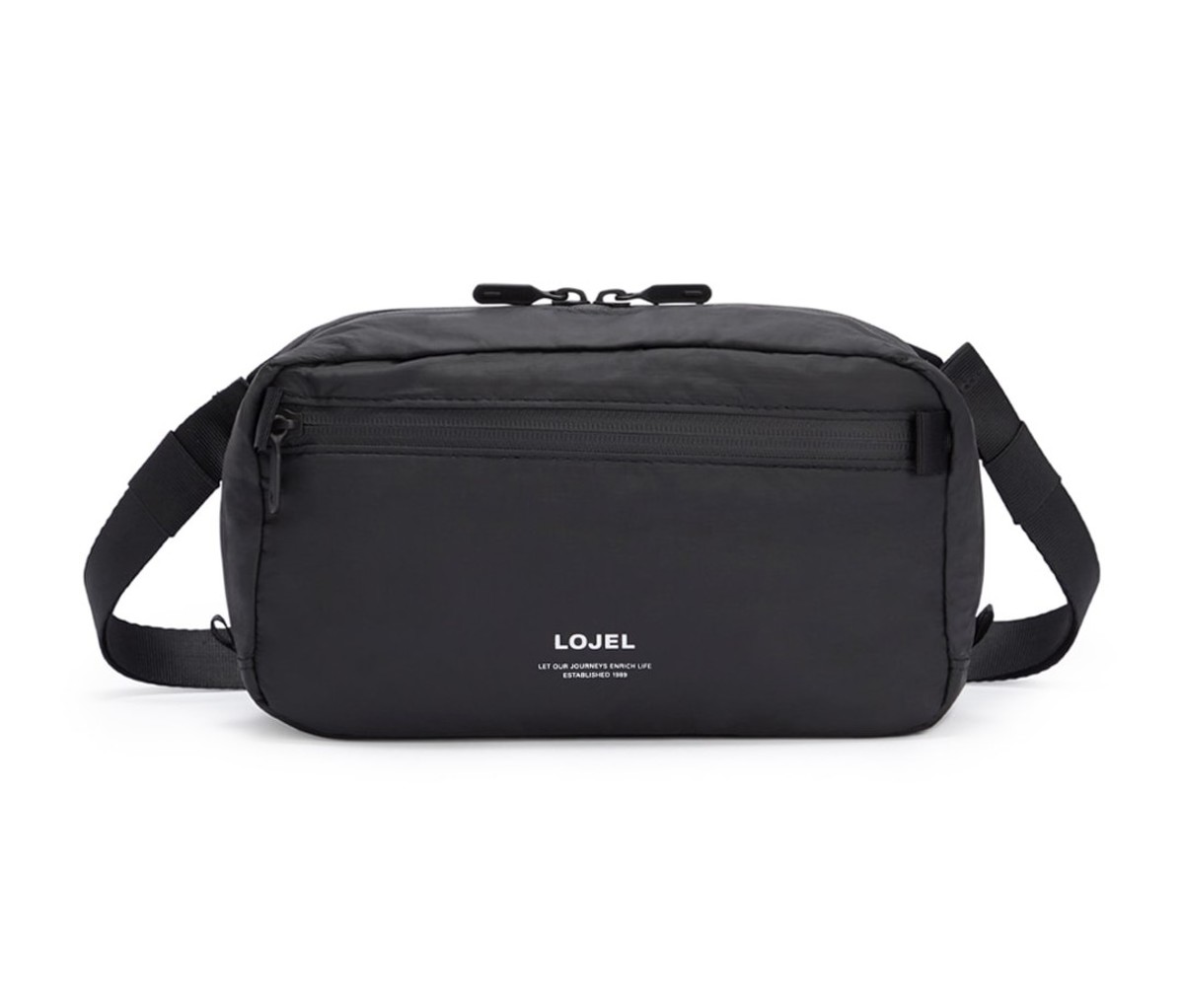 2. Lojel Hip/Shoulder Pack
Lojel's Hip/Shoulder pack is part of the Japanese brand's new Slash Series of travelwear made from waterproof and tear-resistant Tyvek, a material with a crumpled paper-like texture that's traditionally used in PPE garments and industrial protective apparel. Indeed, the pouch is supremely lightweight and functional, with an adjustable strap that lets you comfortably strap it around your waist or sling over your shoulder. There's also an interior carabiner to keep valuables like keys secure and organized.
[$45; lojel.com]
Get it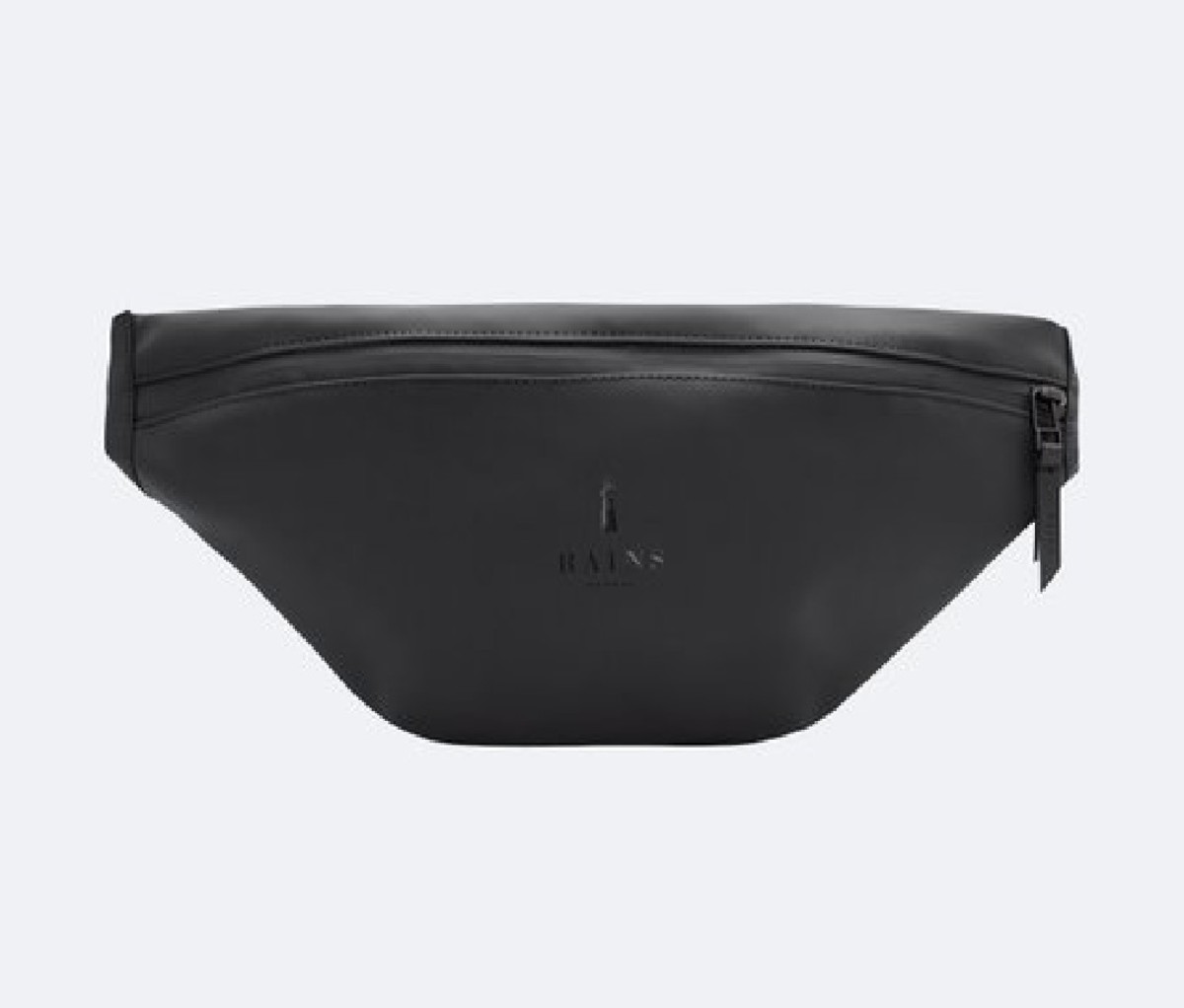 3. Rains Mini Bumbag
Made from waterproof polyurethane and polyester, the mini bumbag from Danish brand Rains will keep all your goods dry whether you're caught in a drizzle or a downpour. It comes in a Scandi-sleek silhouette with a single main compartment. There's also an adjustable webbing strap for buckling around the waist, over the shoulder, and/or across the body. Choose from a quartet of colors, like matte black and iridescent amber, or upgrade to a larger version for more spacious on-the-go storage.
[$60; rains.com]
Get it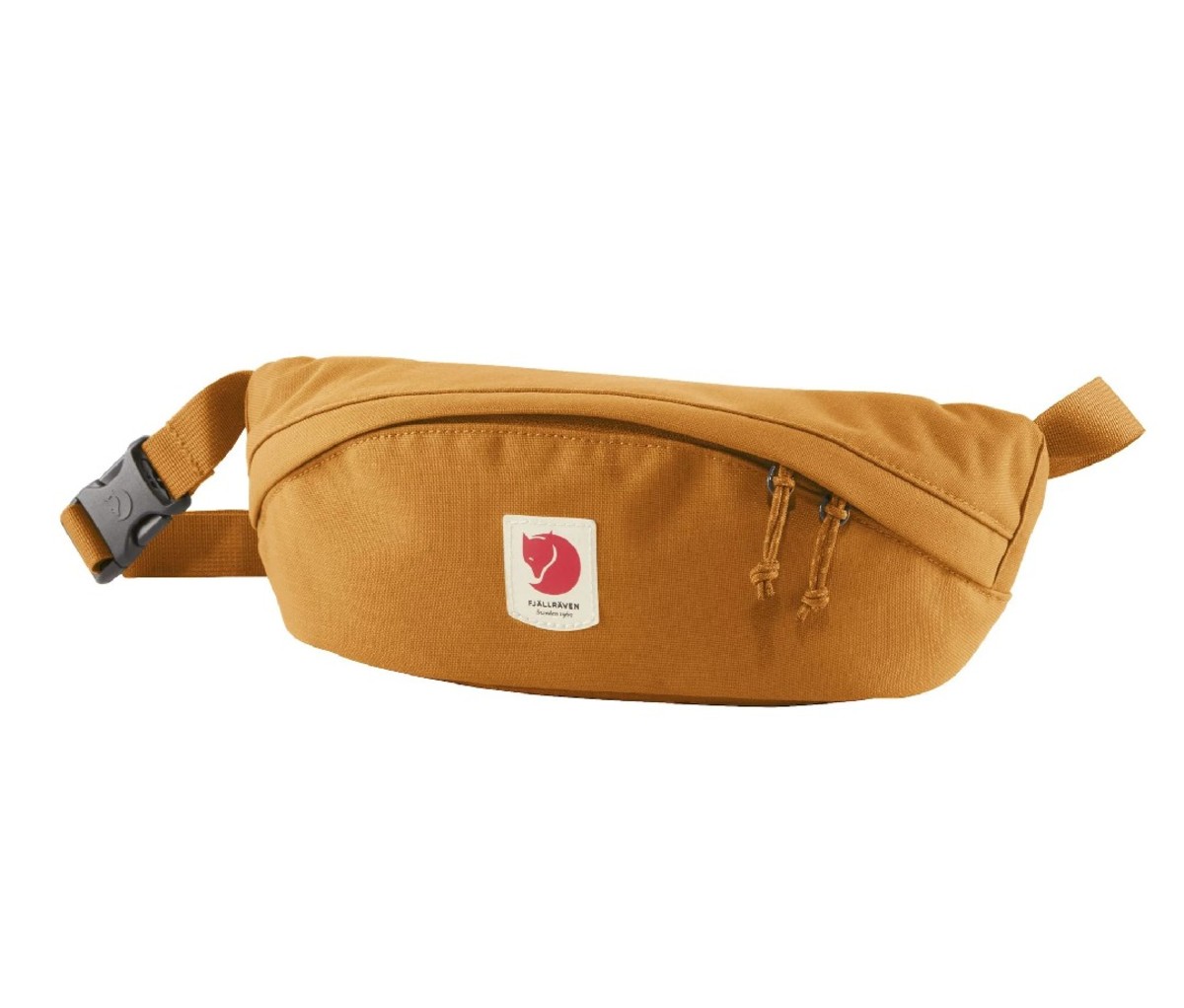 4. Fjällräven Ulvö Hip Pack Medium
Named after a remote island on Sweden's rugged High Coast—the birthplace of the Fjällräven brand—the Ulvö Hip Pack is perfectly suited for both everyday commuting and outdoor trekking thanks to its compact size. Constructed with sturdy Bergshell fabric (100 percent recycled nylon), the eco-minded bag is also entirely waterproof to protect its contents, which can be stored in a zippered rear pocket, two-liter main compartment, and an interior mesh pocket. It comes in eight different colors, all boasting a reflective front logo making you more visible when the sun sets.
[$55; fjallraven.com]
Get it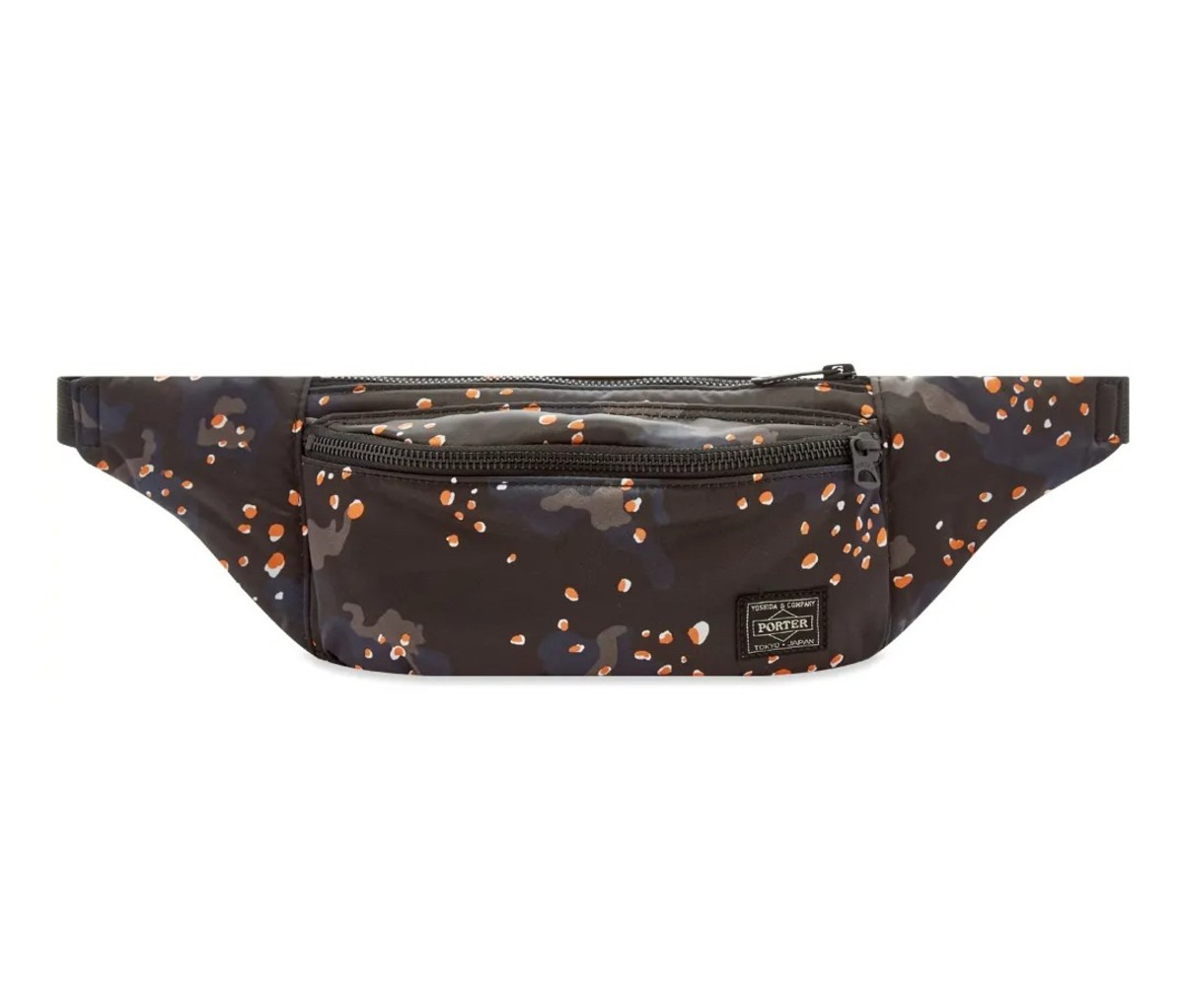 5. Porter-Yoshida & Co. Chip Campo Waistpack
Porter's trendy military-inspired bags are all manufactured in Japan, all but guaranteeing top-of-the-line quality and construction (justifying the lofty price tag, too). The PS Chip Camo series doubles down on the army theme, peppering in Porter's signature orange into a "chocolate-chip camouflage" motif (originally developed in the '70s by the U.S. military for use in desert landscapes).
[$225; endclothing.com]
Get it
6. Maison Kitsuné, Beige Puma Edition Logo Waist Bag
Puma's debut capsule with French-Japanese lifestyle label Maison Kitsuné is undoubtedly one of the most exciting fashion collabs this year. The hotly anticipated collection is filled with stylish utilitarian pieces that elevate Puma's vintage sportswear heritage with Tokyo-style sensibility, including a limited-edition twill lumbar pack that comes in beige and black. There are several zippered compartments with silver hardware and, of course, the brands' superimposed logos embroidered in front. There's also a jacquard webbing strap with a cinch fastening for multifunctional wearing.
[$65; puma.com]
Get it
For access to exclusive gear videos, celebrity interviews, and more, subscribe on YouTube!