This is sponsored content. Men's Journal is not endorsing the websites or products set forth below.
Do you get the urge to improve your craft and get more sophisticated when creating photographic content? Whether you are into photography as a hobby or you're already into it professionally, nowadays it's getting quite essential to be skilled in any powerful photo editing software.
Image editing indicates the practice of modifying images, whether they be digital photographs, traditional camera photographs or illustrations. Standard analog picture editing is known as photo retouching, and it involves altering photographs with tools such as an airbrush or retouching illustrations with any traditional art media. 
The main tools for editing, enhancing, and changing images are graphic software programs, widely classified as vector graphics editors, raster graphics editors and 3D modelers.
This kind of software gives you complete freedom and total control over altering and customizing your photographs. You can choose from its many functions: cropping images, color adjustments, contrast change, brightening, gamma correction, perspective control and distortion, lens correction, removing unwanted elements, collages, etc.
If you want your photographs to stand out, we sure do recommend you spend some time using software to edit your creations now and show your skills to everyone. Below, we introduce you to some of the best photo editing software, and we put in a shortlist of five brands with all the information for you to have an easy choice later on.
Top 5 Best Photo Editing Softwares:
#1. My Memories Suite 9 – Overall Best Photo Editing Software To Edit Images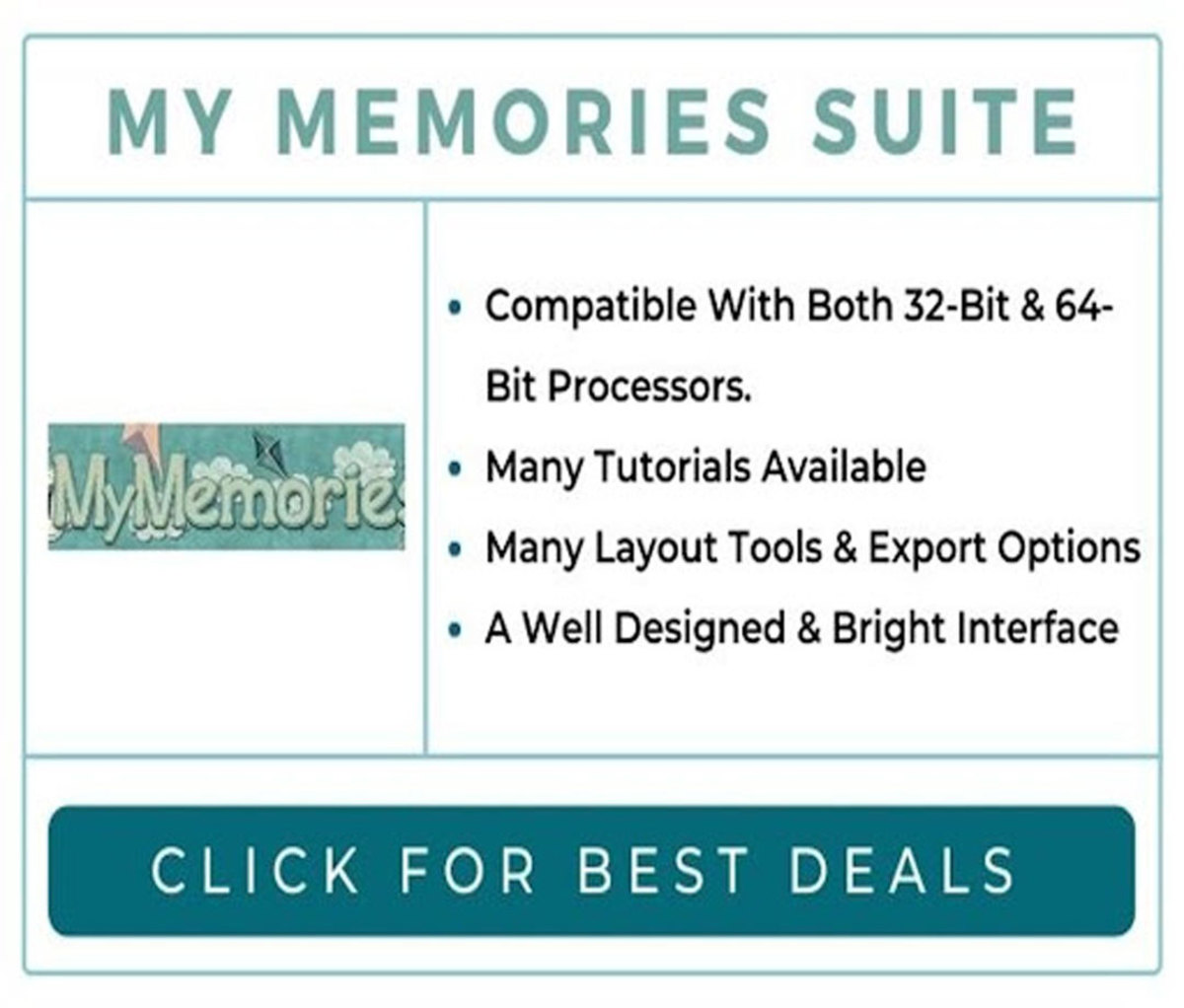 My Memories Suite 9 editing software has design capabilities that allow you to easily make entire albums and scrapbooks using the various available templates or starting from a simple scratch and creating the image how you want it. This friendly software is ideal for both beginners and experienced creators. 
Alternatively, you can use the gallery to drag and drop photographs and decorations effortlessly, and you can easily customize the canvas sizes to match your project demands.
After you've completed editing and producing your material, export your project to professional printing facilities for photo books or calendars, or print it at home. With My Memories Suite 9 editing software, you can export your project in PNG, JPG, or SVG file format.
Highlights
You're able to edit your photos like a pro with My Memories Suite 9 Editing Software with the following features: crop, flip, mirror, color, matte, drop shadow, red-eye, rip, tile and shape. Add a filter for even more enhancement like: fisheye, black and white, sepia, darken, brighten, blur, sharpen, negative, emboss, sketch, and more.
There is also an option for adding text to your images, and you can choose font, size, bold, italic, alignment, and color. Use the Word Art Designer to create custom headlines with bevel, emboss, gradients, color, outline, drop shadows, warp or shape, or paste images into text. All in all, it has the whole package for creating your desired photo book.
The pricing of the features included on their website is optimal and fair. You get multiple choices on various themes, frames, and backgrounds for excellent prices, and some discounts are available from time to time. 
However, the deal of 15% on every product upon subscribing is constant. My Memories Suite gives a full refund (without the shipping and handling) to all the purchases within the first 60 days from when the purchase began.
Pros
Award-winning editing software

Provides free trial

Offers good discount deals

Full refund within 60 days of the purchase

Exciting and fun template choices

All basic image enhancing features available

Reasonable prices

Available for Windows and Mac
Cons
Not so good website design – looking unattractive

Website available in English only
=> click here to visit the official website of My Memories Suite 9
#2. Snappa – Top Photo Editor With Plenty Of Photo Editing Tools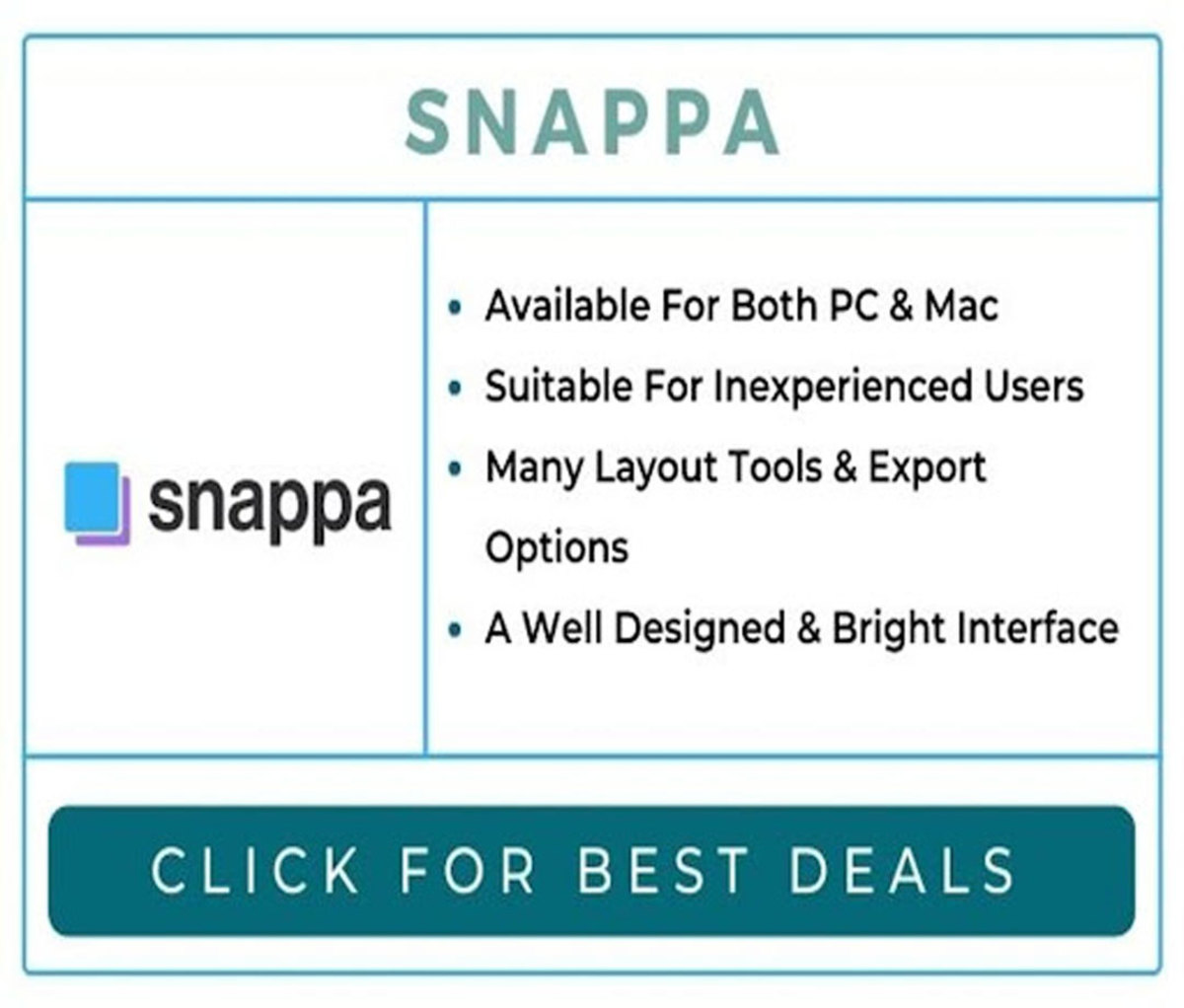 Now is the time to get a jump start using pre-made templates. You won't need to start from scratch or look vaguely into a blank screen page ever again. With Snappa photo editor, choose from plenty of pre-made templates that can help you gain more attention, clicks, likes, and customers.
Discover free high-resolution stock pictures inside Snappa today and gain access to millions of free, elevated, and completely non-cheesy stock photos. You no longer have to go through various stock libraries, worry about copyright ownership, or pay to have the most fantastic background photos.
With the help of their professionally created banner ad templates, you can attract more customers to your products and services. Their extensive library of pre-made designs includes all basic banner ad sizes such as medium rectangle, leaderboard, wide skyscraper, and much more. They're entirely free to use and relatively simple to customize.
Highlights
You don't need to install anything to be able to use this software, just sign up today and use it whenever you want. Snappa is cloud-based, which means you may use it on any laptop or desktop computer with an internet connection. 
With the help of their professionally created website image templates, you can significantly increase the number of readers on your blog, get more followers on Instagram, and have more Facebook engagement. 
Their extensive library of ready-made layouts in crowded newsfeeds can make your article thumbnails stand out and earn more clicks. All templates are free to use, correctly sized, and elementary to customize.
Snappa has three user options that you can choose to pay either monthly or yearly. Here we present you with the annual pricing plans:
Free Starter version

– this is the first plan, and with that, you can activate it for just one user, use 6,000+ templates, 5,000,000+ HD photos & graphics, and get 3 downloads per month. 

Pro-choice

– is the second one and can also be used by only one user for 10$ a month, and you get 6,000+ templates 5,000,000+ HD photos & graphics. The bonus perks are unlimited downloads per month buffer / social media integrations, and you can make custom font uploads and remove image backgrounds. 

Team

– the third and last plan they offer. With Team, for only 20$ per month, you get to share Snappa with five users, access 6,000+ templates, 5,000,000+ HD photos & graphics, download without limit every month, have buffer / social media integrations, and upload custom fonts and modify the backgrounds of any image.
Pros
Amazing designs 

Different choices of templates

Free plan

Three plan options

Free cancelation of subscription

Easy to use
Cons
Limited to raster graphic formats only, no vector formats

Doesn't have support for animations and GIFs
=> click here to visit the official website of Snappa
#3. Fotor – Top Picture Editor For Image Editing And Collage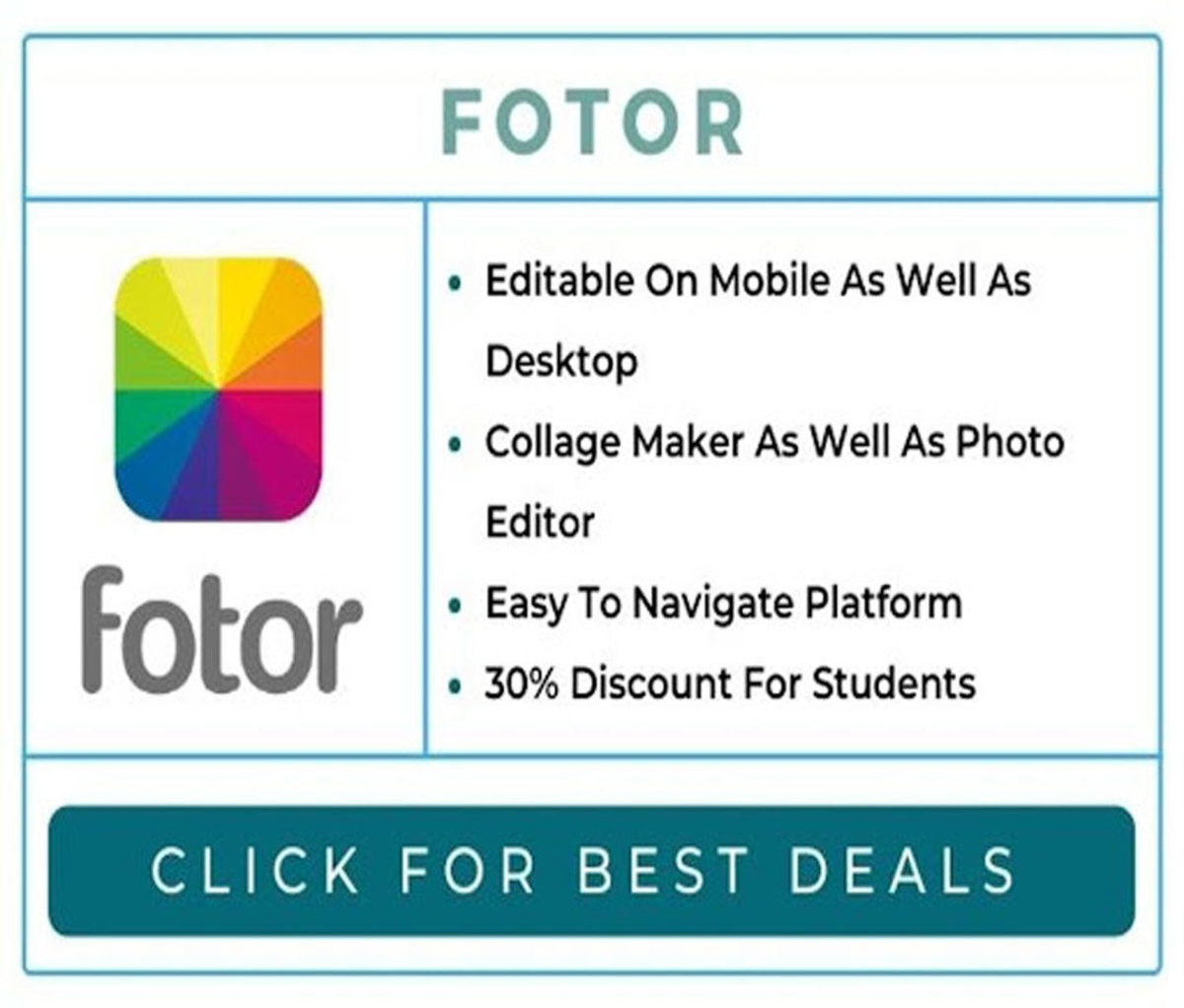 Fotor's photo editor enables image editing to be a simple and easy task for you to do. With various attractive photo effects, templates, and other incredible editing tools will undoubtedly suit all of your creative requirements. It's ideal for both beginners and experts. 
Fotor's free online photo editor has powerful picture editing options such as tune improving, blur tools, straightening, exposure, duplicate, curve, resize and restructure photos, red-eye removal, teeth whitening, and wrinkle corrector. It's simple to make your photos look beautiful online. Photo editing has never been easier to use. Besides this, you can now start introducing yourself to the world of NFT art with the unique and simple tool for converting a standard artwork into NFT that Fotor provides.
Fotor is highly sophisticated editing software that is available for various platforms. Aside from the online picture editor, it also includes photo editing app versions for iOS and Android and software for Windows and Mac. 
All of these photo editing programs are available for free download. They also provide data and membership synchronization, allowing you to edit photographs from anywhere and at any time with a single Fotor account.
Go to Fotor and use all the fantastic photo effects to alter the texture of your photos like an expert in only one click. Drag and drop your image, select a photo filter, tweak the intensity, and apply. You may now quickly and effortlessly make masterpieces.
Highlights
Develop your design work for free, including banners, posts, logos, advertising, and more, using Fotor's graphic designer. Their free online visual design tool provides you with many free templates, design features, and stock imagery, making it simple to bring your most fantastic ideas and work to live.
Increase the impact of your next social media campaign by adding an eye-catching aesthetic style to your post. Create creative and engaging social media graphics with Fotor graphic designer to increase interaction. Fotor's social media templates include options for Facebook, Instagram, Twitter, YouTube, Linkedin, and Pinterest, among others. Plenty of social media templates for every event are available.
Fotor is a brand that builds a relationship between the business and its clients, and with this photo editing software, you may boost your business with outstanding marketing designs. 
The best branding examples are graphic design logos, internet imprints, corporate letterheads, business cards, and company brochures. With Fotor's brand kit, you can quickly develop all label visual content and promote your business.
Showcase your knowledge by creating book and magazine covers, ebook layouts, or other visual graphics to share your ideas and proficiency. Fotor's editing software includes numerous publication templates, allowing you to create and alter graphics for printable or online display quickly.
Pros
The menu on their website is available in different languages

Included written and video tutorials

Provides free trial

Has various stylish photo effects

Mobile device application for IOS and Android

Available for Windows and Mac

Free for downloading

Free online editor

Awarded for outstanding achievements
Cons
Takes a lot of space when downloaded on a PC

Not providing new updates on the features
=> click here to visit the official website of Fotor 
#4. Stencil – Top Photoshop Software For Graphic Designers To Design Pictures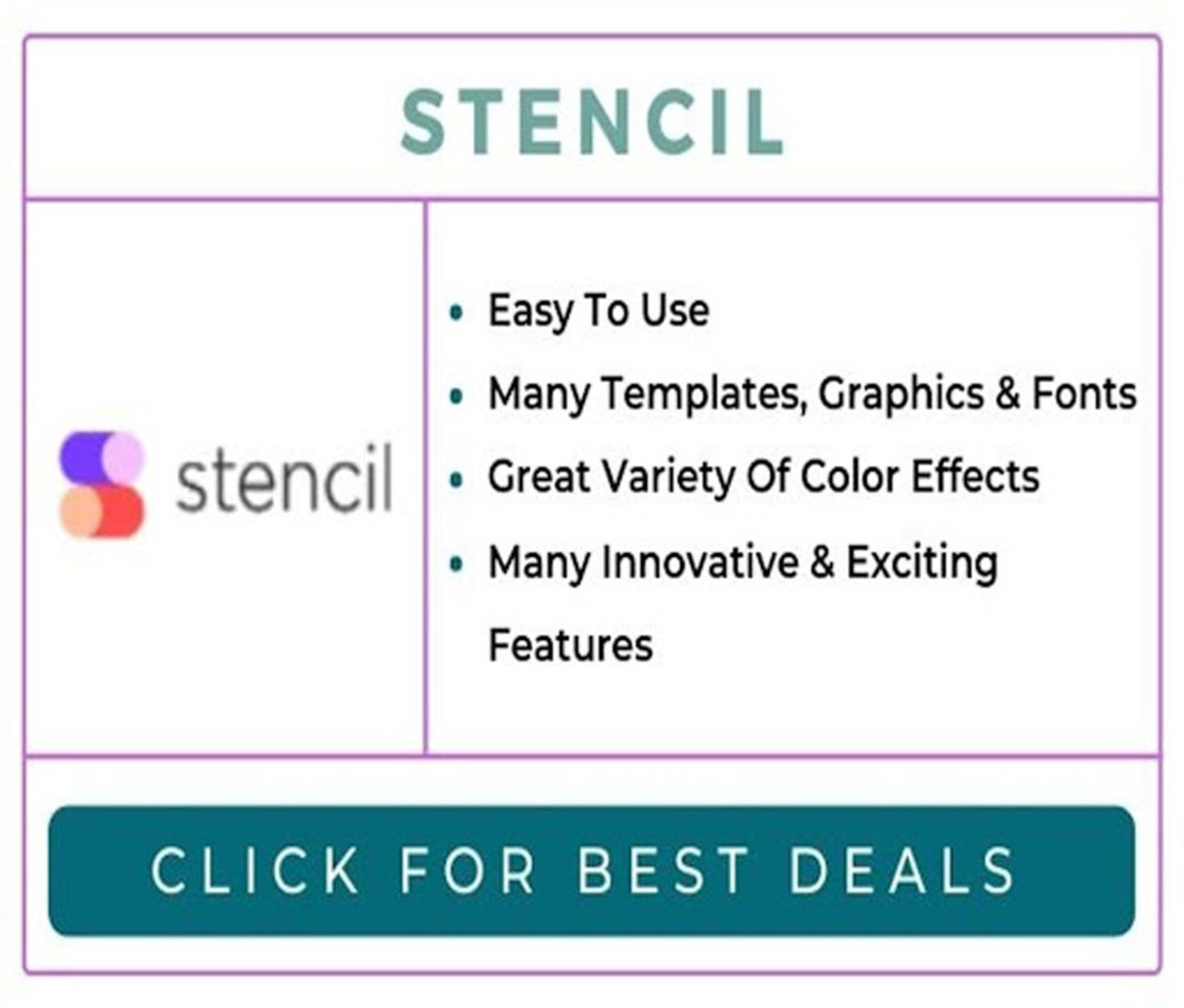 Stencil is a graphic design platform for creating digital visual content that can be immediately shared. Unlike their rival companies, they are solely focused on image sharing rather than ad production, offline modifying of pictures, and so on.
Stencil started their work as Share As Image many years ago. It all began in a busy multi-purpose design tool industry. In addition to desktop image editors, there were hundreds of picture editors. 
However, the web, mainly social media, was becoming much more visual. And every do-it-yourself tool available focuses on image editing rather than sharing. As a result, resizing and image restoration was a big issue, worsened by every social network altering its picture requirements every month.
Following a boom in success and popularity, Share As Image rebranded as Stencil, with an increased stock image and typeface library and more affordable price plans.
Creating visual material should be straightforward, enjoyable, and accessible if you ask their team. Stencil is intended to help you create stunning graphics more quickly than ever. This software will feel perfectly at home even if you've never used a photo editing application before.
They are one of those editing tools we strongly recommend to anyone who enjoys being creative when working with visuals. You can use this software to develop your own graphics for social media and improve the quality of the content of your posts. Stencil is well-known for being the most user-friendly editing tool and the simplest for fast-creating stunning graphic designs.
Highlights
Stencil's thousands of built-in templates make it even easier to get started quickly. Using a template can help you get over the "blank canvas" sensation where you don't know where to start. 
Looking to create a Christmas Day promotional graphic? Or perhaps an Instagram post to accompany it? Stencil got you covered with a multitude of template categories. Also, their themes can be used for personal or business reasons, and they all feature photographs, icons, and fonts that are completely free to use in any way you choose. There's also no need for attribution.
Choose from over 5,000,000 fantastic public domain stock pictures that are ready to use. The images are exceptionally high in resolution and ready to be utilized for whatever purpose you have in mind. 
Keep all of your favorite photos in one location so you wouldn't have to look for them instead. The pictures on their website can be used for personal or commercial occasions without any specific authorization. 
All photographs are given and verified by the staff at Unsplash, Pixabay, and Pexels before being made available for use on Stencil.
Pricing
Stencil offers three plans: free, pro, and unlimited. All three are solid values, especially when your time worth is factored in.
The free plan gives you a tremendous amount of use for it free – particularly given that you can submit so many photos.
When contrasted to the unlimited plan, the pro plan has some limitations. Nevertheless, it is well-designed for those who have a set schedule of pictures to make (fifty social media images per month is quite a decent amount).
The unlimited plan is the best benefit, assuming you intend to use the service often. Stencil is an excellent zero productivity tool when considering how much your time is worth or how much you'd have to spend for this type of design work.
And, if you generate social media or website photos for a living, Stencil's resizing and direct sharing features can substantially boost your productivity – even if you're used to performing some design work in Adobe.
Pros
Fantastic templates

Over a million graphics and icons

Fonts upload

Over 1.3 million images

Save up to 100 favorite items

Premium support for Instagram posts

Logo/watermarks

Create an infinite number of photos every month
Cons
Pricey monthly payments for software that doesn't appear to be essential

The free version is somewhat limited
=> click here to visit the official website of Stencil
#5. Skylum Luminar – Popular Image Editor On The Market For Pro Image Editing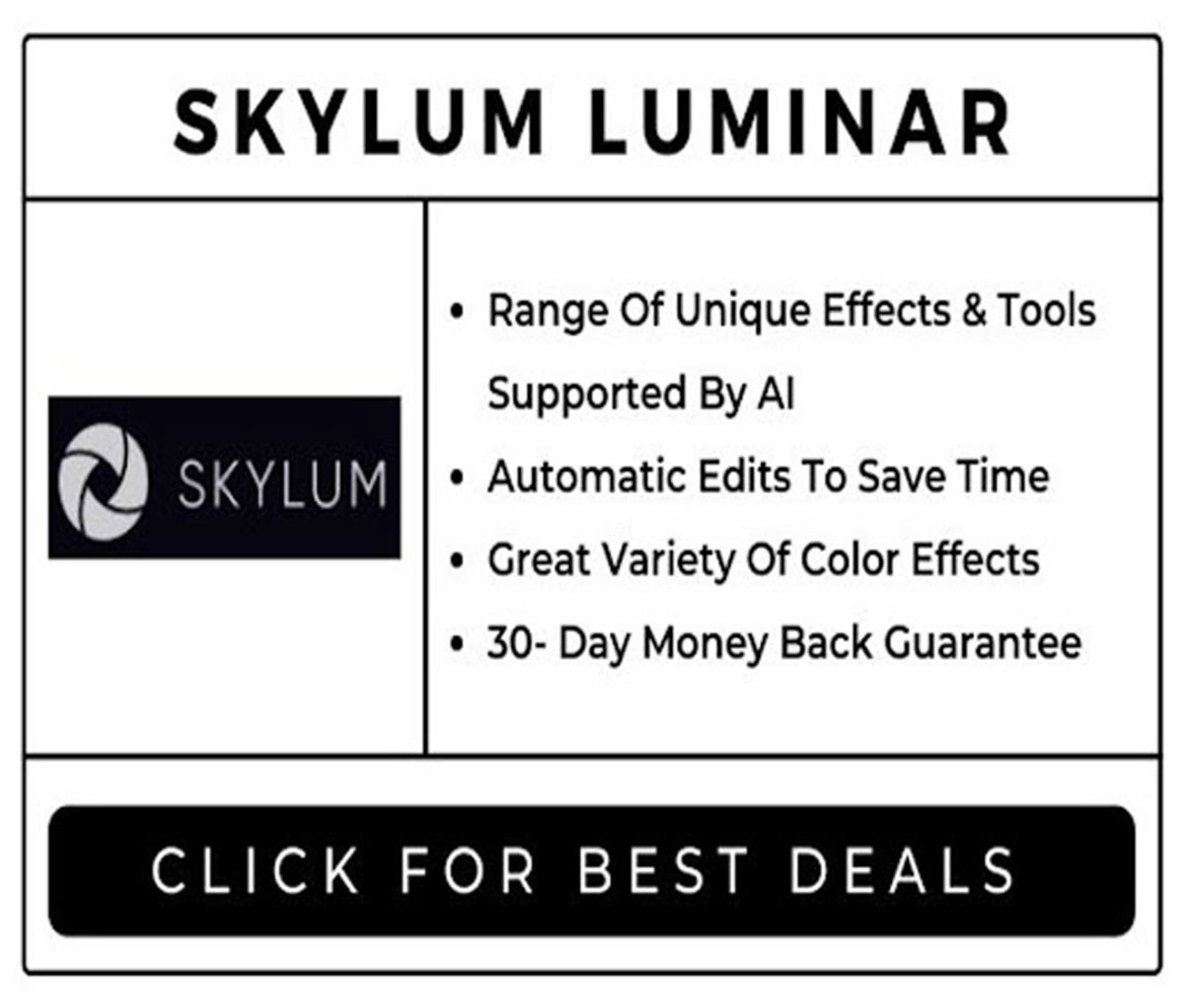 Skylum Luminar began by developing apps of many genres. A few years later, they felt the need to shift their attention to what they believed to be their true vocation, which is revolutionary technologies and solutions for creative photography. 
Since then, they've expanded into an international crew of individuals that share the same enthusiasm, changed their name to Skylum, earned numerous industry prizes, and, most importantly, the trust of thousands of clients. Their mission is to make people happy so that their products become incorporated into their consumers' digital lives.
This is the first image editing software powered by artificial intelligence (AI), suitable for Windows and Mac. Innovative technologies provide a whole new universe of options for expressing your ideas and receiving a professional quality like the Skylum Luminar photo editor program.
Less routine is required because AI handles monotonous activities, focusing on your creative storyline. The sky's the limit when it comes to learning and advancing with this editing software. Whether you've been a professional photographer for years or do it as a hobby and form of entertainment, Skylum Luminar is a genuinely professional photo editor. It will provide you with impressive results right away.
Skylum offers an Affiliate Program through which you can make money by promoting them on your website, YouTube channel, blog, journal, social media profile, landing page, and so on. Every sale and free trial setup earns you a commission.
Highlights
Skylum Luminar is the most excellent editor to make your images pop. The developers of this editing software embraced the obstacles that their competitors could not overcome and produced an editor that embodies freedom and comfort.
Sliders are being used to alter the effects and filters. Skylum Luminar's "human-aware" technology is truly unique. It recognizes persons and objects in photos and then makes the best-revised changes. Luminar's closest companion is artificial intelligence, which allows the software to enhance itself with a single click.
Skylum Luminar also includes quick looks that can be adjusted to any photo. The templates are custom-made and hand-picked by top designers and photographers exclusively for this editor.
The Skylum team has worked hard to distinguish Luminar 4 from other editing software with its unique AI editing tools, making photo alteration simple and providing stunning results. Luminar has you all set up whether you choose to sit back and let Luminar do all the work or if you prefer to do it yourself with manual modifications. 
Although previous versions had some AI features, the current edition allows you to utilize remarkable AI capabilities to create breathtaking landscapes, photographs with perfect skin, and even change the sky with AI sky replacements – all with just a click.
You can get a one-month free trial version downloaded from the company's website. This option allows you to test the product and evaluate if it's right for you. If you're satisfied with the software, you can buy the one-user Luminar 4 (for one machine) for $79. However, you will be better off getting the multi-user Luminar 4 for around $99. Make sure to look for special offers too.
Pros
Excellent website design and accessibility

Easy to use

Saves a lot of time

Available for Windows and Mac

You pay a one-time fee to get access to Skylum Luminar 

Easy importing of images 

Clear user surface 

Better and faster photo editing results

It features a selective brush for each area of the image

It works in layers
Cons
No keyword tagging

No metadata management

It takes time to export photos

No sync option with other devices
 => click here to visit the official website of Skylum
Short Review On The Photo Editing Software We Chose
When it comes to analyzing and commenting on the features of the editing software, we took a look at many factors and features, and here we discuss some of them. 
For starters, the software must be fast and easy to operate. In the end, we don't want you to spend countless hours, even days, editing. The ones we chose for you here are guaranteed that work impeccably and provide flawless service.
It's all about creating something equally good as if you had your own photo studio. Another significant feature we have to acknowledge is the pricing structure. Some software contribute paid packages only, some offer free or give monthly bonus options, etc. 
Moreover, we must mention that not every photo-editing software is created equal. Some have more functions than the others, but these are some of the more frequent ones:
Brightness and contrast

– can be used to brighten a photo that is too dark or darken a shot that is too light. 

Cropping

– allows you to choose a portion of an image and remove the rest.

Red-eye removal

– used to repair the effect that a flash can have on the color of the eyes.

Special effects

– transform a photograph into an oil painting, sketch, or cartoon.

Airbrushing

– used to conceal skin blemishes, adjust eye color, and make people appear smaller.

Enhancement

– you can alter the contrast or the richness of the colors.

Using layers

– can add elements to an existing shot.
How We Made This List Of The Best Photo Editing Software?
Photography has become more accessible in recent decades. Digital cameras have become less expensive due to modern technology, and the selfie generation has placed a camera in every phone. Photo equipment is inexpensive and straightforward to use, and photo editors assist both professionals and the general public. 
The top finest software helps you add perspective to an image, highlight crucial subjects, and turn a mediocre photograph into something truly spectacular. So, how can you select professional picture editing software that is appropriate for your talents and needs? 
Advanced and pricey pro tools, free, open-source web solutions, and your camera may come with simple editing software as the standard included options, and you should always check them up if they're suitable enough.
However, there are a variety of editing software alternatives available, ranging from well-known programs like Adobe's Photoshop and Lightroom to basic but effective ones like Canva. There are even some excellent free options, too. 
So, in the following article, we'll discover "which is the best photo editing software?" We skimmed through numerous factors that helped us develop this list when we started the research, such as:
Today's best editing software, both free and paid

Features of each picture editing software 

How to get the most out of your software
If you obtain a more advanced software, think about whether you want one that is cloud-based (has a monthly subscription) or a standalone version (a one-time purchase price). 
Cloud-based tools are always up to date and allow you to save images in the cloud (an added expense). You can also modify the field using a tablet or a mobile version of the software, although this requires internet access. 
However, purchasing a standalone edition of an editing tool will usually save you money when comparing prices over time.
Buying Guide For Best Photo Editor
Nowadays, we're lucky to have access to so many photo editors on the market, most of which are constantly introducing new and useful features. So, it's challenging to know which one is right for you. 
More and more developers are working and aiming their focus on free, open-source software maintained by volunteer teams. They provide cross-platform software and let you participate in the development process. 
Price and reputation are no longer the primary factors to evaluate. A photo editor is a long-term collaborator, so it's best to make an informed choice. Discover what factors to consider before purchasing professional picture editing software and which providers are the finest.
What Exactly To Look For When Choosing An Image Editing Software?
Using a well-known photo editor could also provide assurances of quality and compatibility. Nonetheless, it may be pricey and have features you may not require. It's recommended to evaluate the following criteria when selecting the best photo editor for your needs, budget, and resources:
Camera compatibility
Select software that supports your camera and lenses, as well as unique manufacturer profiles, wireless shooting, and RAW file support. Camera compatibility is necessary for attaining correct colors, fidelity in details, and access to customized tools.
Editing performance
Each person has a different artistic style that requires various editing tools. There are photo editors who specialize in portraiture or fine art photography. Some editors concentrate on landscape and wildlife photography. If you want images that look natural, seek subtle filters, local changes, and clever image-enhancing tools. 
Presets and filters 
Having a large and rich selection of presets and filters at your command can save you real-time and energy. You don't have to repeat the same design over and over again. 
Choose a photo editor that has a significant number of templates and offers you to modify and save your own delicate presets for later use.
Workflow
Many professional photo editors provide more than just editing features. They offer a smooth approach that involves data processing, file format support, watermarks, backup, and more. 
A good workflow necessitates an easy-to-use network and outstanding and fast service. If you edit images from several locations and devices, you may require cloud storage as well as a photo editor that can keep your content synchronized.
Frequently Asked Questions About Photo Editing
Q1. What is photo editing?
Photo editing is a quick digital approach to enhancing a photograph. Although cameras and phones are fantastic for capturing pictures, they are not always the best for taking the best shots. To make your images more appealing, you can use photo editing to improve the lighting and colors, add photo effects, blur the background, and remove undesirable elements. 
Q2. What exactly is a Kit / Pack?
A Kit is a set collection of images and text that can be used to make a scrapbook page, calendar, or other projects. When browsing the kit in the store, all kits feature product information. (On the right or left side of the page, you can find additional details on the kit type itself under product info.) 
All graphics in the packages are high-resolution JPG or PNG files suited for download and installation into digital scrapbooking software. These design elements (can also be utilized with other software design packages that are available for general download) (e.g., Adobe Photoshop, Illustrator, etc.)
Q3. What is a Template? 
Each template is designed to aid users in quickly and easily building complete pages by enabling them to steep in their photographs and content. Most of the included page elements, such as background patterns, graphic formulations, journaling areas, and empty image boxes, can be repositioned, resized, or deleted. At any point, creations can be copied, deleted, or reordered.
Q4. Why is the background striped instead of white?
The checkered backdrop appears currently translucent, and therefore, when you export as PNG, the transparency will be preserved. For example, adding a border to the page and exporting it as a PNG will typically only display the frame and not the background.
Q5. What are the five basics of photo editing?
The primary photo editing techniques are: Crop and fix up photographs, white balance adjustment, change the exposure and contrast, adjust color vibrancy and saturation, finish and distribute.
They should be available in even the most basic editing software, and each can improve your photographs to make them more beautiful and shareable. Advanced editing software have these basic capabilities and enhancements that will allow you to perform more complicated editing beyond the scope of this guide. You don't have to fulfill all of the basic editing on every image, but the steps you do must be performed in the order provided.
Q6. What's the difference between "non-destructive" and "destructive" editing?
Some of the editing software automatically saves your originals—this is known as non-destructive editing. Others keep altered photographs over originals—this is known as destructive editing. 
Editing is a process of trial and error, and you must be able to return to an original version if you make a mistake. As a result, make sure you understand whether your editing tool makes copies of your originals. If it doesn't, create a copy of all the photographs you intend to modify before starting.
Q7. Is there a specific format or resolution in which the images must be submitted for processing?
Usually, no, there's no specific format required. You can submit photographs in the format or resolution you choose and let us know your preferred features to modify the images. Many of the editing software are well-versed in formats such as CR2, DNG, GIF, JPEG, NEF, PNG, PSD, RAW, TIFF, and others.
Q8. How many computers can I install the software on?
Usually, with an individual product key, you can install and register the software on up to three computers at the same time. Uninstall the software from one of the previously registered PCs if you need to free up an active product software keyspace.
Q9. What is the point and purpose of photo editing?
Photo editing is utilized to remove and correct undesired elements such as dust spots and scratches, to modify the geometry of the image such as rotating and cropping, to correct the lens aberrations, to sharpen or soften the image, to apply color changes, or to add special effects to the photograph.
Q10. When should you stop editing a photo?
The most obvious sign that you went too far with editing is when the changes you've made begin to distract the viewer's attention from the image itself. If people look at your photo and the first thing they perceive is the modification, it's a failure.
Q11. Is it OK to edit your photos?
It should be alright if the editing is done right. If the image must be preserved in its original form, no alteration is required. Editing is more commonly associated with commercial work that incorporates a creative process for advertisements, editorials, digital art, and promotions. Or maybe if you want to create unforgettable and unique family memories.
Q12. How to find your own photo-editing style?
It can be challenging to develop your unique style that distinguishes your photo modifications from everyone else's. The secret is to experiment. Professional photographers frequently advise their clients not to overdo their photo editing. When it comes to providing you with the best images to work with, nothing beats excellent composition and lighting.
However, photo editing is still a part of any professional photographer's arsenal, and the experts do not get where they are without experimenting. Begin with a simple and enjoyable mobile tool. Make mistakes to learn, and when you go back to fix those mistakes, do so with a fine-toothed comb.
Q13. Is photo editing an art?
Image editing is an art form in itself. It's what's made so many famous photographers popular. It sure is fascinating that editing can express a two-dimensional version of a three-dimensional reality onto a form of film or digital device and create the image to one's satisfaction.
Q14. What is the difference between retouching and editing?
Individual people experience difficulties imagining what the photograph would look like after post-production, so clients only see the final product. With modifications to brightness, contrast, coloring, and so on, editing can take quite a long time. 
Professional photography regularly includes post-production work in the price. Some photographers spend several hours after a shoot only editing.
Basic retouching frequently includes the elimination of imperfections, the softening of shadow and shine, the correction of a few stray hairs, and the correction of other out-of-place elements. 
Adjusting clothing, eliminating braces, manipulating body weight, fixing large chunks of hair, and other retouching tasks might get hard. Retouching usually is an add-on service to a photographer's regular procedure, but it can be included in some professional photo editing software .
Final Verdict About The Best Photo Editing Software 
In the digital age we live in, photo editing software seems almost omnipresent. Whether you're making a website or simply resizing and retouching family images, you'll need your favorite software to do it.
The purpose is to help creative amateurs and professionals be more successful and satisfied with the content they create. We know that a traditional approach to photo editing is complex, outdated, and time-consuming. 
These software are developed to give you an intelligent, innovative tool to help you save time on routine image editing tasks; instead, they're giving you a more creative inspiration to turn your photos into engaging stories.
The brands listed above culminate in more than a decade of innovation focused on improving your photos and processing raw files . We know that a great image is a starting point for you. It is how you communicate your ideas, values, and personal brands. It's the way to promote your products and services. 
A great image will help you succeed, but it shouldn't take hours and days to make those images happen. We know that you'll feel inspired and creative with all of the brands for photo editing we pointed out. And that's just enough for us and them to keep on doing this. Other photo editing software won't be worth a try because we have created the best.
Finally, analyze your level of photo editing skills. It's one thing to add filters, but it's another to change contrast, retouch and clone objects, and create composite photographs. If you're a beginner, try photo editing software with guided edits, which will teach you how to use the application and the foundations of editing. And remember, always have fun and be as creative as possible!
For access to exclusive gear videos, celebrity interviews, and more, subscribe on YouTube!