Are you ready to boost over sand dunes, peel through mud, and explore some of the world's toughest trails? Looking for an easier way to get into the backcountry, or just feed your friends a face full of dirt? Sounds like you need seat time in side-by-side UTVs, the ultimate outdoor vehicles.
The only hard part is sussing out the best sport side-by-sides—there are a ton of great models to choose from. To guide your search, we've rounded up our favorite side-by-side UTVs of 2022. Any of these four-wheeled beasts will satisfy your off-road appetite. These offroad vehicles offer plenty of ground clearance and throttle response when mudding—plus some even offer Ride Command, an integrated in-vehicle communication system so you can speak to passengers without getting drowned out.
The Best Side-by-Side UTVs for 2022
1. Polaris RZR Pro R Ultimate
As far as halo products go, look no further than the 74" wide open-stance RZR Pro R Ultimate. Sure, you'll pony up roughly the price of a new Jaguar XF, but instead of driving your luxury midsize to the town bingo hall, you'll be powering through trails in Polaris' high performing desert and dune master. A 2.0-liter, four-cylinder, 16-valve engine delivers 225 horsepower and features a naturally aspirated design for cooler temps and improved reliability. It also comes with Dynamix DV advanced suspension control with modes for Rock, Comfort, Track, and Baja—all controlled via a glove-friendly seven-inch touchscreen display. Want to crank some music? A Rockford Fosgate high-output system ensures that everyone will hear you. To really amp up the mean look, get yours in Stealth Black.
[Starting at $40,699; rzr.polaris.com]
Get It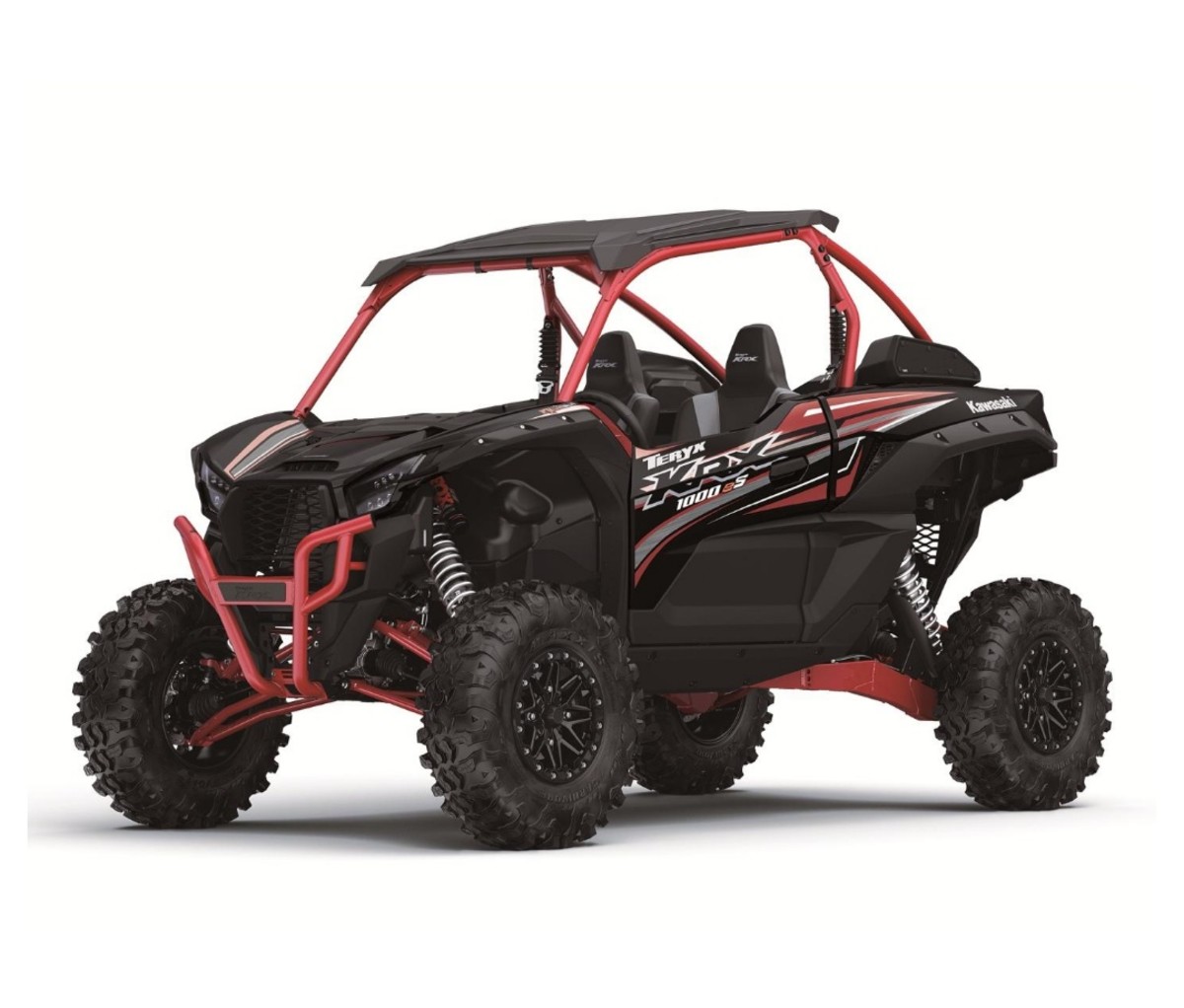 2. Kawasaki Teryx KRX 1000 eS
Kawasaki didn't mess around (except in the dirt, mud, rocks, and dunes) when it developed the new Teryx KRX 1000 eS. It comes with upgrades like shift-on-the-fly electronic four-wheel drive and a locking front differential, continuously variable transmission with centrifugal clutch, and the brand's own electronically controlled suspension. It's powered by a 999cc liquid-cooled parallel-twin engine for performance that'll really blow your hair back.
[Starting at $32,199; kawasaki.com]
Get it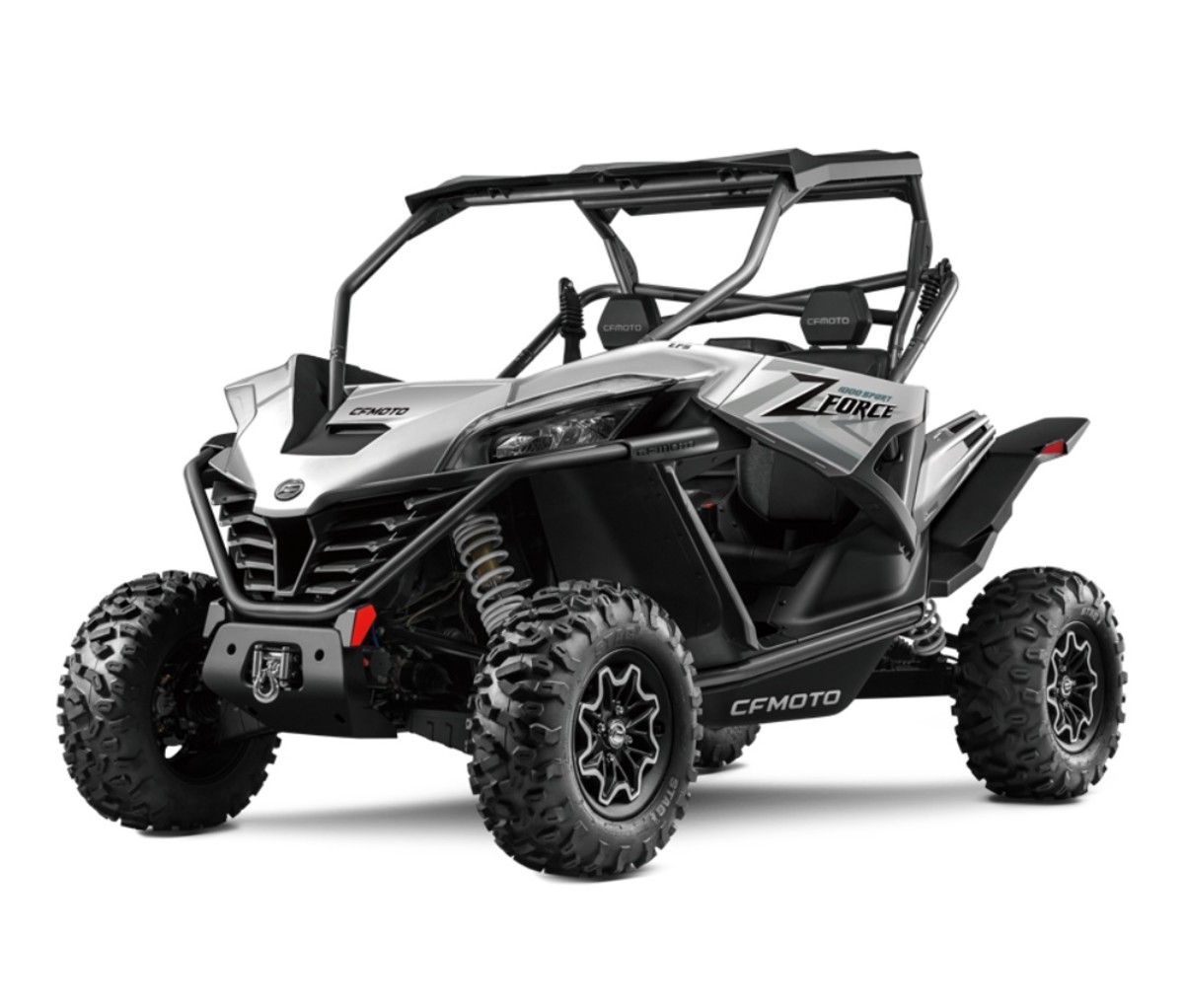 3. ZFORCE 950 H.O. Sport
The ZFORCE 950 H.O. Sport side-by-side from CFMOTO is built to handle the rocky trails you crave without devouring your paycheck. A 963cc V-twin delivers 90 horsepower, and the Quadlink rear suspension includes adjustable gas shocks and multi-link trailing arms to tackle any obstacle. Added perks like a multifunction color TFT display, 3,000-pound winch, and electronic throttle control and steering make this a bargain UTV that doesn't compromise.
[Starting at $13,999; cfmotousa.com]
Get it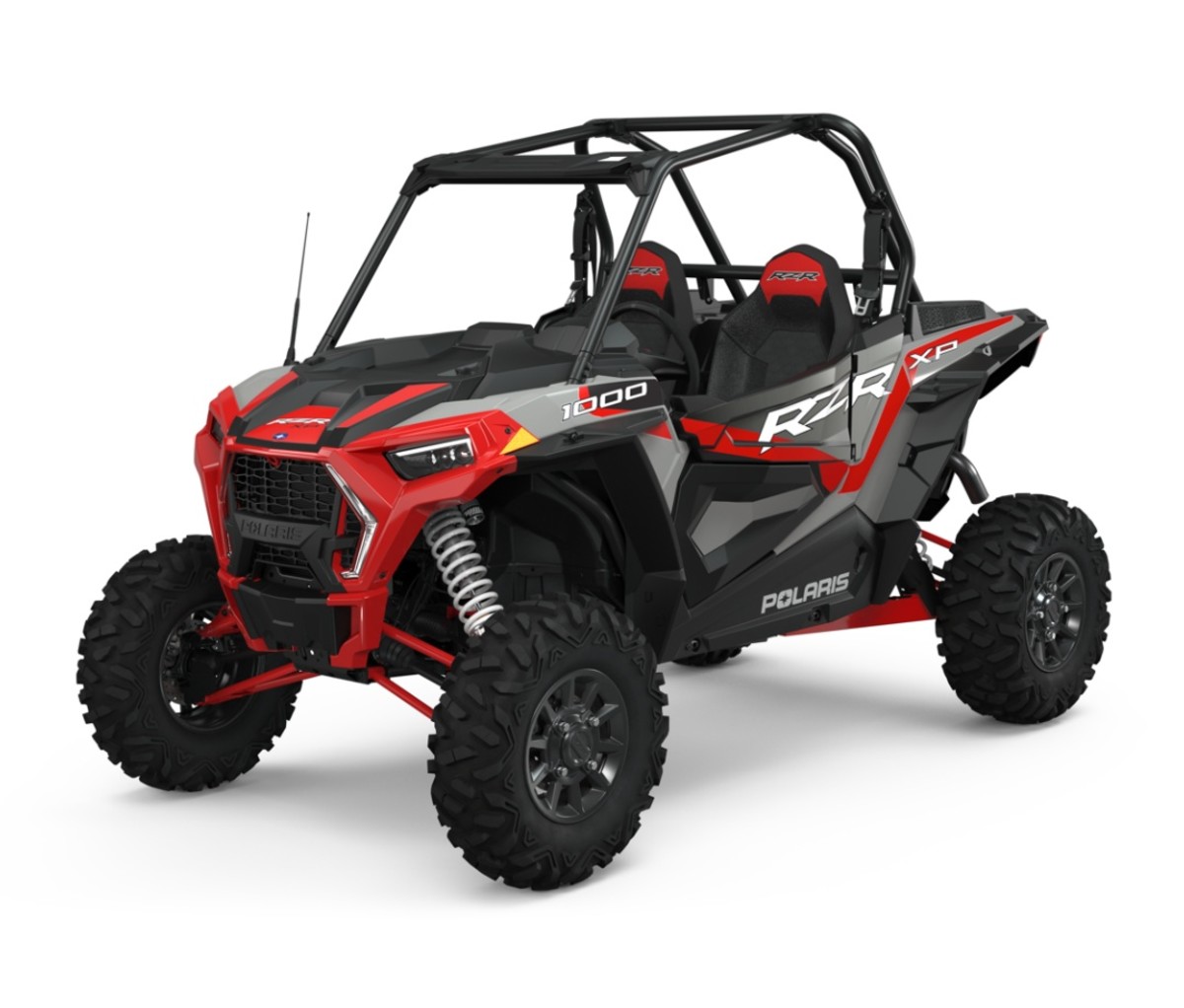 4. Polaris RZR XP 1000 Sport
Polaris claims the RZR XP 1000 Sport is the industry's best-selling performance side-by-side UTV. It certainly has plenty of oomph: Owners can enjoy 110 horsepower from a 999cc twin-cylinder engine. Rocks, roots, sand, and mud are no match for this rig's 20 inches of usable suspension travel and Walker Evans Needle Shocks. Instrumentation combines analog dials with a four-inch LCD Rider Information Center. The head-turning Indy Red colorway (shown above) comes with the Premium model.
[Starting at $21,899; rzr.polaris.com]
Get it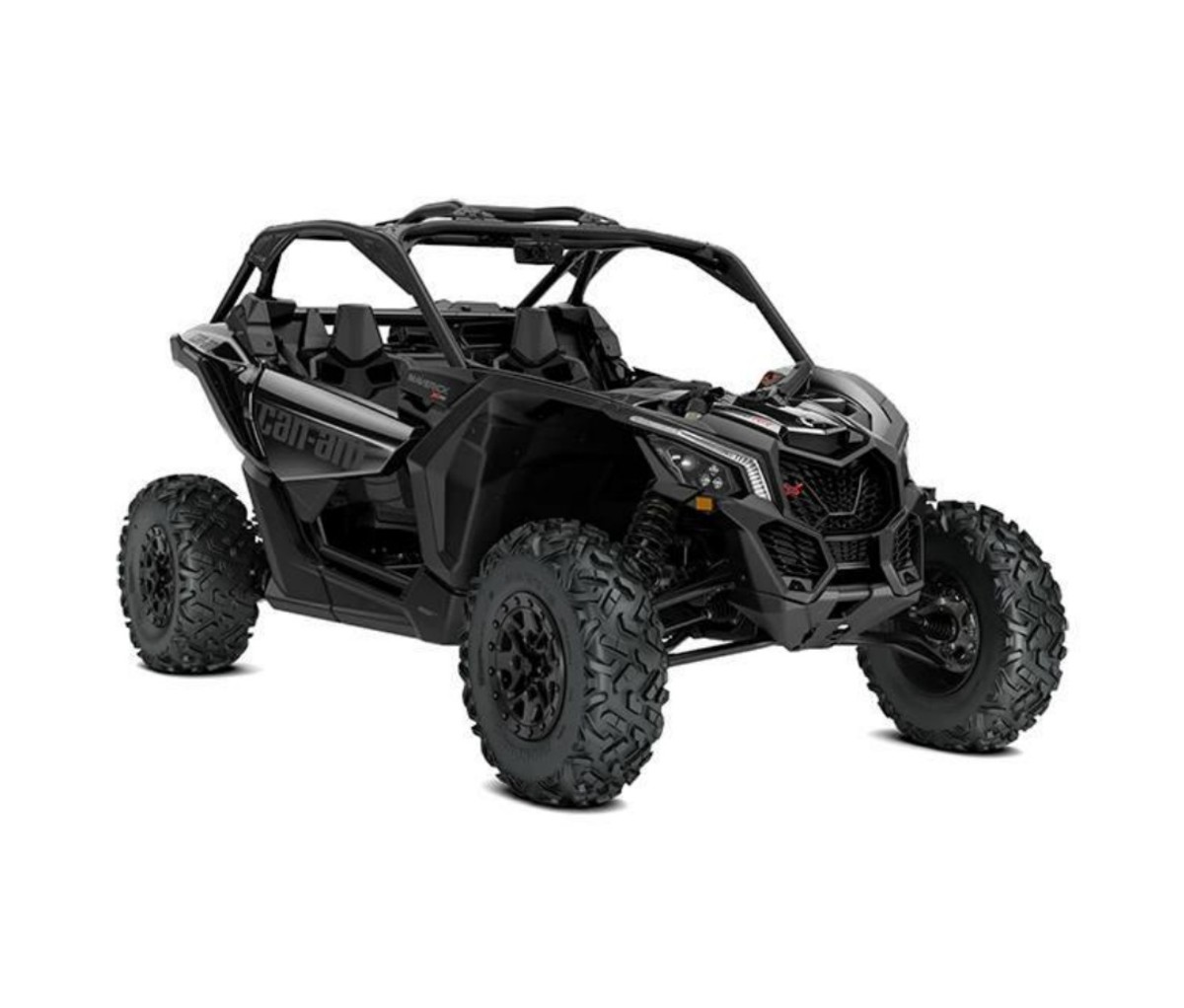 5. Can-Am Maverick X3 X RS Turbo RR 72
The Can-Am Maverick X3 lineup includes several versions suited to your local terrain: RC for rock, MR for mud, RS for dunes, and DS for desert. The X package gets you exclusive graphics, seats, top-of-the-line suspension, and other features. The Turbo RR's come in 64- and 72-inch width options and are built with a 200-horsepower Rotax ACE Turbo RR engine. Keep one thing in mind: With this powerful turbocharged mill, objects in the mirror are likely farther away than they appear.
[Starting at $20,499; can-am.brp.com]
Get it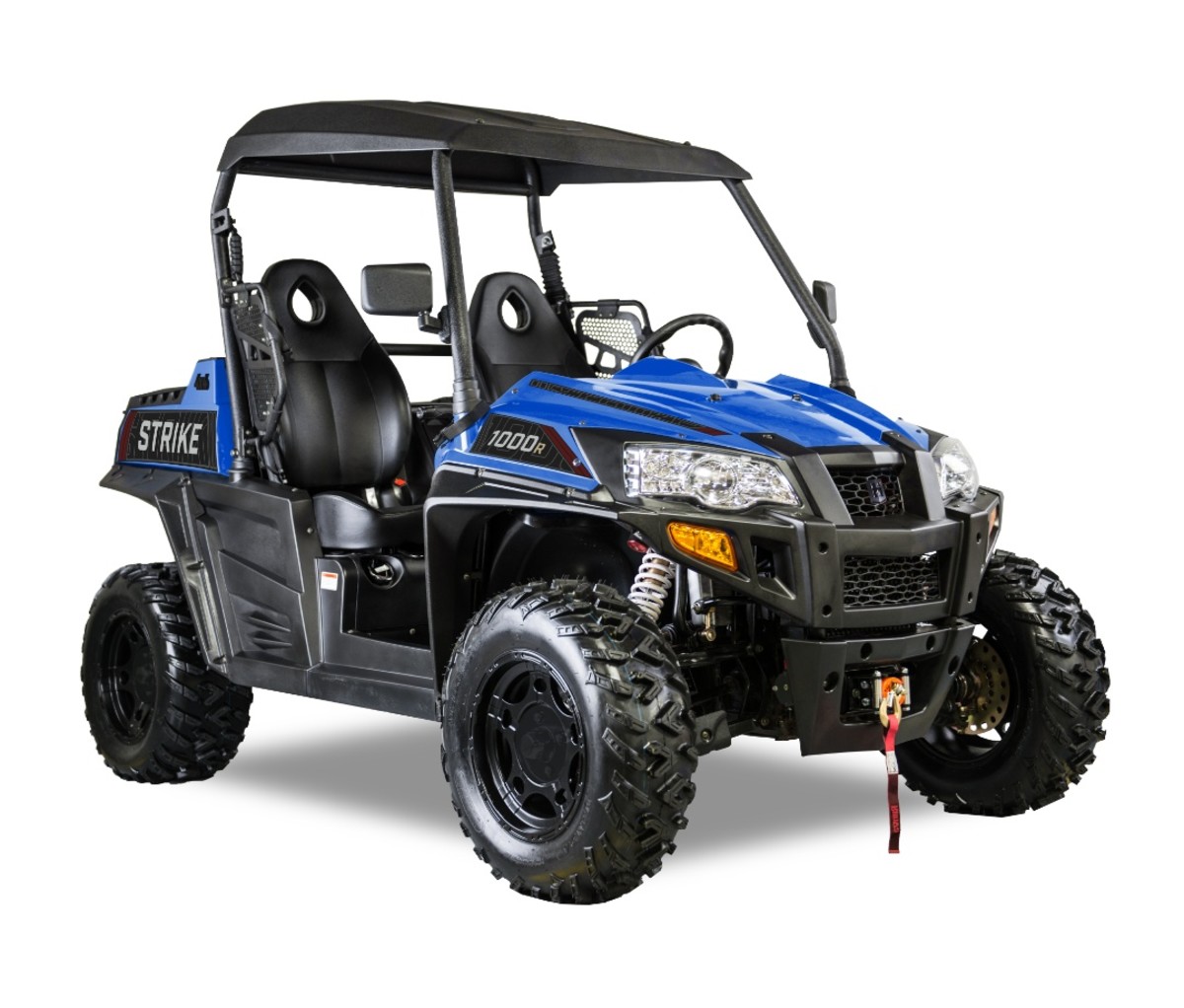 6. Hisun Strike 1000R
The value-oriented Hisun Strike 1000R is built around a 976cc V-twin motor, and it's paired with a CVT with two-wheel-drive and four-wheel-drive modes and a locking rear differential for extra traction when you need it. In the cockpit, you get an analog display (with a tachometer) and an LCD display for additional information. Better yet, a 3,500-pound winch comes standard.
[Starting at $14,599; hisunmotors.com]
Get it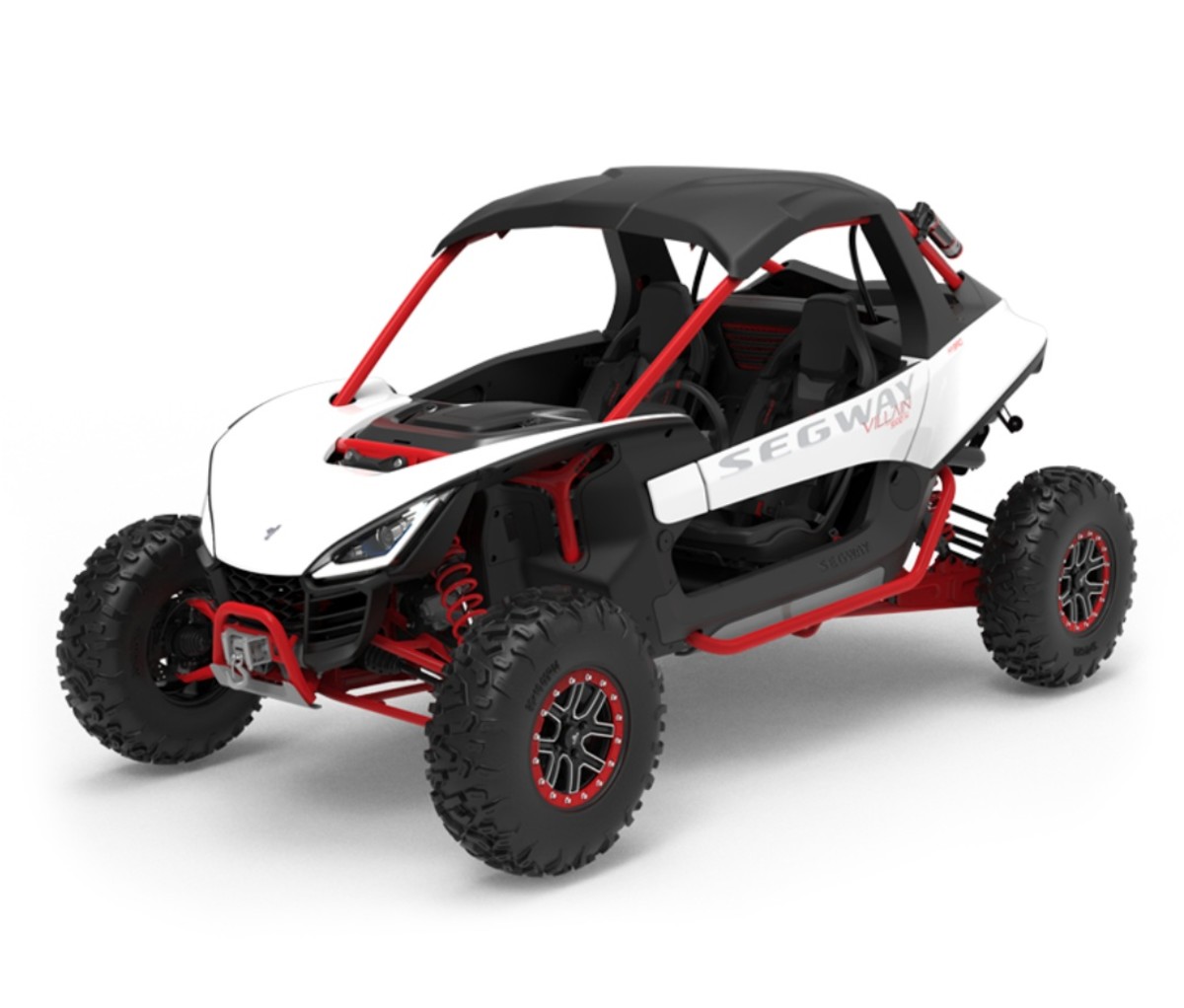 7. Segway Villain SX10 H
Segway has come a long way since its original two-wheeled personal transporter arrived on the market two decades ago. The new Villain SX10 H brings maximum performance with maximum tech that should give its driver plenty of confidence for exploring. A 1000cc, four-stroke, twin-cylinder DOHC motor creates 195 horsepower, and a unique hybrid powertrain allows the Villain to deliver instant torque. Villain's Smart Commanding System (SCS) connects with an app and an onboard touchscreen to display real-time vehicle data and allow you to tweak the settings for different drivers, terrains, and conditions.
[Starting at $21,499; powersports.segway.com]
Get it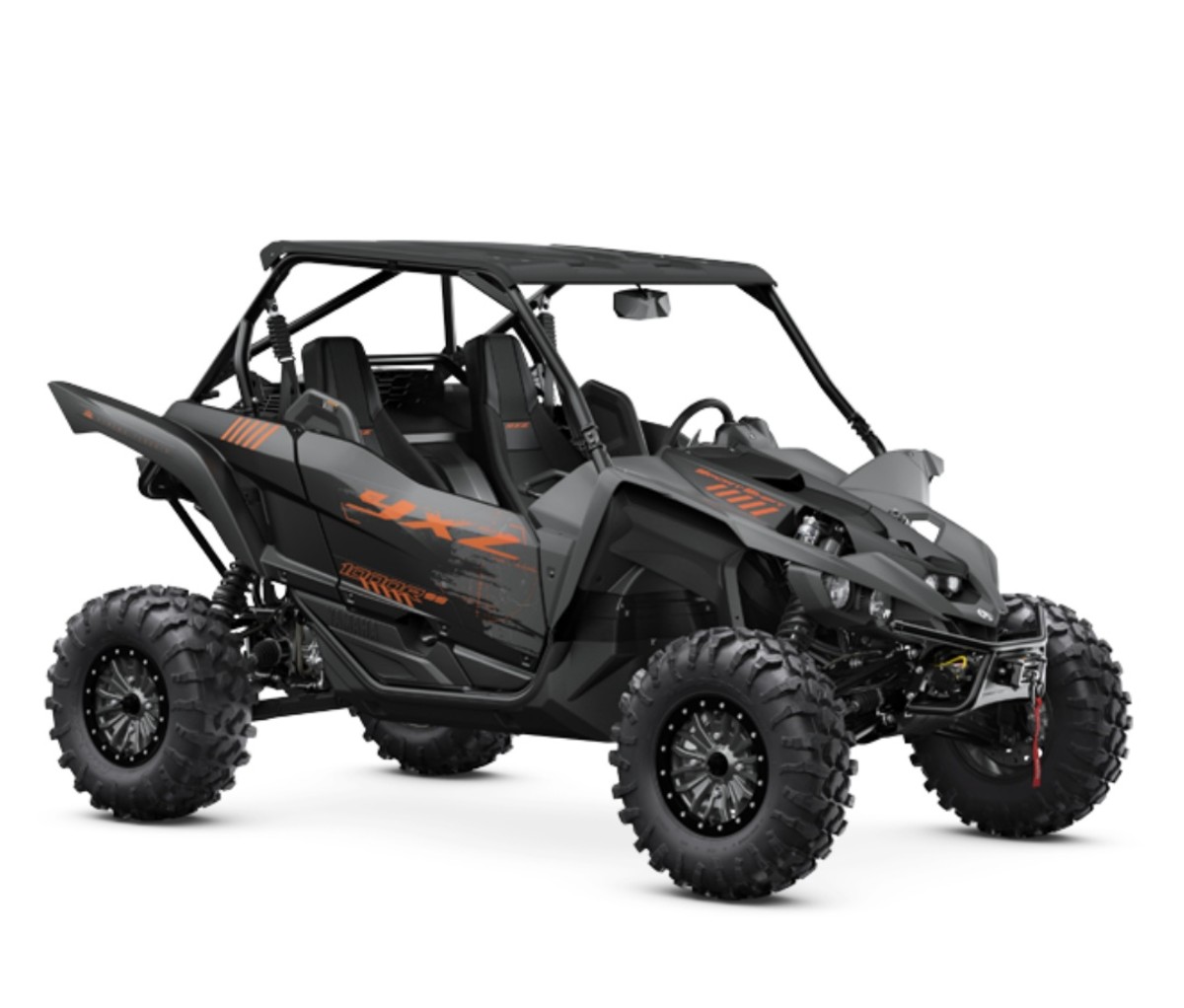 8. Yamaha YXZ1000R XT-R
With its Warn winch, Special Edition paint with color-matched wheels, and 998cc inline-triple engine, the YXZ1000R XT-R is a stylish and high-spec standout among side-by-side UTVs. Added bonus: Nothing beats the feeling of blasting through the gears with Yamaha's Sport Shift paddle-operated manual transmission.
[Starting at $23,299; yamahamotorsports.com]
Get it
9. Arctic Cat Wildcat XX SE
The new Arctic Cat Wildcat XX SE can handle just about any terrain thanks to its beefy 130-horsepower engine, CVT, and premium Fox 2.5 Podium Qs3 shocks. It comes with a shift-on-the-fly four-wheel-drive system and a locking front differential for maximum grip when the trail gets gnarly. And if you get stuck, you're in luck: This cat comes with a 3,500-pound winch to pull yourself out of sticky situations.
[Starting at $22,999; arcticcat.txtsv.com]
Get it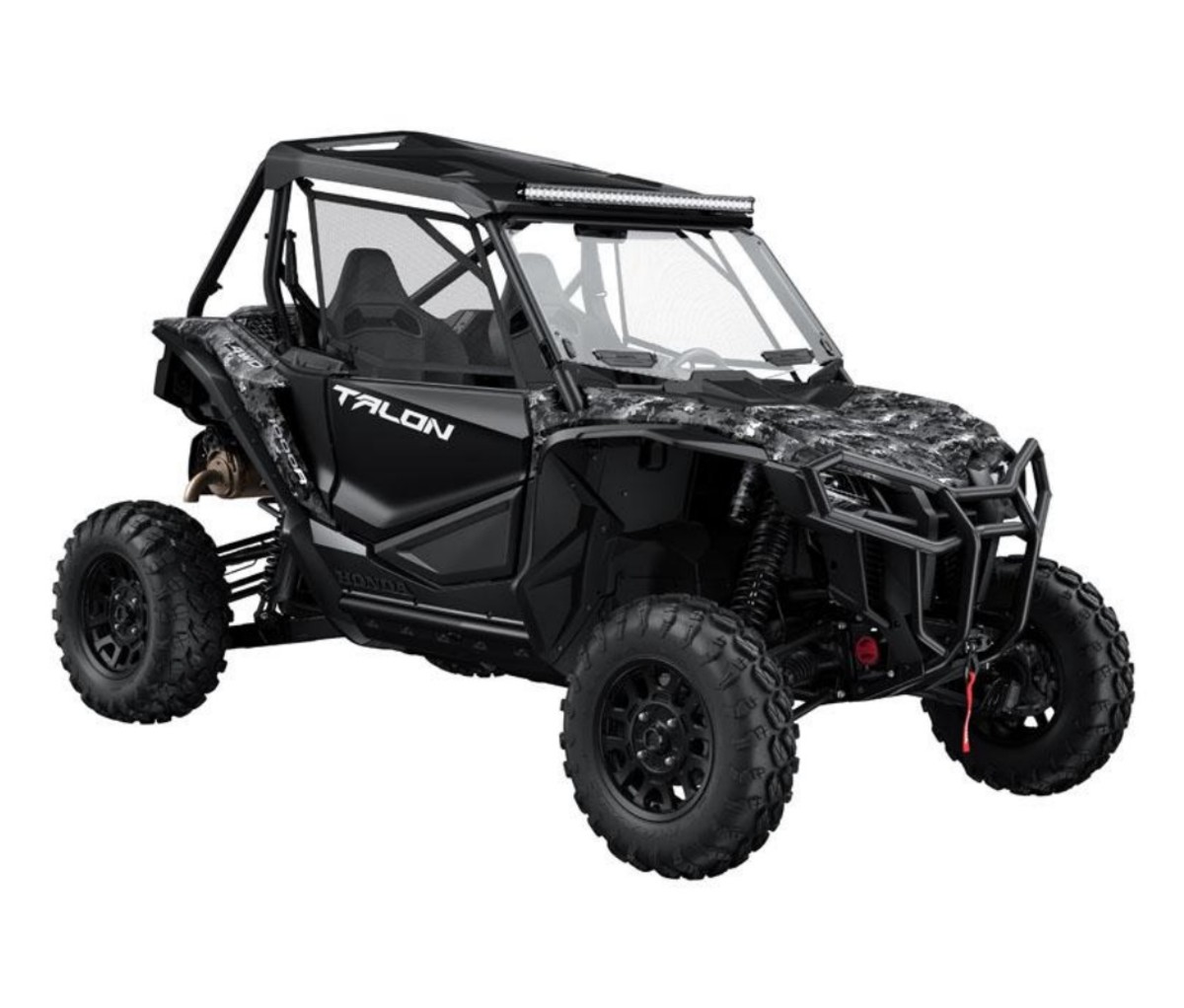 10. Honda Talon 1000R Special Edition
You can't go wrong with any model in Honda's 1000R lineup, which includes the Talon 1000R, Talon 1000R Fox Live Valve, and the Special Edition. These sporty side-by-side UTVs come in both two- and four-seat versions, and they all share the same high-output 999cc engine, snappy dual-clutch automatic transmission, and Honda-exclusive i-4WD tech. The Special Edition gets the Fox Live Valve suspension along with additional popular accessories installed from the factory.
[Starting at $26,099; powersports.honda.com]
Get it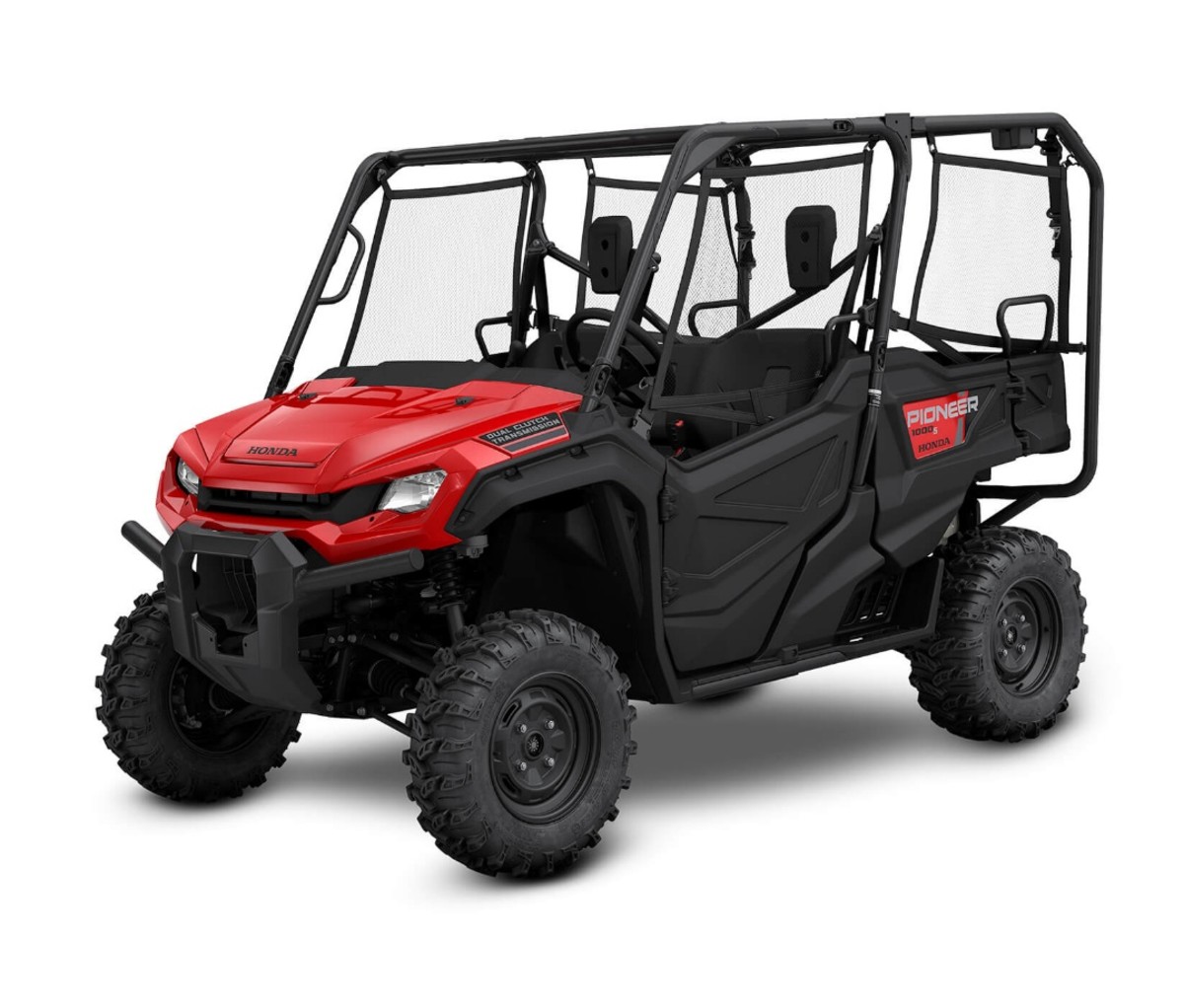 11. Honda Pioneer 1000-5
This five-seat cruiser can fit the whole brood, and it should have no problem getting them around, either, with a 999cc engine. For additional safety, it includes debris-blocking side nets, and its traction control system uses the brakes to limit wheel spin for optimum traction (without the drawbacks of a locking diff). The comfortable cockpit is a big plus, too.
[Starting at $18,099; powersports.honda.com]
Get It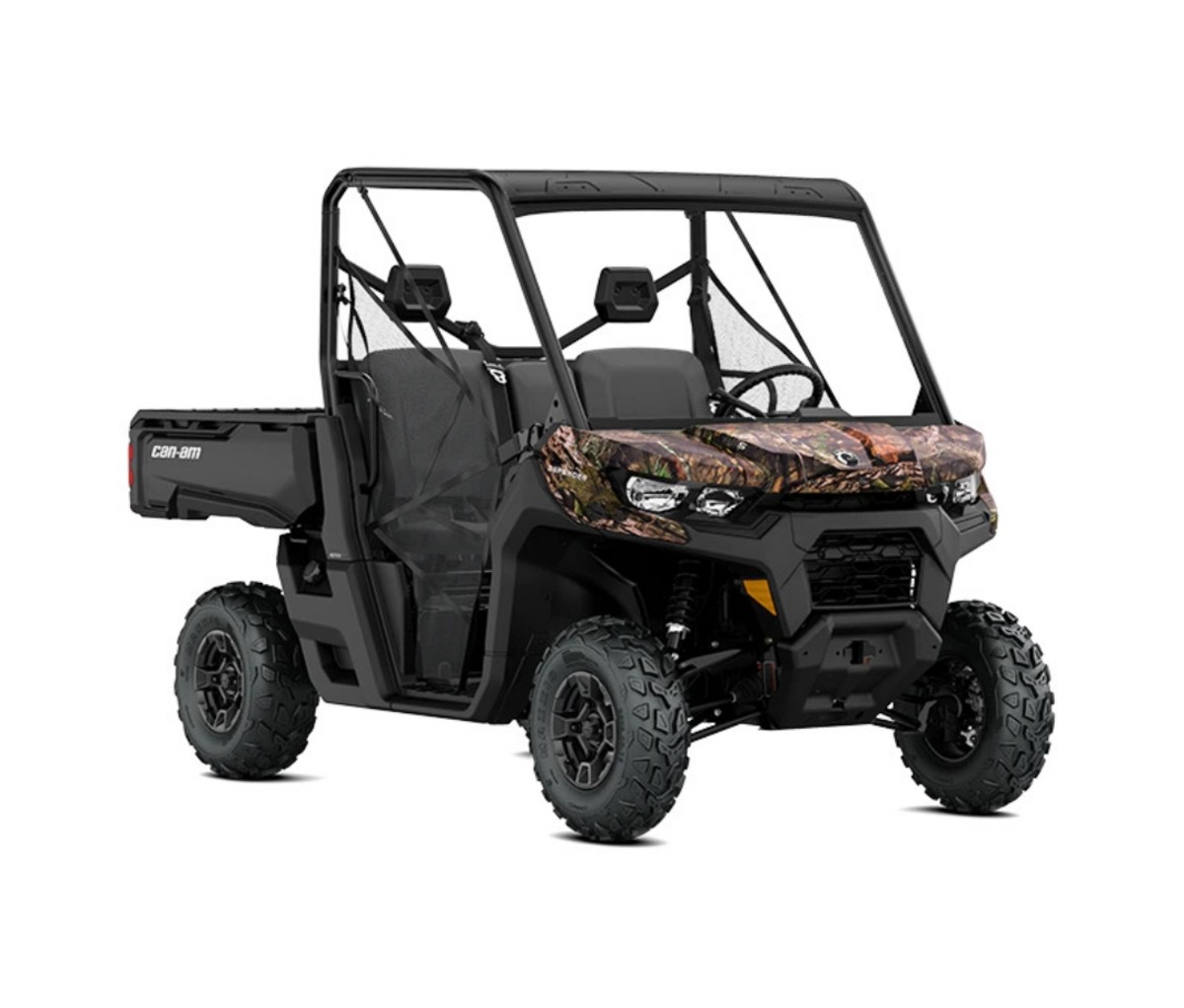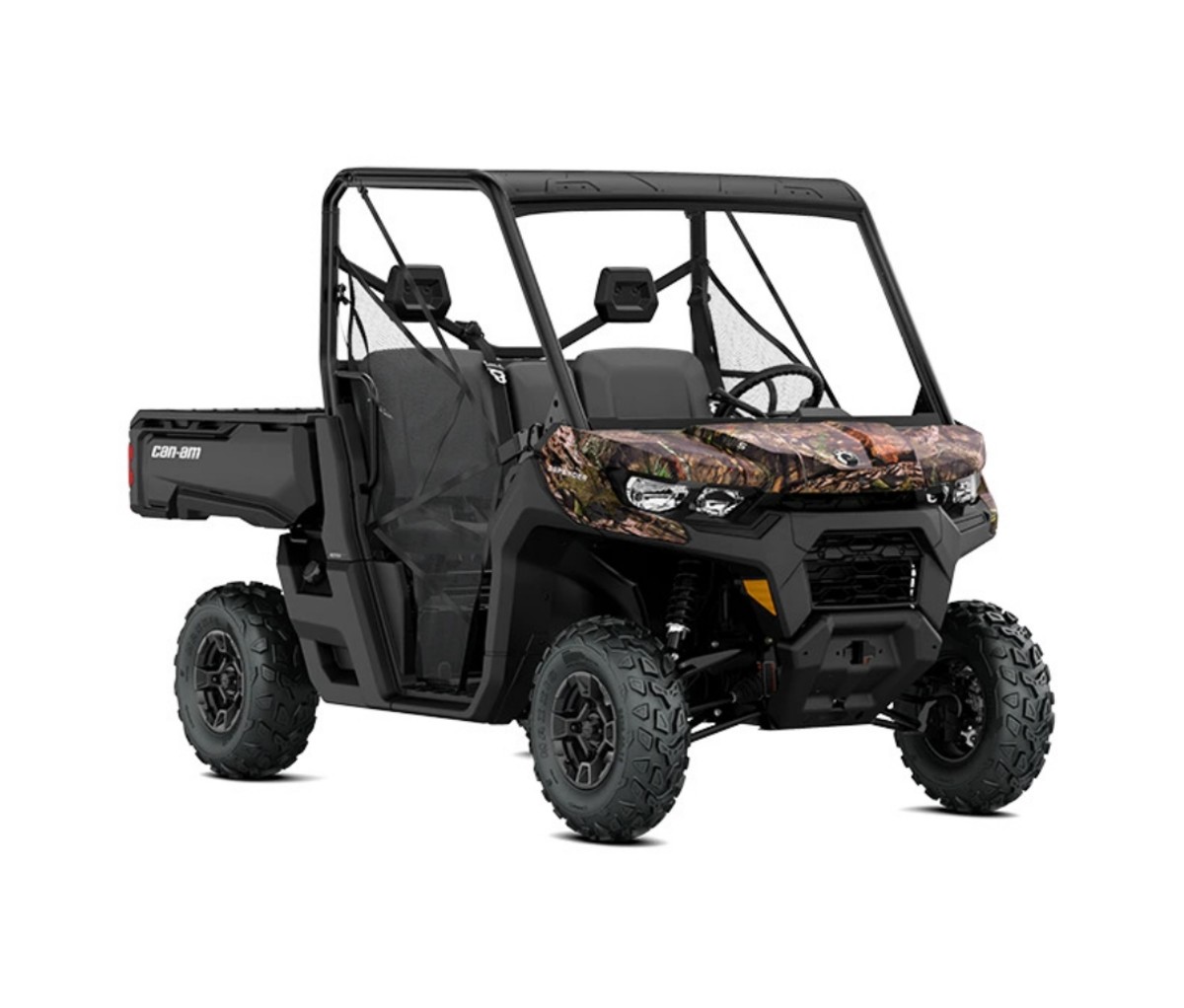 12. Can-Am Defender DPS HD10
Designed with hunters in mind, this camouflaged, 64-inch-wide beast can haul up to 2,500 pounds—so it'll have no problem with that Booner whitetail you're going to tag this season. You can also option it with Kolpin gun cases, a winch, a full skid plate, and a portable LED spotlight, all of which will prove useful in the field, and its Rotax V-twin 976cc, 82-horsepower engine will make for easy uphill climbs.
[$13,199; can-am.brp.com]
Get It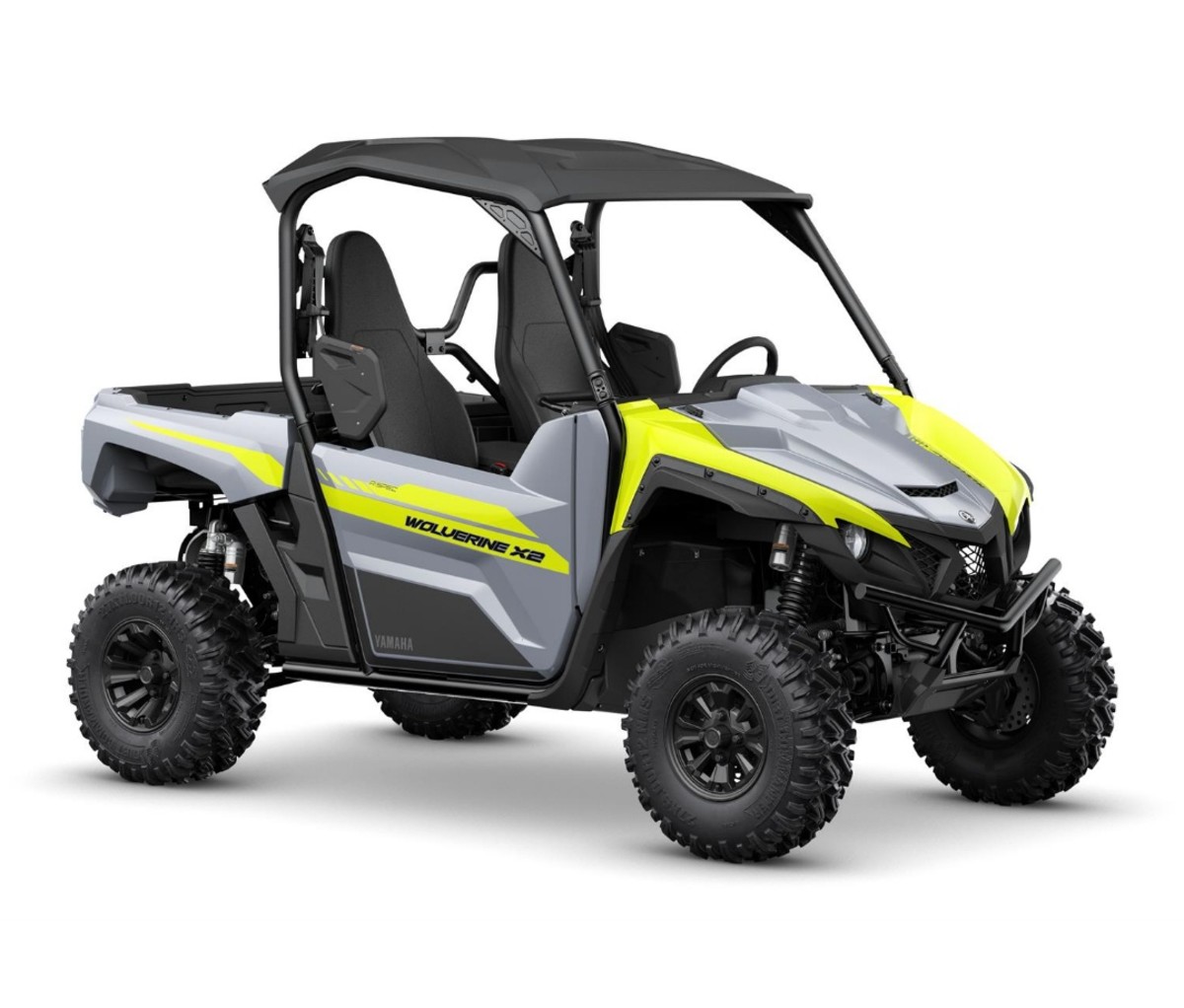 13. Yamaha Wolverine X2 850 R-Spec
This entry-level model has more than enough giddyap—thanks to a four-stroke 847cc engine—to clamber over rocks and debris, and its 8.7-inch front and 9.3-inch rear suspension will make doing so comfortable. The model measures 62.2 inches wide and has an 83.7-inch wheelbase, so it's compact enough to get deep into the woods.
[Starting at $14,899; yamahamotorsports.com]
Get It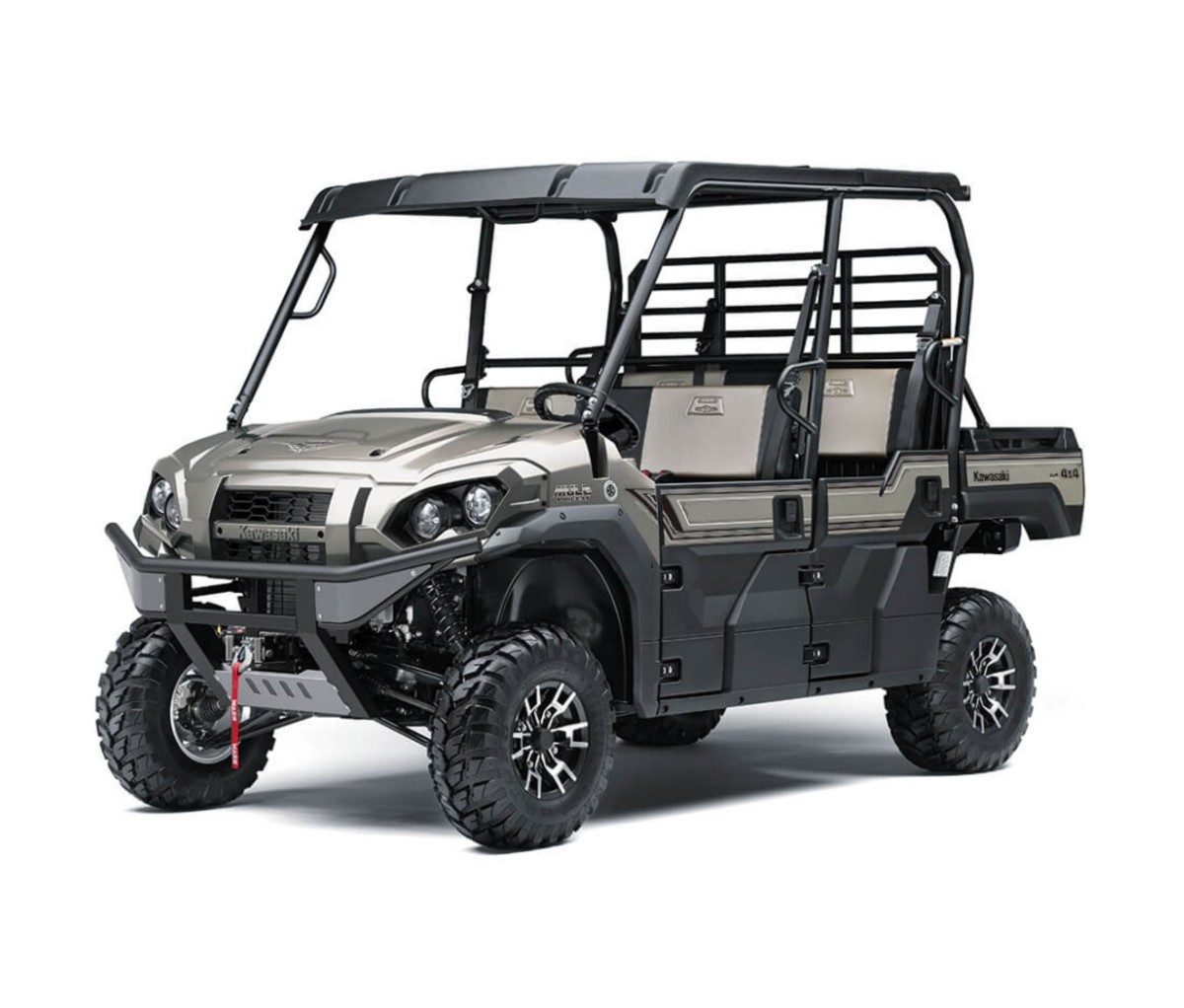 14. Kawasaki Mule Pro-FXT Ranch Edition
This two-row, do-it-all workhorse has a 999-pound-capacity cargo bed and can tow up to a ton with its 812cc engine. It also has 10 inches of ground clearance, 26-inch tires, and 8.7 inches of suspension travel, and you can option it to seat up to six people, making it perfect for either ranch work or hauling folks around.
[Starting at $20,299; kawasaki.com]
Get It
For access to exclusive gear videos, celebrity interviews, and more, subscribe on YouTube!