The photos alone in Rusty Long's book The Finest Line: The Global Pursuit of Big Wave Surfing are enough to give you sweaty palms. Add that to the inside stories from Long, one of the great big wave surfers, and its enough to make you wonder, "what are these guys thinking?" From one seven-story tall battle in the middle of the ocean to horrifying wipeouts and underwater hold-downs, The Finest Line chronicles the highs and lows of big wave surfing from an insider's perspective. We caught up with Long and asked him to pick a few of his favorite photos and tell us the stories behind them. Brace yourself.
Dave Wassel at Jaws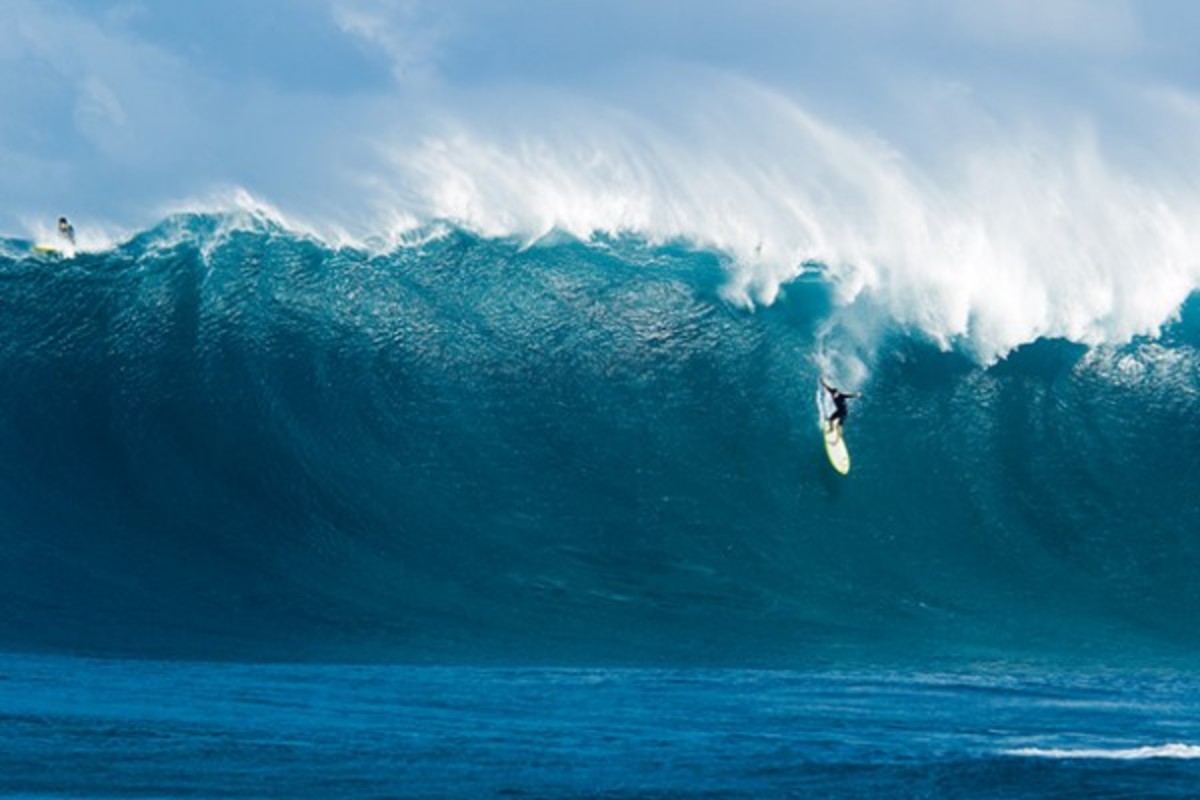 Credit: Fred Pompermayer
As a lifelong big wave specialist and North Shore lifeguard, Dave Wassel has more time in Hawaii's powerful waters that just about anybody. He is one of a small handful of people who would attempt a paddle wave this size at Jaws without getting annihilated at the bottom. It doesn't get any heavier or more committed than this ride. "That day was chaotic," he says. "Alex Gray and I repelled down a muddy cliff toting 10'6″ surfboards. Before jumping off the rocks, I watched a wave explode on the shore and blow Kohl Christensen 100 yards back up the river. Another wave destroyed 4 other surfers and their boards on the rocks. It was just crazy and we were still on the shore. I'm actually afraid of heights and I blank out on most of my big wave rides. I remember the loud explosion as the wave gobbled me up. I remember my ears popping 5-6 times as I was forced down into the darkness. I remember my board hitting me in the thigh and I remember pulling the cord on my inflation vest so hard that I broke the cord and handle clean off."
Tom Lowe at the Cliffs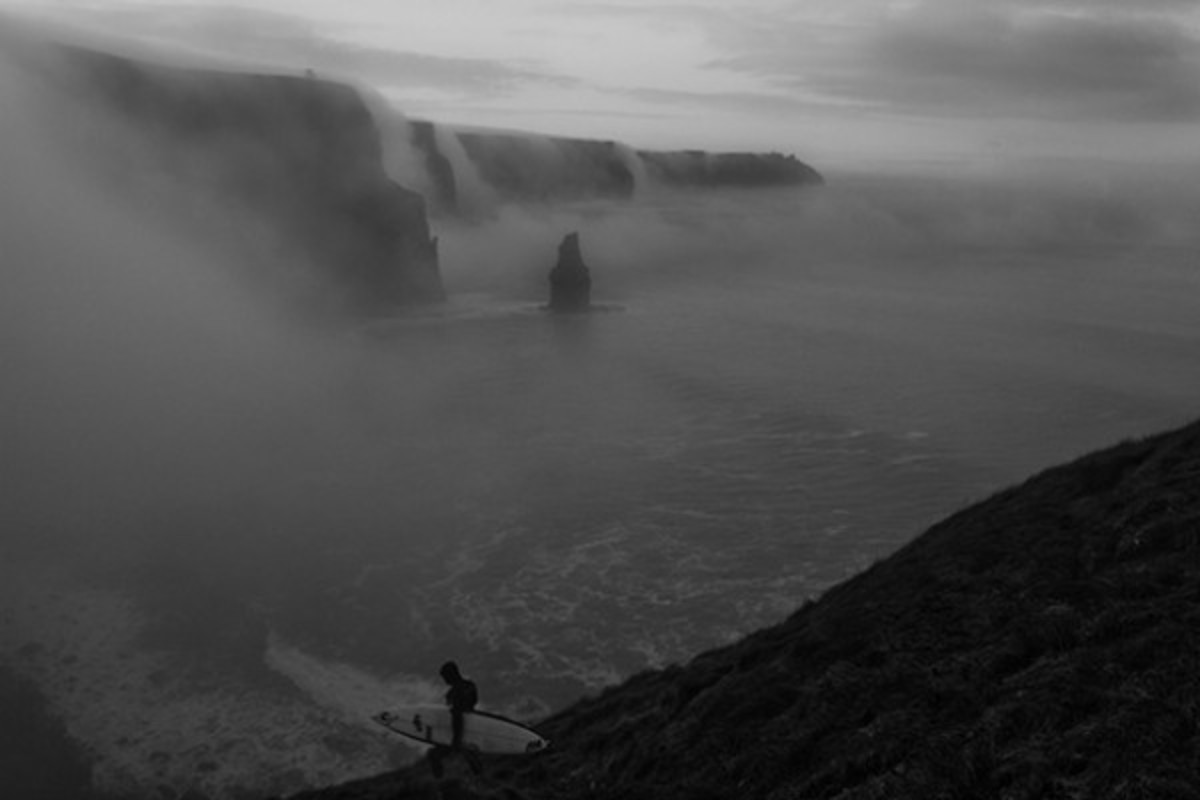 Credit: Rusty Long
Most big wave surfers develop extra special connections with one particular wave. For English charger Tom Lowe, who calls Ireland home half of the year, it is Aileen's, at the base of the Cliffs of Moher, in County Clare, Ireland. "The Cliffs of Moher mean so much to me, not only from a surfing perspective, but also from a deep spiritual sense. The last memory I have of my late best mate Tom Greenaway, was at the top of those cliffs, watching the waves together in pure awe. That lasting vision will be with me forever, so yeah that place fills me with a lot of energy and love." Here, Tom heads down the narrow goat path which zigzags it's way to the bottom.
Dorian and Healey at Waimea Bay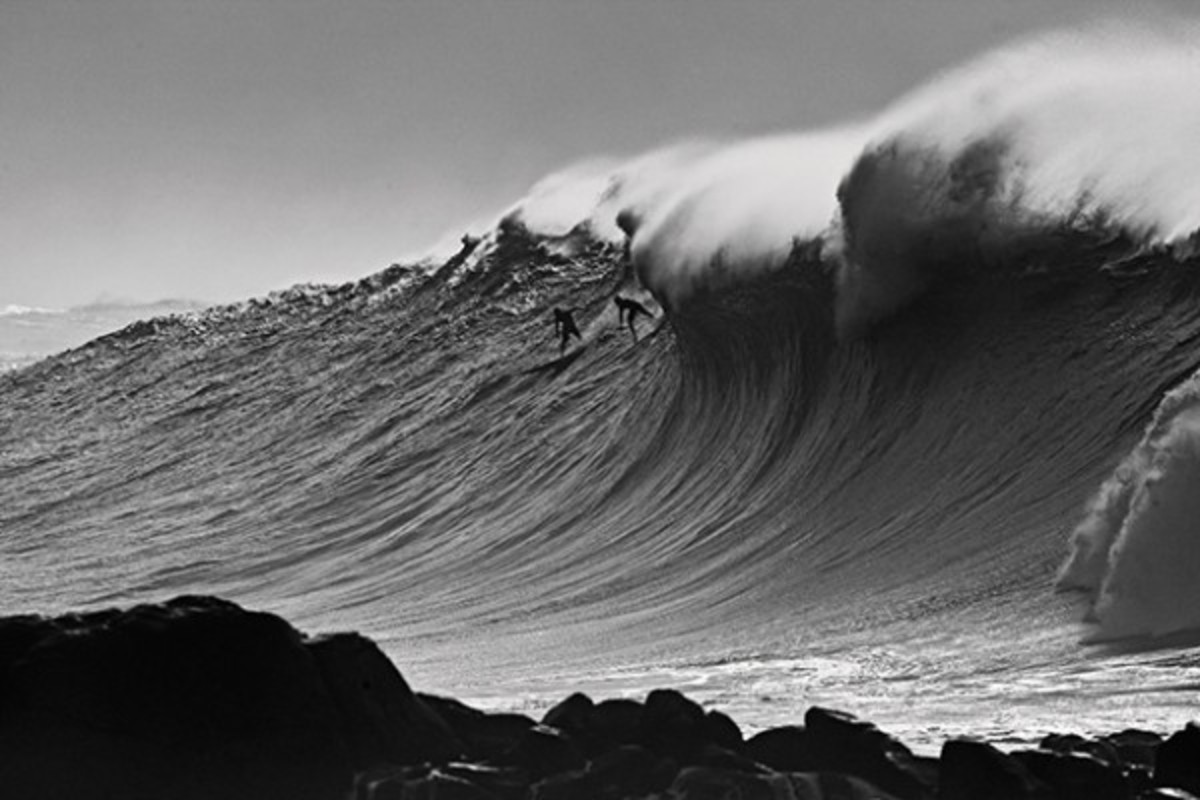 Credit: Brad Masters
Shane Dorian and Mark Healey ride together here on one of the biggest waves ever ridden at Waimea Bay. It was the evening before the 2009 Eddie event, and while most other competitors had retired for the day, these two were looking for a giant, as the swell had gotten huge. It was getting late and according to Healey most were eager to go in. "At that point, I had made up my mind thinking 'I can't be out here 'til dark. I've got to surf the event tomorrow. Next big wave that comes in, I don't care what it looks like, I'm going.' And it just happened to be that wave. I turned around, put my head down, and paddled as hard as I could. I remember almost pearling at the top but somehow stuck it and got off the bottom and that's when I actually looked over to my right, and I saw Shane. I'm happy Shane caught that wave too, because that's obviously the best vindication that you could have. I talked to him about it, and he said, 'That's one of the biggest waves I have ever caught.' "
Todos  Santos Cleanup Set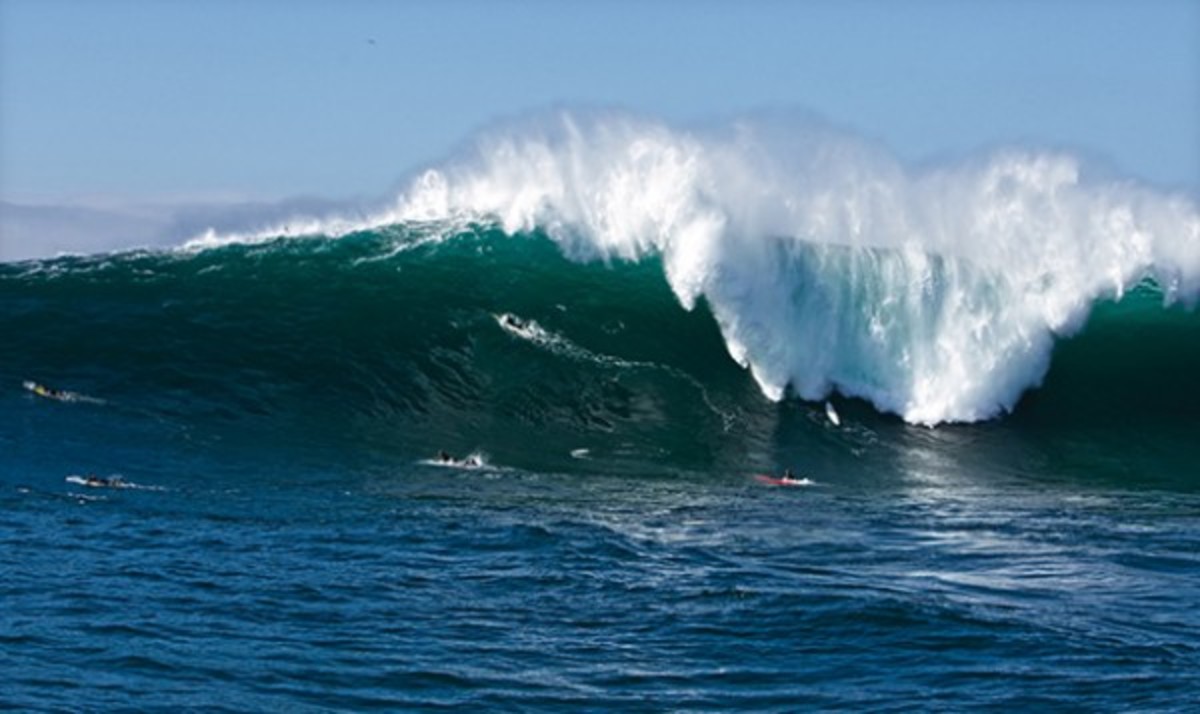 This is one of the biggest waves to land on top of a group of surfers ever. (For a sense of scale, those are ten-foot boards.) This clean up happened in December 2005 and this session can be seen as a turning point when the best surfers present reverted to paddle surfing on the biggest of days. One year prior and this would have been a tow in session, but there was a temporary backlash to Jet Ski use among big wave riders. The much more challenging pursuit of paddling into the biggest waves possible came to define the following years.
Mavs Contest 2010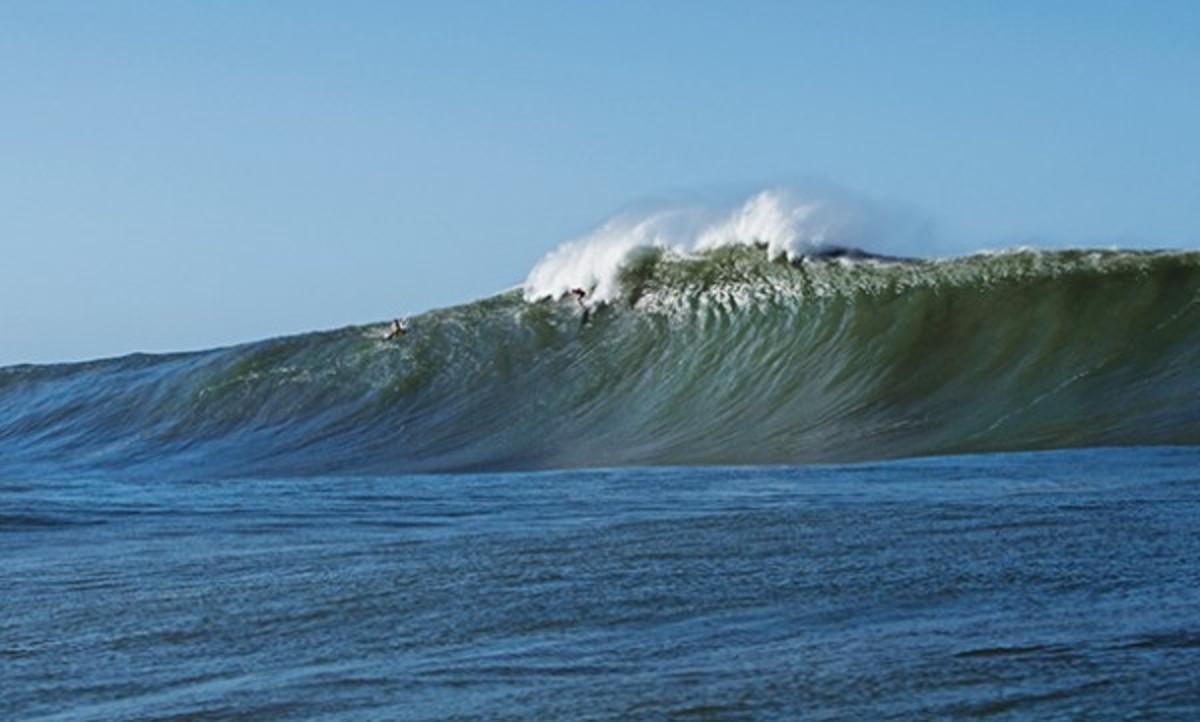 The 2010 Contest Maverick's was held in the biggest waves ever in competition. The notorious break in the rugged waters just south of San Francisco produced a day that will always be a point of reference and where the level of skill and commitment meshed for a day of historic rides. This is Alex Martins, who relocated from Brazil to San Francisco to dedicate himself to the wave. He's on the short list of guys always looking for the biggest waves, evidenced by this ultra critical takeoff during the 2010 event.
Greg Long Cortes Prep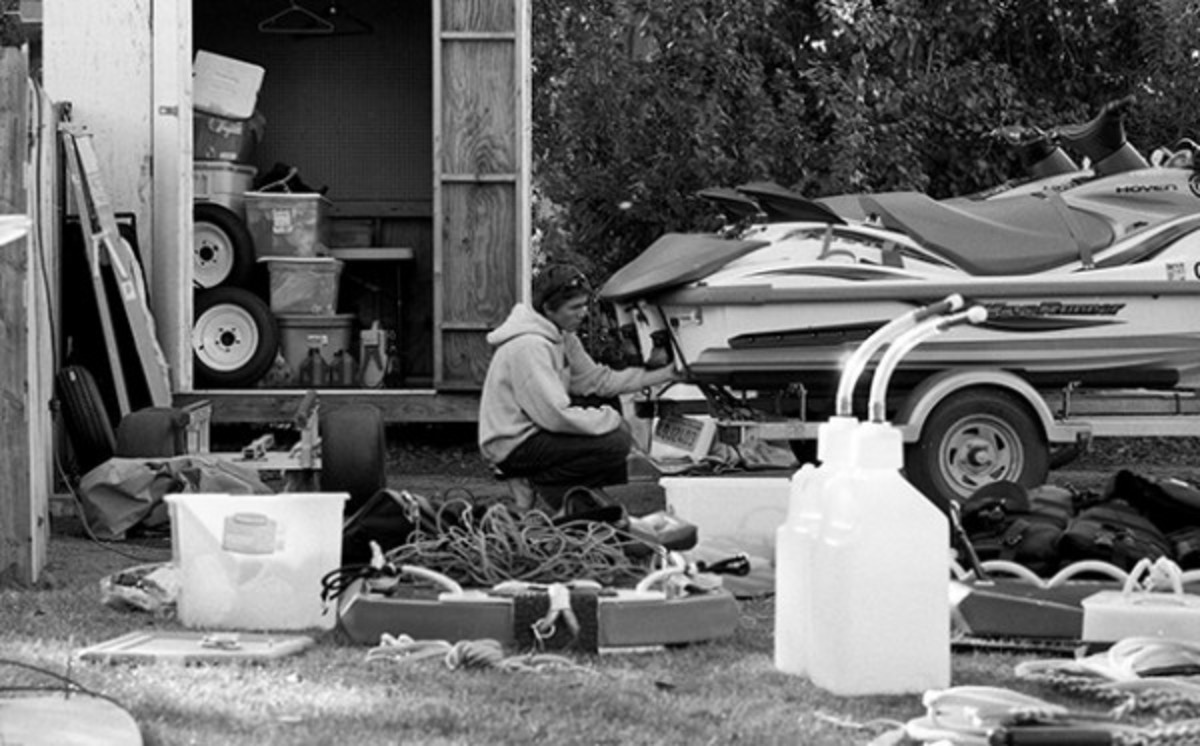 Credit: Rusty Long
Epic surfer and one of our 50 Most Adventurous Men, Greg Long sits outside of his home in San Clemente prepping for a mission to the Cortes Bank, one- hundred miles directly out to sea.
Mike Parsons at Cortes Bank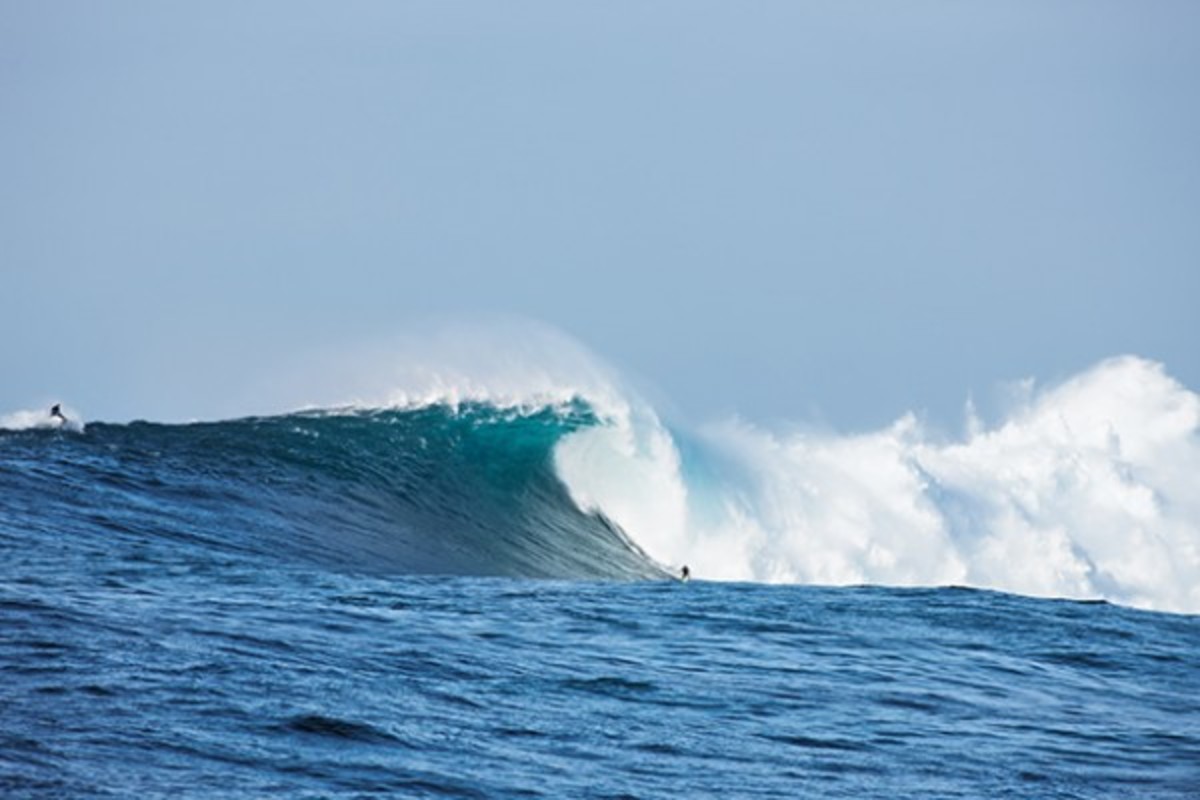 Credit: Rob Brown
Mike Parsons on what measured out to be a 77-foot wave, during the most harrowing and legendary mission out to the Bank ever. It was surfed at it's biggest this day by him and partner Brad Gerlach, and Greg and Twiggy, riding out on photographer and boat captain Rob Brown's rig. There was no back up, no dedicated water safety, and the waves were by far the biggest any of these guys had ever seen before. Asked how risky that mission was in hindsight, Mike had this to say. "Off the charts! One to ten it was a twenty on the risk and stupidity scale. But then again, we'd done it our whole lives and we weren't new at it. At the same time, with the amount of support we had-and looking at what's happened out on that reef since that day- you just realize, 'Whoa, were were completely out of our minds.' We didn't have a medical team out there or water patrol; we were just looking after each other, and it could have gone real bad. But shit, what are you going to do, right? It was one of those moments where you just say, 'fuck it, this is why we surf.' It's not the smartest thing but when you look back on it, you're sure glad you did it. That day was it. That's what I live for. That was the pinnacle of my surfing life."
For access to exclusive gear videos, celebrity interviews, and more, subscribe on YouTube!