In an interview last year, Oscar-winning Hollywood director Danny Boyle declared that sound accounts for "80%" of the total moviegoing experience. "You don't realize it because you can't see it," he observed. If he's correct, then your at-home TV viewing has never been worse. As flat screens keep getting flatter, their factory-issue speaker systems keep getting smaller. "A 65-inch TV? Man, these days, it has four speakers barely the size of a quarter," says Bob Cole, CEO of audiovisual retailer World Wide Stereo.
If you go shopping for a powerful home entertainment system right now, audiovisual experts will advise you to cobble together a total budget in the neighborhood of $2,000 to $3,000—but to allocate only about 30% of it for the actual TV. The rest should be used for speakers, cables, monitors, and other components. Unlike your television, you'll likely keep your sound system for years, if not decades. So, if you're gearing up for football Sundays and Mondays (and Thursdays!)—or just want some extra oomph for a Netflix binge—here's a guide to your ultimate home theater, starting with the speakers.
The audio
For surround sound in the typical living room, opt for a 5.1 speaker setup. The "5.1" is stereo-jockey speak for five speakers and one subwoofer for bass. Though some obsessive audiophiles will rave about sprawling setups with speakers on every available flat surface, dropping crazy numbers like "7.1" or "9.2," remember: For viewing a winning touchdown or an exploding building, 5.1 will still rattle every window within a one-block radius. 
Stick to traditional cabled speakers and avoid wireless or Bluetooth speakers, as they cut quality as much as clutter. Likewise, you might be tempted to invest in speakers that can be embedded flush in drywall. Unfortunately, there's a technical trade-off: Boxed units that sit on sturdier surfaces like a bookshelf or the floor rely on the maker's own sound-dampening specs from their casings, rather than the variables of your wall space. So, for quality, be sure to put them where they're designed to go.
The U.K.-based company Monitor makes compact, affordable models like the Radius (from around $320) or the terrific GX50 series, which also offers wood-veneer finishes. Connect any five of them with a subwoofer from Sunfire, such as the ­HRS-8, a 10-inch cube boasting an internal 1,000-watt amplifier. You can buy all of these online, as they're tougher than flat screens, so hit up newegg.com or amazon
.com, which have good return policies and low prices.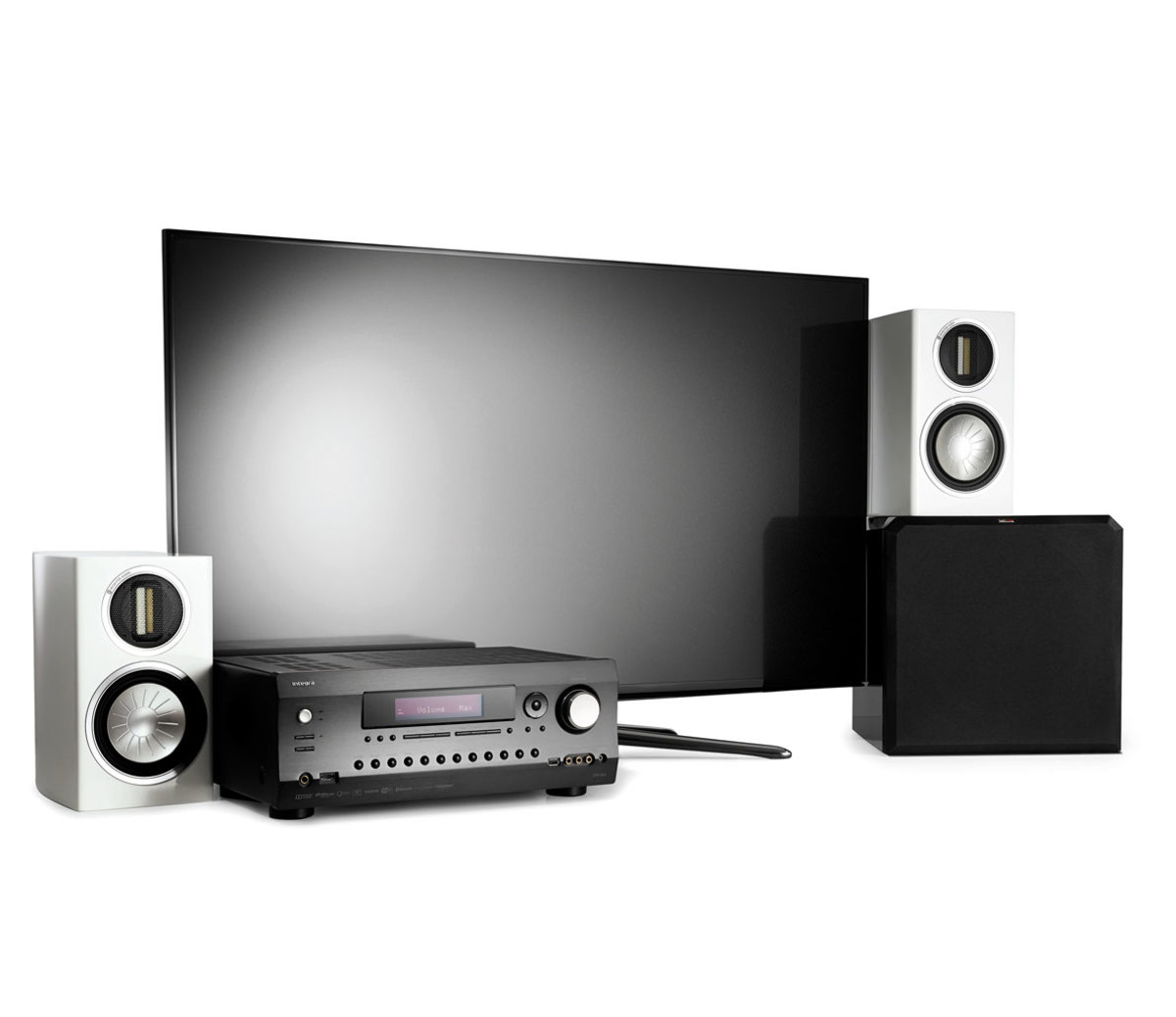 The visual
A bigger TV isn't always better, says veteran A/V system designer Justin Schwartz, of New York's Sage AV. To calculate the right size tube for you, measure in inches the distance between your couch and the wall where the TV will mount, then divide by 1.5. Are you six feet away? Buy a 48-inch TV or smaller. Anything larger, and your eyes will notice the pixilation, which will negate that whole "high-­definition-experience" thing.
Flat screens of all sizes are available in two different technologies: plasma and the LED/LCD variety, which stands for "light-emitting diode" and "liquid crystal display," respectively. (Not that it matters, since they're essentially two variations of the same technology.) Sure, plasma produces the higher-grade picture of the two, but as a technology it's being phased out—pricey manufacturing makes margins too thin, while chunky components keep the TVs too thick. Consider plasma the future DeLorean of televisions: Yes, it's way cool, but if it breaks down in a year or two, good luck finding tech support or spare parts. Your best bet is an LED.
Avoid ultra-HD TVs described as "4K." At the moment, very little content is available at that superhigh-end resolution—and it's unlikely to surface soon, either, since cable providers are wary of clogging bandwidth. (If you're using Apple TV to stream movies, that system already compresses data below that resolution anyway.) Trust me: The current standards of 720p or even 1080p resolutions are more than adequate, though be sure to avoid cheap brands from China, such as ­Evesham, Emerson, and TCL. Samsung's TV line remains the best value at any size, especially its core 6400 series, with screens from 40 to 75 inches ($1,150 to $6,000). When you make the purchase, do so in person at a big-box retailer like Costco or Best Buy rather than online. These TVs are  often damaged when shipped from the factory. (And replacement is easier at your local store.) More important, big-box stores often use TVs as loss leaders, selling them close to cost and hoping to make up the extra on overpriced peripherals.
The system
Finally, your A/V receiver will serve as a backbone linking together the entire system. It's basically an amplifier that communicates between the TV and speakers, providing both electronic power and a sonic burst. There are two factors to consider when choosing one: a) The number of HDMI ports you need (for your TV, Blu-ray player, Xbox, PlayStation, whatever); and b) the "wattage per channel," or the power behind each speaker.
Any "WPC" below 50 watts is too weak. Sage's Schwartz recommends Denon's AVR-X2000 as a reliable workhorse, with 95 watts per channel ($700). The next level up is Integra's DTR 30.5, with 95 watts of output and the ability to download software updates directly to its hard drive, extending its lifespan ($999). But if you really want something top of the line: Denon's AVR-4520CI ($2,600), features Audyssey technology that sends out pulses to each speaker, gauging their position and digitally adjusting audio output to compensate for uneven placements. That's right: a "smart" system. Maybe Danny Boyle sold the power of sound short. 
7 Best College Courses For The Fit Student>>>
For access to exclusive gear videos, celebrity interviews, and more, subscribe on YouTube!