To get better at golf, you need a good picture of what you do well and what you don't on the course. Information beyond your final score is vital. The Microsoft Band paired with TaylorMade's myRoundPro provides all of the functionalities of a wearable fitness device, an on-course GPS, and a shot tracker that generates stats on your game beyond what you can record on your card. That's why we tested it on several golf courses for 72 holes.
RELATED: TaylorMade's Putting Guru on Choosing the Right Flat Stick
Round 1: Out of the box the Microsoft Band looks sleeker than a Fitbit but smaller than an Apple Watch. A touch screen controls the device's functions, which track a variety of activities. For golf, the Band uses a heart rate monitor, pedometer, and a GPS. Tracking your round requires you to setup free accounts with both Microsoft Health and TaylorMade's myRoundPro. A bit annoying, but the process is relatively simple. Once you get logged into Microsoft Health on your phone, you can find the course you're playing in the database of 18,000-plus courses and sync it to your Band. Select the golf tile and head to the first tee. The GPS will lock on and you're ready to play. During your round, the Band will track your shots, calculate distances to the front, back, and center of the green, count your steps and calories burned, as well as monitor your heart rate.
We played our first round at New Jersey's Bayonne Golf Club in high winds. So, distance data gathered via the GPS wasn't particularly resonant with our game. But we did learn a pro tip for using the Band: Before reaching the next tee, make sure the Band gathered a correct score for the hole. It can record practice swings as shots, but more often it fails to record short putts. Adding or subtracting a shot is super simple: Swipe left to add a shot and right to remove one.
Round 2: Understanding distance is key in golf. While a GPS is not as accurate as a laser rangefinder, having one on your wrist is quite handy. During our second round at Marine Park Golf Course in Brooklyn, we compared GPS readings from the Band against a laser reading and found the results impressive, around plus-or-minus two yards. For most middle-handicappers, that margin of error is more precise than their iron shots.
(Graphs representing approach shot accuracy, at 100-150 yards and 150-200 yards.)
RELATED: How to Golf in the Rain
Round 3: After a round, you will need to launch TaylorMade's Web-based myRoundPro, where you can see every shot. Here, you can edit your round as well, subtract or add shots, penalties, even move shots the GPS thought were in the fairway to the rough, and vice versa, which is what we did after playing at Connecticut's Tradition at Oak Lane. You can also indicate which shot was struck with which club for further refinement. The process takes a few minutes, but the more correct the information, the more reflective the stats become. Once you finalize your round, myRoundPro produces a full analysis. It delivers classic stats, like fairways hit, greens in regulation, and putts per round. But it goes deeper still, offering the player a set of "strokes gained" statistics (metrics that reflect how good or bad a golfer's game is in relationship to an average based on similar handicaps). This will allow you to better focus practice sessions. For us, its more time in the short game area.
Round 4: One of the things myRoundPro doesn't accurately measure is the distance of putts. Because the GPS on the Band is only accurate to six feet, the margins on the greens are too high to be useful. So, to get a better picture of your short game, you'll almost certainly need to manually adjust your ball position in the Web-based app, hole by hole. This process sounds tedious, but it's rather simple thanks to the interface. Basically, you need only to drag and drop putt positions within the app to where you were actually putting from to yield more accurate data. It will take a few minutes, but this information is crucial. Something we've suspected for a while is that we are not as good as we should be between three to six feet. The data confirmed our make percentage at that range is 22 percent lower than it is at six to nine feet. Conclusion: Know thyself and thy game and get better.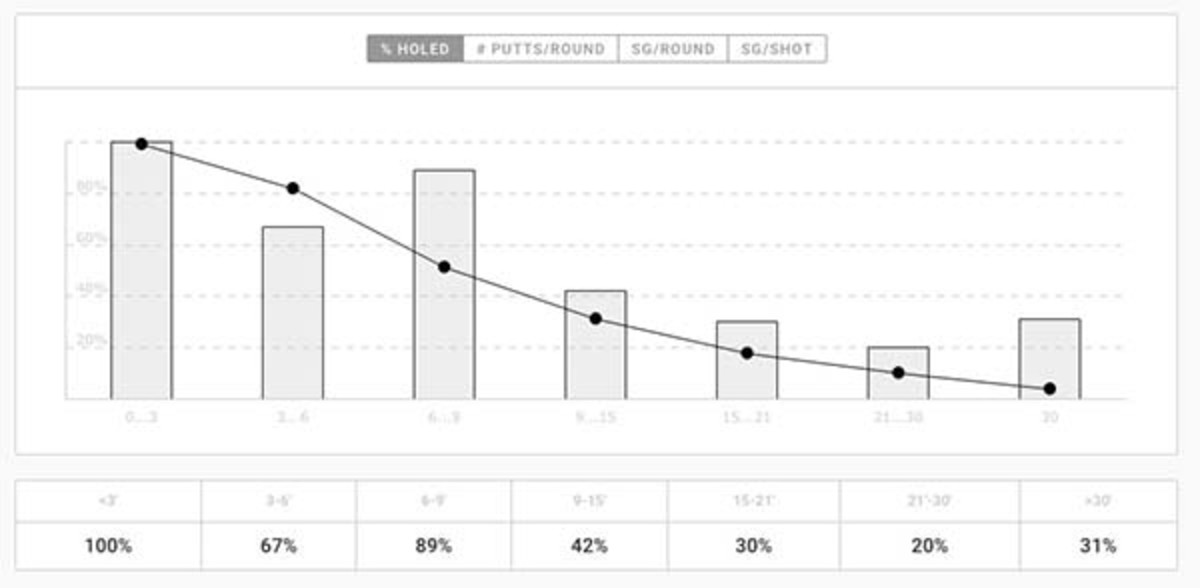 (A breakdown of puts made at different ranges.)
[$250; microsoftstore.com]
For access to exclusive gear videos, celebrity interviews, and more, subscribe on YouTube!