Branded Content
Can an Underwear Company Change How Hockey Players Think About Their Jocks?
This article was produced in partnership with BN3TH
Every hockey player has the same lived experience: You swing a leg over the boards, preparing to jump onto the ice for a shift, and feel your cup twist sideways, digging into your thigh. You have two choices: Play on with a cup out of alignment, or use some of those precious seconds to adjust. In a high-octane environment like this, the last thing on your mind should be equipment tweaks.
"That was one of my big problems with traditional jocks," says Darren Hawrish.
Hawrish is a lifelong hockey player who splits his free time among three leagues. At his day job, he's the CEO of BN3TH (pronounced "Beneath"), a Vancouver-based company radically changing men's underwear. So, unlike his teammates, Hawrish found himself in a unique position to do something about the jock-and-cup snafu plaguing players.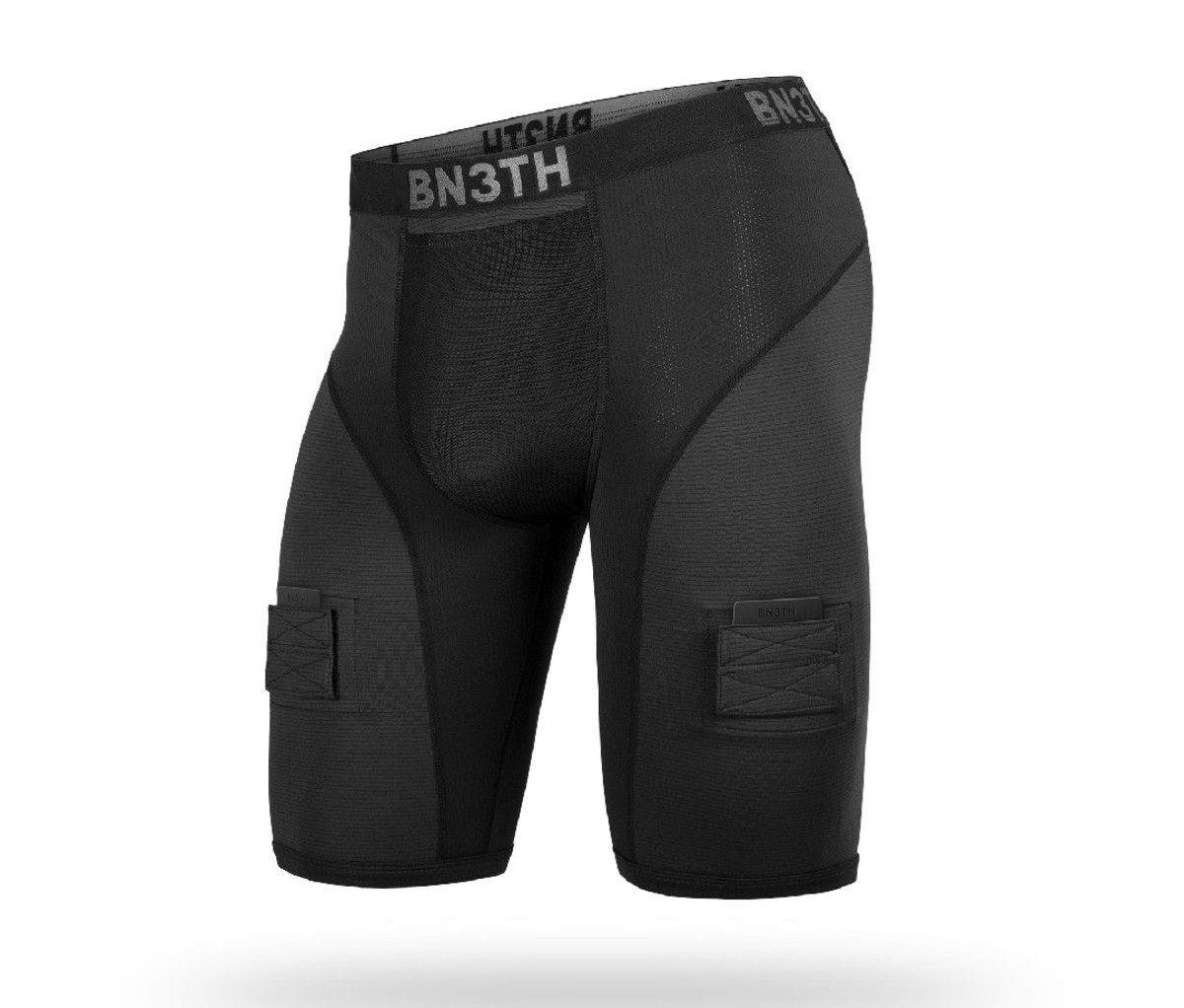 Reimagining the role of underwear
BN3TH's forte has long been general lifestyle underwear, but the brand's been branching off into other areas. It created the North Shore bike shorts last year to the delight of undercarriages everywhere getting saddle-chafed. This year's target: hockey.
"When we're looking at new areas to go into, it's how can we improve something that hasn't changed much over time?" says Nora Shaughnessy, the firm's director of product. "We've all seen athletes shifting and adjusting, so the idea here is to add our technology into those pieces and eliminate some of that discomfort."
The idea is manifested in the Coast to Coast Hockey Jock, which gets a limited, first-run release on October 3. On the one hand, it's an attempt to make players forget their jock altogether, by making it comfortable enough to go unnoticed.
Dez Price, BN3TH co-founder, has gotten such feedback from pro hockey-playing friends after wear-testing.
"They don't even feel like they're wearing a jock," he says.
The hope is it becomes a permanent fixture in someone's kit, not just a perennial item. After all, athletes are obsessive and ritualistic by nature. Everyone has a lucky sock or a can't-play-without piece of gear in their arsenal.
"I've worn the same shoulder pads for 20 years" Hawrish says. "People are absolutely attached to their hockey gear."
So how does a brand break that kind of sentimental loyalty?
"The difference is going to come when somebody actually tries our jock on," he explains.
One day of play in a new jock that doesn't bunch or pinch will seal the deal.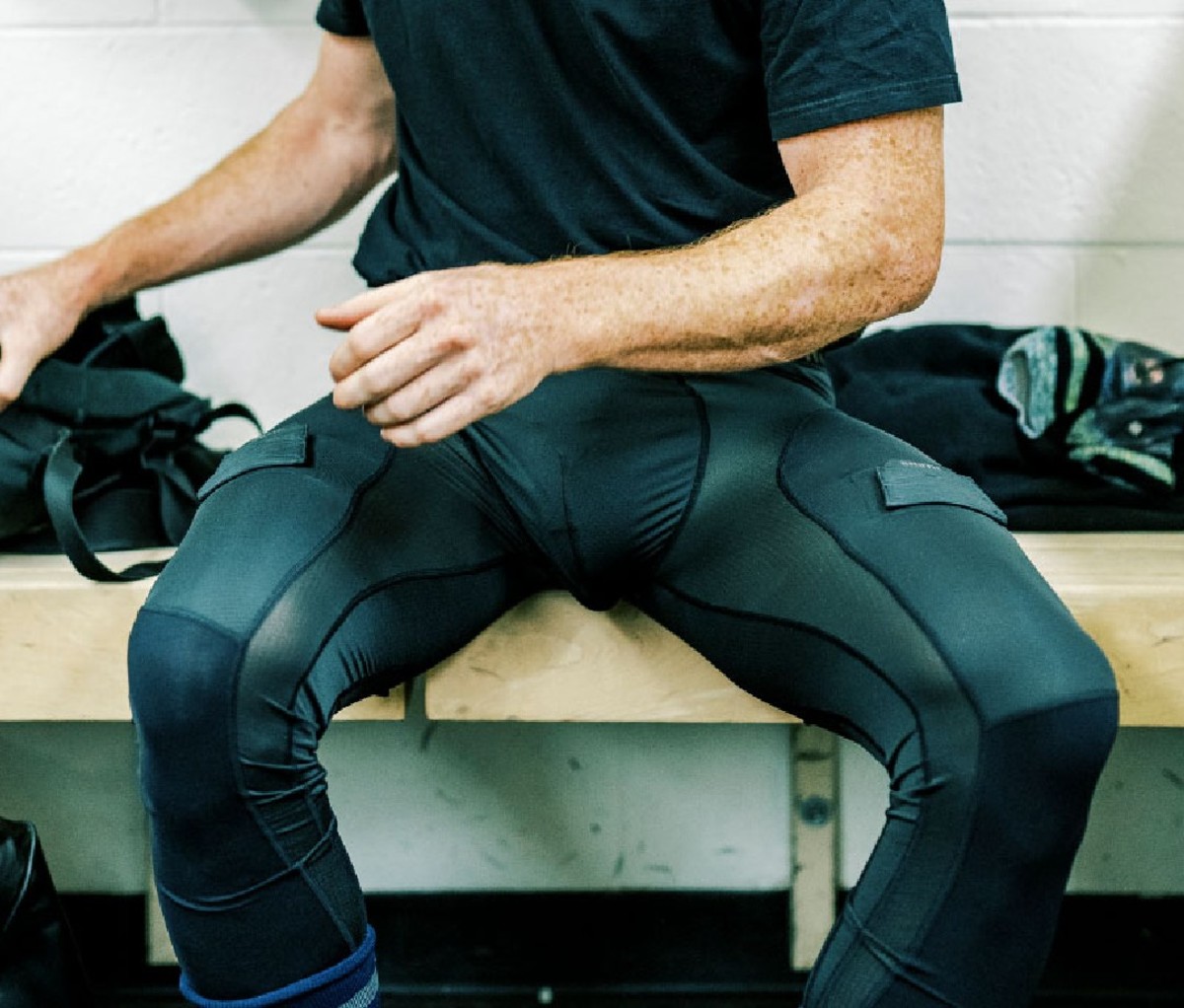 Building a jock that doesn't jostle
Like the rest of BN3TH's underwear, the Coast to Coast jock is designed largely for comfort. Both the full-length and 10.5-inch inseam editions have a silicone gripper running along the waist to keep them from sliding down, while a stretchy, lightweight mesh fabric keeps the garment breathable.
Next, BN3TH set its sights on solving hockey-specific problems, namely keeping the cup in place. To do that, the Coast to Coast draws on the company's MyPakage design utilized in its lifestyle underwear in which a separate, looser pouch cradles your junk to create a barrier between your thighs, minimizing irritation.
In the Coast to Coast, the cup slides into a durable, non-stretch mesh pocket that goes on the outside of the jock, so the cup has no interaction with your skin. That same material wraps around to the jock's back panel to prevent slipping and sliding. The effect all but prevents a cup, regardless of size, from wandering out of alignment.
Another pain point BN3TH set out to fix was shifting socks. When Velcro on a jockey gets twisted and grates against the skin or fails to grip the fabric of the sock, it can fall down, leaving skin exposed at the bottom of a skater's pants. The Coast to Coast uses a robust Velcro on both sides of the thigh to hold the sock in place.
"It's pretty intense," Shaughnessy says. "It adds more of a place to stick."
And then there's hygiene. No hockey jock will make a room smell like roses, but the Coast to Coast is meant to resist the stench hockey gear typically holds deep in its fibers. Its fabric is interspersed with antimicrobial Ionic+ polyester that's explicitly meant to wick moisture and promote air flow. Your jock won't be odorless, but the smell will be milder than what a typical nylon or cotton jock would give off.
After all, the smell of a jock is part of its charm. In a superstitious sport, a jock means familiarity. It carries the scent of sweat, sure, but also of goals scored, checks laid, sticks tapped, and games won. In this sense, BN3TH is placing an ambitious bet that the quality of the Coast to Coast will so significantly outstrip what's already sitting in hockey bags that players will decide to make new memories wearing this one.
"From a hockey standpoint, comfort equals performance," Hawrish says.
Simple as that.
[$55, short, and $70, long; bn3th.com]
Get it
For access to exclusive gear videos, celebrity interviews, and more, subscribe on YouTube!