I've only broken one bone in my life. It was when I was about 10 years old, and I was playing baseball. I tried to catch a pop fly with my palm up. The ball bounced off my glove and smashed me in the nose. I'd never seen so much blood, and cried in the dugout for an hour.
I only start with this anecdote because, as you'll see, there are some things that become blindingly obvious after the fact: A wrecked nose playing baseball, or a smart device on a bat explicitly telling you that you are bad at baseball. Which is worse? I have always considered myself a decent ball player. That afternoon, so many years ago, didn't do me in. So the notion continued after that, until today.
At CES Day 2, exploring the Sands Expo—which houses about 75% of the fitness and sports tech being showcased—I ran into some folks from a company called Diamond Kinetics who make a smart device called the SwingTracker. The device attaches to the bottom of a baseball bat that tracks, among many other things, the speed metrics, power and control of a swing. They had a booth set up with a tee ball that they let people try their swing against the hard tyranny of pure data.
My score was pathetically bad. Technique, speed, power—I averaged a total score of 2.7 out of 10.
I only bring this up because the tyranny and the blessing of data is all around us now. Many exhibitors—especially the big ones—acknowledged that the Internet of Things is here now, tracking your every move, washing your clothes and guiding the intelligence of your car. This might sound scary, but there is a huge fitness advantage to it all. You can set a goal, motivate yourself to get there, and track your progress to a better mile time or smaller BMI. Or, you may find out you really weren't meant for baseball.
But let's start on a lighter, less data-driven note: on-demand video workouts? At the ass-crack of dawn, I got up to do a group fitness class hosted by Radius, a new on-demand fitness channel and subscription service, in the manner of DailyBurn. Guided by an all-too-cheery Radius master trainer double team of Keoni Hudoba and Natalie Uhling, I, along with a few fellow journos, participated in what was promised to be an "easy" workout.
It wasn't.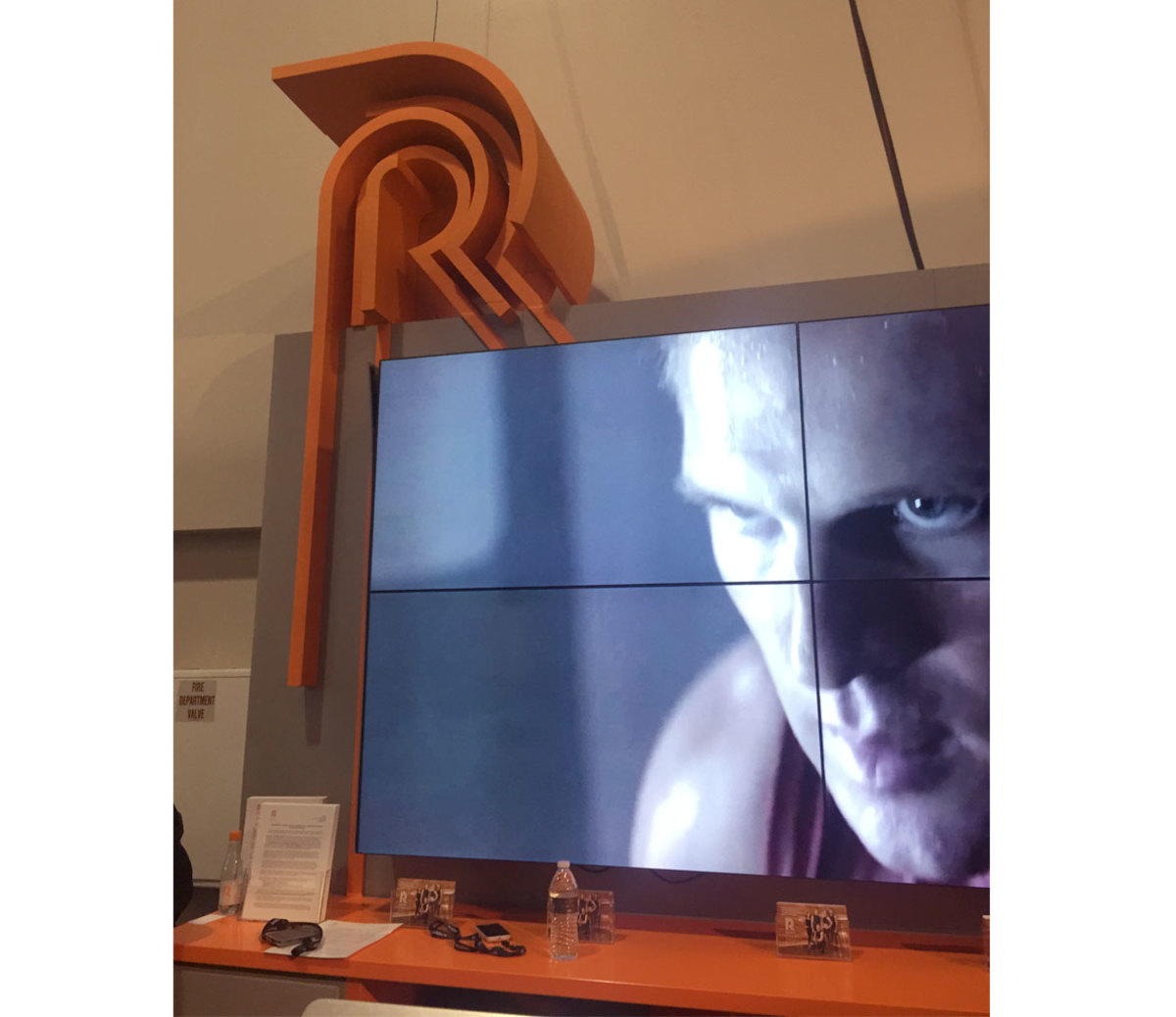 But we didn't blame Radius For almost an hour, it was a blur of calisthenics and cardio that I'll definitely feel in the morning. Thanks, guys!
It's hard to imagine that video workouts will be quite as intense as a group fitness class, even if the workout's the same—after all, the trainer's aren't physically present to motivate/humiliate you. That said, Radius has a ridiculous built-in base unlike DailyBurn; besides the obvious advantage of having VoD, workouts also air on NBC Sports on weekdays from 6 a.m. to 9 p.m. Now that's a wake-up call.
And besides, it gave me almost 5,000 steps toward my #LoopForCharity step counter in competition with my fellow journalists at CES.
Onto the Sands Expo. (I walked from the Excalibur to the Venetian, which put me at over 9,000 steps.)
Fitbit, usually the tracker to have for everyday fitness use like monitoring steps, put a little hair on its chest with new trackers that are for more serious athletes. I had the opportunity this morning to talk with Fitbit's VP of Global Marketing, Tim Rosa, and ultramarathoner/Men's Fitness Advisory Board member Dean Karnazes about Fitbit's newest releases, the Charge HR and the Surge. The Charge HR is marketed toward active people, and the Surge, for the true athlete.
The Fitbit Charge HR comes with continuous heart rate monitoring, to track your heart rate all day and during workouts, which will more accurately monitor how many calories you've burned. It can automatically detect when you're sleeping, and can record workouts with a push of a button. It also has a few smartwatch features, like caller ID on the smallish OLED screen.
The Fitbit Surge has a larger screen, but it doesn't really feel like a watch due to the wristband. It comes with built-in GPS tracking to better detect pace, elevation, and distance, and has a customizable multi-sport mode where you can create a type of workout—hiking, weights, yoga, and whatnot—and track your stats that way. It has more smartwatch features like mobile music control and text notifications. The battery life is reported to last a week. "The Surge is essentially what we call a fitness superwatch," said Rosa. Karnazes agrees (he was wearing a Surge).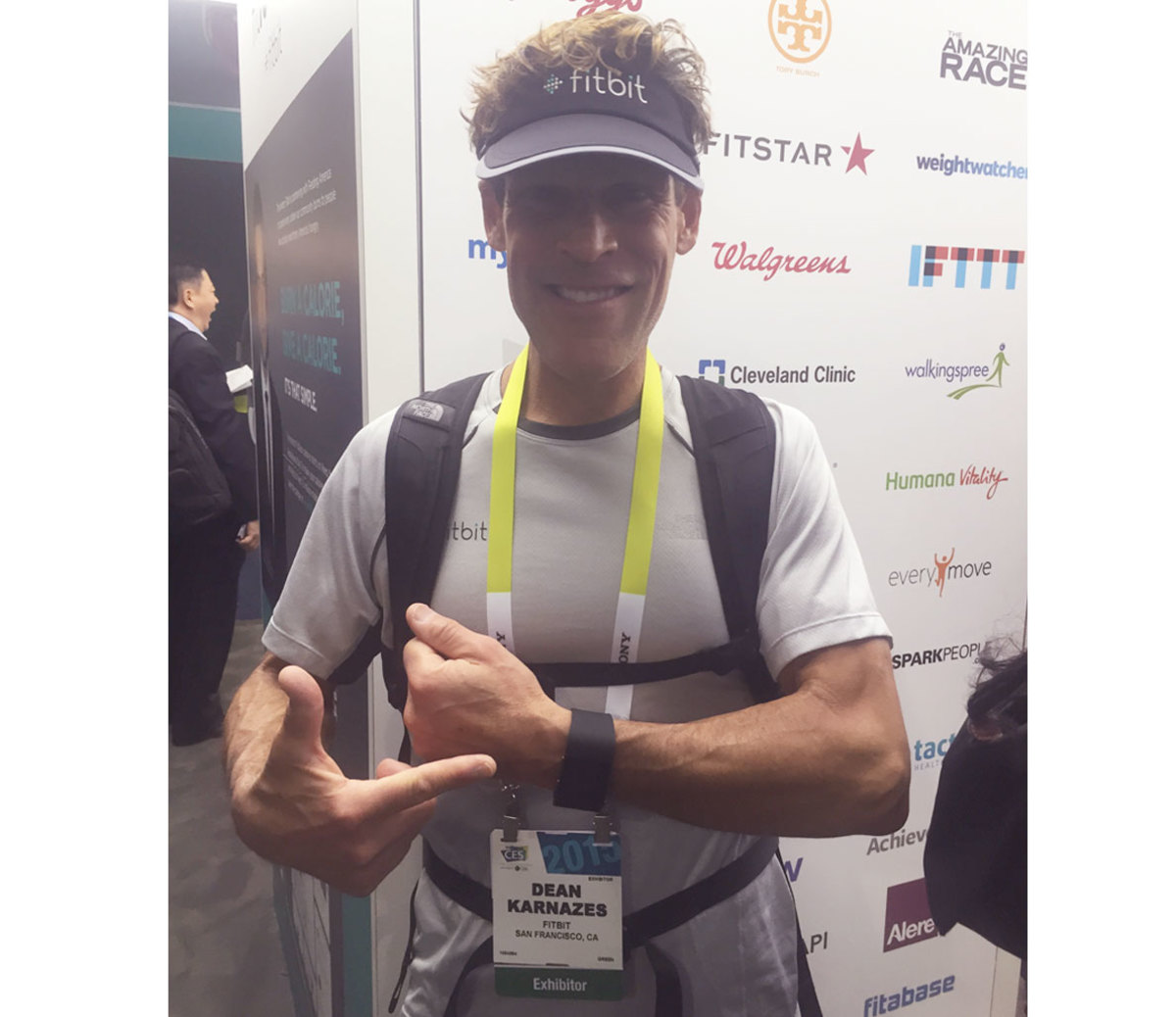 "One thing that I think is really unique is the band," he said. "A lot of bands are so rigid, but this one feels like a rubber band. I keep it on 24/7."
The Charge HR and Surge retail for $150 and $250, respectively.
Other excellent watches I saw: the Garmin fenix 3. This new watch from Garmin is gorgeous (of course, it also retails for $500). It not only has awesome new smartwatch features, but even littler-known metrics like VO2 max measurement and a recovery advisor feature that guides you through recovering from tough workouts. Did I mention how pretty it is? Just see below.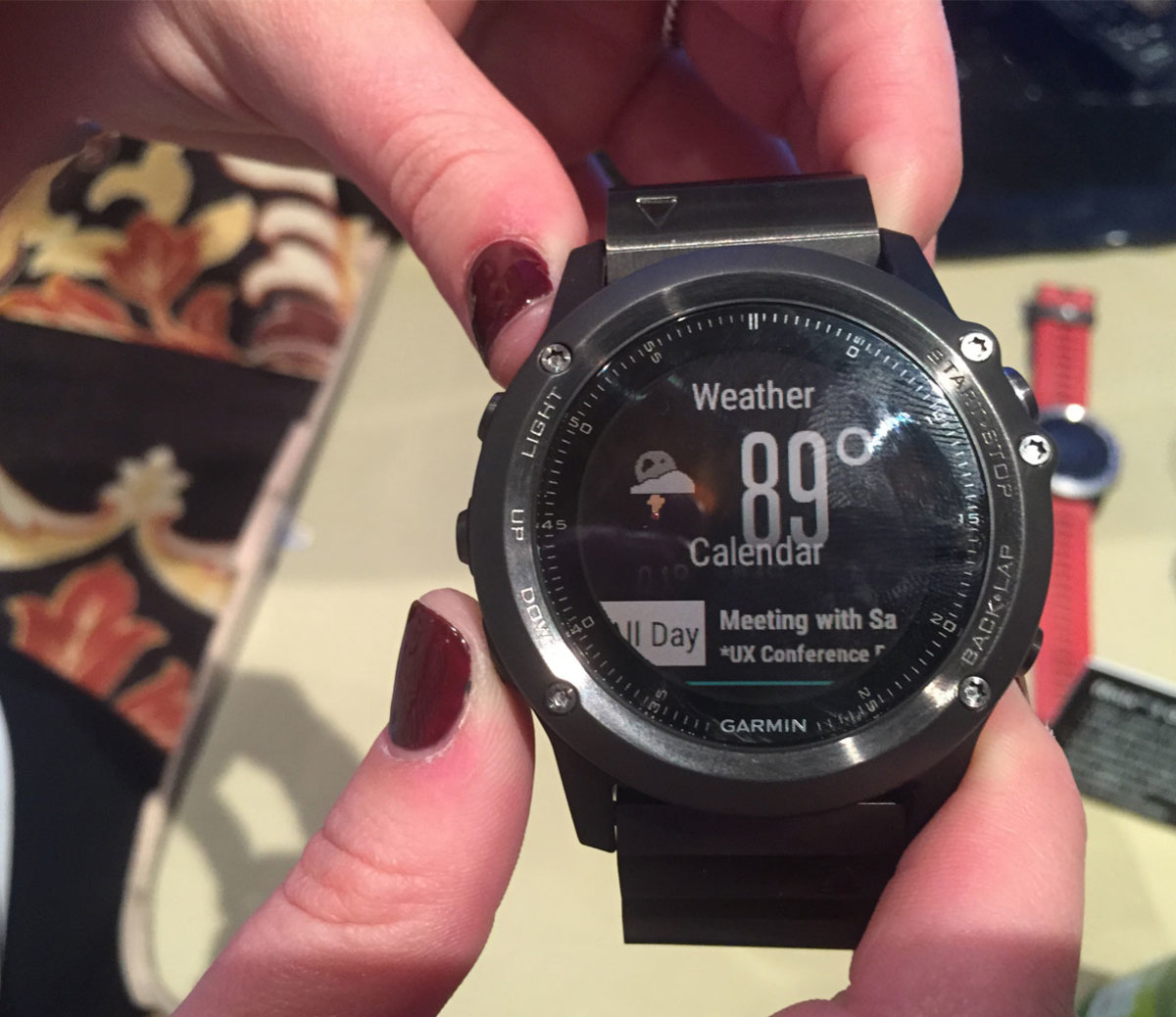 I also checked out the Wellograph booth, which came out with all-new styled watches and firmware updates that include sleep tracking and stress reporting, and the Misfit booth, which also had a few new outstanding styles to show off. The Wellograph, while a little bulky, has a pretty unique, mostly black-and-white display in sapphire glass, whereas the Misfit wearables tend to be almost nothing to gawk at—pleasant and minimalist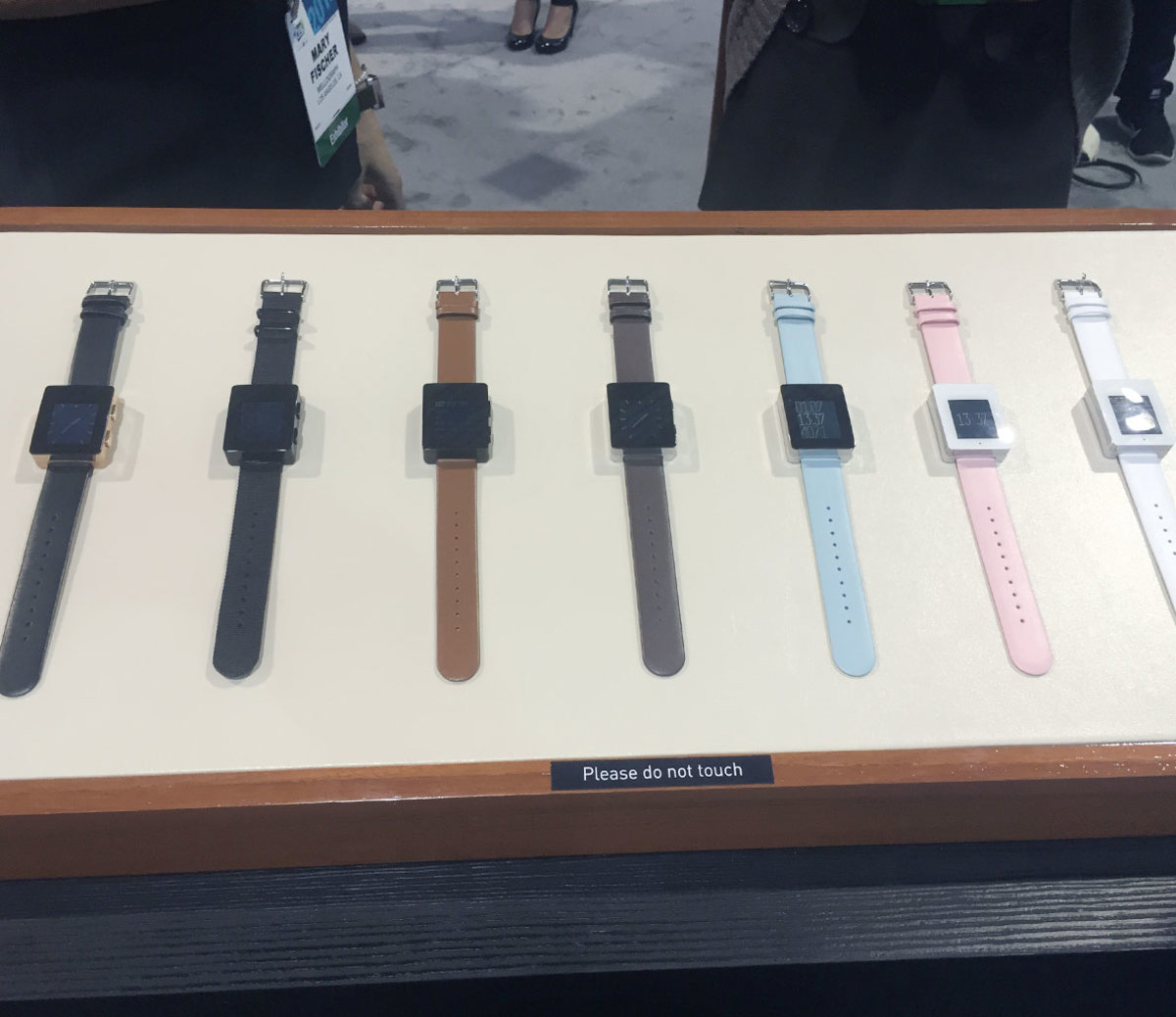 Now, a few quick IoT (Internet of Things) hits. At the Sleep Number booth, the company demoed a bed and SleepIQ tech app for kids, monitoring your little one's presence, breathing, heart rate, and the app even includes a "monster detector." It is actually pretty cool, but it also retails at $1,000. No more trips to Chuck E. Cheese.
There was also a smart yoga mat called—guess what—the SmartMat that tracks your yoga sessions and all the poses you do, and even delivers streaming Netflix-style yoga sessions to your smartphone or tablet.
The 94Fifty smart basketball, a former CES Innovations Awards honoree, tracks your shot's spin, acceleration, arc, and much more. The demo at the booth actually involved free-throw shooting, which I was predictably subpar at—and like the SwingTracker, I got to see my incompetence on a screen.
One more booth I visited that caught my attention: Tanita. You know Fitbit and Withings' smart scale, but Tanita was, according to the company, the originator of measuring your body's composition using a scale. They explained how they do it, but I'll save you the complex science for a future post. Just look at all that info it can spit out! The weight of the muscle in your left leg! Your total body water! (For the record, those are not my stats.)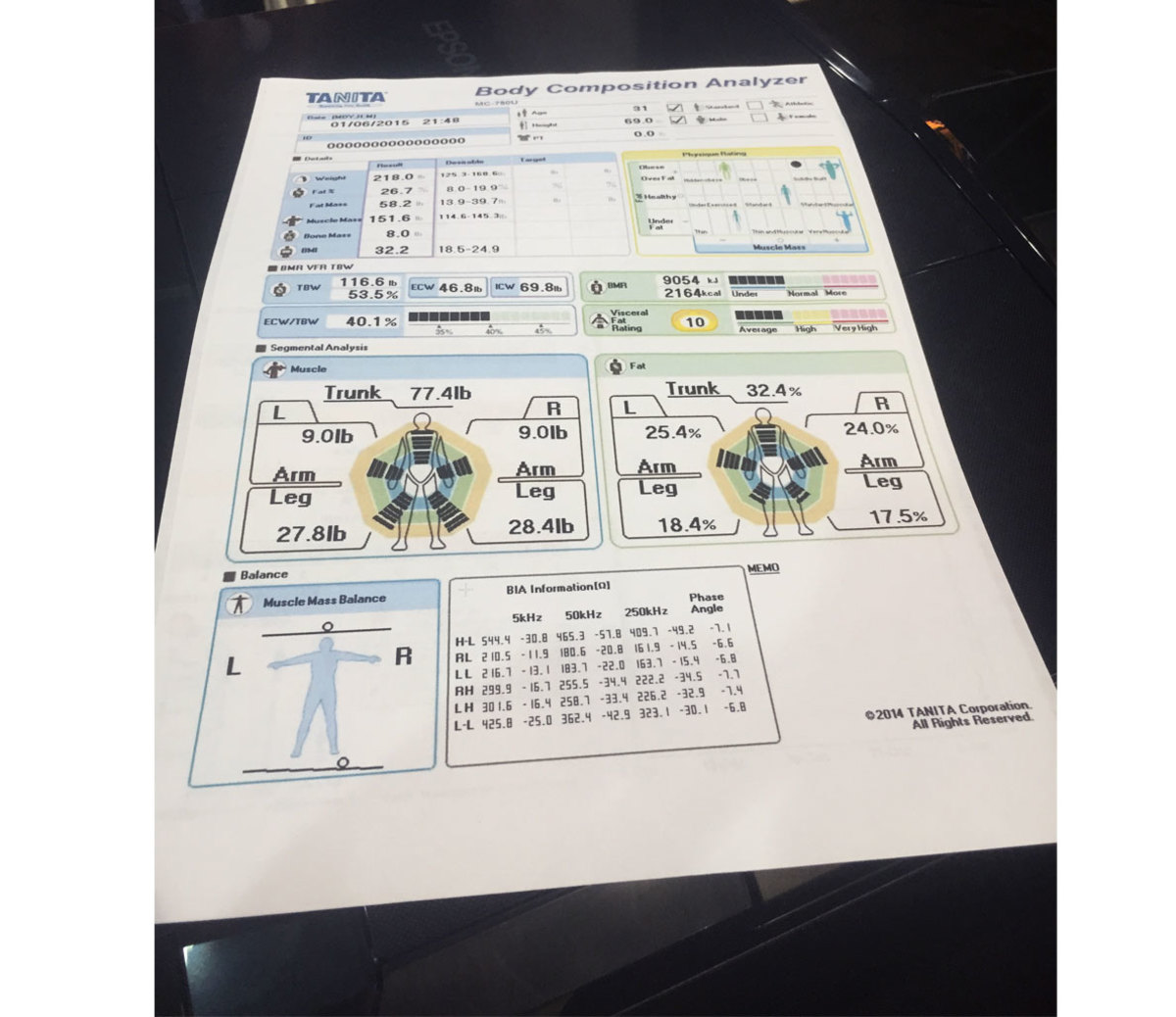 So all in all, a lot of walking. I've been wearing two wearables—the Withings Activité Pop and the Polar Loop—and the data they spit out is not quite in sync, but not too awfully bad. I just hope it's enough to win the #LoopForCharity.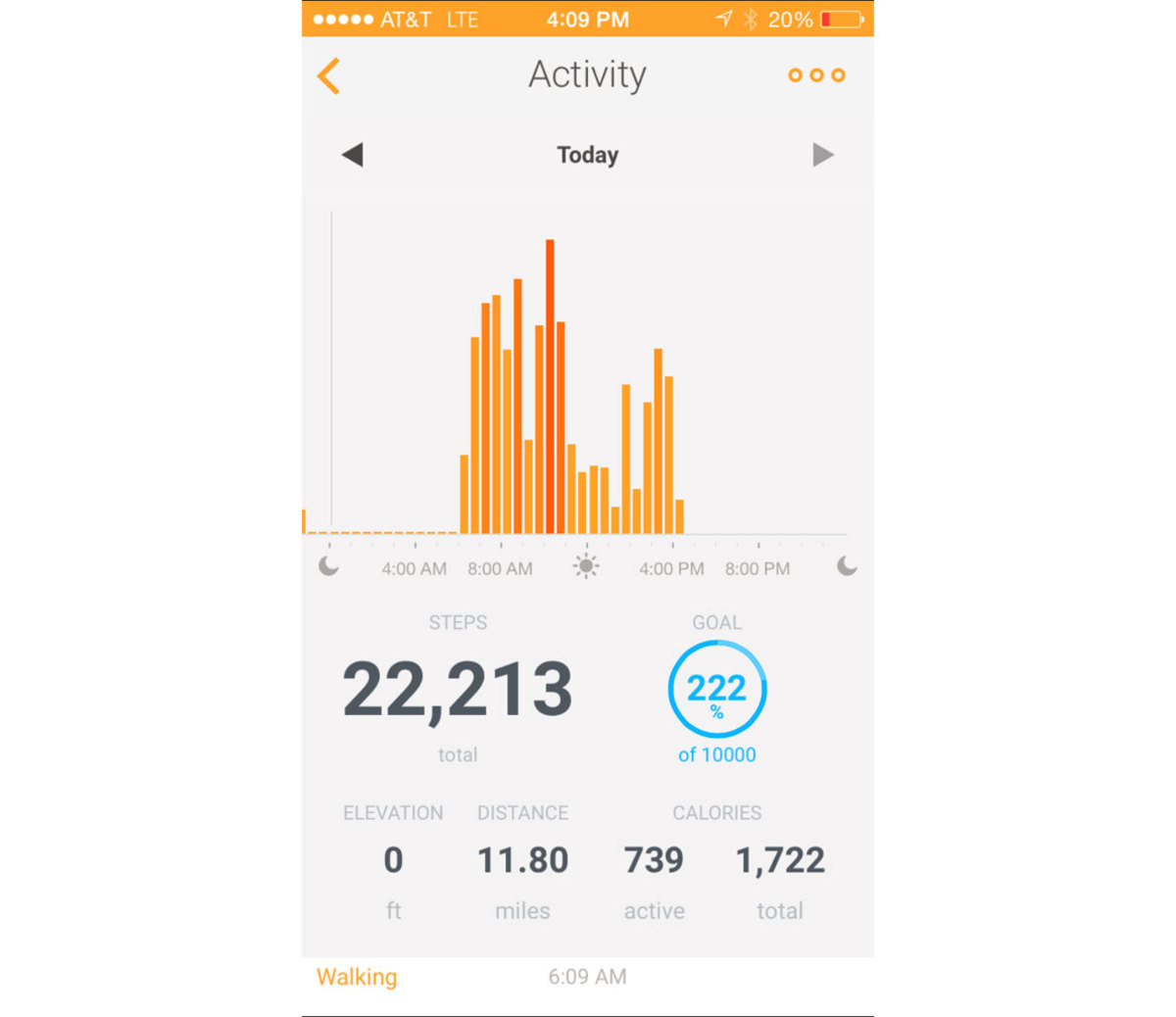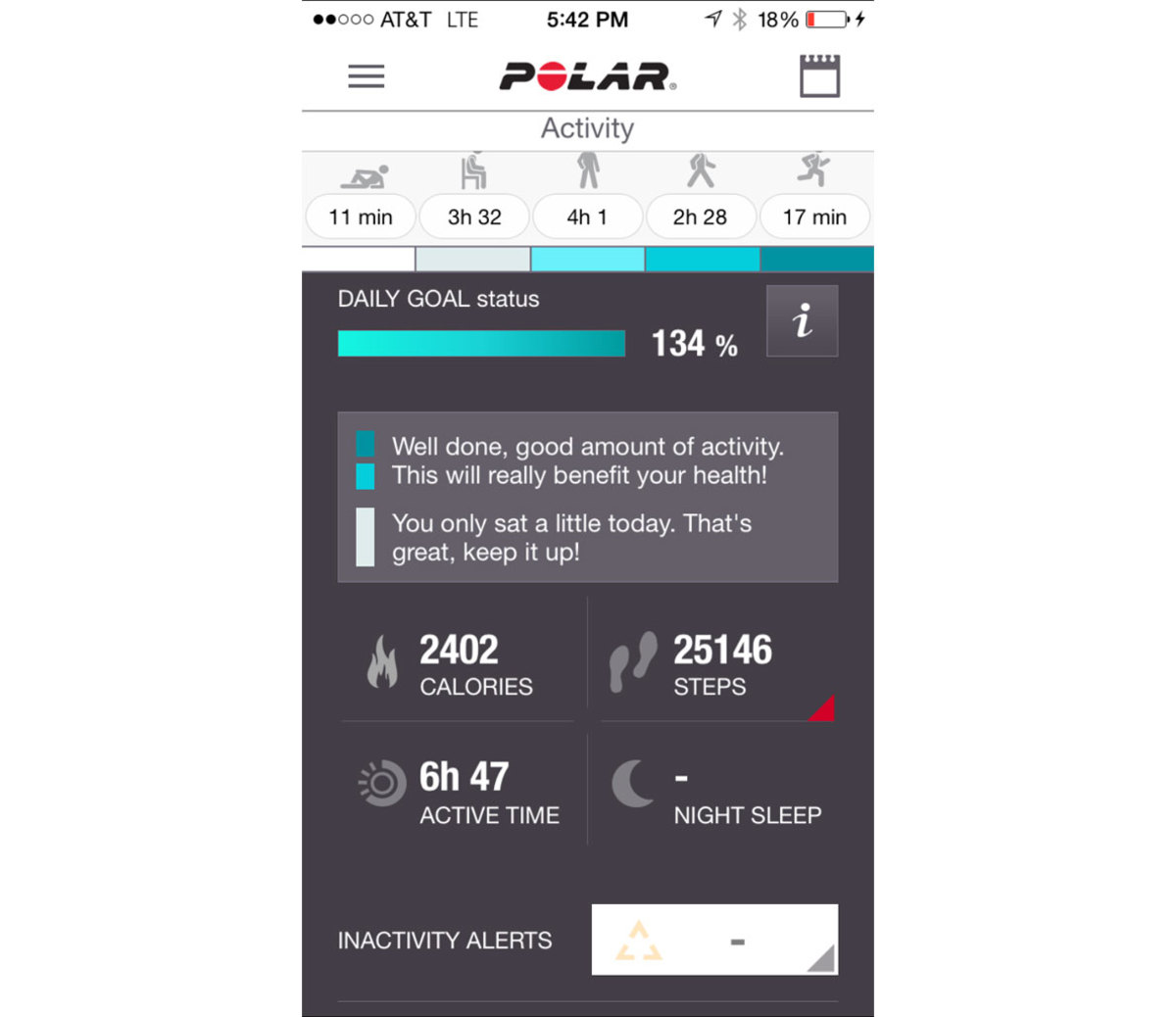 Onto the final day of CES…
For access to exclusive gear videos, celebrity interviews, and more, subscribe on YouTube!