It's Press Day at CES 2016, meaning the big guns are making their major announcements. Here, as we hear them (meaning you should check back in) are some of the most newsworthy products you'll hear from the show. 
UPDATED! 
Finally, Speakers That Aren't Cheap Bluetooth Busts
There are so many portable bluetooth speakers lining the floor of CES, it's downright annoying. Sony's CAS-1 Compact Audio System still can connect via Bluetooth, but it packs hi-res audio and amps into a stylish birch and walnut set that can easily fit on any audiophile's desk. Added plus? Plug in a pair of headphones to the control console and the headphone DAC boosts the sound. 
Samsung Just Killed The Universal Remote
With its newest TVs, Samsung is hoping to sweep away two of the biggest annoyances of TV-watching — tracking down random remotes (like the one for your game console or streaming box), and cycling through video inputs to get to different devices. Samsung calls these pain points. That seems a little extreme, but we'll concede the (pain) point. Now when you plug an Xbox One into the TV, it automatically recognizes the console, adds it to the on-screen taskbar-like interface, and lets you control the console with Samsung's remote. Problems don't get much more first-world than that, but its a welcome bit of innovation, and an evil omen for manufacturers of universal remotes. The full list of compatible devices isn't available yet, so here's hoping that the one remote to rule them all works as presented, and isn't just another ploy to get Samsung customers to buy lots more Samsung products.
Samsung is Putting a 21.5-inch Touchscreen on a Fridge
Here's something you probably never said to yourself: I really want a massive tablet embedded in my refrigerator. But that's exactly what Samsung did, outfitting its new Family Hub smartfridge with a vertically oriented 21.5-inch touchscreen. This inexplicable development allows you to stream music, access an on-screen calendar, and shop for more groceries, all from the comfort of… standing in front of your fridge. Is this a brilliant addition that is so ahead of the curve that we just can't quite wrap our heads around it? Or something that is being done because they can — and smart-appliances are bigger and bigger news at CES? We're not yet sure. 
Fitbit's Blaze May Seem Like Just Another Smartwatch, But Look Again
At first glance, who cares? It's a modular smartwatch, meaning you can pop it in and out of different bands throughout the day, and use its Bluetooth connection and touchscreen color display to get notifications, take calls, control music and track and measure activity. An Apple Watch clone, in other words. But wait…the Blaze runs for 5 days on a single charge? And it does that while tracking your heart rate all the time, even when sleeping (to get the best measure of your resting heart rate, a key indicator of cardio health). It also automatically detects and records specific kinds of exercise, like basketball, soccer and biking. And it costs $200. If anyone can take on Apple in the wearables category, it's one of the first companies to come up with a compelling reason to start wearing computers at all.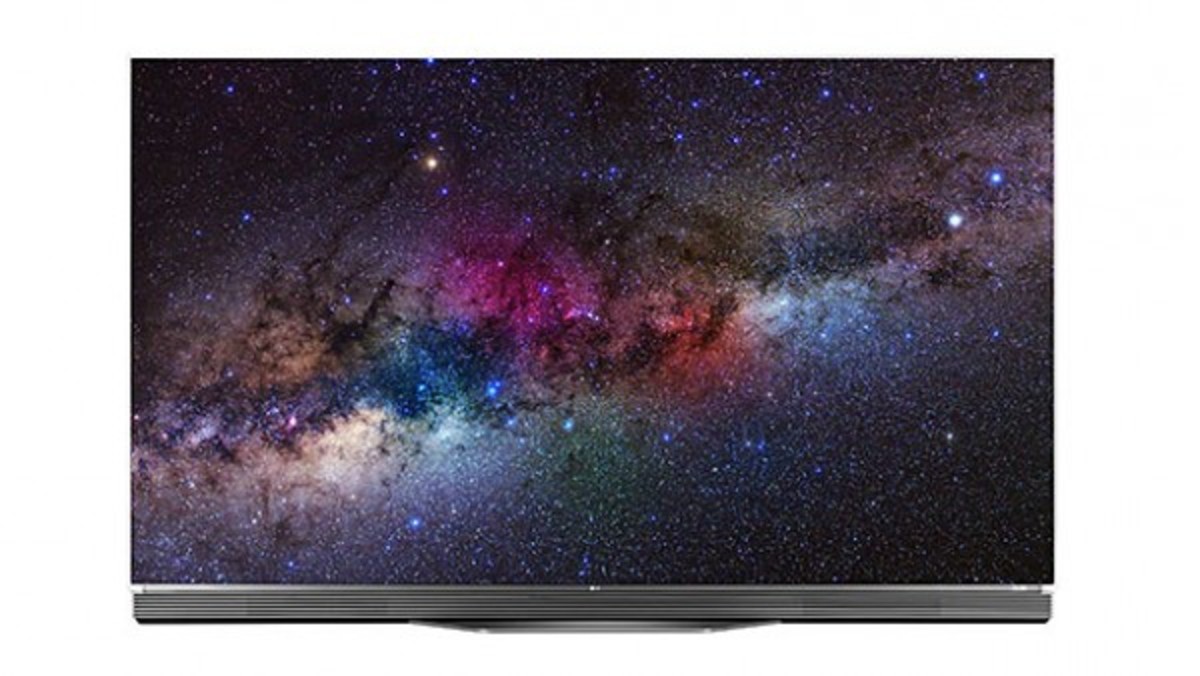 The LG OLED TV Is (At Least So Far) Our Favorite New Set
We don't know the price of this OLED TV yet — stratospheric, no doubt, especially since its part of LG's new Signature line of premium products-but we want it now, now, now. Its panel is 2.57mm-thin. And unlike Sony's ultra-thin TV that got major press at last year's CES, there's no massive hump in the rear to ruin that impressive stat (the components that are, in fact, back there seem pretty minimal). LG integrated heavy duty speakers into the substantial base, which can fold down for wall-mounting. As for the picture quality, we've gushed about OLED in the past, and this could be the new gold standard. OLED is the hands-down best display technology, because of ability to turn individual pixels off, creating true black, as well as the vibrant brights that come from ditching the backlight used in LCDs. LG patted itself on the back at great length regarding its HDR, or High Dynamic Range capabilities, a feature that very TV-maker at the show is going to highlight. HDR essentially means brighter brights and darker darks in the same image, and OLED really does seem like the easiest way to accomplish that. We'll have to see what else is debuted at the show, and check out the sets first-hand, but for now, this is the TV to beat.
But the Sexiest New Product from LG Is … An Air Purifier
LG announced an air purifier that's mesmerizing to watch. Yes, an air filter. It uses water to filter air, a process called Aqua Cyclone that you can actually watch through its translucent upper chamber. Droplets spin through that chamber like…well, it's not like any other gadget we've seen, which is what makes it so enticing. The Signature Air Purifier also has what LG calls a semi-permanent filter — its washable, and should last for 10 years. There's no pricing announced for this premium purifier, but there might be some noticeable cost-savings here, since most purifiers have a printer-like business model, charging more for a year's worth of disposable filters than for the device itself. For those who need it (we're looking at you Beijing), it's a brilliant product, with its intuitive air quality indicator (it cycles between four colors, depending on the amount of dust in the air) and its ability to snag ultrafine particles down to 0.01 micrometers. And even if your air quality is up to snuff, it might be worth it for this slick, conversation-sparking mad science design.
Whereas Panasonic's Most Exciting Product at CES is the One it Made for Facebook
Like most years, Panasonic showed up some TVs and some cameras. But its most high-tech offering at CES was more of a boast than product. It's called freeze-ray, and it's a data archiving system that combines the high capacity of optics discs (such as Blu-rays) with the benefits of cold storage. This approach is for so-called cold data, information that isn't being accessed regularly, but that clients wouldn't want degrading in typical optical disks. Like CDs and DVDs before them, Blu-rays eventually fall apart, and lose their stored data. By dropping the temperature of those discs, cold storage halts their natural degradation. This particular technology was developed in partnership with Facebook, which is using hundreds of 100GB Blu-ray discs in its data centers, and will transition to an upgraded freeze-ray system later this year.
The World's Wildest Action Cam Goes 4K
We spent some serious time testing 360fly's action cam last year. We surfed, biked, and wiped out — all while it captured our every move, plus everything happening around us. But its image quality couldn't hold up to other sports cams. For 2016, 360fly's full-circle footage is back, this time in 4K. It includes GPS, time lapse and other recording features, and Bluetooth connectivity. It retails for $499. 
LG's Rollable OLED Throws a Curveball 
Forget curved smart TV screens — LG is literally rolling out OLEDs with this fun television 18-inch concept. Sure, it's not entirely groundbreaking (we've seen out-there prototypes before from the likes of Sony and Samsung) or even an in-your-hands reality just yet. But when paired with LG's unparalleled OLED display, rolling OLEDs just became the thing to watch.
For access to exclusive gear videos, celebrity interviews, and more, subscribe on YouTube!