Gear
Dainese Smart Jacket Is a BYOB Airbag for Motorcyclists
Motorcycles have always been dangerous. Thankfully, the latest and greatest safety technology like ABS, lean-sensitive traction control, engine modes for rainy days, and even early-warning radar systems are keeping motorcyclists hedging their bets with each passing year. While it's impossible to compete with the safety advantages of a traditional automobile—roll cage and seat belts won't ever make sense for motorcyclists—airbags are an entirely different story. Enter the Dainese Smart Jacket.
I had no interest in the early days of wearable airbags, which looked goofier than high-vis rain gear, and relied on awkward rip cords for activation that didn't do much good until you'd already come off your bike, but modern airbag systems have my full attention.
I added the Dainese Smart Jacket to my gear closet this season to see what all the fuss was about. This is arguably the most convenient, accessible, and modern street airbag system on the market today, so if you're interested in one yourself, here's what I've learned after wearing it around for the last month.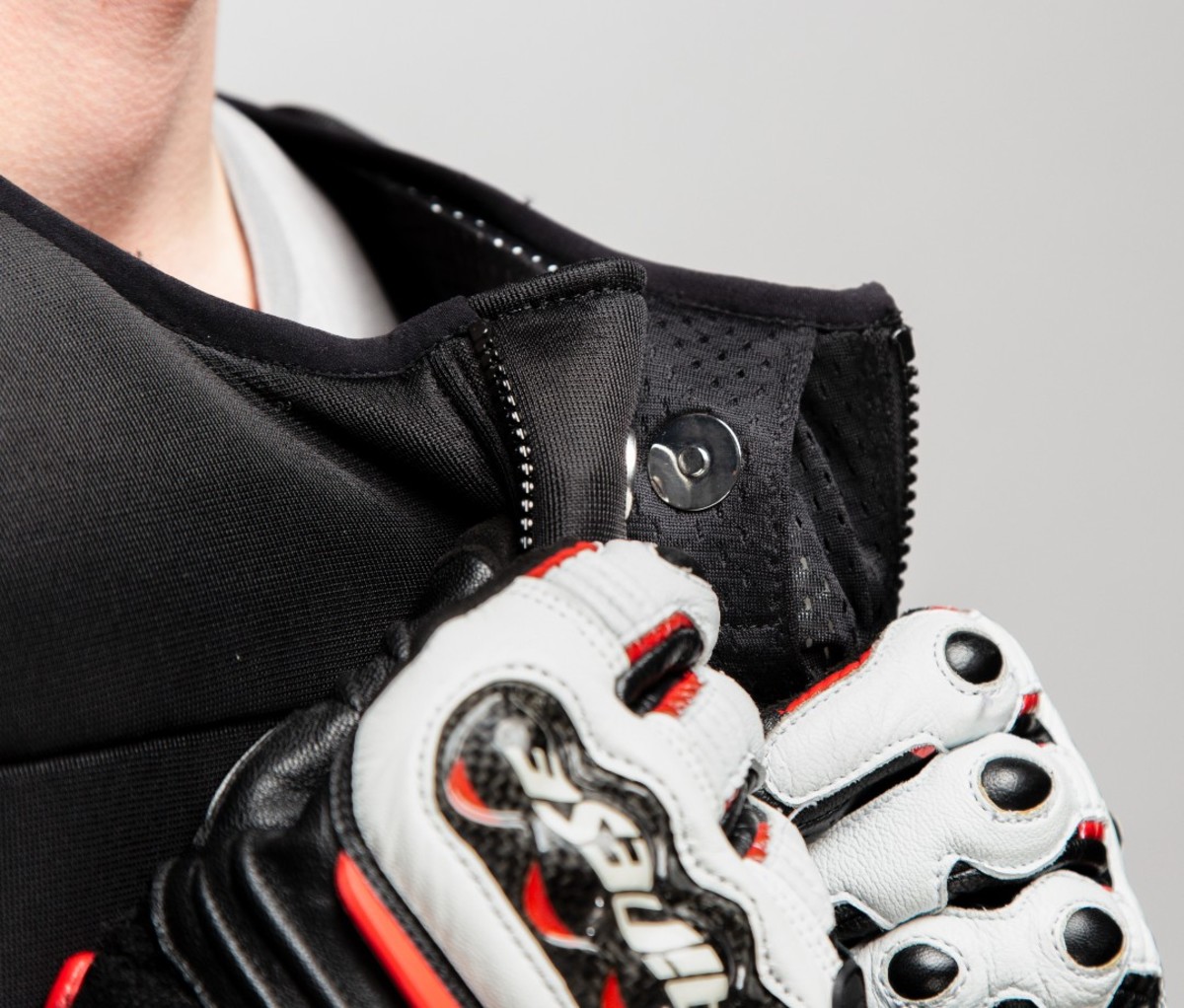 Dainese Smart Jacket Setup (or Lack thereof)
Your only job is to charge the battery and slip the jacket on. There's no app or even an on/off switch. The jacket turns on automatically when you clasp the top magnetic button. A quick vibration in the chest indicates the Smart Jacket is on and a multicolor LED turns blue, indicating it's entered "standby" mode.
This means the jacket is on, but not activated. This is an important distinction to make, because in standby mode, the jacket can't deploy accidentally or otherwise. You can play in traffic, roll down a hill, start a bar room brawl, or partake in any other standard low-speed activity without the airbag deploying.
Fire up your motorcycle, however, and all that changes. The blue light on the vest switches over to green and another vibration lets you know the jacket is ready to rumble.
Using a complex system of AI and an advanced array of integrated sensors, the Smart Jacket detects the vibrations from a running engine and automatically switches to "armed" status, ready to deploy at a moment's notice.
The same goes for getting off the bike. Once the jacket detects the motorcycle is no longer running and the onboard GPS system confirms you're not traveling at speeds over 6mph, the Smart Jacket automatically drops back into standby mode. You feel another vibration, the light switches back to blue, and you're free to do whatever well-adjusted adults do when they're not riding motorcycles.
How It Works in the Event of a Crash
The slick user interface is pretty sweet, but it's the way the Smart Jacket delivers the goods (aka saves your life) that's really impressive.
Because the jacket uses no physical tether to the motorcycle, its ability to detect when you're in danger is handled entirely by a complex computer algorithm and yet another complex assortment of onboard sensors. Inside this svelte little package are multiple gyroscopes and accelerometers constantly at work, feeding information to the jacket's computer at a whopping 1,000 times per second.
Dainese says this advanced algorithm is the product of some 25 years of experience, leveraging data from the highest levels of sport. The Smart Jacket benefits from the same technology used in the brand's current airbag-equipped Moto-GP racing suits, and that's a vote of confidence if I've ever heard one.
The system is advanced enough to identify the most common types of crashes including head-on collisions with objects (cars, medians, pesky wildlife, etc), lowside crashes with or without tumbling (sliding down the interstate on your back, for instance) and, every motorcyclist's worst nightmare, dreaded "highside" crashes, which famously send riders flying through the air in impromptu acrobatic maneuvers.
Truth be told, the Dainese Smart Jacket isn't the only airbag system on the market that does this. Brands like Alpinestars and Klim make tether-free airbag jackets and vests as well, and these systems leverage the same sort of automatic deployment systems. Where the Smart Jacket differentiates itself is that it keeps protecting even when you're at a complete stop.
If that distinction sounds insignificant, it shouldn't. I've been rear ended at stop lights by distracted drivers myself twice in the last five years, and I'll wager there are plenty of you out there reading this with similar stories. I'll also point out that according to the current news cycle, there seems to be a pack of rabid self-driving Teslas out hunting unsuspecting motorcyclists under the cloak of night. Better safe than sorry…
The Airbag Is More Than a Glorified Balloon
Another place where the Smart Jacket sets itself apart from the competition is the airbag unit itself.
Where most systems rely on a comparatively simple open-inflated chamber, the two layers of the Smart Jacket's air bag are held together on the inside by thousands of flexible microfilaments. These thin yet durable strands maintain a constant thickness of 5cm throughout the Smart Jacket's certified protection area, creating a uniform structure throughout the bag that's much more effective at dispersing impacts.
This advanced system is what allows Dainese's Smart Jacket to achieve impressive safety certifications without relying on a single piece of rigid armor. In fact, the Smart Jacket is substantially more protective than rigid back and chest protectors.
When inflated, the microfilament technology mentioned above cuts the transmitted force of impact down by a whopping 50 percent beyond traditional CE level 2 back protector standards, and the chest protection is even more impressive with a 72 percent improvement over traditional armor requirements.
Riding Experience
Ok, so we've established this is a serious piece of protective equipment, but so is a full suit of Renaissance-era plate armor. There's a reason the breastplate has fallen out of fashion in the motorcycling world: All the protection in the world won't do you any good if it's too hot, heavy, and uncomfortable to wear in the first place (steel plate also happens to be about 500 years late to the game, and is all but certain to draw unwanted attention from the local authorities).
So how does the Smart Jacket perform in the real world?
Weight was a major concern for me. The Smart Vest weighs in at an even 4 pounds, and the first time I picked it up I was a little taken aback.
My typical summer mesh riding jacket tips the scales at just over 2 pounds with shoulder and elbow armor installed, and my full-grain leather jacket adds about a pound to that. A standard hard-shell back protector typically weighs around two pounds, so wearing an extra two pounds around on my back all day seemed like a tough sell.
I'm happy to report that after putting in some long miles with the Dainese Smart Jacket, the added weight is a non-issue. The vest wears its weight well (the lion's share comes from the electronics and gas canister in the low back), and while you won't exactly forget it's there, it never feels uncomfortable or burdensome.
Speaking of comfort, this is another major highlight of the Smart Jacket. I've been wearing hard shell back protectors both on- and off-road for years, and one of my biggest complaints is they can feel awkward even when properly adjusted. The main culprit has always been the rigid plates or honeycomb lattice that provides the requisite impact and puncture protection. Despite the Smart Jacket's extra weight, the fact it uses no hard or soft armor whatsoever makes it substantially more comfortable than any other body armor I've worn.
My second concern with the Smart Jacket was ventilation, which I also found to be a surprising highlight of the vest. Granted, Dainese built the Smart Jacket almost entirely from breathable mesh, but in my experience even the most breathable fabrics add heat when the layers start piling on.
After conducting several back-to-back tests in the middle an 85-degree Georgia afternoon, I found there was such little difference in airflow between a standalone mesh jacket and a jacket/Smart Jacket combo that I couldn't confidently say there was no negative effect.
The Smart Jacket is designed to work when worn over or under an existing jacket, and I spent time in it both ways without noticing a big difference. From a comfort and convenience standpoint I definitely prefer it under the jacket, but it's nice to know that it works just as well with slimmer-fitting jackets that don't have enough room for another layer underneath.
Final Verdict: Worth the Money
Like any piece of gear, owning a Dainese Smart Jacket comes with its own unique set of pros and cons, but as of this writing, I'm convinced the former outweighs the latter.
As far as the pros go, while the initial investment is a bit steep for my taste, Dainese doesn't require a monthly subscription service or expensive fee to utilize the jacket. Technology updates are provided free of charge via the Dainese website, as are monthly notifications of any pending software updates or upcoming maintenance intervals.
Yes, there are less expensive airbag systems out there, and I would love to see the Smart Jacket with extra support around the shoulders to immobilize my neck in a crash. But as a back and chest protector, it's a serious upgrade that's easy to use with little or no maintenance.
Speaking of maintenance, the Smart Jacket's maintenance requirements are the main drawback for me here. Dainese requires an inspection by a certified technician once every three years to guarantee the effectiveness of the system and, as you might suspect, the service isn't free. Prices range from negligible (assuming your jacket is in good working order) to hard to swallow, with the most expensive service (a reset/replacement of the airbag system) ringing up around the $250 mark.
At the end of the day, I think it all comes down to how much you're willing to pay to save your spine. Many riders will agree you can't put a price on peace of mind.
[$779.95; dainese.com]
Get it
For access to exclusive gear videos, celebrity interviews, and more, subscribe on YouTube!