This article originally appeared on Powder.com and was republished with permission.
The summer that never seemed to relent is nearing its calendar finish and cooler days are on the horizon. It's nearing the perfect time to log some serious vert in preparation for ski season. If you want to be strong to ski fast down mountains, hiking up them swiftly is a pretty good training regimen. However, finding footwear that can handle technical terrain, support your feet while carrying a heavy load, and be light enough to not bog you down can be a tough row to hoe. The Salewa Mountain Trainer Lite balances all of those elements, taking the attributes of their mountaineering boots and placing them in a lighter-weight and more comfortable package.
I recently relegated my old Asolo leather-hiking boots after over ten years to outdoor chores, since most of the time I ended up using my Dynafit trail runners when scrambling around the mountains. Lightweight trail shoes with grippy, technical soles are ideal for moving quickly on the climb and descent. Yet, when things get rocky, the trail has off-canter sidehills, or if I'm backpacking, they're simply out-gunned. Enter the new Mountain Trainer Lite Mid GTX from Salewa. It sits higher on the ankle to support all of those obstacles, has Gore-Tex waterproof protection, and isn't as heavy as those traditional old leather boots so you can be light on your feet.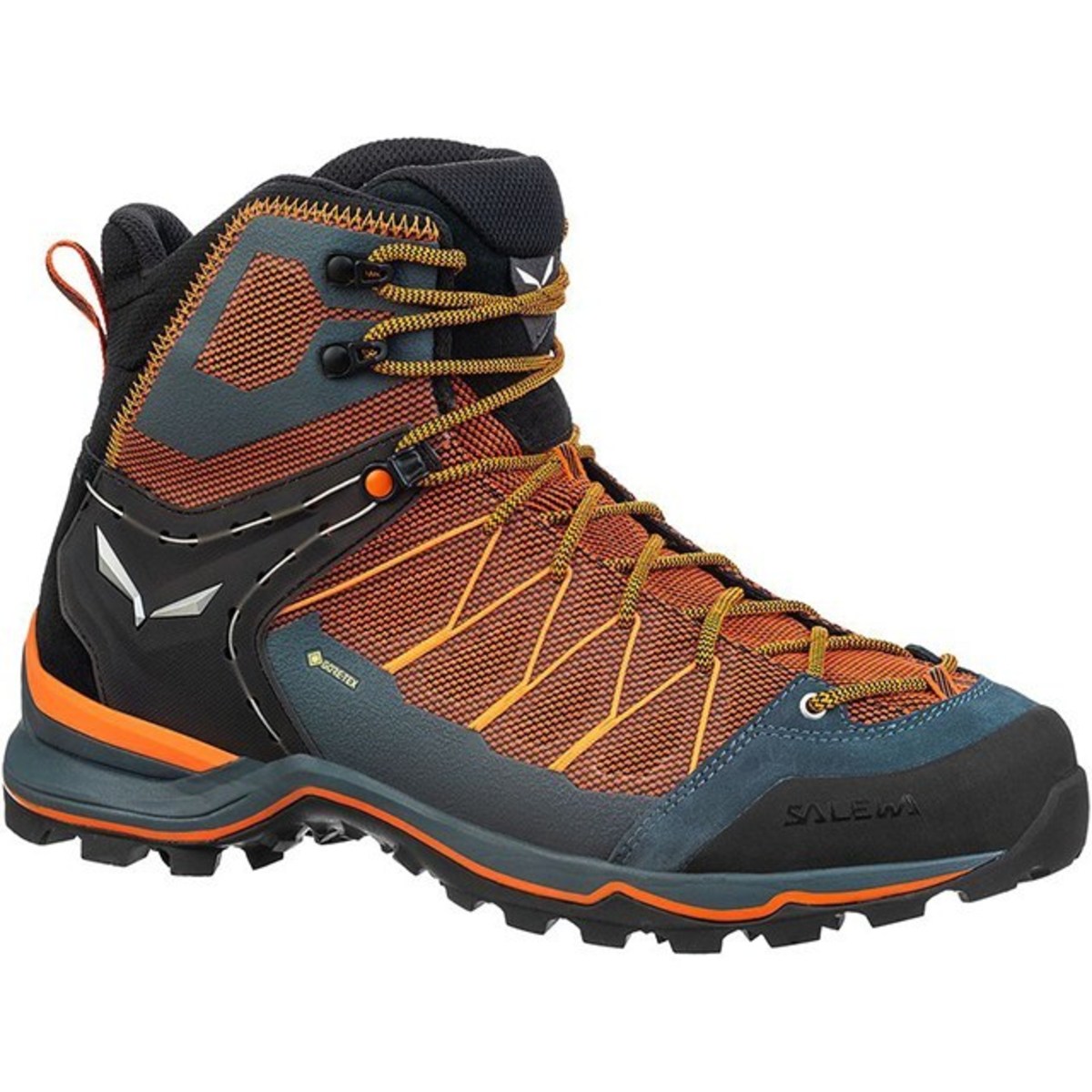 New for this year, the Mountain Trainer Lite Mid GTX has been gobbling up awards from outdoor publications and after one jaunt in them, I realized why. The first thing was its ankle flexion in a boot made for alpine pursuits. Salewa calls this its 3F system. It integrates the instep, sole, and heel. In short, the boot allows you to naturally flex your ankle while climbing and walking, yet still has the support and rigidity of a mid cuff boot. Other features that stood out were the toe to ankle locked lacing, a rubber toe cap, sturdy support through the midsole on rocky terrain, and a Pomoca tread that has deep, grippy lugs similar to an all-terrain truck tire—those October alpine snows will be no match for these kicks. And while the Gore-Tex will show its true colors when it rains again, for now at least, I can attest to the fact that these boots are breathable and light—it hasn't rained for quite a while here in Utah.
It's pretty hard to find a sturdy boot that is this comfortable out of the box, and can truly hang with all the conditions the mountains can throw at you. So far the Mountain Trainer Lite Mid GTX has been more than up to the task. I'm looking forward to many more miles in them, especially since all those pre ski-season gym sessions are going to be altered this autumn due to COVID.
[$199.95; backcountry.com]
Get it
For access to exclusive gear videos, celebrity interviews, and more, subscribe on YouTube!