For a decade, wider, more buoyant skis reigned. But those heavy planks didn't carve well and were tough to maneuver over bumps. Now, thanks to improved materials and shapes, skis have started to shrink, with models that perform well in all conditions. Here are our new favorites.
RELATED: The 13 Best Skis for 2015
Nordica Enforcer 100
The Nordica Enforcer 100 has a wide 133mm tip and subtle rocker that had our testers floating in nearly two feet of powder. The ski is equally adept through trees or on bumps: It offers plenty of rebound — and, thanks to a rounded tail, the ability to slide turns around tight spaces. Prefer groomers? Ample sidecut, along with a wood core reinforced by two sheets of metal, gives a smooth ride and plenty of torsional stability for deep arcs with no chatter. [$799; nordicausa.com]
Volkl 90Eight
Over the years, Volkl has typically built skis with full-rocker construction, which makes them easy to turn but dulls their energy. The 90Eight, however, is made with camber underfoot, providing extra pop when coming out of turns on groomers and over bumps and in trees. But, like the Nordica Enforcer 100, it has a wide 133mm tip, so it can still rise above powder and crud. [$775; volkl.com]

RELATED: The Best Ski and Snowboard Accessories for 2015
Rossignol Experience 100
Many manufacturers employ technology to reduce weight in the tip, though nothing compares with Rossignol's honeycomb construction. Testers found that the air-filled pockets of plastic allowed the Experience to initiate turns more readily than other skis, making it nimble in moguls and through tight spots, and help it stay afloat in fluffy, freshly fallen snow. A deep sidecut lets the Experience trench arcs on groomed trails. [$850; rossignol.com]

Atomic Vantage 95 C
Testers loved this ski's responsiveness and power. Sticking with modest materials proved to deliver strong performance, and Atomic was able to keep costs low while building a narrower ski. A wood core reinforced with carbon mesh gives the Vantage 95 C the strength and stability to carve turns on icy groomers but keeps it feathery enough to playfully bounce through moguls and around trees. A wide shovel glides over soft snow and levitates in crusty patches. [$600; atomic.com]
RELATED: How to Find the Right Custom Skis

Kastle FX95 HP
Kastle has always built burly skis that rip on groomed trails, but design tweaks to the FX95 HP improve handling in a variety of conditions. Notably, Kastle added rocker to the tip, allowing the ski to surf on powder, while early rise to the tail results in more maneuverability in bumps and through trees. If you're skiing icy trails in the Northeast, a wood-and-fiberglass build yields ample power and hold. [$1,199; kaestle-ski.com]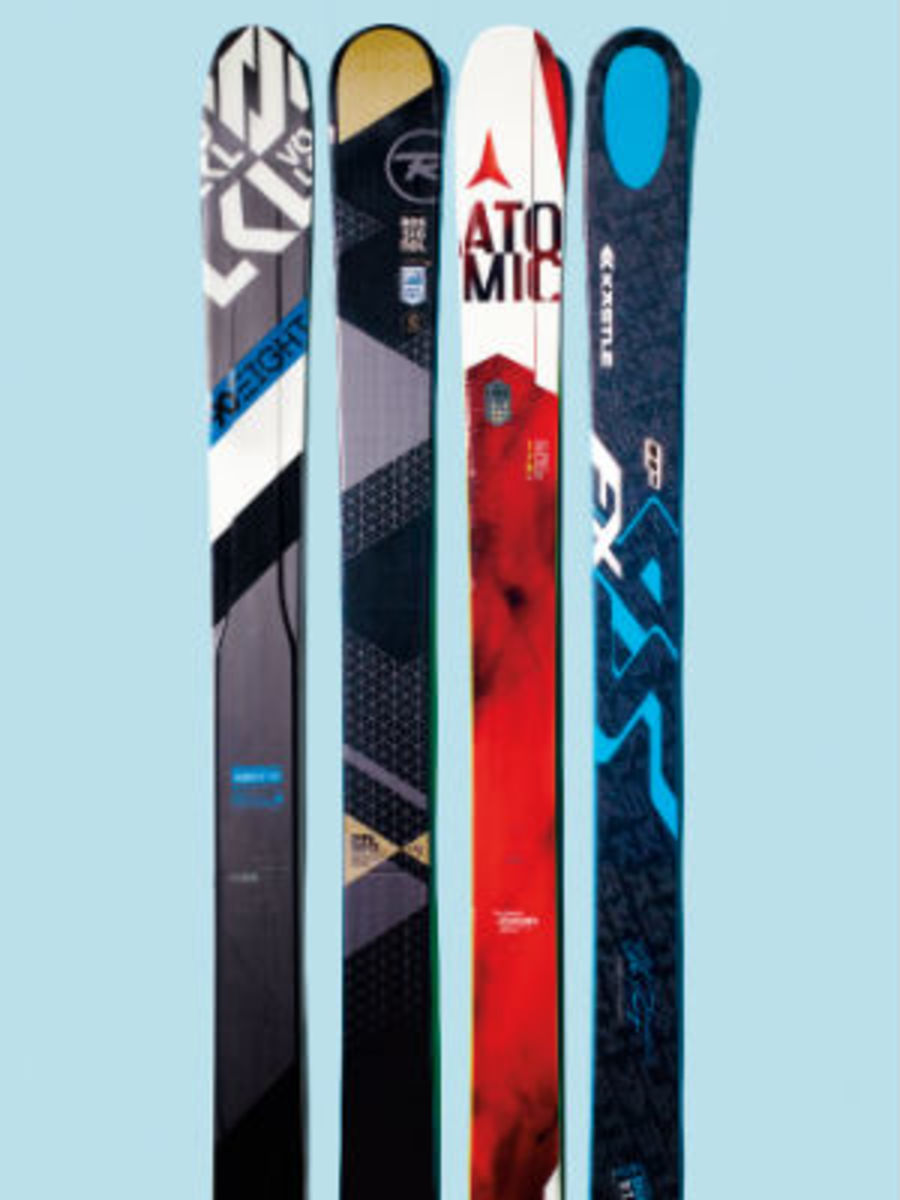 (Pictured above: Nordica Enforcer 100; From L to R: Volkl 90Eight, Rossignol Experience 100, Atomic Vantage 95 C, Kastle FX95 HP)
For access to exclusive gear videos, celebrity interviews, and more, subscribe on YouTube!