Branded Content
Eddie Bauer's New Creative Director Is Making the Outfitter Even More Inclusive
This article was produced in partnership with Eddie Bauer
Christopher Bevans has designed clothing for celebrities like P. Diddy, Pharrell, and John Legend. He was one of the first people of color admitted into the Council of Fashion Designers of America. If that repertoire seems impressive but maybe a shoo-in to serve as Eddie Bauer's new creative director, you're not seeing the forest for the trees.
Bevans has amassed plenty of awards, including the Woolmark Innovation Award for a snowboard kit he designed for his own brand, DYNE. And while he's comfortable producing fashion week presentations in Milan, Paris, and New York, he'd admittedly rather be digging in the dirt, sliding on snow, or hiking in the hills.
"I'm a mashup—I'm gumbo," Bevans says of his varied interests.
And that's why he's uniquely qualified for the job. With the return of in-person shopping, an outdoor culture boom, and a spotlight on inclusion, Bevans' diverse and eclectic background naturally aligns as someone who can appreciate Eddie Bauer's storied 100-year heritage while also pushing forward with an eye on progress and evolution.
"Using his unique perspective on tailoring, as well as cut and color, Bevans has already started to re-imagine core Eddie Bauer styles and the look of our product assortment," says Mike Schulam, VP of merchandising at Eddie Bauer. "We're excited to see the impact he'll make." We caught up with Bevans at his Portland, OR, home to find out more about his upbringing, love of birds, and why farming is just as core as free climbing.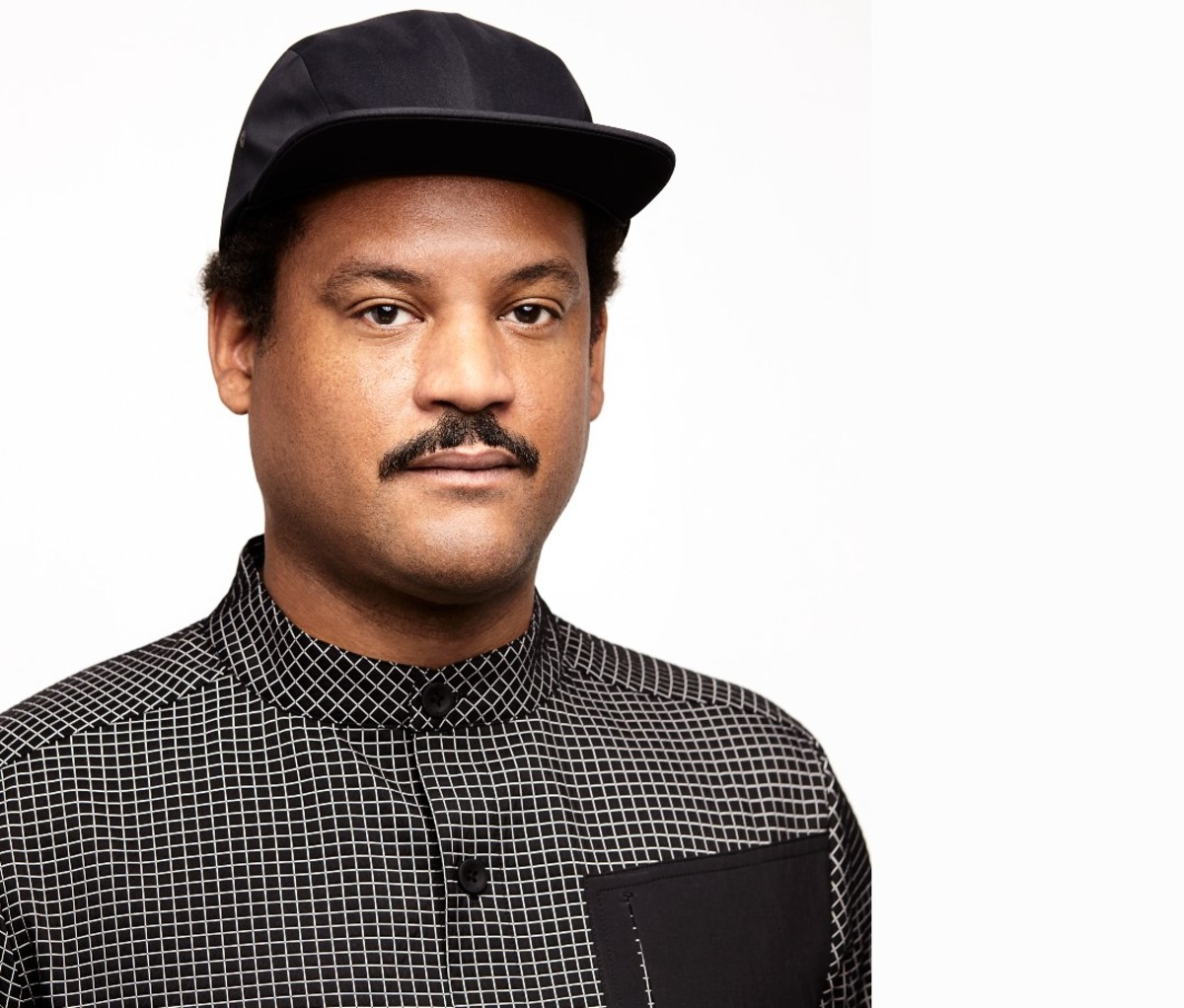 Men's Journal: What's your vision stepping in as creative director?
Christopher Bevans: I care about maintaining our base of Eddie Bauer supporters who've been with us for decades and looking to the younger generation. How can we connect to them and outfit them? How can we make it easy for more folks to have these adventures and experience outside city life? I want to sprinkle a little of my skills as a technical sportswear designer and expand the brand into new places. Eddie Bauer is such a part of outdoor culture, but also, I'd say, a part of street culture. It's the suburbs to the urban to the jungle.
That could describe you, too. Tell us, who is Christopher Bevans?
I'm an outdoors guy who grew up in the city. My mom is from Jamaica. My dad is from Belize. We're a pretty DIY family, always growing things, making things. My grandmother made all of our clothes growing up. I learned how to skateboard and snowboard at a young age, when not a lot of folks of color were on the mountain, let alone going down on a board.
You also worked in a tailor shop in high school. How did that shape your career?
That experience taught me to appreciate the details of design. Good brands, like Eddie Bauer, build garments from the inside out. It's the things you don't see that determine fit and attributes for the outdoors.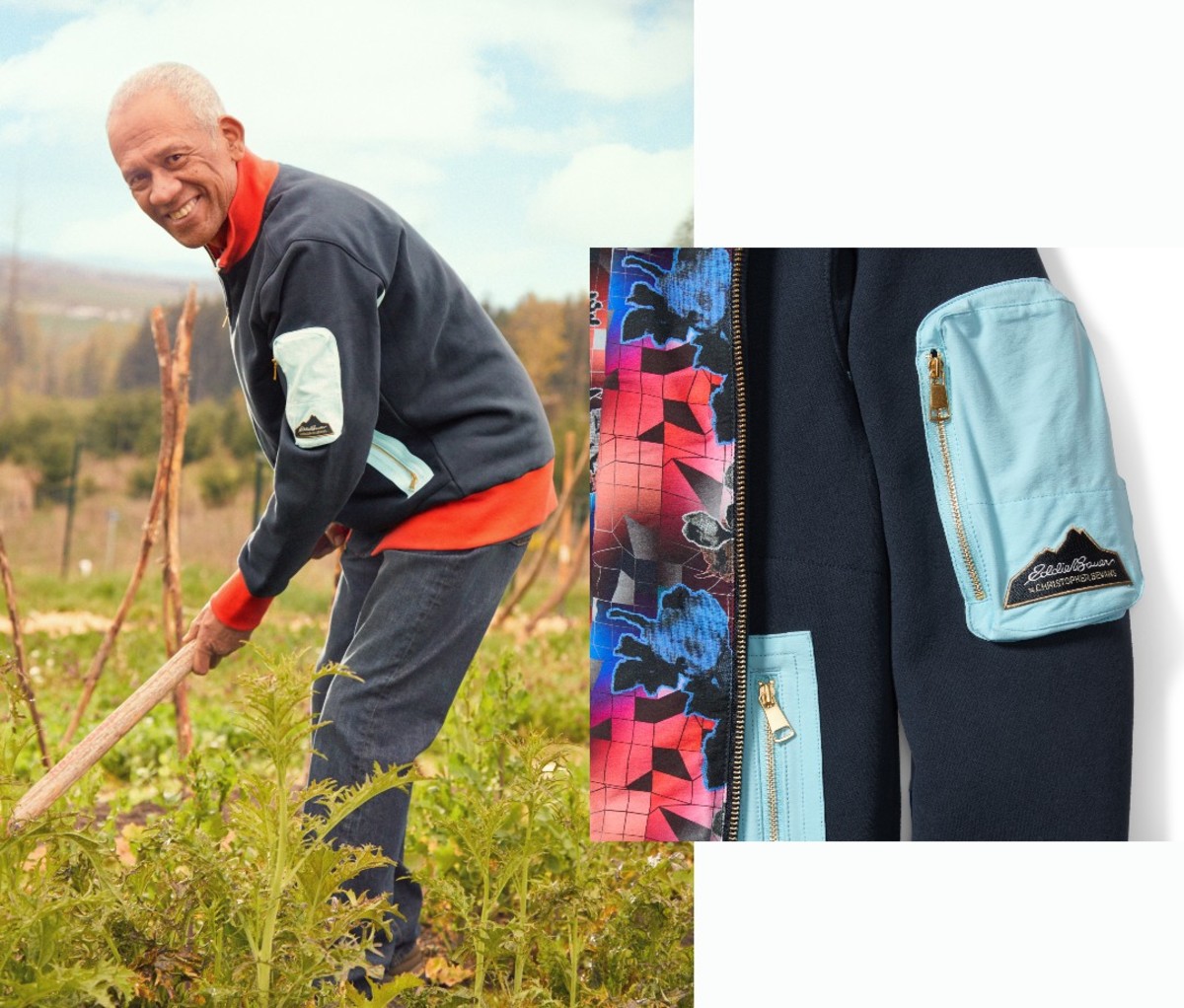 What else is important to you from a design perspective?
Color can bring life to a style. I'm inspired by the colors of nature, birds especially. Right now I'm going down the rabbit hole looking at bird feathers. It's incredible what nature has provided us. Sometimes color theory is not intuitive, but nature shows that if we pay attention, these combinations do work together. It's the most magnificent thing.
How did working with Eddie Bauer come about?
Eddie Bauer was looking to collaborate with a designer who understood technical design and loved the outdoors. They were seeing what I was doing on the ground: farming and being in the outdoors. I've been a fan of the brand for a long time. It started as a true collaboration. And then I was really enjoying the experience of designing with Eddie Bauer. I liked utilizing their fabrics, their know-how of up-cycling and use of recycled materials, their sustainable approach. I was having a lot of fun and they offered me the creative director role.
The original collaboration collection dropped this spring. What do we need to know?
It's a really colorful capsule that launched this spring. There are shirts, jackets, pants, and socks in a lot of fun colors that are versatile enough to wear year-round. Cargo pockets on shirts, custom logos, lots of little details, mixing fabrics like seersucker with jersey.
Is it a taste of what's to come?
I'm excited to fuse more color into the Eddie Bauer line. Eddie Bauer has a lot of cool colors already, but I'd like to liven it up a touch and make it more vibrant. And I want to support the diverse backgrounds of folks who are enjoying the outdoors. I want to create more opportunities and access to collaborate with large names and younger brands that might not have huge followings, but have stories to tell about what the outdoors means to them.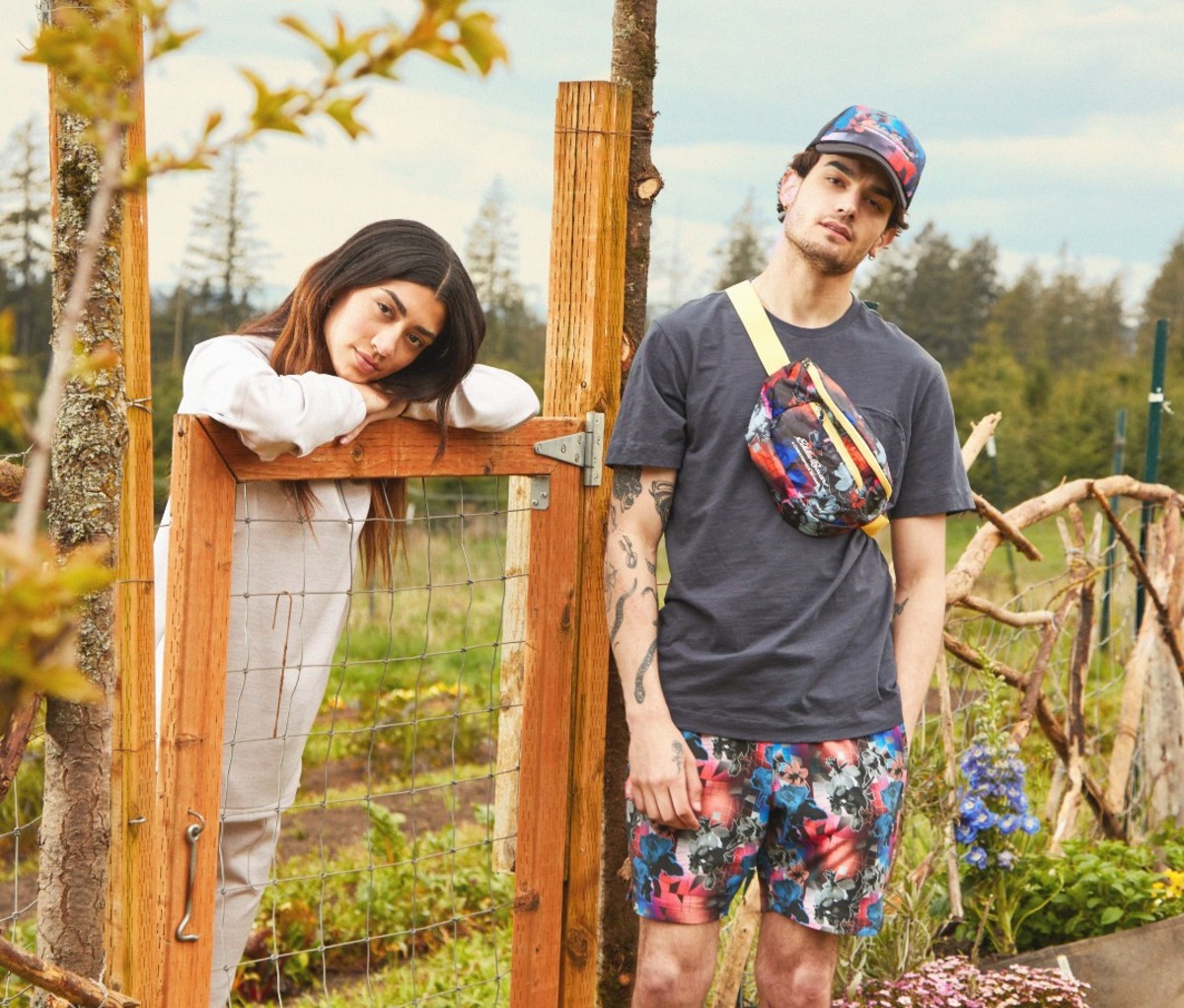 Where will we see those influences?
I'm really excited to revive the EBTek line. It's really up my alley as far as technical materials and assembly, but with fun and, I'd say, fashion-forward silhouettes. It's a bit more edgy, a bit more forward with color, fabric blocking and shapes. Now through 2024, we're really digging into it.
Tennis is your favorite sport. Do you see a place for it with Eddie Bauer?
I feel that tennis cold be a good vessel to introduce some good EBTek styles and connect to sport culture. It's not just about my love for the sport, it's just fitting. You're outside, running, active. I'm still looking at ways of telling that story, but tennis is definitely in the mix.
What about farming? You have a small farm outside of Portland where you grow produce. How does that tie into Eddie Bauer and your role?
Farming is my connection to the outdoors. I might not be a free climber or extreme skier, but in my own small way, I'm getting outside, having fun with my community, family, and friends. And you have to dress for being out there. It can be chilly in the morning. You need a good jacket. And it gets hot when you're in the field. You need a light T-shirt, the right footwear, a fleece for transitions. It all circles back to Eddie Bauer being the outfitter for the outdoors. We're always thinking about how we can inspire everyone to find their own way of getting outside.
For access to exclusive gear videos, celebrity interviews, and more, subscribe on YouTube!