Nestled about 40 miles from Albany, NY, is a quaint mountain town called Gallupville. It's surrounded by rolling expanses of lush fields and farmland, bisected by the idyllic Cobleskill Creek and by New York State Route 443. This serpentine stretch of pristine asphalt is an oasis for gearheads and it's why Gallupville, NY, (briefly) claimed 710 horses among its summer inhabitants, in the form of the 2020 Ferrari F8 Spider.
Festooned in Giallo Modena ("bright ass yellow," in non-Ferrari parlance), the F8 Spider, uh, stands out. Gallupville gawkers got extra time for slack-jawed stares since the town's speed limit is 25, but once the limit raises to 55, you're free to drop a gear and disappear. Behind your head, tucked beneath the drop-top's mechanisms, a 3.9-liter twin-turbo V-8 howls to life, hurtling you through straights and sweepers at dizzying speeds.
The scramble to 60 is over in less than three seconds; keep your foot in it and 124 mph arrives in another five seconds. Fail to warn your co-pilot that you're about to send it and the 568 pound-feet of torque hits hard enough to draw yelps from the passenger seat, quickly disappearing into the air whooshing over the open cockpit.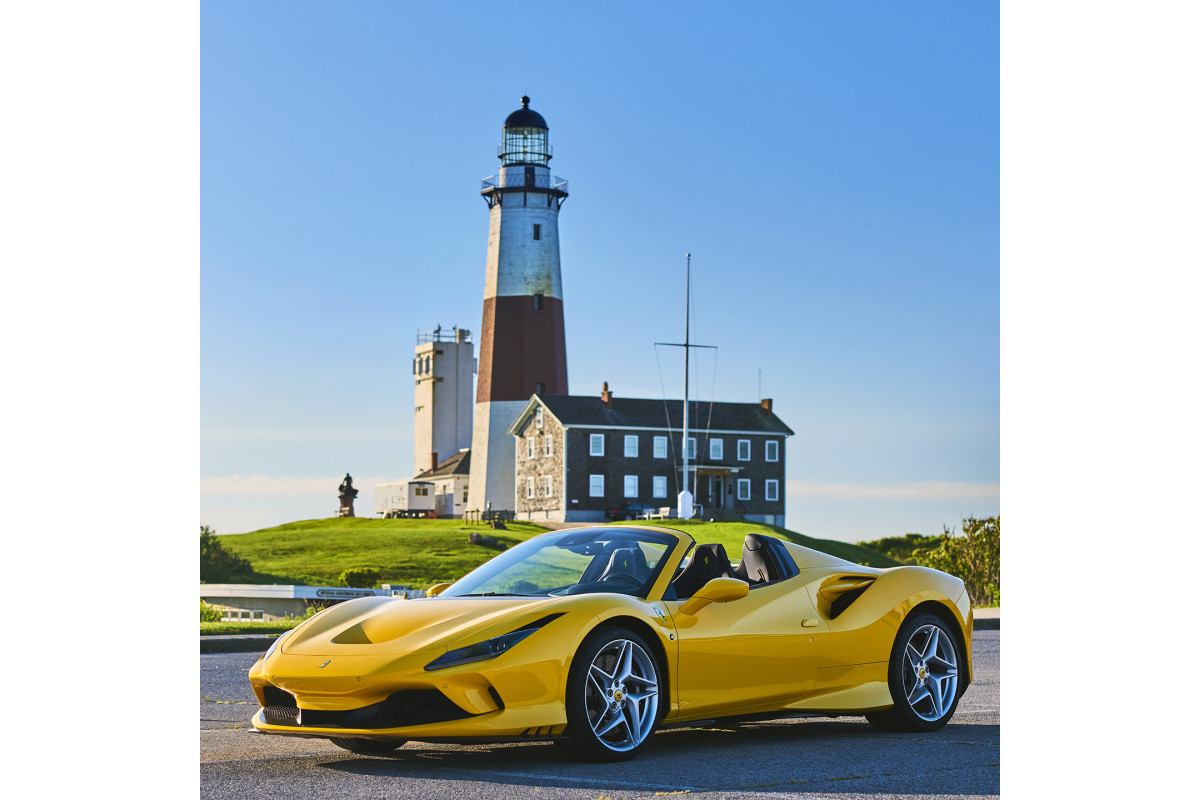 The F8 Spider is an evolution from the 488 Spider, but the engineering wizards of Maranello have wrung a decent 49 extra horses from the mid-mounted mill, though only added a meager 7 lb-ft. A scooch of turbo lag is noticeably lower in the rev-range though it dissipates as you dance all the way up to the 8000 rpm-redline. While a seven-speed dual-clutch transmission deftly handles gear management, including perfect downshifts after hard braking into a tighter corner, paddle shifters and shift-lights mounted atop the tiller allows you to play out your inner racecar driver fantasies.
A slew of driver aid systems and technology systems employed throughout the chassis imbue handling that helps the greatest of novices rip the F8 just like Ferrari F1 driver Charles LeClerc. Finding—but not exceeding—the limit on this $297,250 ($396,994, as tested) monster is easy, the electrical nannies ensuring man and machine end spirited drives in one piece. When the backend steps out a hair, it's a drama-free affair to rein everything back in. There's even a Bumpy Road mode (yes, that's the actual name), engaged by a button on the steering wheel that smooths crummy surfaces via magnetorheological dampers.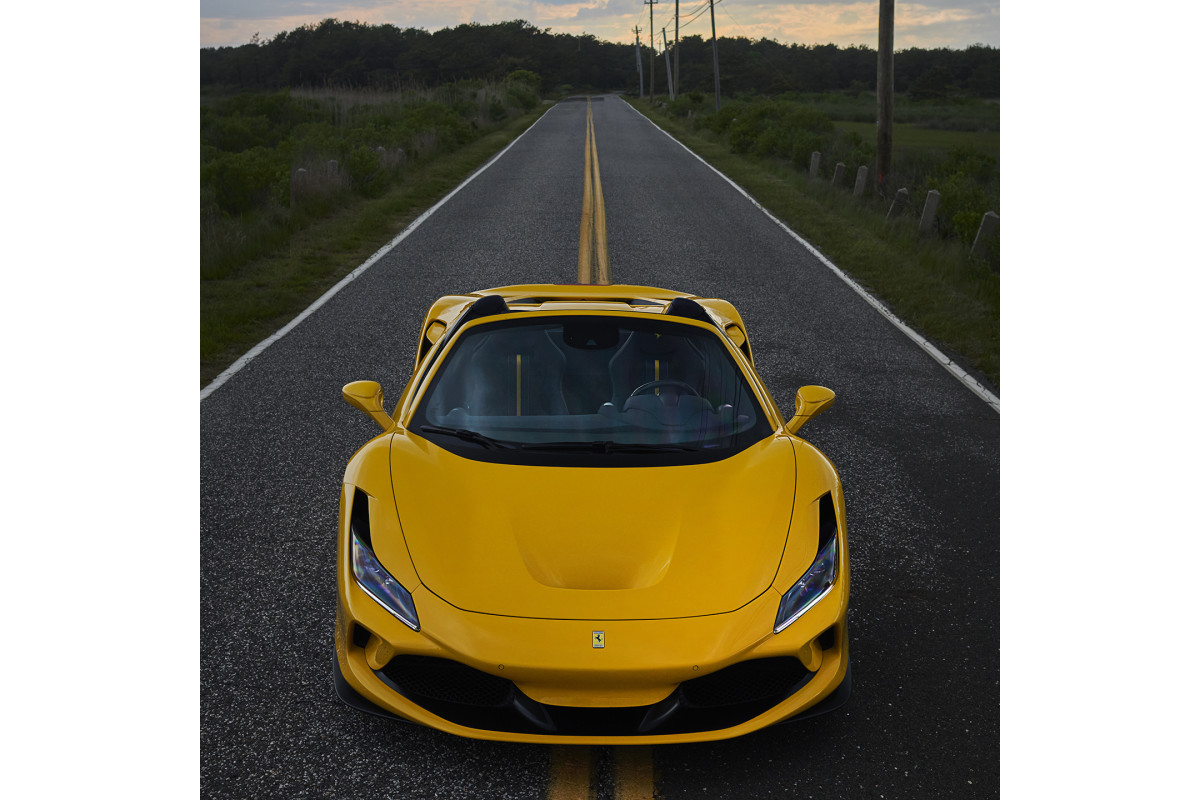 Lapping around the Gallupville area, the F8 felt tidy and composed, with point-and-shoot steering. Drill into the enormous brakes and the prow dips while the F8 hunkers down into the turn with compliance. It hops out of corners so quickly that it'll draw a giggle, every single time. A minor quibble about romping on the F8 would have to be the subdued exhaust. While the cold-start barks with authority, under full-steam, it lacks the deafening, high-end roar of Ferraris past, especially the naturally aspirated variants. A little more horrorshow coming from the titanium tailpipes wouldn't be the worst. And I wouldn't mind a burble on the overrun or a snarl after a downshift.
The cabin is comfortable, albeit sparse. It's driver-centric, and the addition of Apple CarPlay is welcome, though it's a $4,219(!) tick-box. For those sitting beside you, an optional $4,556(!!) 7-inch touchscreen display may make the passengers feel more engaged in the driving experience, as it's capable of displaying things like speed, gear selection, g-forces, and a tachometer. Then again, drive fast enough and your passenger will forget to look down to digest any of the available data.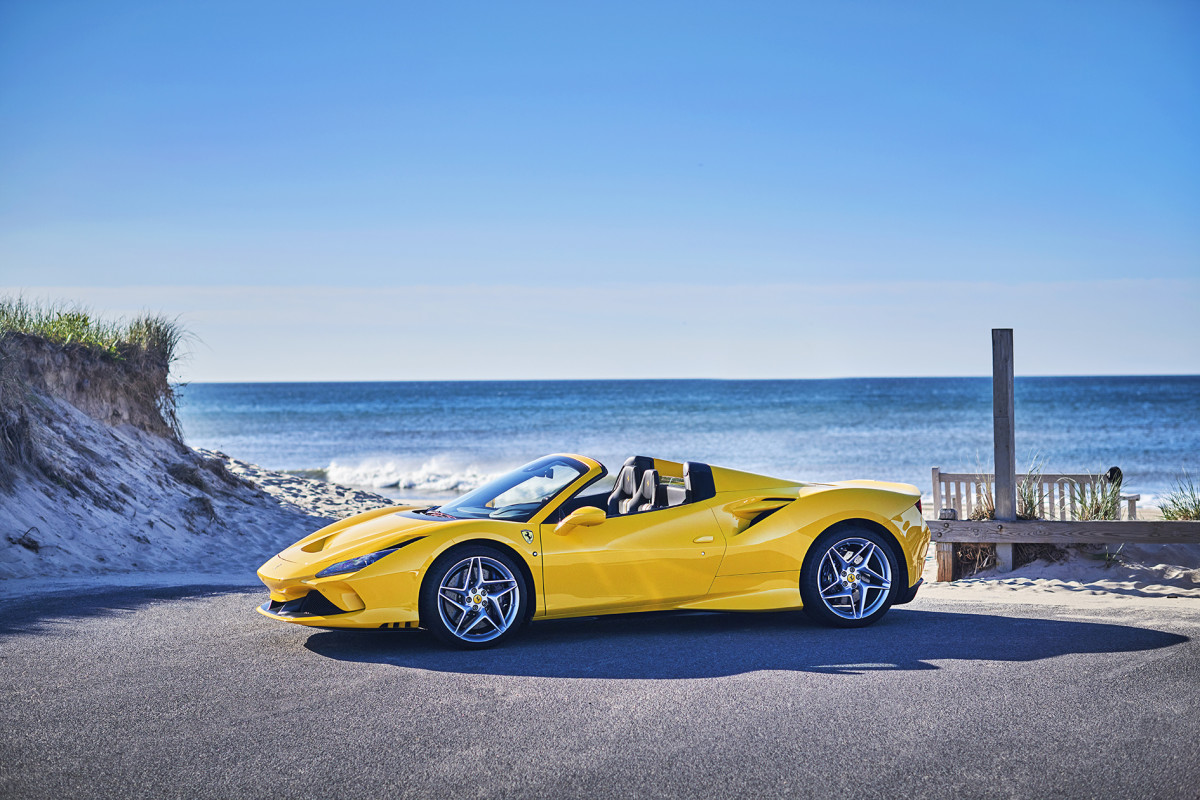 The F8's curb appeal is as immense as its 305-rear tires. A scenic overlook at Thatcher Park provides a stunning vantage point from which visitors can see for miles, all the way into Massachusetts. Park there and you'll find folks drinking in the Prancing Horse more than the panorama. Creep into a drive-in movie in Delmar, NY, just before Grease starts, and watch the heads swivel (sure, some looks resulted from an initial inability to shut off the daytime running lights). New York State Troopers manning highway checkpoints will inquire how fast you've had it up to ("65, officer. Not one mile over.") then ask you to rev it. Your father's friends will delightedly pore over every square inch.
Whether you're just passing by, sitting shotgun, or in command, the Ferrari F8 Spider is a smile machine. If it happens to be the latter, we suggest heading to Gallupville, where your grin will be the greatest.
For access to exclusive gear videos, celebrity interviews, and more, subscribe on YouTube!