Gear
First Drive: 2022 Range Rover Ups the Luxury SUV Experience—Again
Climbing a muddy hill in California's wine country presents but a modest challenge for the 2022 Range Rover. Like every one of its predecessors, the fifth, and latest iteration, has an advanced off-road skill set, perfect for gettin' down and dirty. Sure there are a few things you need to do to prepare it for even a tame little hill climb. You'll need to flip it into low-range, raise the air suspension for extra clearance, and choose the setting for the kind of terrain you'll be tackling. There's one more toggle that isn't technically required for off-roading, but we'd recommend flipping anyway: massaging seats. Because why not? The entire conceit of the vehicle, throughout its 50-year history, is that it can take you anywhere and do anything—all while riding ensconced in the lap of luxury.
Sadly, very few owners will ever allow their Range Rovers to wander from the pavement, which is a shame since off-road capabilities are so integral to the line's DNA. But so is apex luxury, and that's the draw for the vast majority of customers.
During a couple days tooling around San Francisco (plus neighboring Napa and Sonoma wine country) to test out a few models, we found the 2022 Range Rover exceeded expectations in terms of both bells and whistles and driving experience.
2022 Range Rover on the Road
As good as it is in the rough, this 5,700-pound beast truly excels at cruising. It chews up the road so fast, you might wonder why you didn't pick a longer route.
On the highway, the ride is soft and sumptuous—exactly what you'd expect from a luxury SUV with a base price in the six figures. When the roads start to turn and twist, the body produces a bit of roll, but that posh feel doesn't wane, even in dynamic mode, which stiffens things up a bit but not to a sports-car-like rigidity.
Striking an almost Goldilocks-style balance, the air suspension softens all but the most cavernous potholes to barely perceptible hiccups—and still manages to give the driver a connected-to-the-road feel. Our only critique behind the wheel is with the brakes. They feel a touch soft for our taste and could grab a little more with less pressure. But overall, the 2022 Range Rover is incredibly comfortable and pleasurable to drive.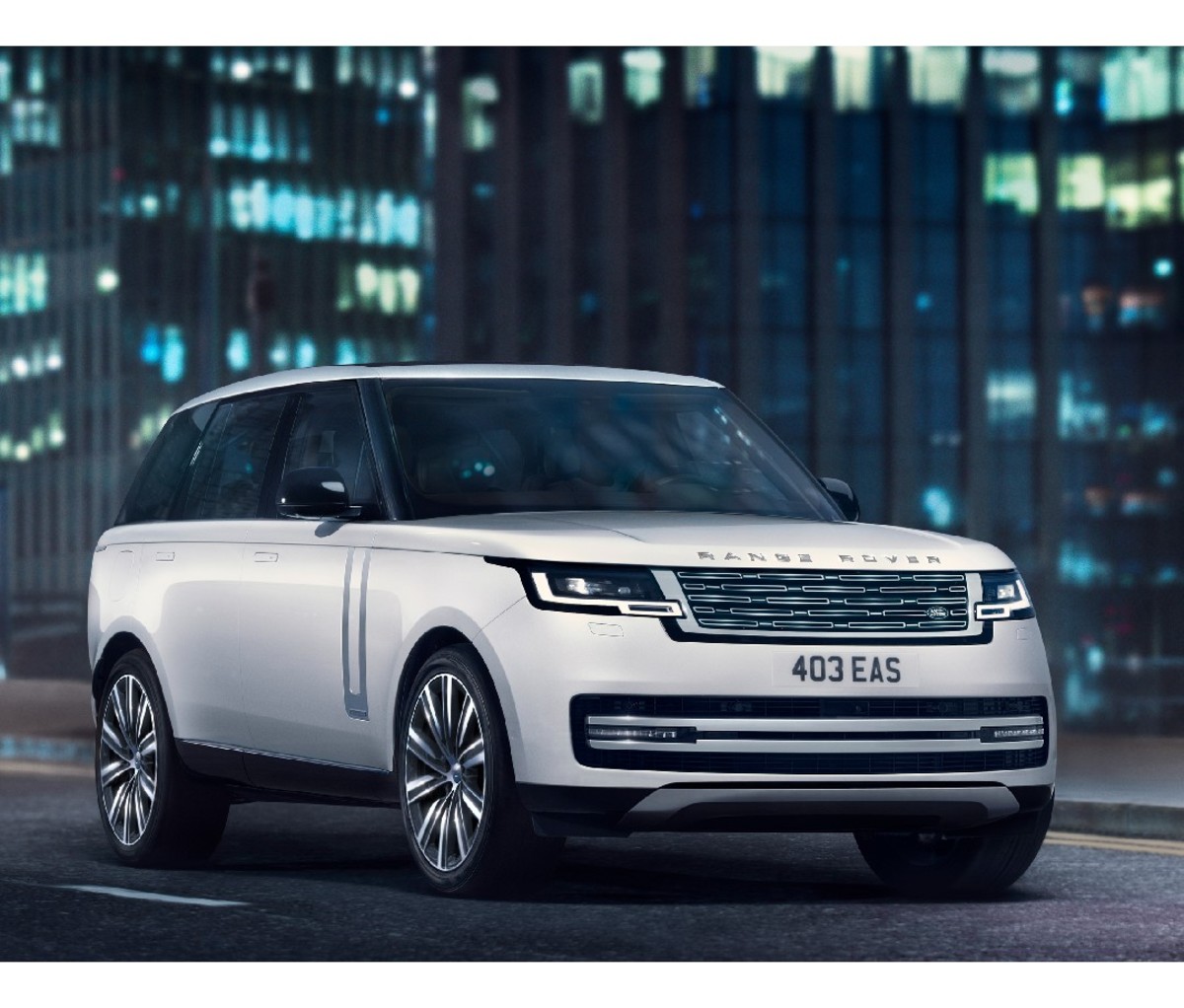 Power Trains
On our California trip, we experienced two of the engines in the lineup—both with an eight-speed automatic transmission. The base 3.0-liter turbocharged inline six cylinder kicks out 395 horsepower and 406 lb-ft of torque, and the twin turbo V8 offers 523 horsepower. They go from 0 to 60 mph in 5.8 and 4.4 seconds, respectively.
The inline six is smooth and we rarely found it wanting for power. The V-8 is, of course, beefier with loads of torque (553 lb-ft to be precise). Choosing between the two is nearly a coin toss, but we slightly preferred the effortlessness of the V-8—healthy price bump notwithstanding.
Not out just yet, the 2023 model will be available as a plug-in hybrid with a 48-mile, battery-only range and the ability to reach 87 mph without the use of a gasoline engine. Plus in 2024, the company plans to roll out a fully battery-powered Range Rover. (No, we can't wait!)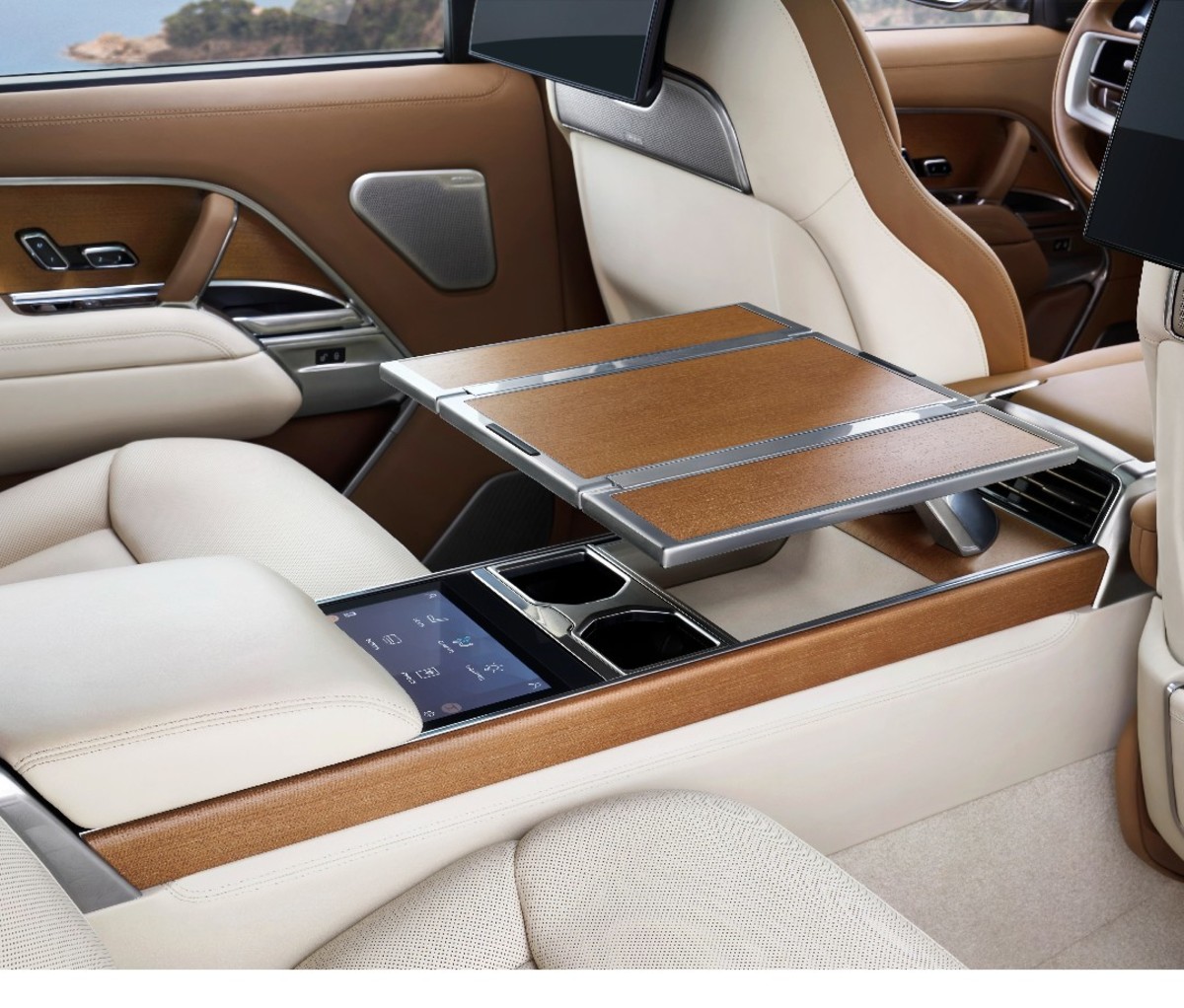 Design and Interior
On the outside, the new Range Rover has a familiar look but with a sleeker swagger. It throws out an effortlessly cool vibe, even though Professor Gerry McGovern OBE, chief creative officer for Jaguar Land Rover, and his team put in quite a bit of work applying their modern design philosophy—which they say is reductive but not minimalist.
The headlights have been slimmed down while the rear tailgate has been reimagined in exquisite simplicity. Overall, the lines are more cohesive, which creates a striking visual package.
The reductive aesthetic continues on the inside. While it's still appointed in beautiful leathers (or textiles) and woods, the simplicity lends sophistication and offers refinement that elevates driving into an enviable experience.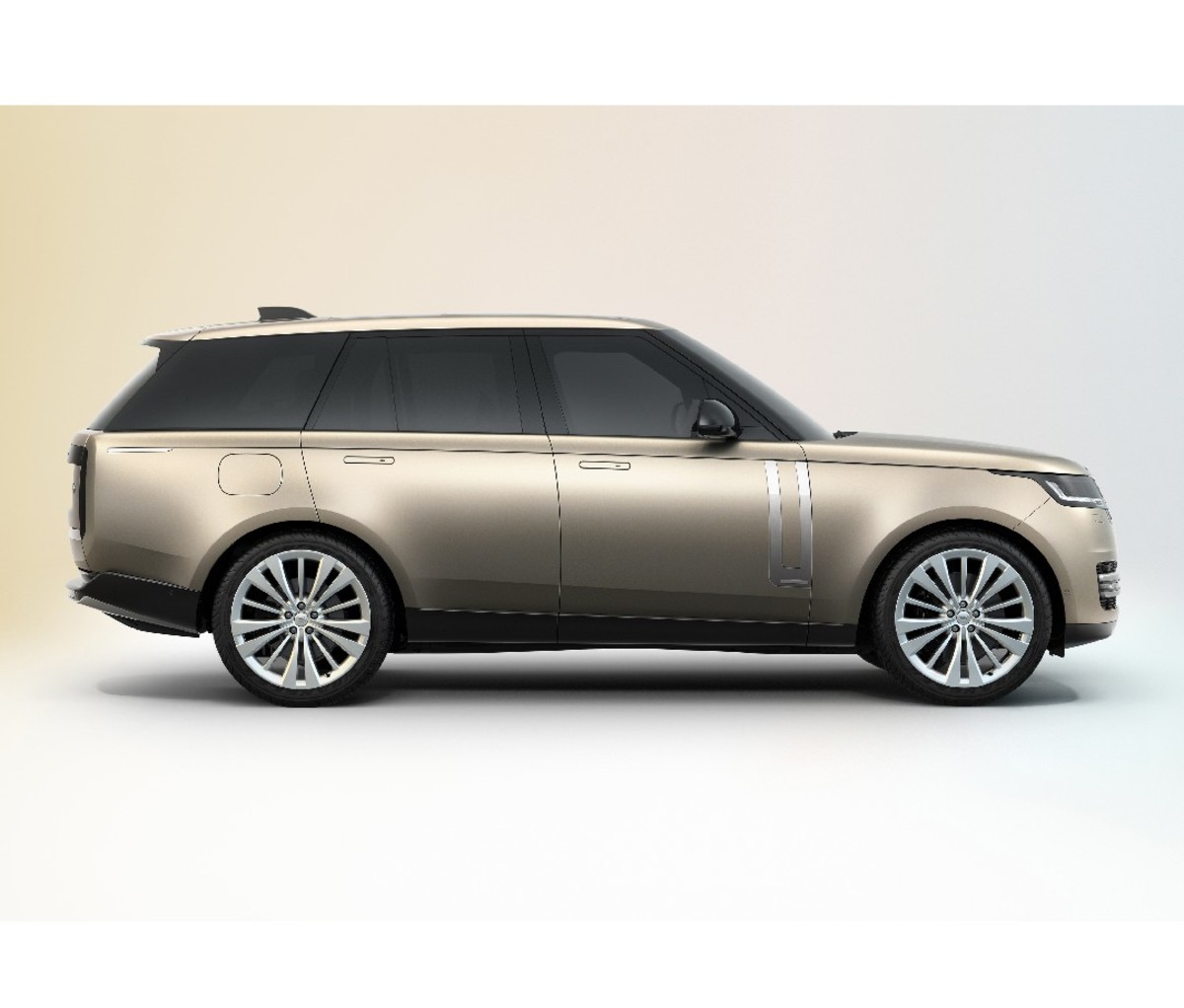 Two Lengths
The new Range Rover comes in two wheelbases—the standard 199- and 207-inch long wheelbase. The extended wheelbase allows customers the option of a third row, a first for the Range Rover. Or for those who truly enjoy a flex, the SV model focuses attention on the "Executive Class Comfort Plus" rear seats. It's a configuration that evokes the seating you might find on a private jet, with a refrigerator and a folding, retractable tray table in the center console—perfect for well-heeled buyers who like to be chauffeured.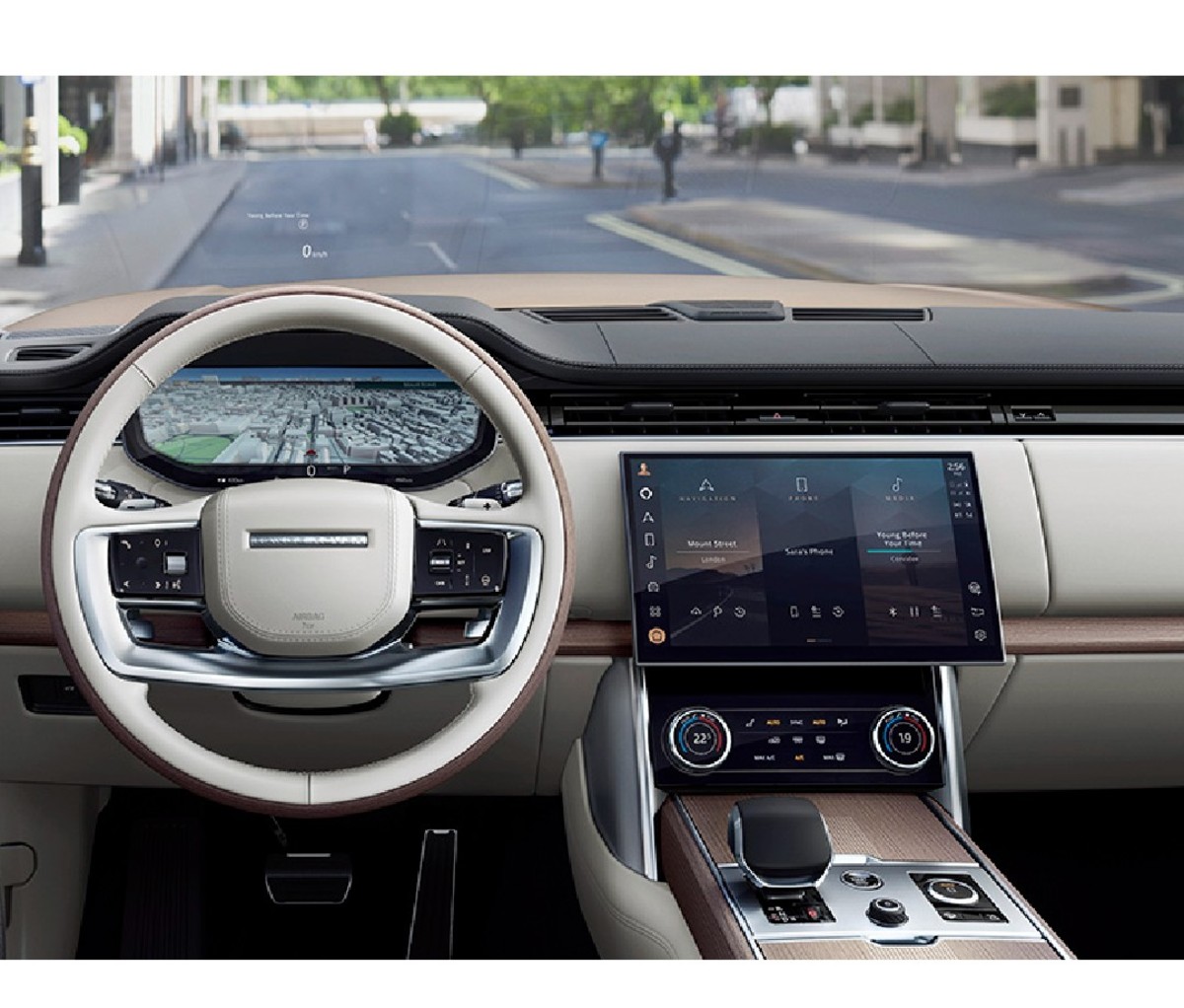 Tech for Both On- and Off-Road
Most will find the technology in the Range Rover intuitive and dynamic, including Land Rover's Pivi Pro interface. The 13.1-inch curved infotainment display is plenty big, and navigating the features is simple. The system also comes with Alexa, wireless Apple CarPlay, and Android Auto—all standard, as are adaptive cruise control and lane-keeping assist.
An optional extra to consider is the ear-tickling, 35-speaker Meridian stereo that drivers can use not only to rock out but also to create a quieter cabin—thanks to a third-generation active noise-cancellation system.
For those few owners who are keen to get off-road, the Range Rover comes with locking front and rear differentials. The air suspension has the ability to raise the ride height more than 11.5 inches, and a downhill assist will prevent the Range from careening too fast on descents. The new Range Rover's camera system can also show the driver where the front wheels are for navigating particularly technical off-road situations.
Sure, only a scant few will make use of all those features. That makes us a bit sad—because as pretty as the new Range Rover is, it looks twice as cool caked in mud.
[From $104,000; landroverusa.com]
Get it
For access to exclusive gear videos, celebrity interviews, and more, subscribe on YouTube!