Gear
Jaguar F-Pace SVR Edition 1988 Celebrates a Storied Racing Legacy
The Jaguar F-Pace SVR Edition 1988 is a tribute car that pays homage to the brand's most storied racing moments.
You see, 1988 was a very good year. Coming to America, Die Hard, Beetlejuice, A Fish Called Wanda, and Rain Man were all in the theater. Readers took in Salman Rushdie's The Satanic Verses, Stephen Hawking's A Brief History of Time, and Margaret Atwood's Cat's Eye. On the radio (sort of) NWA's Straight Out of Compton, Jane's Addiction's Nothing Shocking, Public Enemy's It Takes a Nation of Millions to Hold Us Back, and Sonic Youth's Daydream Nation signaled the next chapter in Hip Hop and the advent of "alternative rock." Jaguar was making a bit of music as well. Its V-12 powered XJR-9 LM howled down the track to win a pair of the most difficult races in motorsports: 24 Hours of Le Mans and 24 Hours of Daytona.
The Silk Cut-sponsored car (a defunct cigarette brand), driven by Andy Wallace, Johnny Dumfries, and Jan Lammers, won six times that year, making it one of Jaguar's most successful on the track. It's a unique offering from the brand's SV Bespoke division inspired by the triumphant XJR-9 LM's livery.
"The result is a winning combination of colors, textures, and features that celebrates sporting success," says Mark Wilkes, Jaguar's director of vehicle personalization.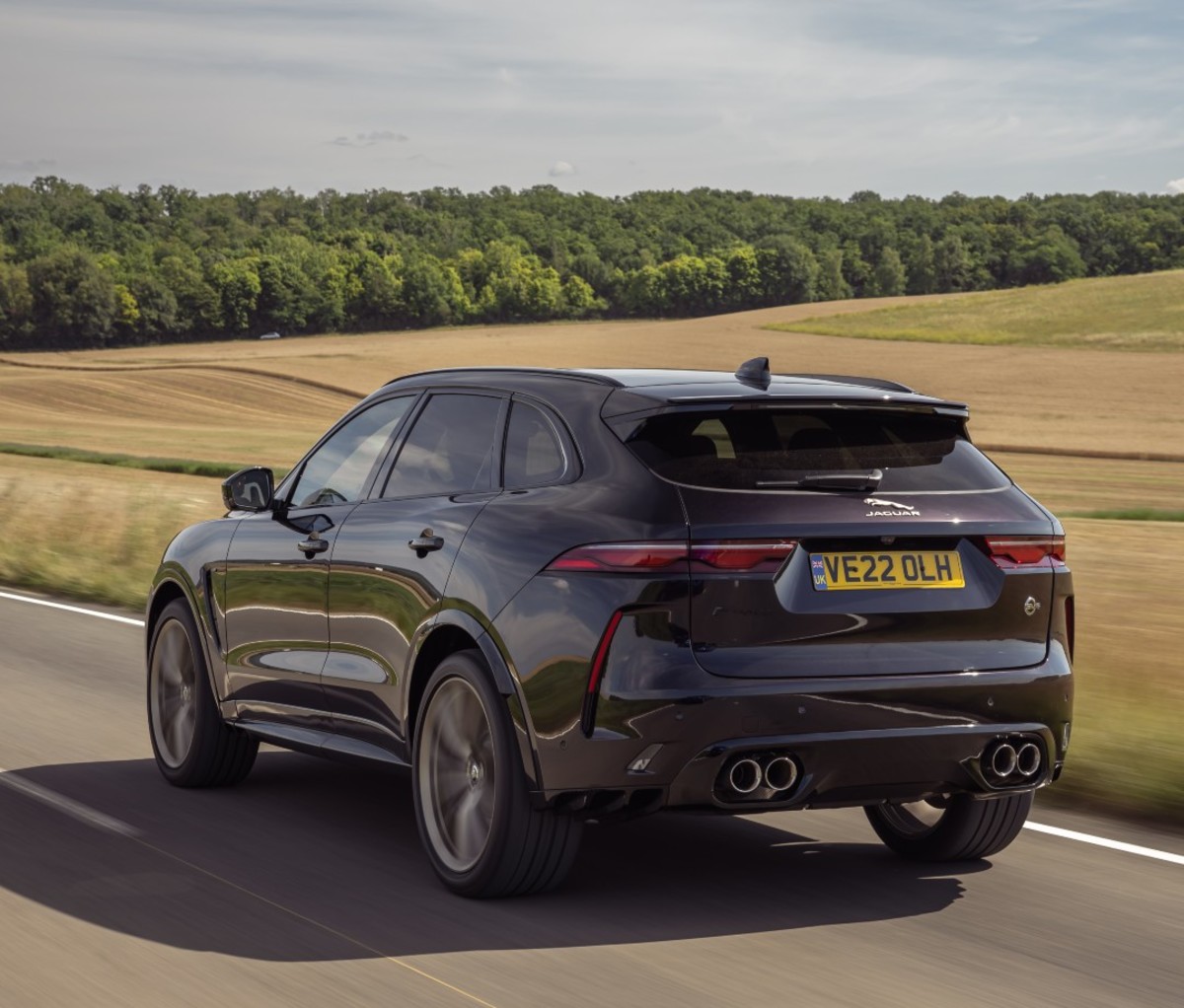 Power and Performance
The performance specs of the Jaguar F-Pace SVR Edition 1988 are identical to the beastly F-Pace SVR, Jag's top-of-the-line iteration of its mid-sized SUV. The five-liter supercharged V-8 puts out 542 hp and 516 ft-lbs of torque. The 1988 Edition will speed off to 60mph in an advertised 3.8 seconds.
The tender fields and lush vineyards in Champagne, France, offer both a dramatic landscape for a drive. They also have some truly splendid roads. Pound the throttle and you get an honest to goodness barbaric V-8 yawp. It's loud enough to scare farmers a few vineyards away.
All that power is mated to an eight-speed automatic transmission that shifts quickly and seamlessly in automatic. It yields even more fun when you interact with the champagne gold paddle shifters.
As it's an SUV, the SVR Edition 800 features rear-wheel-biased all-wheel drive to keep it sure-footed in less than ideal conditions. But throttle up into twisty country roads and the electronic power-assisted steering proves razor sharp and effortless. Overall, the vehicle is well-balanced for being a thick SUV with little roll, but the suspension is still supple enough to take the bumps out of rough roads. It's a very happy medium with plenty of personality to charm drivers of all stripes.
Head Turner
Photographs don't quite do the Midnight Amethyst gloss paint justice. The color has a staggering amount of depth. In flatter light, it looks almost chromatic black, but in the bright sun the purple hue shimmers. It's a color specifically concocted for, and only available on, this release.
The 22-inch forged, champagne gold satin alloy wheels offer the perfect accent to the custom purple paint. It gives both a sporty, yet regal chic.
Those gold accents don't stop at the wheels, it's a theme that runs through the overall design. The tailgate is adorned with gold script and a Jaguar 'leaper' icon and laser-etched Edition 1988 logos on each front wing panel. For a touch of extra contrast, gloss black finishes cap the side mirror, brake calipers, wheel center caps, and the letter 'R' on the SVR badge.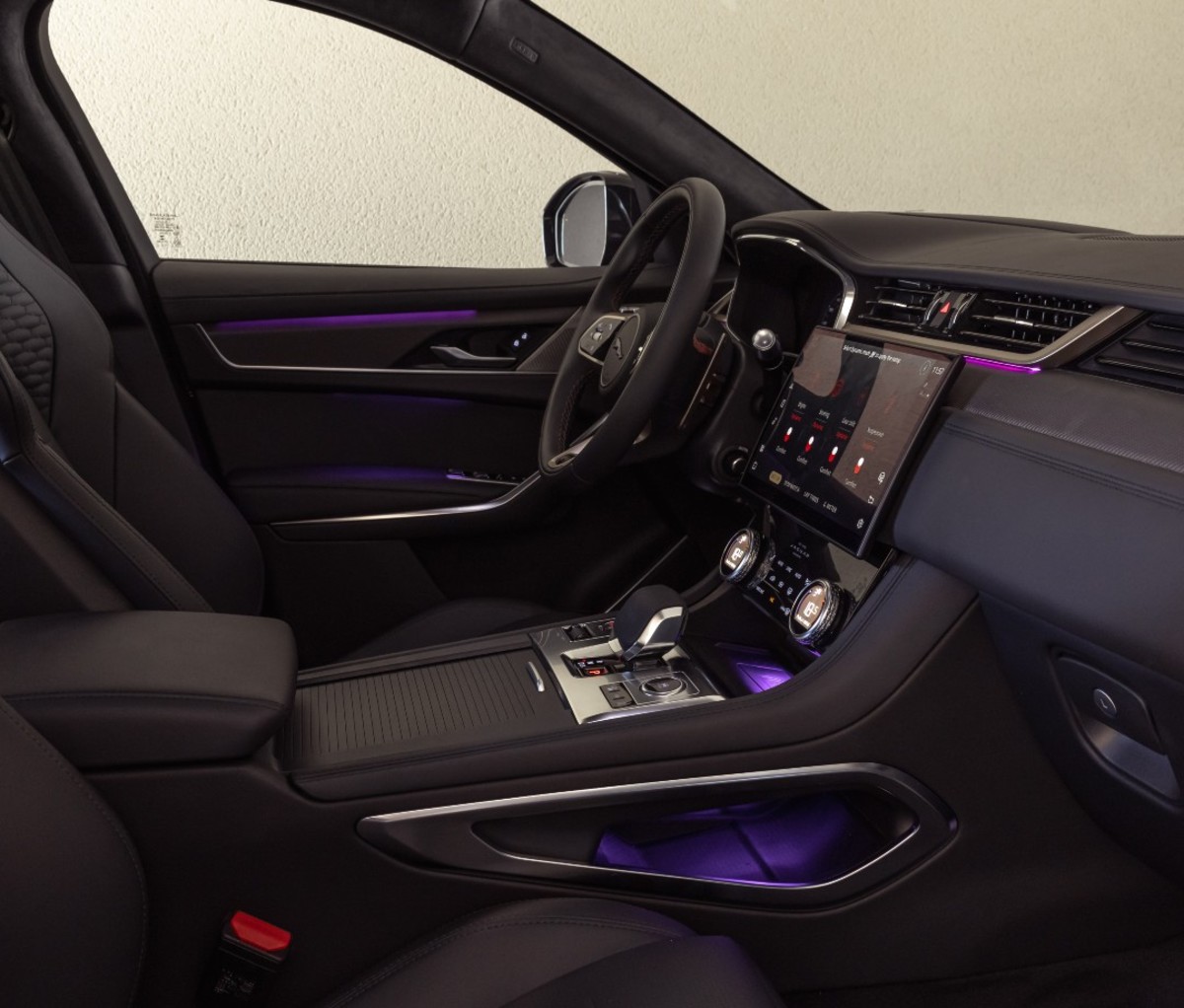 All the Usual Jaguar Refinements
The Jaguar F-Pace SVR Edition 1988 falls into the upper echelon of the Jaguar range, so naturally it's beautifully appointed. The bolstered front seats are covered in semi-aniline ebony leather and detailed with model-exclusive sunset gold satin trim, which echoes across the dashboard, steering wheel spokes, and gear shift paddles.
Those lucky enough to buy an Edition 1988 also get the sliding panoramic roof, head-up display, and Meridian surround sound system, managed by the excellent Pivi Pro infotainment system, as standard equipment. Customers also get the technology pack, standard lane-keeping assistance, and lane-departure warning. There's also standard automated emergency braking and adaptive cruise control.
Rarified Air
Jaguar has limited the Edition 1988 to 394 examples worldwide, with unspecified allocations based on region. So if you want one, better head down to the dealer in a hurry and get on the list.
But beyond the scarcity, Jaguar has committed to an all-electric lineup by 2025. So the SVR is likely to be its last V-8, making the Edition 1988 even more special as it not only commemorates the past, but as a potential collectors piece, the SVR will also come to symbolize a new history. One that we are writing only now as our gas-powered present gives way to an electric future.
Learn More
For access to exclusive gear videos, celebrity interviews, and more, subscribe on YouTube!