Gear
First Ride on 2022 Indian Pursuit Dark Horse Luxury Touring Motorcycle
When Indian Motorcycle delivered two Pursuit Dark Horse motorcycles to my home in Toronto, the first two production models to enter Canada, I invited one of the nation's most beloved actors, Yannick Bisson, to join me for a ride. Bisson is a French-Canadian actor known for his long-running role as William Murdock on the popular Victorian-era detective series Murdoch Mysteries, currently running its fifteenth season. Bisson is also an avid outdoorsman and motorsports enthusiast. With his wealth of knowledge on Canadian history and landscape, and our shared enthusiasm for motorcycles, we set out to gobble up miles through Ontario's most breathtaking cottage country on a pair of these luxury grand-touring motorcycles.
The Indian Pursuit Dark Horse is powered by a six-speed PowerPlus liquid-cooled 108 cubic inch V-twin motor that delivers 122 horsepower and 128 lbs-ft of torque. Accordingly, the bike comes with all the luxuries of a fully dressed touring bike. This includes more than 35 gallons of electronic-locking storage space, a six-gallon fuel tank for long-distance rides, and a fixed front fairing loaded with technology and easily accessed controls. The Pursuit comes in two versions: Limited with chrome finish and Dark Horse with blacked-out finishes. After I lost a coin toss for the Metallic Ruby over Black finish, we saddled up and hit the highway.
"We encountered every possible type of road on this trip," says Bisson. "We got A-, B-, and C-grade tarmac, cut concrete, polymer paving—we even got some flat-out cottage gravel roads. It was really a mixed bag of conditions, sightlines, and speeds. These Indian Pursuits performed far beyond what I expected from a large touring bike. They really get after it and they look stellar."
Premium luxury with all the bells and whistles
Bisson is right—these bikes are badass beauties with all the frills. To our benefit, Pursuit Dark Horse motorcycles come with Indian's Premium Package ($3,000). This includes a heated touring seat, integrated driving lights in the lower fairings, electronic rear suspension preload for the Fox shock, and Smart Lean Technology. "We definitely didn't need the heated seats for this trip," says Bisson. "But here in Canada, more than a third of your riding can happen during the shoulder seasons when it's super cold. The heated seats alone make it a no-brainer, but the rest of the package is dedicated to rider safety, which you can't really put a price on."
Pursuit's Smart Lean Technology works by using a Bosch 6-axis inertial measurement unit to calculate the exact orientation of the motorcycle at all times. It's collecting and processing a variety of data to predict wheel slip before it occurs for safer throttle and braking applications while cornering. Traditional traction control and anti-lock braking systems make an assumption that the riding position is vertical. Smart Lean Technology recognizes the angle of the bike as it corners, and reacts for safety accordingly.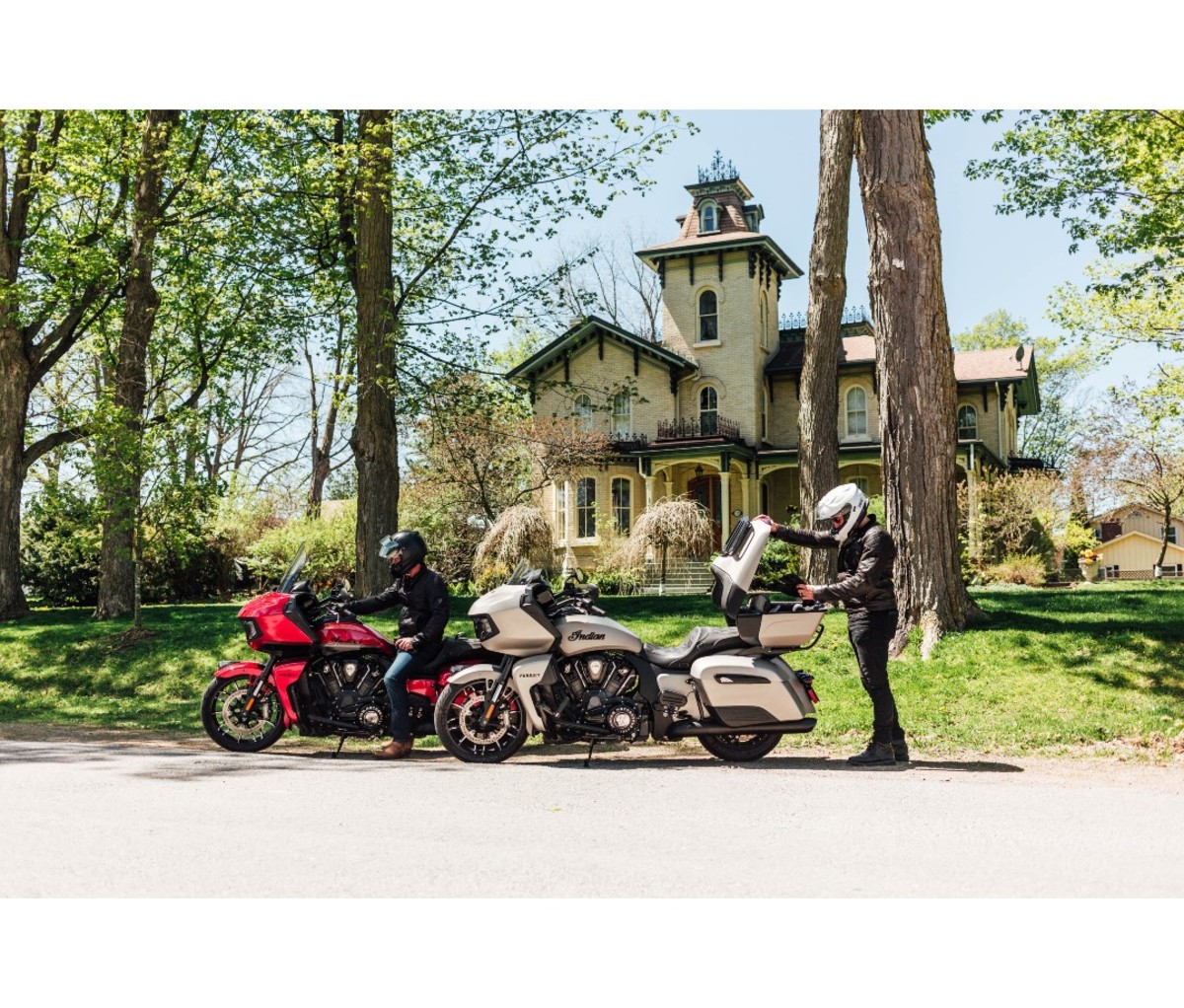 It's all about the journey
Our first landmark stop outside of Toronto was in Port Perry. It's a charming township along the shores of Lake Scugog. It also happens to be a set location where Bisson filmed episodes of Murdoch Mysteries. Founded in the early 1800s, Port Perry is home to exceptional Italianate architecture. That includes the Joseph Bigelow Residence, originally constructed in 1876. "The 'Bigelow House' is considered one of the finest Victorian homes in the province," says Bisson. "I have to say, after filming nearly 240 episodes of Murdoch Mysteries throughout the region, I learn something new about Canadian history and its cultural landscape with every episode."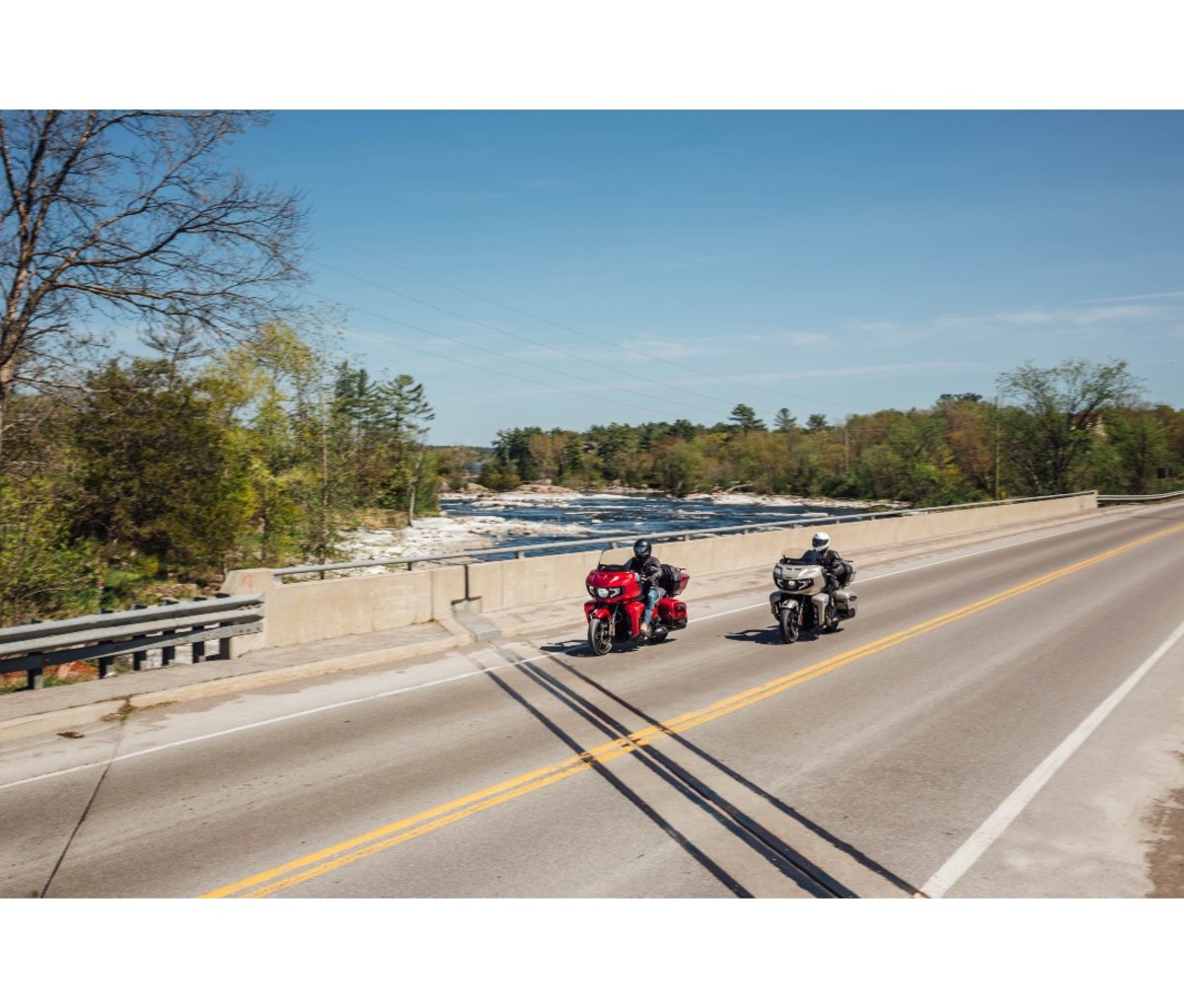 Before departing Port Perry, Bisson and I spent time familiarizing ourselves with Pursuit's technology integration. The main console interior features a 7-inch touchscreen, easily accessed via handlebar button interface. Dark Horse uses Indian Motorcycle's Ride Command+, providing access to Apple CarPlay integration and turn-by-turn navigation. It also offers long-distance handy services like live traffic and weather overlays. "You want those real-time traffic and weather alerts out here," says Bisson. "Out of nowhere, you can wind up in changing conditions. You could spend a half-day getting cooked, then the weather can flip and you'll want those heated seats and Rain Mode."
Our next passthrough was Burleigh Falls, forming a boundary for the North Kawartha township we were heading to. As Bisson tells it, the Burleigh Falls bridge is part of the Trent-Severn Waterway. It's a lock and dam system that connects Lake Ontario to Georgian Bay. It's also used to keep nearby waters navigable for larger boats. In our case, it was a great spot to capture some epic riding shots, then continue on our journey. This was also when I switched the bike into Sport mode—Pursuit's three power modes include Sport, Standard, and Rain. The throttle response was much more dynamic than Standard, in a good way. I kept the bike in Sport mode for the duration of our ride.
Cottage Country and the celebs who visit
Central Ontario is host to cottage country. There's an extensive network of recreational lakes popular for summer homes for the urban vacationer. "Historically, this area has been a destination for a lot of famous Americans. Halle Berry, Goldie Hawn, and Kurt Russel practically raised their kids here. Cindy Crawford has a home on an island here, too," says Bisson. After looking it up, a list of celebs making the most of lake life in Canada is extensive—Tom Hanks, Steven Spielberg, even Justin Biebs loves himself some lake action.
After a series of twisty roads that let Pursuit's low center of gravity and intuitive cornering take center stage, we arrived at our final destination—Shantilly's Place, an Instagrammable confectionary shop and marina on Chandos Lake, owned and operated by my riding partner's wife, Shantelle Bisson.
"Shantelle has managed to honor the heritage of the marina, but also provide all the modern amenities you might want on the lake. Pizza delivery by boat, premium full-service fuel, fantastic deli food, and everything you might need during your vacation," says Bisson. To his point, my focus is on choosing from 36 flavors of Kawartha Dairy's finest ice cream. I land on Bordeaux Cherry and Pistachio Almond stacked on a waffle cone—the ultimate post-ride treat.
Checking the boxes
In broad strokes, the Indian Pursuit Dark Horse is equal parts comfort, capability, and eye-catching appeal. It's a behemoth of confidence for the tour-savvy rider, designed with intuitive technologies.
"This bike checks off all the boxes—luxury, traction, stability and power," says Bisson. "I loved that it didn't feel like an old guy's bike. It's super stylish and technically high-end with a cutting-edge design. And these bikes look stellar—I saw a lot of eyeballs on us during our ride."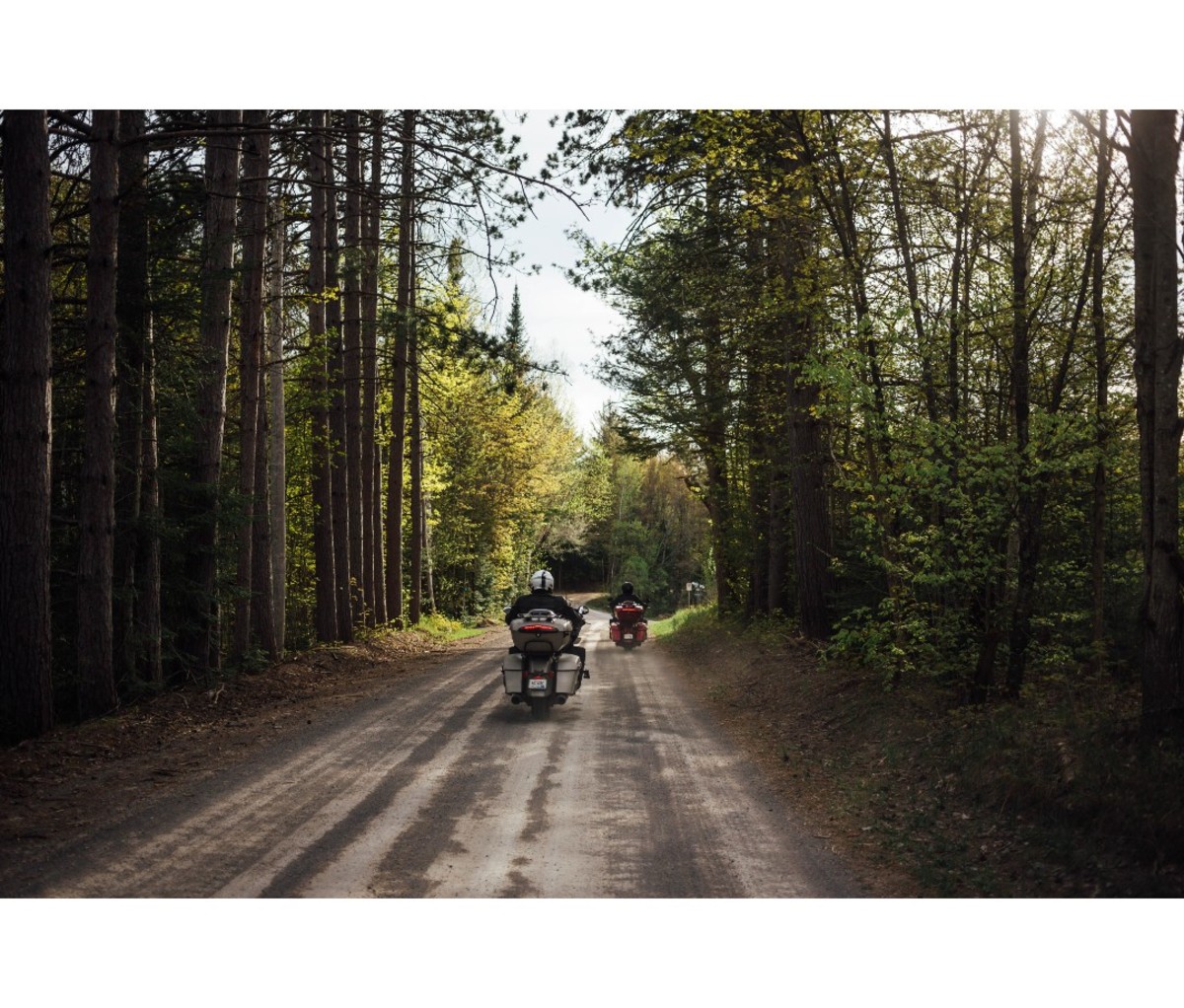 [$30,999; indianmotorcycle.com]
Get it
For access to exclusive gear videos, celebrity interviews, and more, subscribe on YouTube!