There's no doubt that Fitbit has established itself as a major contender in the wearables space. But even when people manage to get themselves off the couch and into the gym, Fitbit still has one major competitor to deal with: Apple. The Apple Watch is a juggernaut, having accounted for nearly 80% of smartwatch sales last year and continuing a push into the fitness space with features like syncing data to exercise machines.
So it probably isn't a surprise that Fitbit's latest product, the Fitbit Ionic, is clearly designed to go head-to-head with Apple. It's the first Fitbit device that's a full-featured smartwatch, and Fitbit has a lot riding on it: After a disappointing fiscal quarter, the company is banking on the success of Ionic to get it back into the green. They've gone as far to bill the Ionic as "the best health and fitness smartwatch".
So is this the next best smartwatch? After spending a few days with the Ionic, my answer is: yes and no.
To start, the design of the Ionic is definitely striking, and will probably be divisive. Instead of a more rounded design like the Apple Watch and many Android Wear watches, the Ionic has a rigid, rectangular watch face. It definitely looks unique, and while I wasn't sure how I felt about it at first, it unquestionably grew on me. The Ionic is a watch that has a stylish, premium feel to it, which I'm sure is exactly what Fitbit was trying to achieve, even if it's not everyone's cup of tea. The watch screen is vibrant and easy to read even in sunlight, and battery life is shockingly good, lasting 3-5 days depending upon how much you use GPS.
And yet, the Ionic seems like it's trying to be two things at the same time: a fitness tracker and a smartwatch. Whether or not you'll like this device depends upon what you want to get out of it.
If you're primarily interested in fitness, then you'll be pleased to hear that the Ionic retains the same high quality of fitness tracking as Fitbit's other products. This has everything you'd want out of a fitness wearable: continuous heart rate tracking, GPS, water resistance, and even built-in coaching and workout routines courtesy of FitStar. The coaching is easy to understand and use, thanks to visuals on the watch that break down each part of the workout. It also includes Fitbit's new "Sleep Stages" sleep tracking, which we've found to be surprisingly accurate (assuming you're OK with sleeping with a watch on your arm).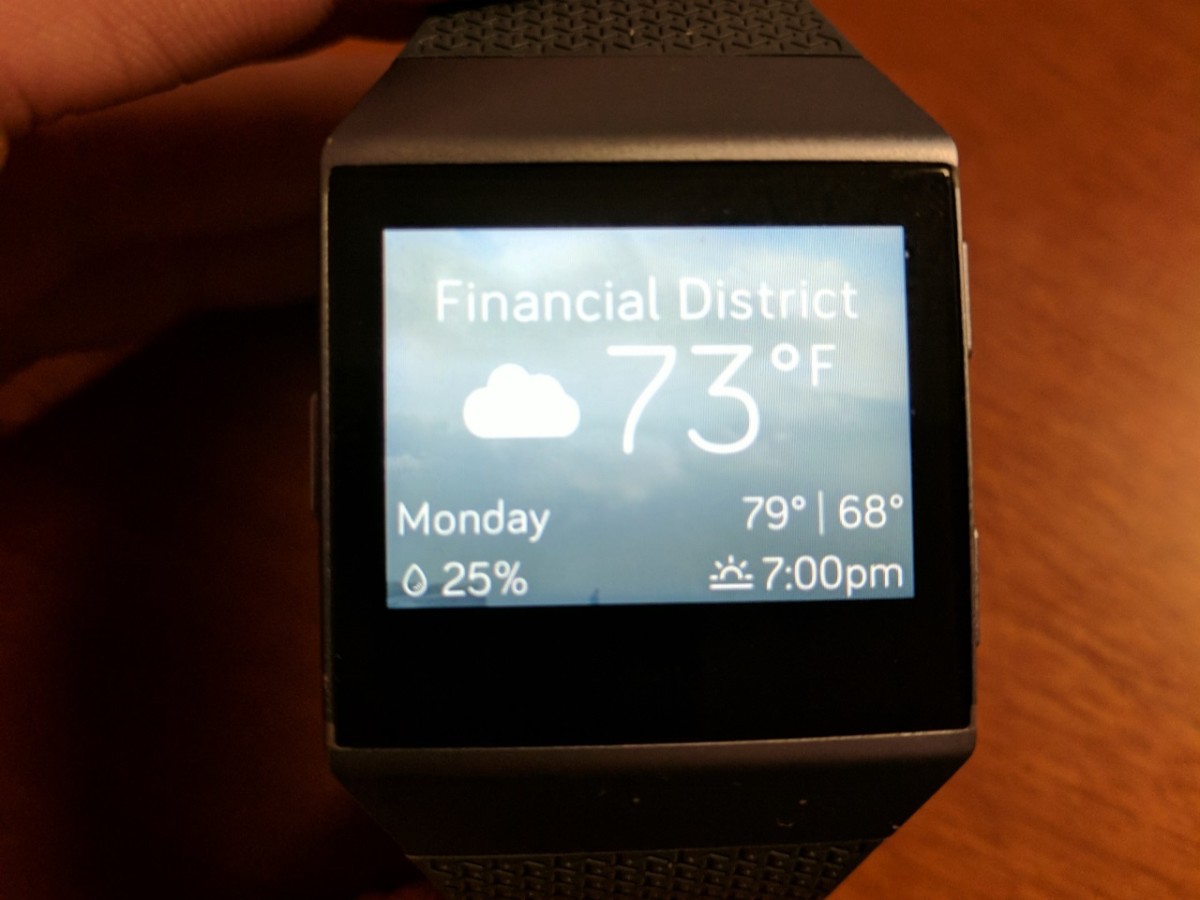 Screenshot by Tom Briechle
Several of the Ionic's watch faces allow you to track your current steps, calories burned, and heart rate without having to navigate to any menu.  If you've used Fitbit's app before, you know it's one of the most intuitive and comprehensive tracking apps available, and it works just as well with the Ionic as it does with Fitbit's other devices. It also auto-detects workouts with impressive accuracy; I'd say the margin of error is about two to three minutes.
Unfortunately, the smartwatch portion of the Ionic is where I found myself disappointed. The Ionic is using a brand-new operating system separate from WatchOS or Android Wear called Fitbit OS, with its own app store (the strangely named Fitbit App Gallery). It's a hugely ambitious play for the company, especially as established heavyweights like Google and Apple compete for tech-platform dominance. As of this writing, though, the Fitbit App Gallery has a grand total of 13 apps. And while many of the apps included are household names, it's undeniably limited.
For example: You can listen to Pandora stations independently of your phone using the Ionic and Fitbit's Flyer headphones, but what if you're subscribed to Apple Music or Spotify instead? Well, too bad. There's a Starbucks app that lets you scan your giftcards directly from your watch, but if you wanted Dunkin Donuts you're out of luck. You can auto-sync your runs from your watch to Strava, but not Runtastic or Endomondo. There's also Fitbit Pay, which is Fitbit's take on Apple Pay or Google Pay, which will work with a number of banks such as Bank of America and Wells Fargo.
Additionally, I found setting up these apps to be a bit of a hassle. Outside of the FitStar coaching, most of these apps require setup through your phone to work correctly. And instead of, say, opening your phone's Starbucks app to sync your gift card to your Ionic, you need to open the Fitbit app, tap on the Ionic icon, go to Apps, tap on the gear next to the Starbucks icon, and then input your gift card number. For a company that has a pedigree of simple, easy-to-use software, it's remarkably cumbersome. Also, the Ionic lacks voice recognition like Siri or Google Assistant, and it currently doesn't have an LTE option like the newly announced Apple Watch Series 3, so don't expect to make phone calls or respond to messages on this device. The Ionic also isn't cheap, retailing for $299—far more than Fitbit's other wearables.
Ultimately, I feel that the Ionic excels at fitness tracking, as one would expect from Fitbit. If you want the best, most fashionable fitness tracker money can buy, the Ionic is certainly an option. But if you want a smartwatch with a feature set on par with WatchOS or Android Wear, I would hold off on the Ionic until the next iteration. The Ionic can be a worthwhile investment, as long as you know what you're getting into.
For access to exclusive gear videos, celebrity interviews, and more, subscribe on YouTube!