Sleep tracking often feels like a white whale for many fitness-tracking companies—often, even popular fitness trackers are inaccurate at best. For a long time, the only way to get truly accurate sleep tracking was by shelling out for a dedicated sleep tracker like the Withings Aura, and even then they're not perfect.
With Sleep Stages, Fitbit claims that its sleep tracking has taken a major step forward and can provide information that you'd normally only be able to get from expensive sleep studies, such as accurate records of how long you spend in light sleep, deep sleep, and REM. If you own a Charge 2, Blaze, or the brand-new Alta HR, you can take advantage of the Sleep Stages. Fitbit provided an Alta HR so I could test the effectiveness of Sleep Stages.
First, a word about the Alta HR: I think it's an excellent all-around fitness tracker. It's compact, visually appealing, and reinforces Fitbit's reputation for accurate and useful fitness tracking. The small LCD screen is still large enough to tell time and provide text notifications, and thankfully the battery lasts long enough so that you don't have to worry about charging daily (I had to charge mine about every five days). If you're looking for a new fitness tracker that does all of the basics, it's hard to say no to the Alta HR.
But in this test, I especially wanted to drill into the Alta HR's Sleep Stages tech. I'll admit that my sleep schedule has been spotty at best—and that's why I've long sought a sleep tracker that could tell me how I normally sleep, and adjust my sleep cycle accordingly.
Overall, the Alta HR is a useful and valuable sleep tracker. Unlike other sleep tracking apps I've tried (such as SleepAs Android and Sleep Better by Runtastic), Fitbit's sleep tracking tech doesn't need to be told when you're going to sleep—the Alta HR automatically recognizes when you're falling asleep, and, from my tests, it's pretty good at it.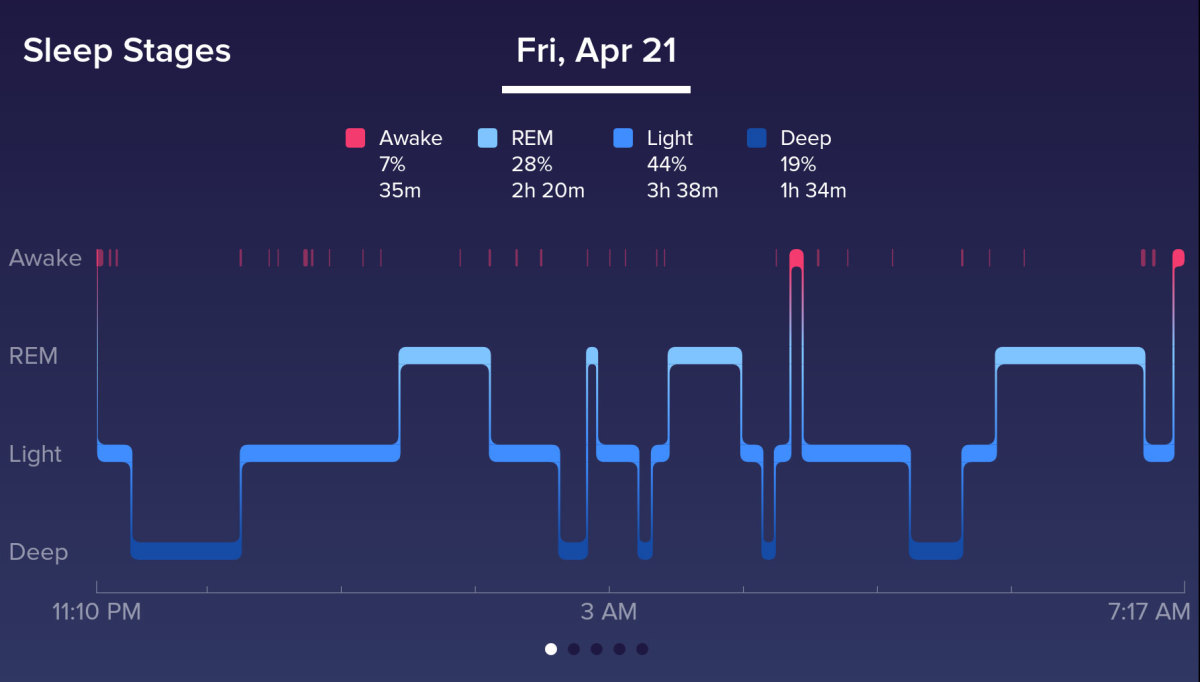 Screenshot by Tom Briechle
The diagrams showing your sleep patterns are mostly straightforward, and easy enough to understand. More important, I thought the "Benchmark" feature—which shows how long an average person spends in each stage of sleep—was particularly useful, as I genuinely had no idea that 15-20% of deep sleep each night is completely normal. You can set a sleep goal for each night (by default, it's set to eight hours), and the app will congratulate you for hitting your goal.
The tracking isn't without its quirks, however. I have a habit of lying on my couch and checking my social media feeds after I have breakfast—c'mon, you do it sometimes too—and in a few instances, the Alta HR thought I was still trying to sleep and listed the half hour after I "woke up" as part of my sleep stats. Another time, I left my Fitbit on my bed for a few hours to charge, and for some reason, it thought I took a nap. And while the Fitbit can record naps, it'll only provide Sleep Stages for a regular night's sleep. Are these minor issues? Of course, but I'd hope that Fitbit irons out these issues in later updates.
One of the best features of Fitbit's new sleep tracking is called "Sleep Insights," in which the app provides advice or observations based on your sleep "performance." Sometimes, the insights simply commend you for keeping a regular schedule; other times, they give advice, such as mentioning you may want to change your sleep environment if you're not sleeping well enough.
In fact, I only have one complaint with Sleep Insights: I want more. The insights themselves are helpful, but they're often very short (only a couple sentences) and, as far as I can tell, you only get one insight a night. I feel like Sleep Insights is an excellent idea that is actually more helpful than Sleep Stages itself, since stats mean little if you don't know what to do with them. I hope Fitbit continues to expand the Sleep Insights feature with more detailed advice to explain how your stats can be used to improve your sleep.
Ultimately, the combination of Sleep Stages and Sleep Insights is a leap forward for sleep tracking on fitness trackers, but I hope Fitbit continues to improve and expand on these features. Simply a few sentences of advice isn't enough—ideally, I'd love for the Fitbit app to include more detailed coaching, similar to what they do for exercise. After all, sleep is just as important to a healthy lifestyle as working out.
For access to exclusive gear videos, celebrity interviews, and more, subscribe on YouTube!