Gear
A New Way to Winter: Embrace the Season With Fjällräven's Expedition Series Jackets
This article was produced in partnership with Fjällräven.
For many people, winter is a time to hibernate indoors and catch up on reading, ideally beside a crackling fire. Going outside? Better to save those activities for the spring—unless you have some dependable winter gear in your closet. For that, you need to turn to the experts: Fjällräven. Since 1960, the Swedish outdoor brand has excelled at making superb outerwear that can go the distance, and now the company has drawn on its decades of cold-weather experience to release the Expedition Series of jackets. Whether you're skiing, snowshoeing, or just dashing out for coffee, these layers are purpose-built to keep you warm in even the most challenging winter conditions.
The idea behind the Expedition Series was simple: Create a line of jackets so comfortable and capable that the wearer can enjoy being outside in cold weather, not just tolerate it. That concept isn't a new one for Fjällräven. In fact, it ties back to one of the company's most iconic pieces. The modern Expedition Series jackets are direct descendants of the first Expedition Jacket developed by Fjällräven founder Åke Nordin in the 1970s.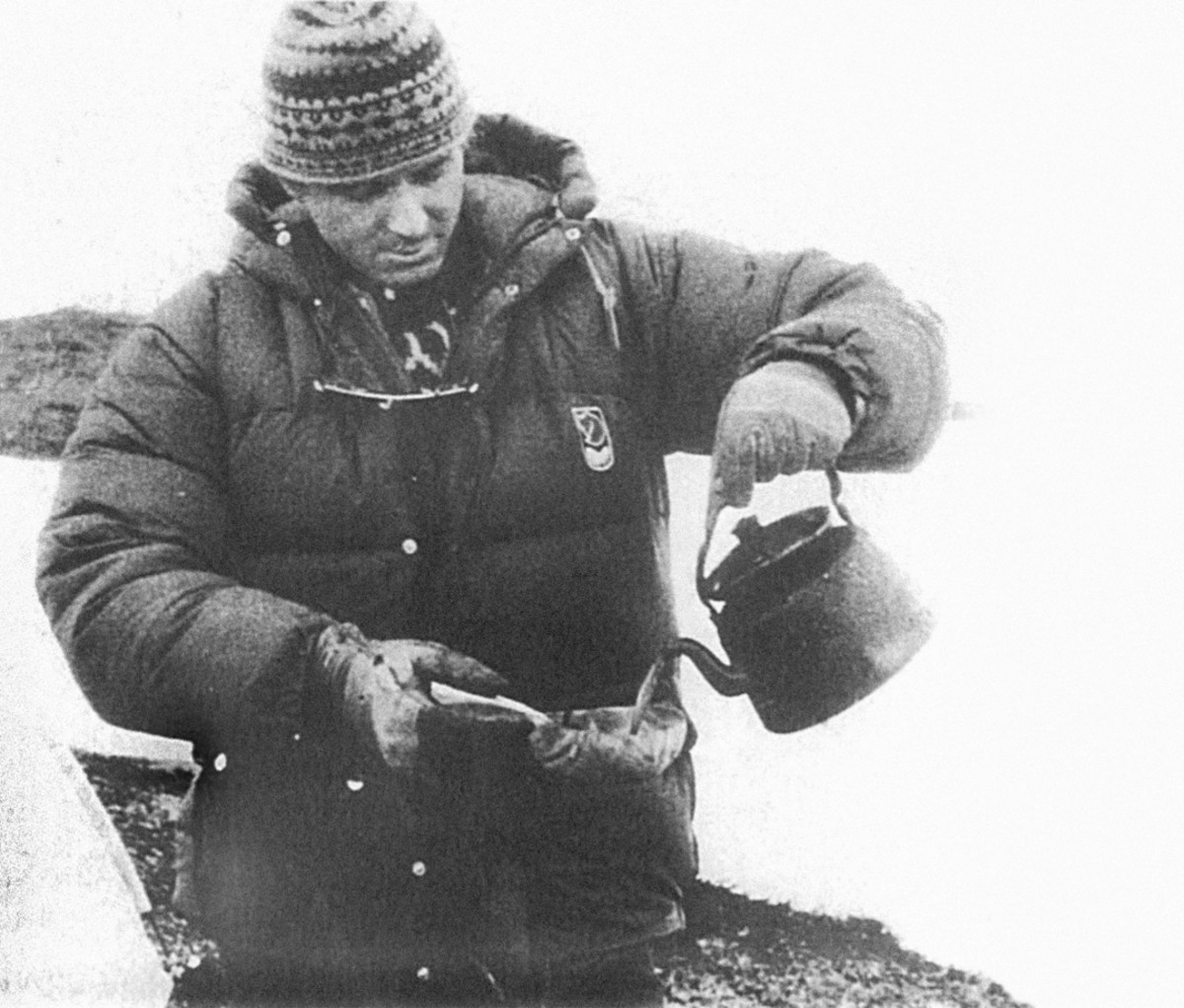 Åke Nordin's Big Idea: Comfort in the Cold
It started with a very cold winter camping trip in Sweden's Abisko plateau. Nordin spent the night shivering in his tent, and after that harrowing experience, he decided he never wanted to feel that bone-chilling cold again. So he set about making a jacket that would keep him warm even when winter brings its worst.
To do it, he had to get creative. He started with two down jackets and sewed them together, paying close attention to the baffles, or the lines of stitching that hold the down in place. These thin areas can allow cold to seep in, but by layering the two jackets and alternating the baffles on one with the down on the other, he was able to drastically reduce heat loss. To top it off, he added an insulated hood with long drawcords so the wearer could cinch it down tight over their face and leave only their eyes (ideally covered by goggles) exposed.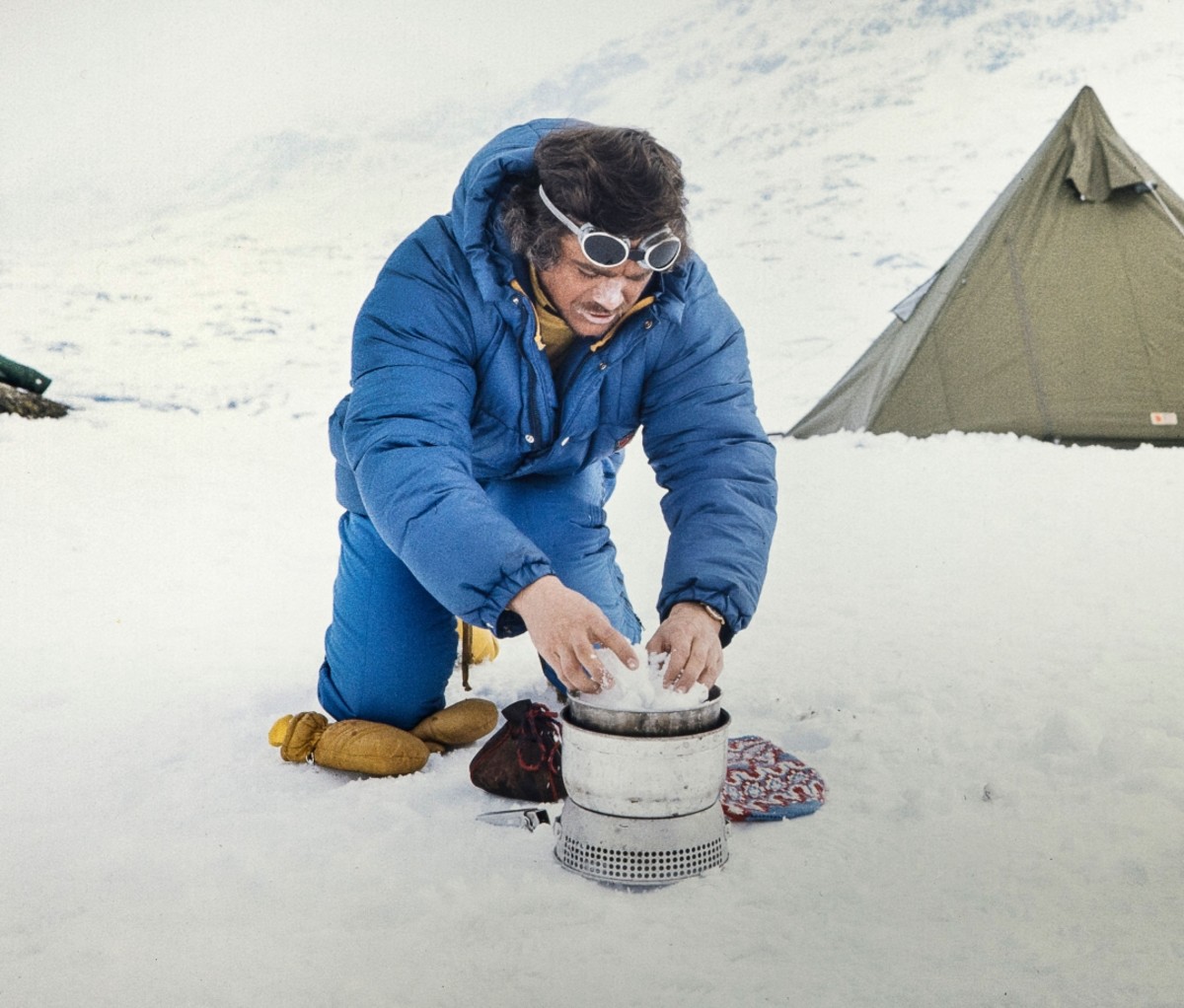 The result was an exceptionally warm, protective layer dubbed the Expedition Jacket, and when launched in 1974, it quickly became a favorite among cold-weather adventurers from the Himalayas to the Arctic and beyond. Fast forward a few decades, and it became the inspiration for today's Expedition Series as well.
"Åke's approach was about simplicity, functionality, and designing to meet a personal need," Fjällräven designer James Lee tells Men's Journal. "We focused on this iconic combination of details, constructions, and forms to develop the Expedition Series."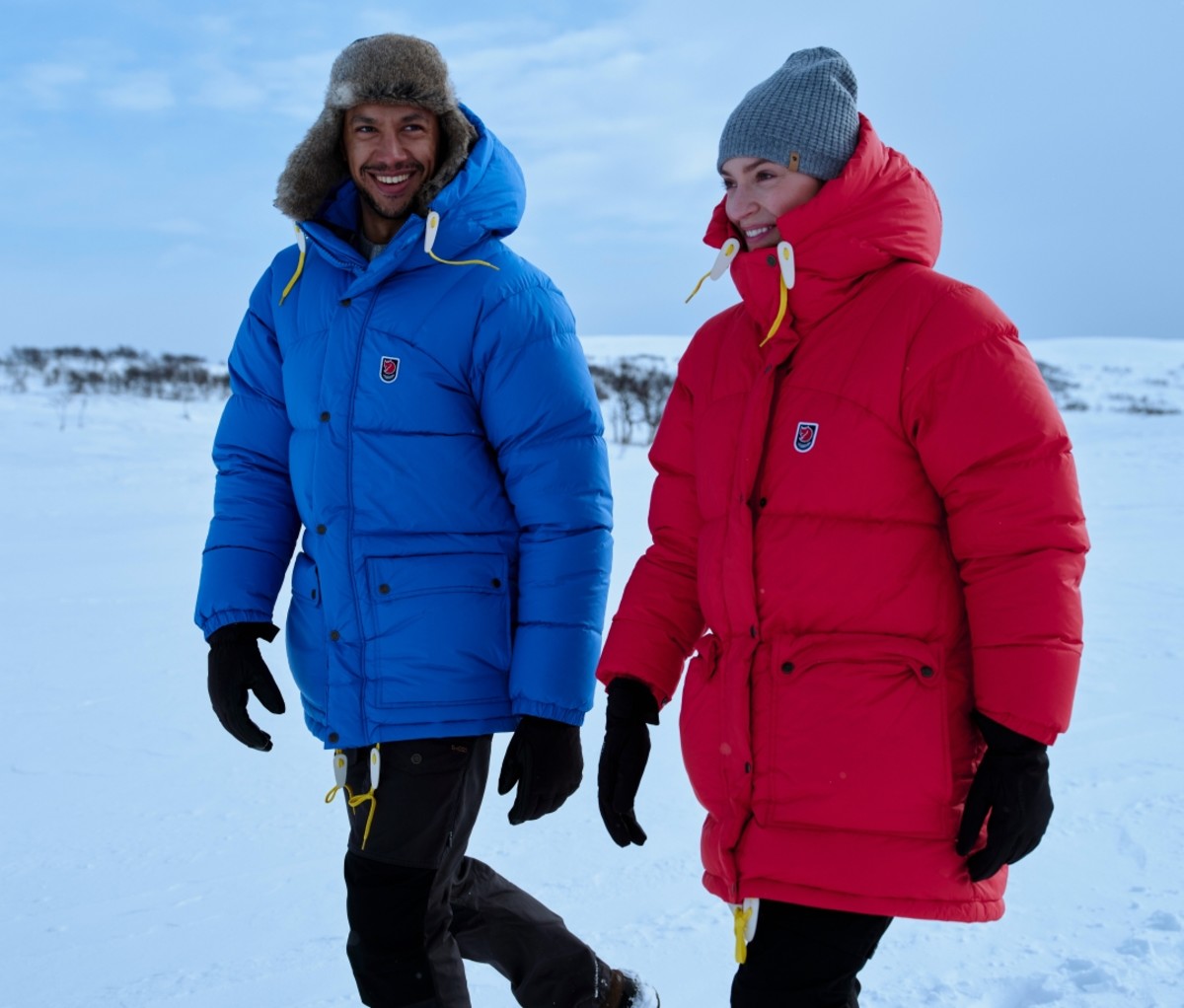 Expedition Series: Reimagining an Icon
The modern Expedition Series jackets expand on Nordin's pioneering concept of comfort in the cold. The line spans the spectrum from lightweight layers like the Expedition X-Lätt to warmer options like the Expedition Down Lite Jacket and the supremely insulated Expedition Down Jacket (reach for that one when winter weather gets really challenging). To create these jackets, Fjällräven's designers fused the '70s original—including its signature bold colors—with modern tech and materials. Of course, like everything Fjällräven makes today, these new pieces are also designed to be as sustainable and long-lasting as possible.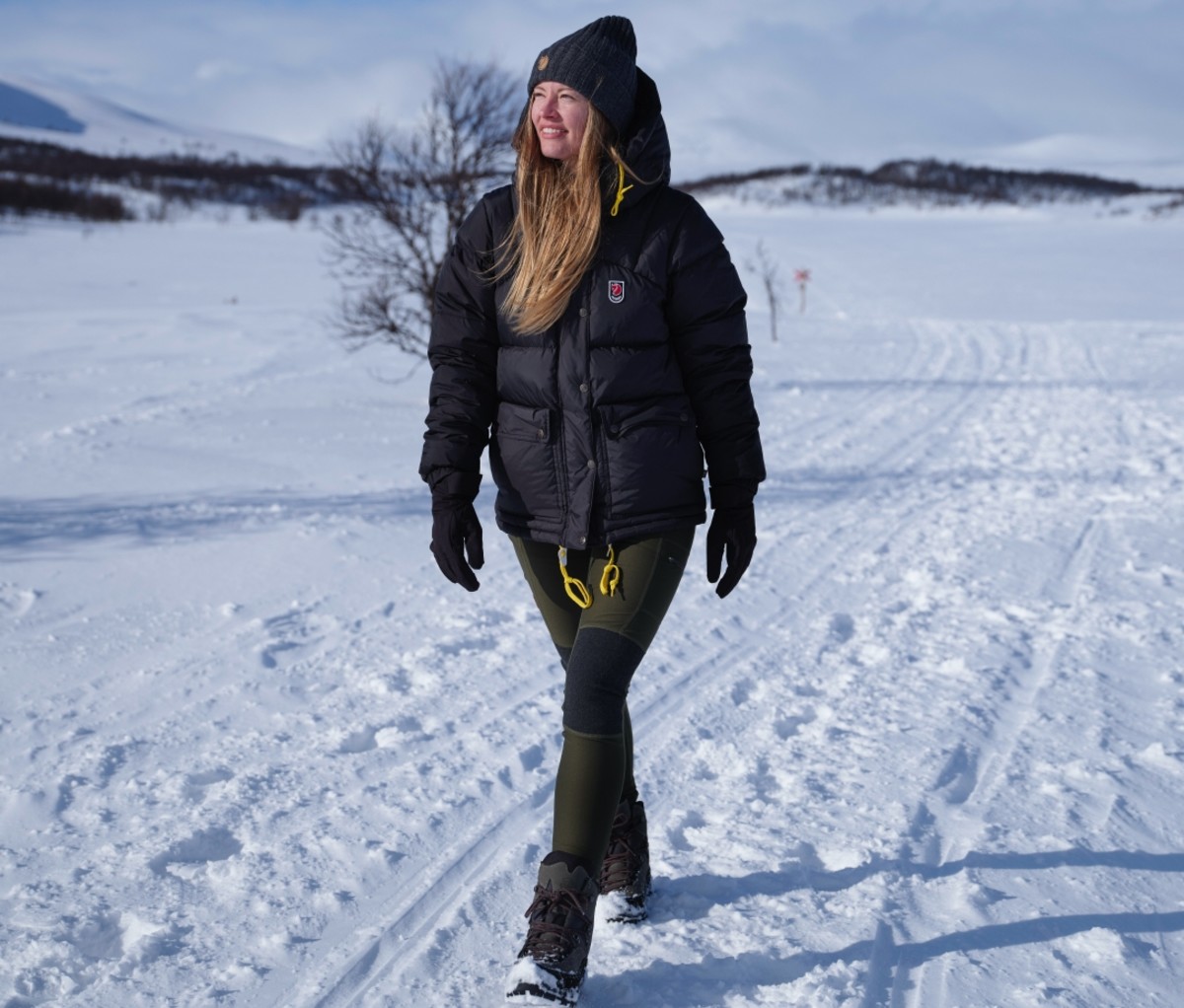 Take the Expedition Pack Down Hoodie for example. It's a lightweight, packable midlayer that utilizes ethically sourced, fully traceable down. Like all of Fjällräven's down products, it adheres to the company's Down Promise, where down is sourced from suppliers who follow strict standards for animal welfare—it's better for the birds and leads to better quality down, too.
The 700-fill down in this hoodie provides superb insulation for cold weather, and it's paired with synthetic padding at the collar (for added support and moisture resistance) and at the shoulders (where it insulates even when compressed under the weight of backpack straps).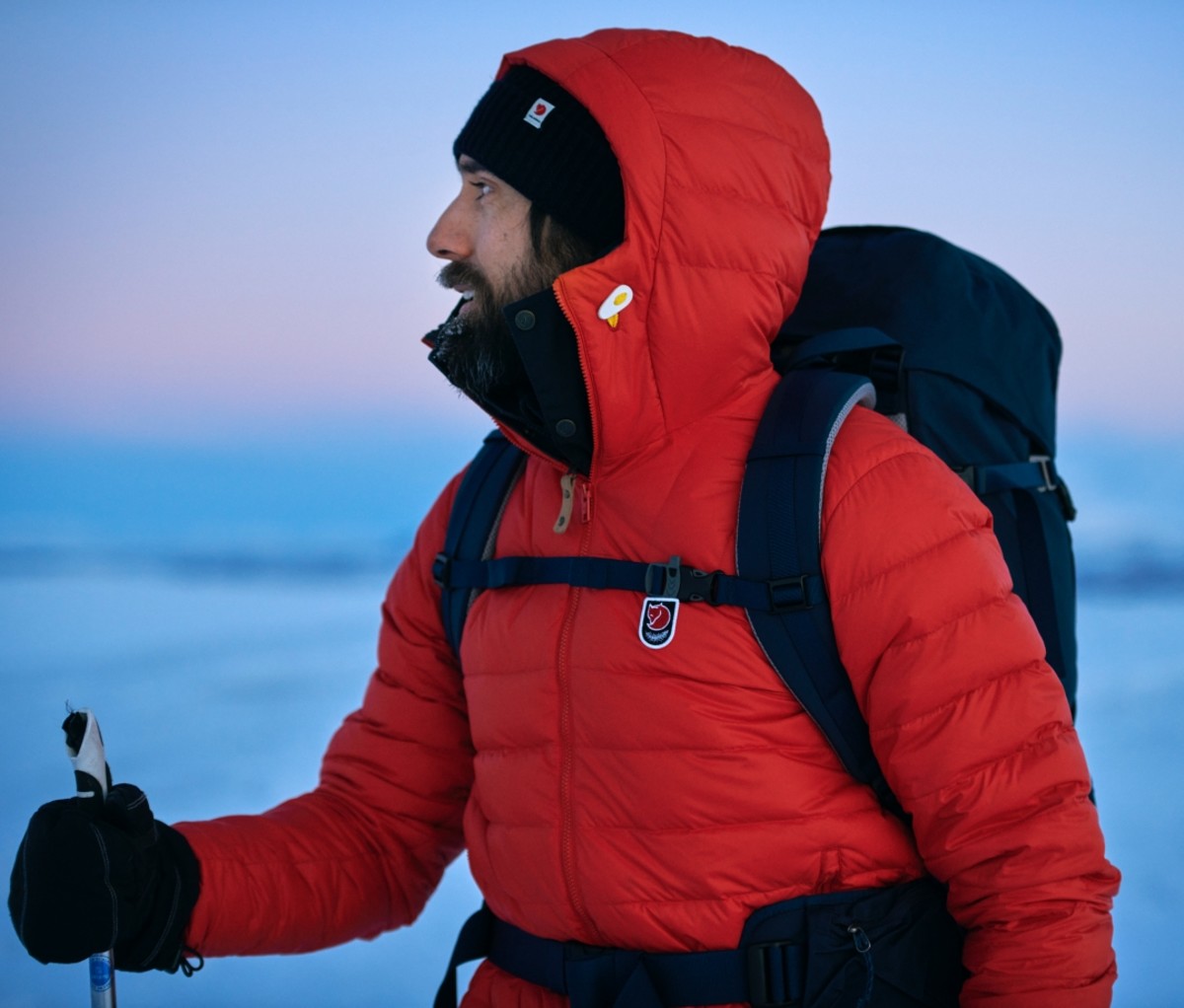 The Pack Down Hoodie puts a strong emphasis on protection as well. Drawcords at the collar and on the hood allow you to cinch the jacket over your face, leaving only your eyes exposed, and a drawcord at the waist (accessed through the side pockets), helps you block out icy winds. Better yet, all the drawcords are designed for easy repair and replacement, so you can keep wearing this midlayer for years to come. In other words, it's built to be a supremely comfortable, hard-wearing winter staple, just like Nordin intended.
"Like the original Expedition Jacket, it offers you excellent protection from the elements," says Lee.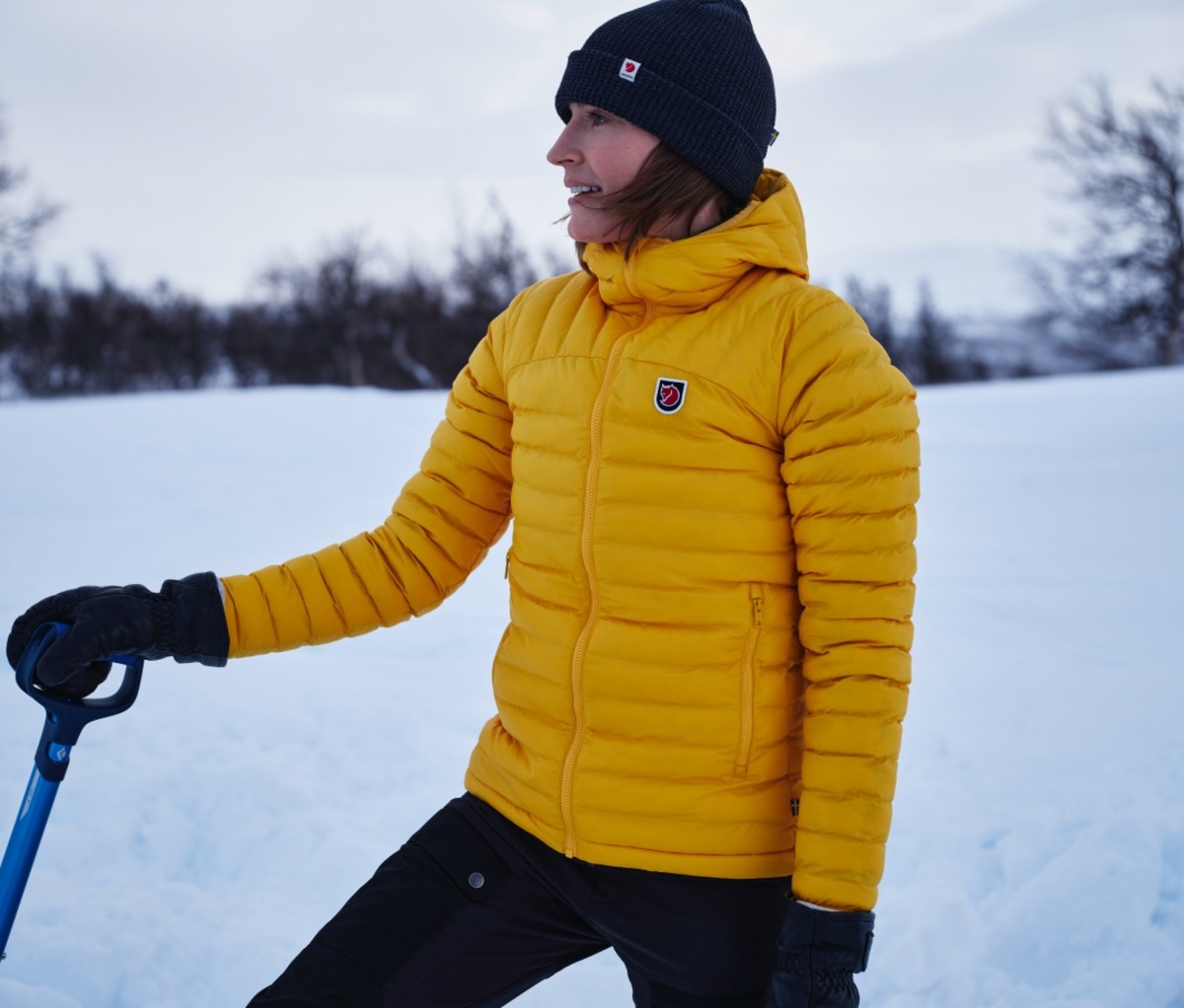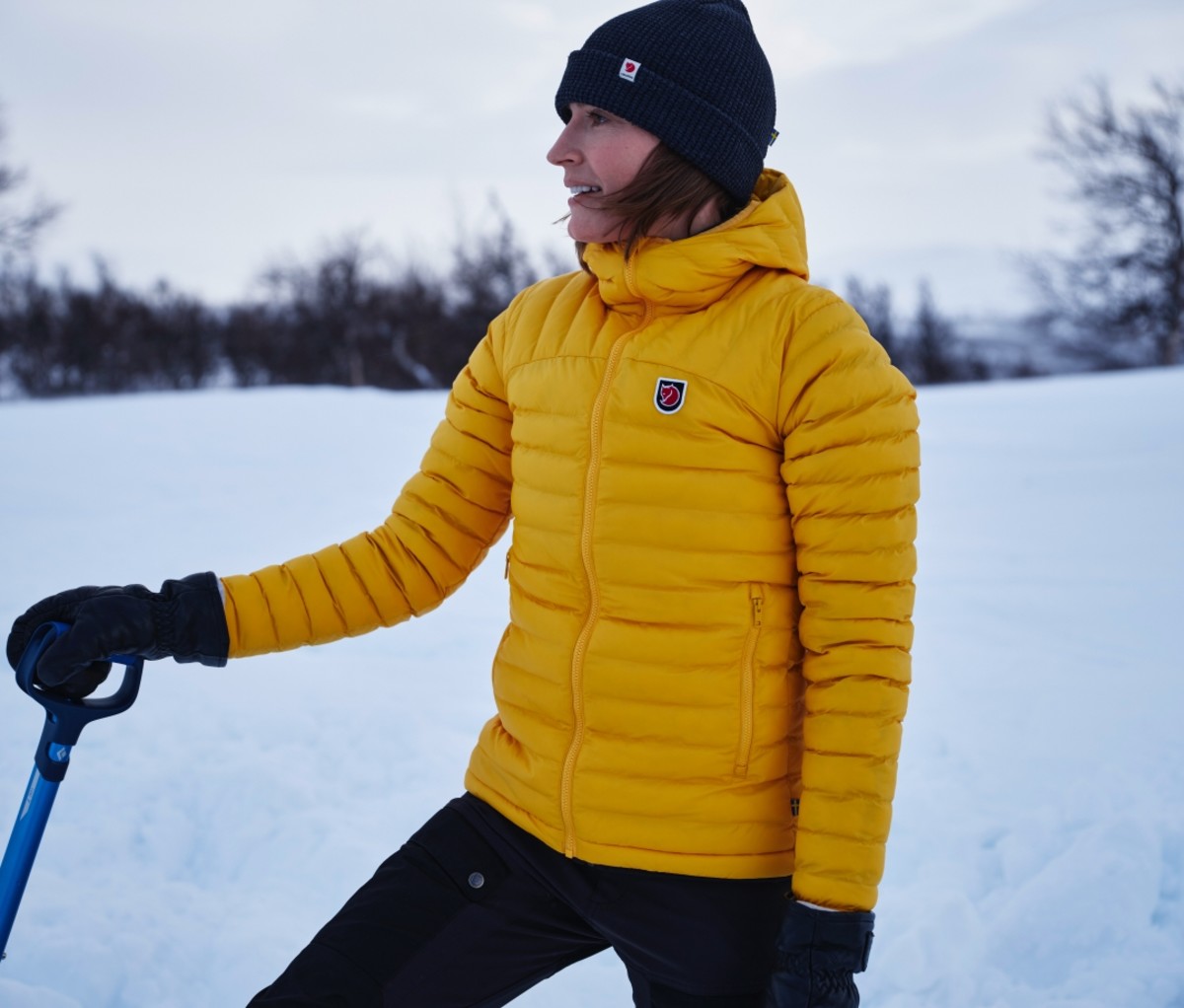 While the Pack Down Hoodie stays close to the original, the Expedition Lätt Hoodie innovates on Nordin's pioneering design with a focus on synthetic insulation and overall versatility.
"It's a lightweight, packable, and sustainable midlayer," says Lee. "It's a great jacket for all-year-round outdoor activities, or during daily life."
The key differentiator is its insulation. It's made from 100-percent recycled polyester, but unlike typical synthetic padding, Fjällräven uses polyester fibers, which more closely mimic the loft and comfort of down. In addition, the material offers better wet-weather performance than feathers.
"Synthetic insulation, compared to down, retains its insulating abilities when wet," says Lee.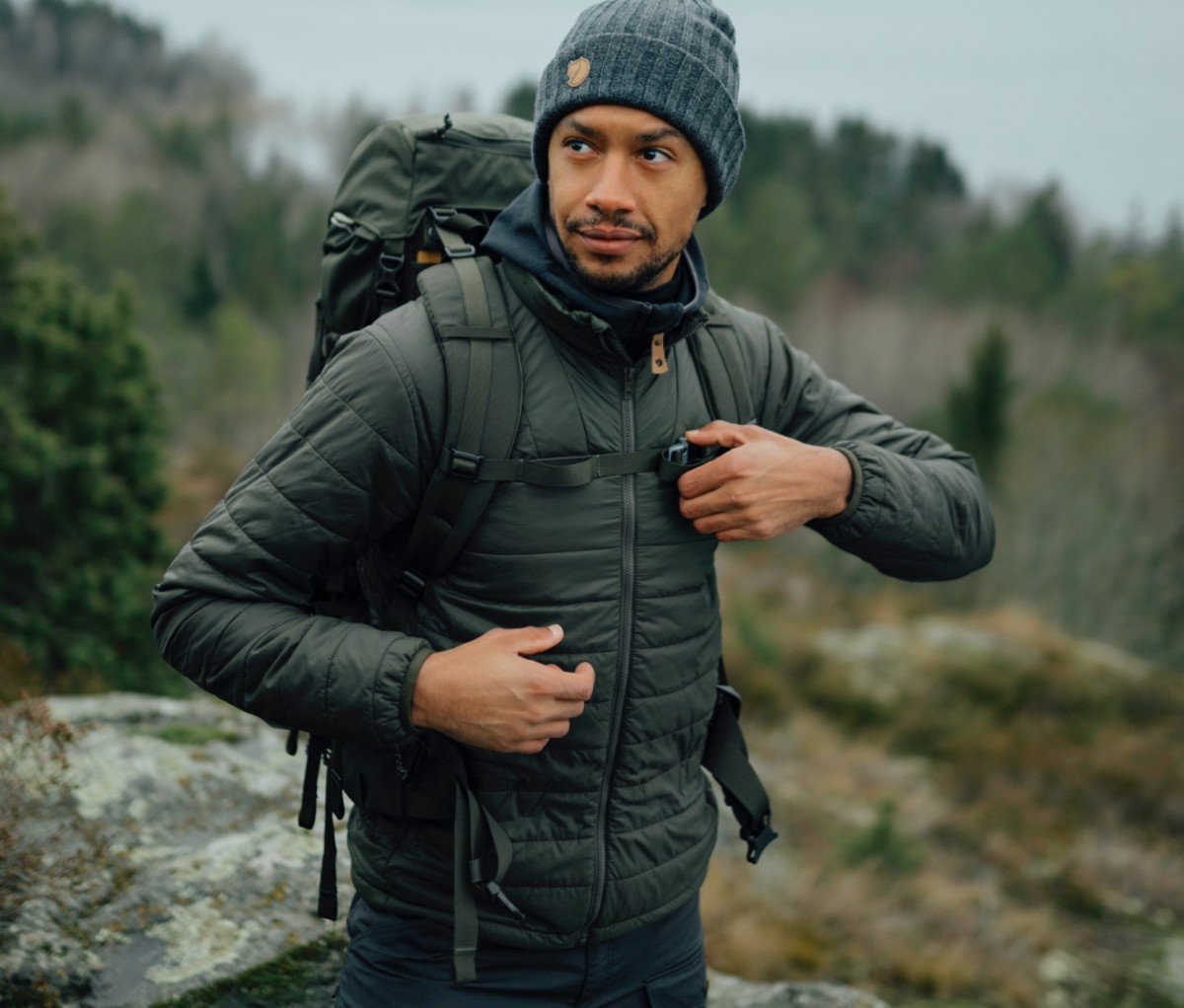 Fjällräven also went to great lengths to make this piece as sustainable as possible. In addition to the recycled insulation, the Lätt Hoodie utilizes 100-percent recycled nylon for its lining and outer shell, and it's coated with a PFC-free DWR treatment to repel moisture. And like the Pack Down hoodie, the drawcords are engineered for easy replacement. With its resilient insulation and sleek design, it's built to be a capable pick for all kinds of winter adventures.
"This makes it a great midlayer to combine with a shell jacket," says Lee. "It also has a great hood if you want to wear a helmet on top of it."
Need something exceptionally warm? Reach for the Expedition Long Down Parka. It's longer length, combined with 700-fill down and synthetic padding, creates a cozy feel and effective warmth no matter what the forecast looks like.
"It has a really protective and insulating design," says Lee. "It's great for low-pace activities, such as walking in the snow, or if you're stationary."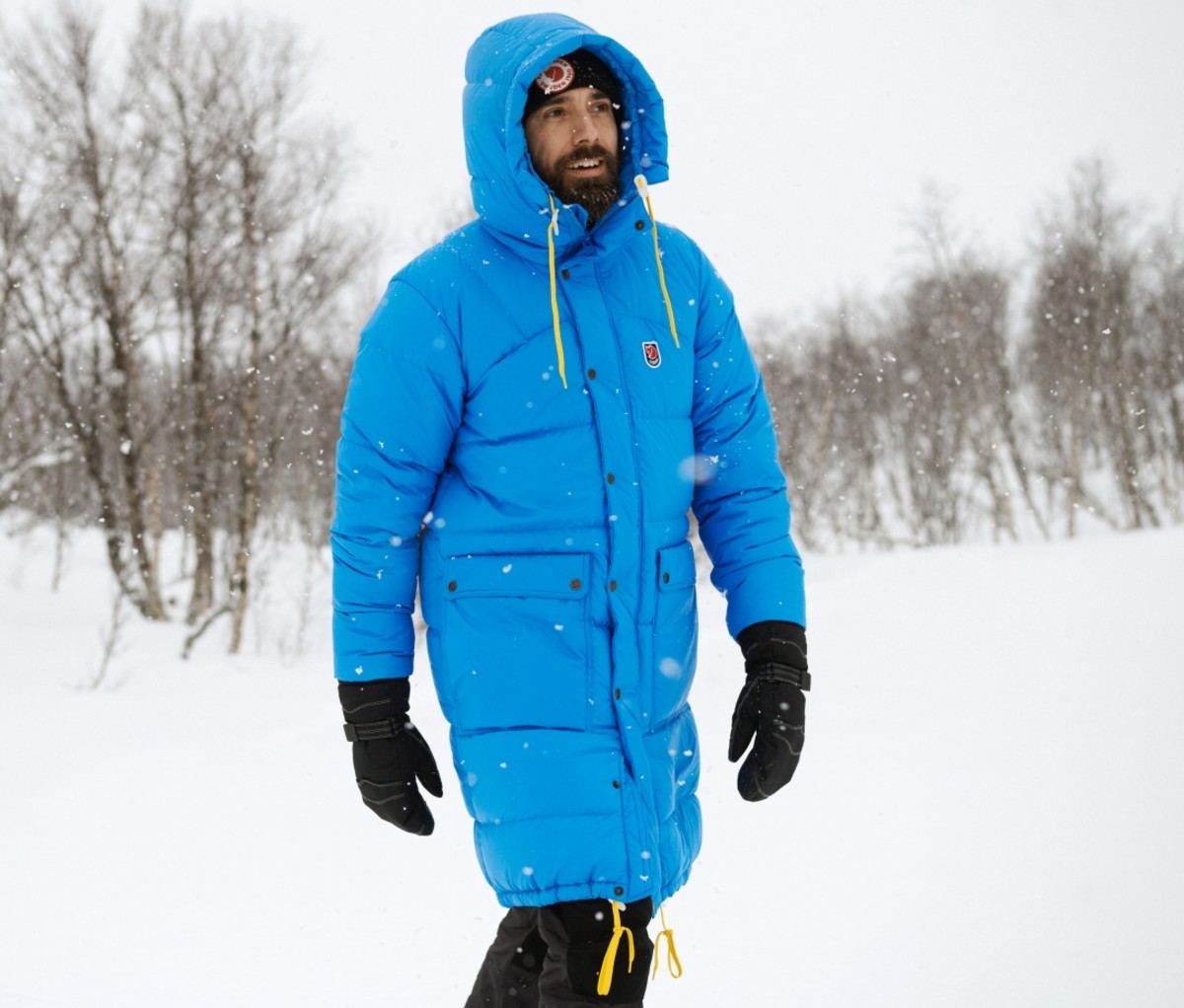 Constructed from a recycled nylon shell and lining, the Parka hits just above the knee and utilizes the same ingenious insulation technique Nordin pioneered on the original Expedition Jacket. Recycled polyester padding is placed closer to the body—because it resists moisture and bounces back quickly when compressed, the padding continues to insulate as you move or if you happen to sweat. Down is placed on the outside, and the baffles between the two layers are offset to prevent cold air from leaking through, just like Nordin devised on his first jacket.
The Parka's adjustable hood and drawcords at the hem and waist allow you to order up even more protection when you need it, and its generous storage pockets make it easy to carry all your essentials. It's a technical layer that's perfectly adaptable to everyday life, too.
"It's really comfortable and surprisingly lightweight for its size," says Lee.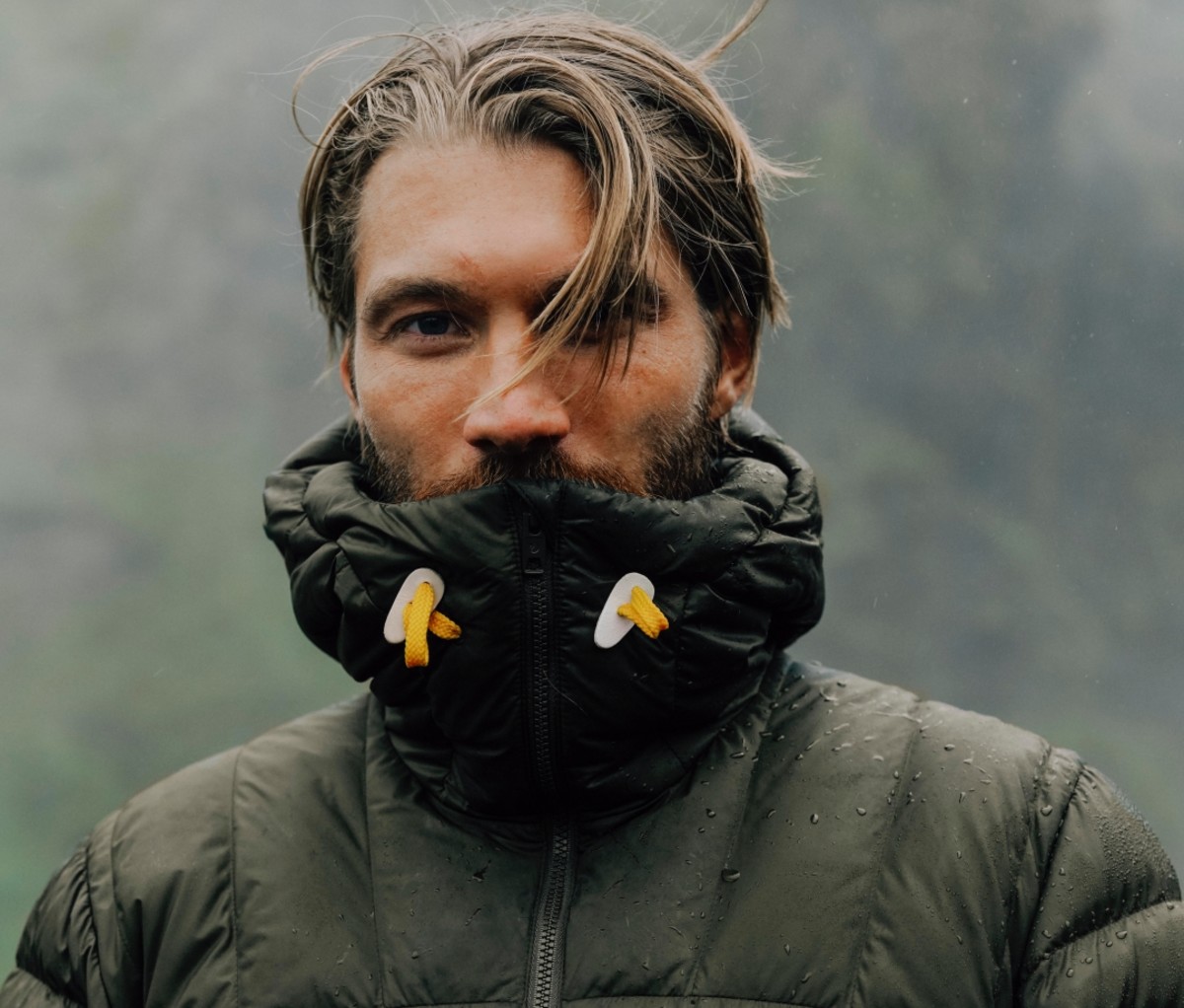 Designing a Better Way to Winter
To create the Expedition Series, Fjällräven's designers had to check a lot of boxes. The pieces had to be capable in the cold, of course. They had to be durable and utilize more sustainable materials, like recycled nylon or polyester and traceable down. And they had to be stylish and comfortable to wear. Fortunately, Fjällräven has long been an expert in all of these areas, and the team had a healthy head start: The first Expedition Jacket, which had already proven itself in wintry environments across the globe.
"​​There's such a rich amount of inspiration surrounding the Expedition concept," says Lee. "We only had to look back through the archives."
Where will your Expedition jacket take you? From ice climbing in the mountains to ice fishing on a frozen lake (or just taking a stroll around the block), these pieces combine Fjällräven's cold-weather prowess with the latest in sustainability-minded performance, so you can enjoy all that winter has to offer.
Hibernating is for bears. It's time to embrace the season.
For access to exclusive gear videos, celebrity interviews, and more, subscribe on YouTube!