Branded Content
Fjällräven's Keb Trousers Are the Go-Anywhere Pants You Need
This article was produced in partnership with Fjällräven.
You could say Fjällräven's Keb Trousers are the ultimate globetrotters. They've powered through intense gym workouts, traversed windswept Canadian islands, and endured expeditions across Europe, Africa, and the U.S. Made from rugged fabric that flexes to withstand with every twist and tumble, these trousers excel in every environment.
It's hard to find a pair of pants that can keep you comfortable both in the gym and in the backcountry, but that's where Kebs shine—and why they've become Pax Frias-Donaghey's pants of choice. He's one of the partners at Restore Human, a personal training studio in Vancouver, BC, and he might be the trousers' biggest fan. He created the hashtag #keblife because his Kebs fit into his studio-to-trail lifestyle seamlessly.
"We do personal training for the outdoors," he tells Men's Journal. "It just makes sense to wear the trousers as we train people to hike, canoe, or do anything outside."
Frias-Donaghey isn't the only fan. Keb trousers have become a favorite among several other coaches (and some clients) at the studio, as they're flexible enough for squats, lunges, crawls, as well as hauling packs and throwing around sandbags.
Of course, they're a great pick for the outdoors, too: Frias-Donaghey has worn his Kebs around Newfoundland's remote Gander Island, on the steep North Coast Trail and Grouse Grind in Vancouver, and most recently, during a 155-kilometer open-water canoe paddle to Cortes Island on the coast of British Columbia.
They're his trouser of choice because they can handle extreme abuse. The G-1000 Eco recycled polyester-organic cotton fabric is supple but super tough. Extra reinforcement on the knees, pockets, and rear ensure those areas don't wear out over time—essential for high-octane outdoor adventures. Compared to other capable trousers in the G-1000 family, this pair is heavier than the weather-resistant Vidda Pro Ventilated Trousers but lighter than the fully lined Barents Pro Winter Trousers.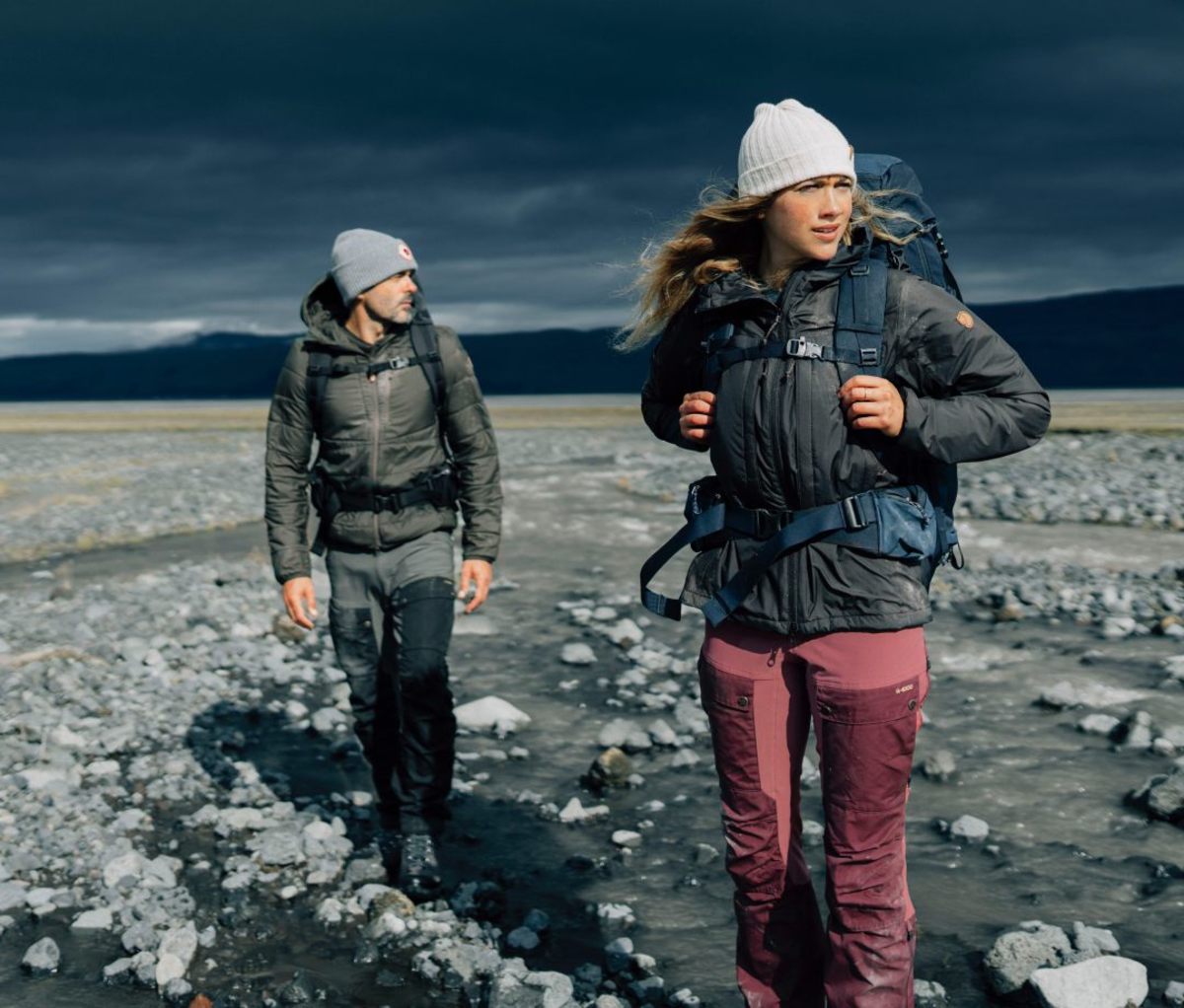 Like all Fjällräven trousers, Kebs offer plenty of storage with two roomy pockets on each thigh, while maintaining a sleek, fashionable profile that's just as practical in the city as it is in the wild. Other features include a limber gusseted crotch for great freedom of movement, generous ventilation zippers to dump heat, loops at the waist for carrying gear, and attachments for suspenders—ideal for getting a snug, slouch-free fit. Boot hooks at the leg endings and loops for stirrups add even more functionality, whether you're trekking on foot or on horseback.
While Frias-Donaghey hustles up a trail in his Kebs, Knight Campbell's pair might be helping him work his way through an ambitious climb. Before discovering Keb trousers, Campbell, an outdoor guide and CEO of Cairn Leadership Strategies, used to tear every pair of pants he owned while high-stepping, heel-hooking, and mantling during climbs. Not so with Fjällräven's trousers: His trusty Kebs are still intact despite daily wear and numerous ascents. That includes a recent multi-pitch rock climbing leadership adventure in Joshua Tree, where the rocks are compared to cheese graters.
"They look brand new," Campbell says. "Like I didn't even climb there."
When he's not climbing, his Keb trousers have taken him through many backcountry and cross-country skiing outings, and they're even his first choice for networking events. They're a conversation starter. Everyone wants to know where they can snag a pair.
"Someone grabbed me walking into a coffee shop in Shenandoah National Park two weeks ago," Campbell says. "They were like, 'I have to know where your pants are from.'"
Wildlife photographer and National Geographic grantee George McKenzie Jr. has experienced a similar curiosity from others while wearing his Keb trousers, especially when he's unphased by icy temperatures in his home of Brooklyn. He was first introduced to Fjällräven seven years ago on an expedition to Canada's Banff. Clad entirely in the legacy brand's apparel while walking on a frozen lake, he was never cold. On that trip, McKenzie learned "there's no such thing as bad weather, only bad gear," he says.
His Keb trousers are a particular favorite. He notes their weight-to-warmth ratio is superior and so is their versatility. McKenzie is currently working on a project capturing portraits of rats, and he's also known for his photos of pigeons. Getting up close and personal to shoot wildlife requires lots of kneeling on hard surfaces, but his Kebs are prepared for that. He just slips knee pads into the trousers' built-in pockets to protect his joints on pavement.
Like most pairs of these rugged trousers, McKenzie's Kebs have also racked up many miles in far-flung places. For photography missions and for leisure, his Kebs have taken him through Malawi, New Zealand, all over Europe, and across the U.S. McKenzie can't imagine life without them.
"I wear my Kebs everywhere I go," he says.
[$225; fjallraven.com]
Get it
For access to exclusive gear videos, celebrity interviews, and more, subscribe on YouTube!