The Garmin Fenix 3 is part of a new breed of fitness-focused smartwatches. As big, well-known technology companies like Apple, Google and Microsoft encroach on the fitness tracking market, Garmin (and several others) are battening down the hatches for a war that, in all likelihood, they can't win. Android Wear watches like the LG Watch R already does basic fitness tracking that will only get more sophisticated. The Microsoft Band got a lot of attention for how it molded the smartwatch notification experience with ten sensors to track your body—with an admittedly bulky result. And Apple is about to release the Apple Watch, already ordering up 5 million units in anticipation of a huge release.
All that said, there's something really great about a fitness-first, smartwatch-second timepiece like the Garmin Fenix 3. It's similar to last year's Fenix 2, another heavy, multi-sport watch with GPS support, but with a new interface and a few added tweaks that make it a very capable and stylish, if bulky and expensive, fitness watch.
Design-wise, the Garmin Fenix 3 is as rugged as they come—heavy, with about three ounces of heft and a 1.2-inch, 218-by-218 ppi (pixels-per-inch) screen, and comes with both a metal bracelet and a rubber band that you can swap out. I have somewhat small wrists, so the metal bracelet was way too large for me, and it doesn't come with the tools to shorten it, so I had to stick to rubber for most of my time using it.
Fitness Trackers For Style And Function>>>
The 300 mAh lithium-ion battery doesn't sound impressive on paper, but it should be capable of up to 50 hours in UltraTrac mode (the basic step, fitness-tracking and notification mode), along with up to 20 hours in hardcore GPS training mode and up to 6 weeks in watch mode, where it will, well, tell you the time. I found this to be pretty accurate, and on days I didn't use the GPS training function, I only used about 30% of the battery. Recharging is easy and secure. A part of the charger pops out when pressed and held, you place the watch in, and then release it. It'll never fall out.
Here's the rub: There's no touch screen functionality. Smartwatch lovers will be a little put-off by this, but this makes sense for fitness watches. You don't want your settings to change when you're working out, and you probably want to save as much battery as possible. Instead, there are five buttons on the sides of the Fenix 3: up, down, start/stop, back/lap, and light. Each ones functions a little differently—and changing your settings can be a bit of a pain this way, as well as taking some getting used to—but it's worth it knowing that you're secure in the settings you choose and they won't change when your wrist rubs against something.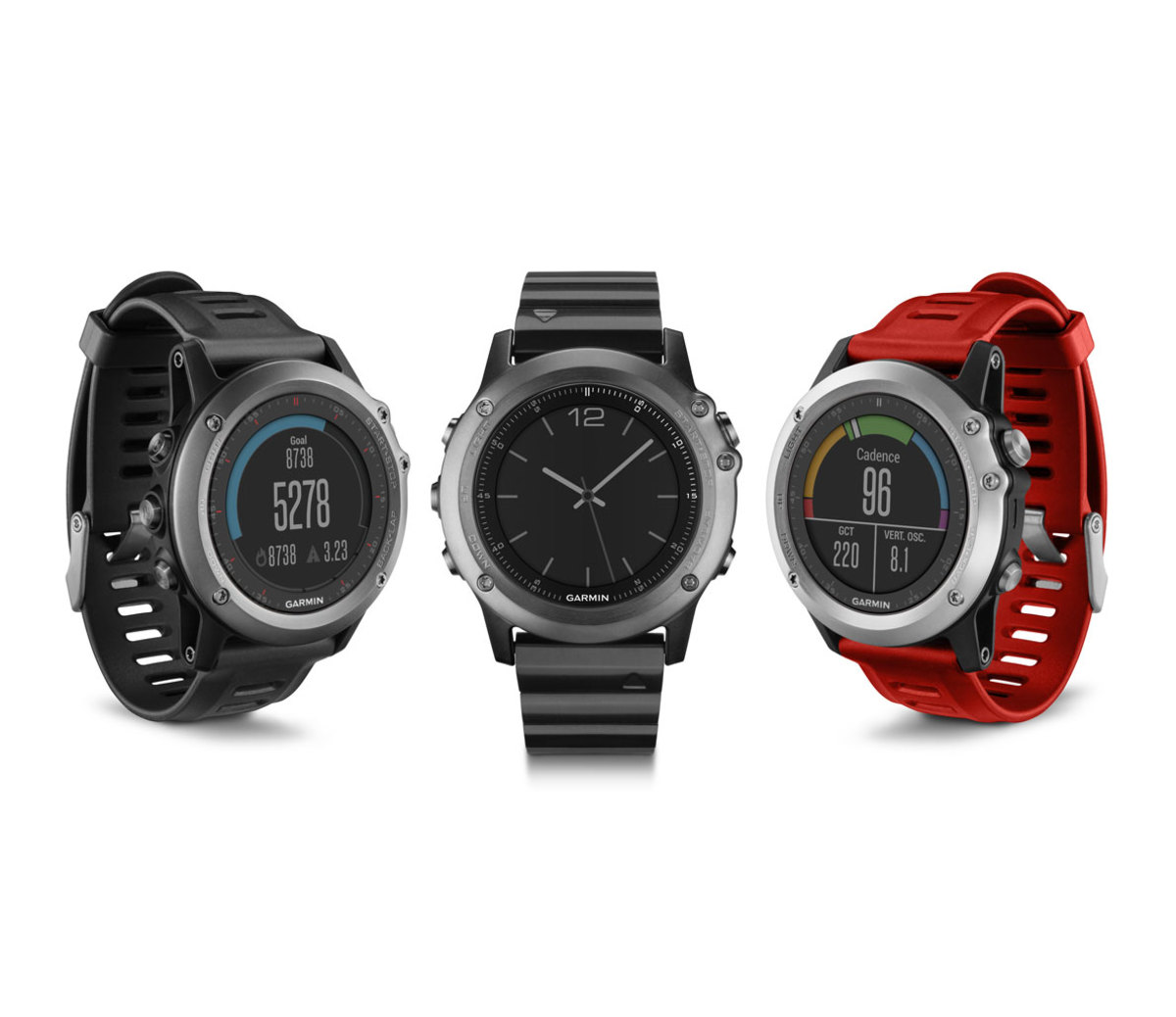 The face has many customizable features, including the format of the time itself—analog, digital, different colors and styles for the seconds ticker—as well as modes when you press up or down. In order, these include steps you've taken toward your steps goal and calories you've burned, a compass, an altimeter, a barometer, temperature, and smartwatch notifications (once you connect to Garmin's Connect app). These is serious adventure stuff, folks, and while it's easy to nerd out on, it's a little tougher to verify how accurate this is. In any case, I love these features. If you're a super-athlete—who this stuff is geared to—it could probably come in handy assuming you know what to do with that info. If you're not, it's still really neat stuff to show off.
And then there's the purpose of the product: GPS training mode. Once you click the start button on the side from the face screen, you can scroll through a variety of workout modes: trail run, run, climb, hike, ski, bike, swim, and a couple others. If I click the "run" option, a timer appears and runs in the background, and you can click up and down in the running mode to view a timer, distance, pace, and lap time/distance (you can confirm you've made a lap with the "back/lap" button). The options continue from there: pick a pool size like 25 or 50 meters to start the pool training mode; if you're climbing, measure your ascent and decent using the altimeter. There's no weight training mode, but you can create customs workout modes that might work for you. The watch will automatically add your steps and calories burned to the day's total.
One nitpick I have: Unlike, say, the Fitbit Surge, there is no continuous heart rate monitoring. The Fenix 3 has other cool tricks up its sleeve, like a VO2 max estimate and obviously the GPS that can save routes for running and highlight your favorite spots, but you need a heart rate monitor across your chest in order to get your target heart rate. It's likely that Garmin left heart rate monitoring out of the mix because of how inconsistent it is on other smart watches, or because it would add even more bulk to an already bulky watch. With a price tag of around $500, it should definitely be included.
But all in all, the Garmin Fenix 3 is a sleek operator in the guise of a rugged, masculine watch. Unless you're a serial lifter, you'll get fine use out of the Fenix 3 as both a training watch and a basic smartwatch. Even if you have skinny wrists, like me. Is it worth $500? Only if you're a super-serious athlete or someone who thinks a barometer on their wrist is brag-worthy. Anyone else, there are other less pricey options.
For access to exclusive gear videos, celebrity interviews, and more, subscribe on YouTube!