I own the best vehicle ever made. It is the 2000 Toyota Tacoma extended cab with a 2.4-liter 4-cylinder and a 5-speed. I find today's Tacomas are just too big, and I'm not alone. Back when she was in better shape, suitors would leave me written offers on her windshield, sometimes for more than I bought her for. Of course, that just made me love her more. I get 27.5 miles to the gallon highway (verified) and I've got 210,000 miles on the odometer.
Problem is, she is utterly gutless. Few onramps are long enough or flat enough for me not to upset the many L.A. drivers stuck behind me. If I happen to have both my bikes, a couple shovels, a day's worth of water and a change of clothes, I can feel that weight off the line. So, when I found myself thinking about testing a rooftop tent, I wondered if she could take it. Not just the weight, but the aerodynamics. I didn't want to lose that highway gas mileage, especially if I'd be going on the roadtrips you tend to take when you have a rooftop tent. Also, I didn't want some giant gray cube on my little Taco. Again, she's the best vehicle ever made. She's gotta look good.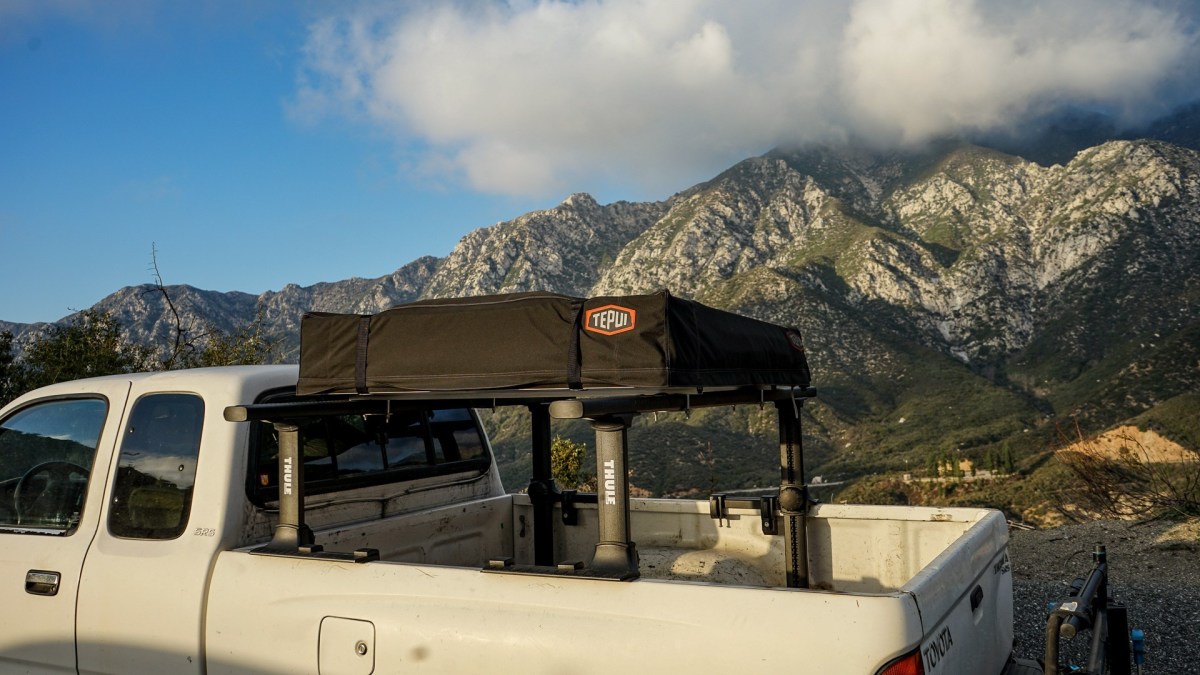 That's why I tested the Tepui Low-Pro 2. It's the lowest-profile soft-shell tent I could find. It's just over 9 inches tall, and that's on its thick edge (also verified). It tapers down to just over 6 inches on the thin edge. That's compared to 11 inches straight across for Tepui's other two-person options, which are already impressively slim. For comparison, Tuff Stuff's similar tents are 13 inches. Skycamp's are 14 inches. Yakimas are 16.5 inches (all claimed, not verified).
A small bit of that height savings is thanks to Tepui's thermoplastic base, which they make a point to mention is recyclable. Some of it is in the sleeping pad. It seems the going standard is 2.5 to 3 inches of padding, while the Low-Pro offers 2 inches.
Another factor that separates Tepui's tents from their competition is the mounting method, which is simply a couple of bolts and a couple of plates in a couple of sliding aluminum bars. On the opposite end of the spectrum is Yakima's Sky Rise tents. Granted, those clamps are better-looking and more user-friendly, but they add at least two inches of height to the whole package. If maximum installation convenience is a priority over minimum profile, Yakima is worth a look. But we're talking about an awkward 100-plus-pound object with no handles. You'll probably be leaving it up there.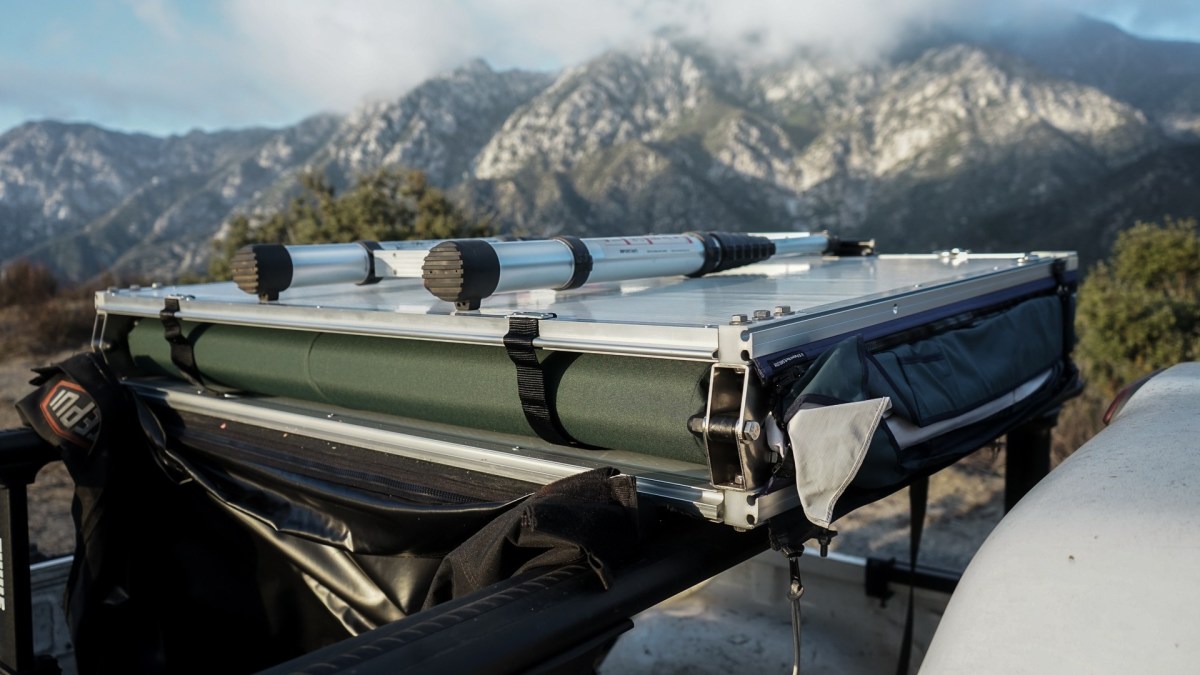 That low profile will be increased slightly if you choose to leave the ladder attached to the tent, but it's quick to remove and install if you'd rather just keep it in your garage. The same is true about the included rain fly. It will fit in there if you want it always at the ready and installed, but it makes closing the zip-on waterproof canvas cover a bit more clumsy. With much of my use during a Southern California summer, I simply skipped the rain fly half the time. Of course, it took me two months to realize I could install and uninstall the rain fly when standing in the tent with the top panels open. No need to climb on your car's roof.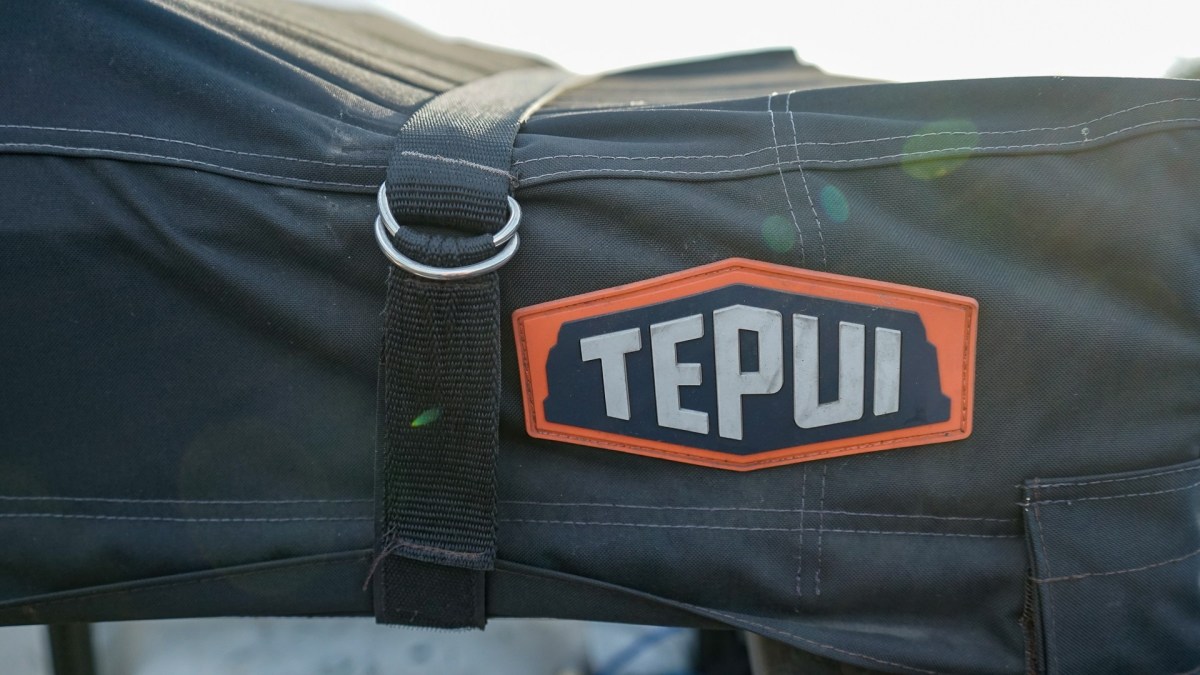 The d-ring straps that keep the tent and its cover secure when closed are equally awkward. My favorite reason for having a rooftop tent is ease of setup. Unzip, unfold and you're ready for bed. But that said, d-ring strap closures are used for a good reason. They're reliable. If a plastic buckle were to get old and brittle after years in the sun, the consequences of it allowing the tent to fly open on the highway could be disastrous. It's probably worth the 10 seconds per strap, give or take.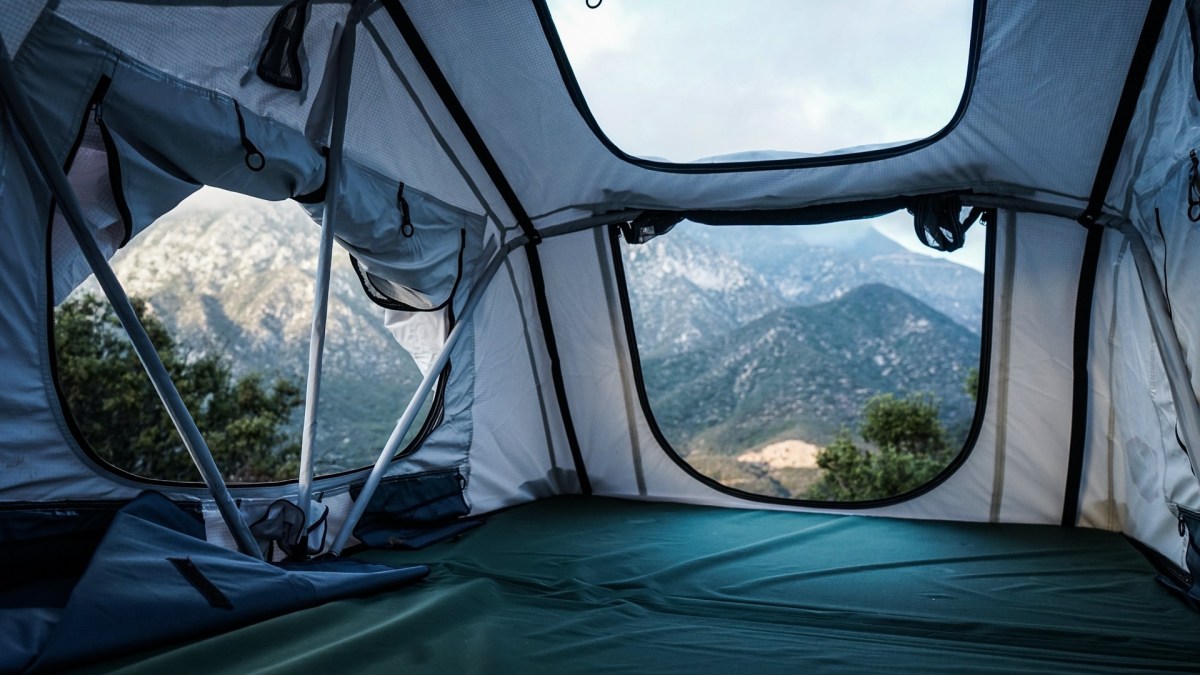 Once it's unfolded, there's no evidence of that slim profile. Nothing feels bare or skimped on, and the construction feels robust. The simple touch of ensuring that each aluminum support is completely sheathed shows the attention to detail. That includes the pad and its cover, which has the rugged hand feel of a pair of Chuck Taylors. It doesn't feel as minimal as the tent looks on the outside, and that extends to comfort. I like a firm sleeping platform anyway, so with a decent pillow, I was fine, while my lady would just pack a thin Thermarest.
The only thing that came up short, so to speak, was the length of the sleeping footprint. Keep in mind, I'm a solid 6-foot-2, and if I were two inches shorter, I wouldn't have noticed. But the size of the pad itself measures a few inches short of the claimed 84 inches. That alone wasn't a big deal, but because the two end walls taper in as they climb to the peak, the front of my head and tips of my feet would rest against them. As a finicky sleeper, I had to lay diagonally to avoid it, and would lay slightly curled up on my side if I was sharing the tent.
Every panel on Tepui's tents has an enormous window, with both a zippered mesh flap and a zippered canvas flap. On warm enough nights, leaving both roof flaps wide open and the rain fly uninstalled makes for an authentic sleeping-under-the-stars feeling, but with the ability to batten down the hatches at any moment.
The coldest nights I spent in the Low Pro never dipped far below 40 degrees, but with everything zipped up, my body heat alone kept it comfy with only my summer sack. On warmer nights, I just used a fleece blanket. For far colder nights, Tepui offers a thermal liner, though I haven't yet tested it.
There's actually a fair bit of customization you can do to this thing. The entire shell can zip off and be exchanged with select other canopies like an all-mesh option for you exhibitionists out there. In fact, Tepui's spare parts options are pretty extensive. Canopies, rain flys, travel covers, small hardware, and even entire frames are available without asking the warranty department to dig through the scratch-and-dents. It's the benefit of brands like Tepui, whose names are synonymous with the product they make. It's kinda what they do.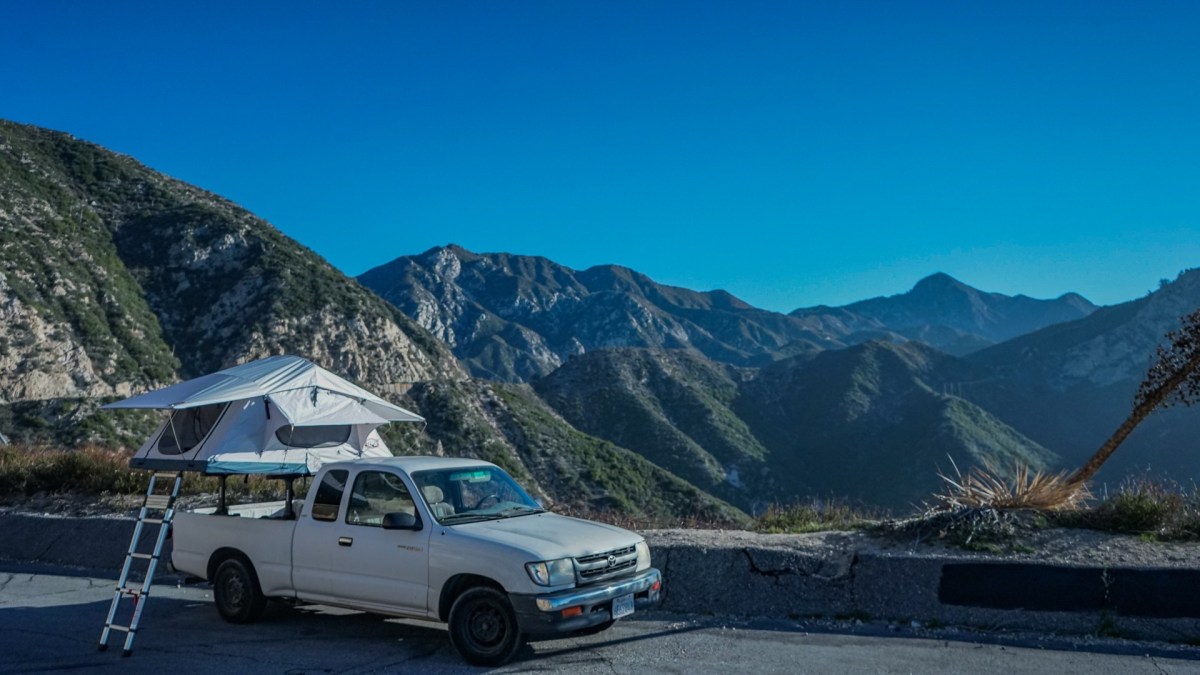 Once the lights are off and you're all tucked in, none of this stuff is on your mind. You're in your own mobile hotel, and you don't even have to live that #vanlife. That's true of any rooftop tent. But what makes the Low-Pro 2 stand out is that it doesn't stand out. I'll probably never bolt a shovel, an extra gas can or a 42-inch high-lift jack up there next to my tent. The 2000 Tacoma extended cab and, in fact, most other daily drivers just aren't suited for that. I just want a comfortable place to sleep when I'm out on adventure and I don't want to think about it when I'm not. The Tepui Lo-Pro is chill like that.
This article originally appeared on Bikemag.com and was republished with permission.
For access to exclusive gear videos, celebrity interviews, and more, subscribe on YouTube!