When you spend your free time outside – in the snow, at the beach, in the woods, in the mud – then you know those familiar feelings of discomfort from sitting in dirt in your car, feeling the crunch of sand in your pants, the pull of twigs in your hair … you catch my drift.
Nowadays, there are a wide array of portable shower systems available so that you can take the luxury of washing off with you. Whether you need to rinse off your dog, your dirty camp dishes, or your sweat-caked body, a portable shower can be a game changer for your comfort and cleanliness. But which system should you choose?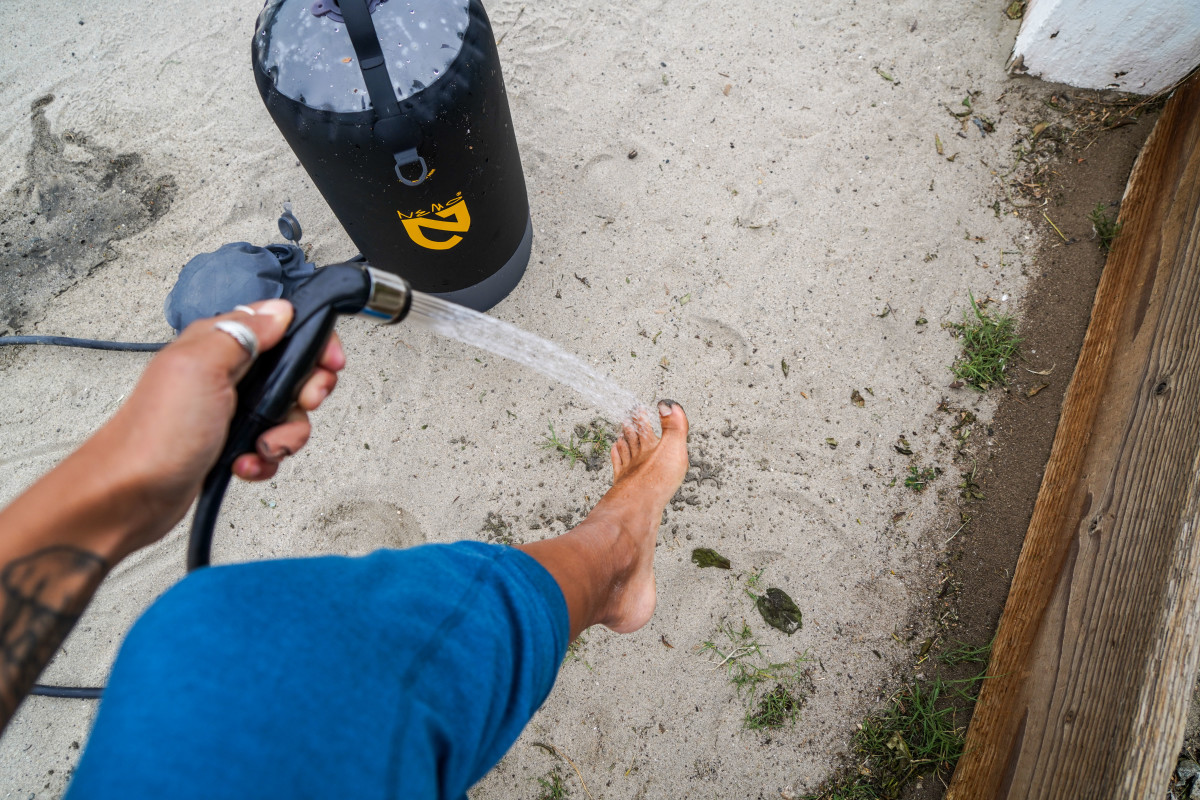 We were drawn to the NEMO Equipment Helio Pressure Shower due to its simple design and compactibility.
Unlike many other portable showers that rely on battery power or gravity to operate, or that can't be re-pressurized if the air pressure is lost, the Helio shower is pressurized manually by stepping on a bladder attached to the side of the bag.
After filling with water and pumping the bladder until the tank expands, you're ready to use the shower. Nemo has constructed their system so that it's impossible to overinflate, and the ability to regulate the pressure yourself allows you to use the shower anywhere without having to rely on overhead places to hang the bag, or worry about having enough battery power to last the trip.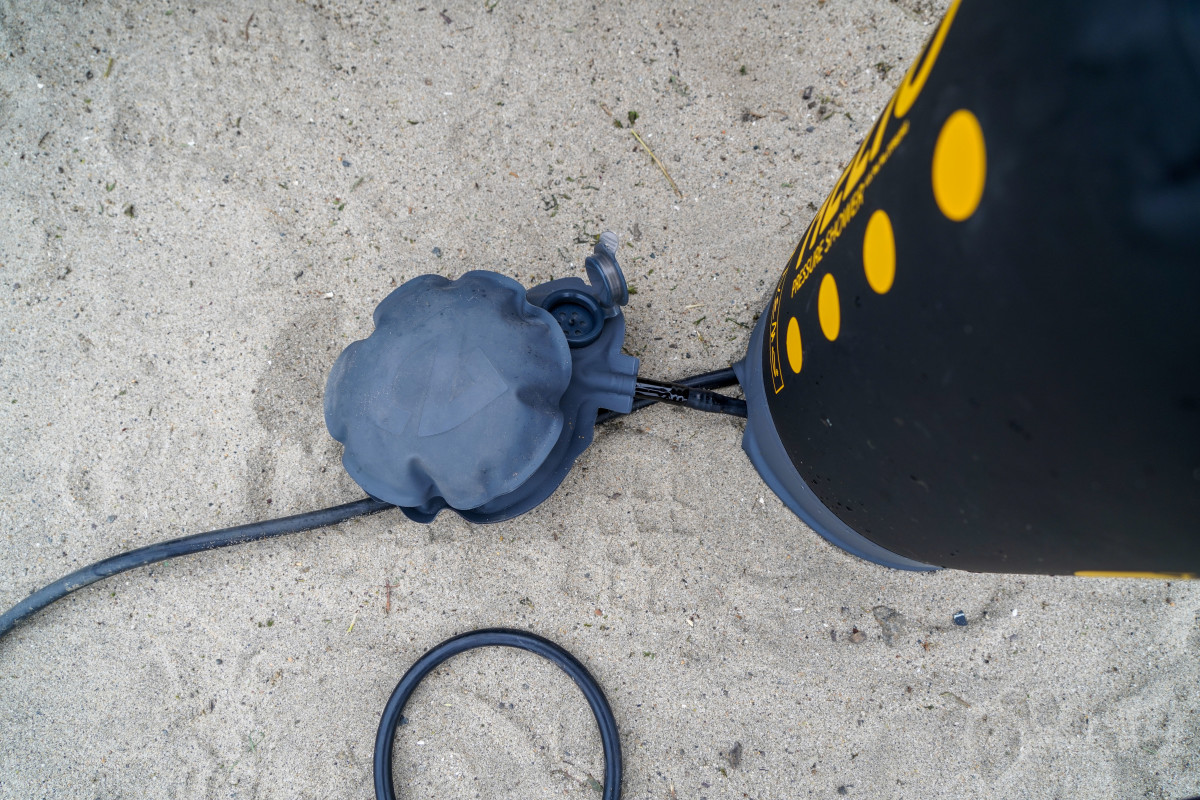 The shower bag holds up to 2.9 gallons of water, and when pressurized can spray for about 5 minutes. The carrying capacity is much smaller, and power of the spray is weaker relative to some of its competitors like the RinseKit, but we found this shower to be superior in convenience: The Helio is easier to fill up and more intuitive in how to use.
Not to mention, when deflated, the Helio can be compressed down to a mere 5.5 inches, which makes it much more compatible for canoe and kayak trips or hiking out to further distances, and can save car space on those packed camping trips. Additionally, the top of the reservoir is transparent, so you can easily see how much water is left in your shower.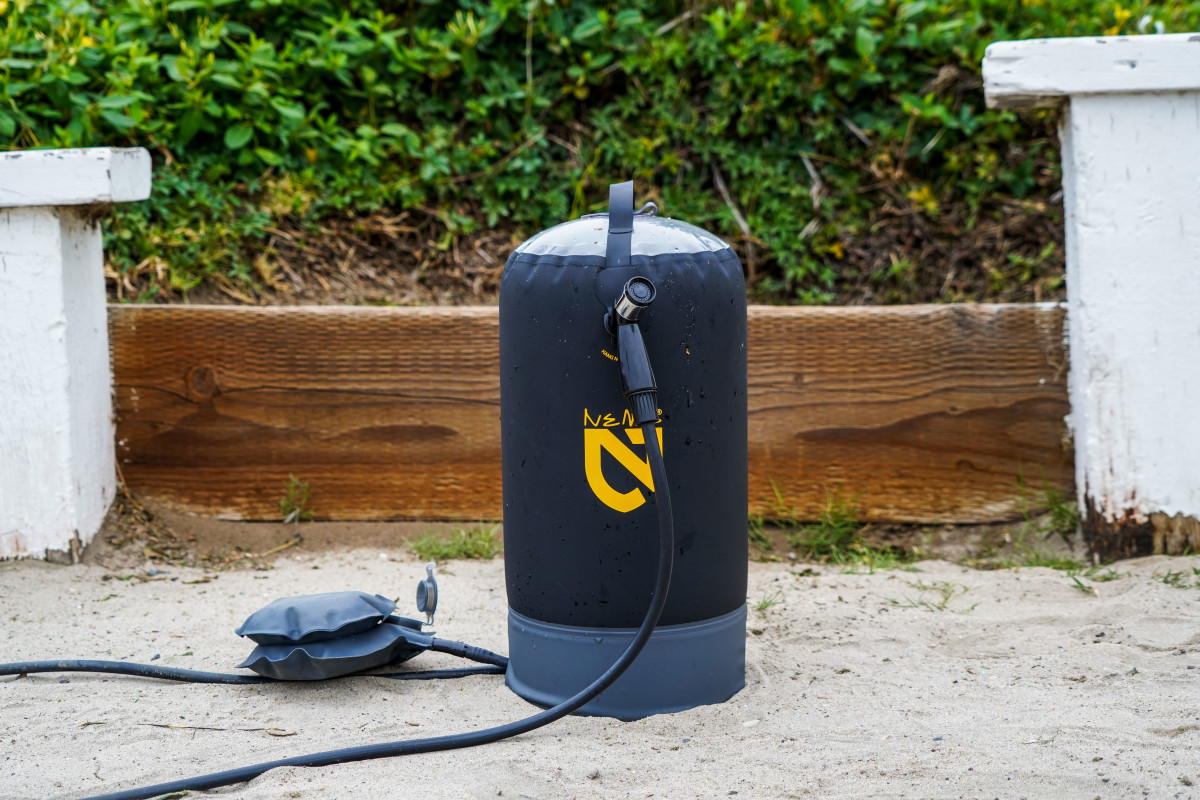 A small but easily fixable concern is that when placed on uneven ground, it can become more difficult to use due to tipping over. However, the hose, which extends up to seven feet, provides some flexibility with being able to use the shower from further away. The shower bag is also equipped with a hook on the side, allowing you to hang up the hose when not in use.
At $99, this portable shower is less expensive than some other portable showers, and is a compact and convenient companion that is well worth the spend.
All photos by Katie Rodriguez.
For access to exclusive gear videos, celebrity interviews, and more, subscribe on YouTube!