California-based Giro Sport Design has launched Chrono, a new line of performance apparel for road cyclists wanting to ride fast and look great. "It's a mix of science and soul," says Giro Marketing Director Dain Zaffke. "We wanted Chrono to be more colorful and in your face." The trim-fitting jerseys and bibs certainly stand out compared to Giro's muted, loose-fitting New Road apparel line, which has since been renamed Venture. Unlike New Road, which was marketed to spandex-eschewing roadies, the Chrono line embraces Strava addicts' love of speed, performance, and eye-catching graphics.
RELATED: The Wireless Shifters That Will Revolutionize How You Ride
Giro will offer three different levels of Chrono apparel: the top-of-the-line Pro, Expert, and entry-level Sport. The three levels are designed to give a cohesive head-to-toe look without the excessive branding of traditional team kit. We tested the new duds in a variety of conditions during a recent leg-shattering ride through the Swiss Alps, and the initial impressions were exceedingly positive.
Shorts are the foundation for any great ride, and the Chrono Pro bib shorts proved worthy of the $250 price tag. Perhaps most notable about these new bibs is the knit lumbar-supporting back panel, made of a stretchier, denser material, which Giro claims reduces back fatigue over a long ride. The chamois features a thick (14 mm at the midsection and posterior), thermoformed open-cell padding bonded to an antimicrobial top layer that kept us sitting pretty for the duration of the five-plus hour ride.
We've always been big fans of baselayers — they better regulate your core temperature in cold and hot weather — but the soft, supple, and super-comfortable Chrono Base ($60) might be the best we've ever worn. As the day heated up and our sweat glands kicked into overdrive, the Chrono Base wicked away all but the faintest trace of moisture. The Base is only available in a sleeveless version currently, but Giro says a long-sleeve version could come next year.
RELATED: The Road Bike Buyer's Guide
The arm and leg warmers ($35) are made of the same material as the Chrono base. Pulling the arm warmers out of our jersey pocket after a torturous climb, they were damp from back sweat, but dried almost instantaneously. Paired with the Chrono Wind Jacket ($120), we were able to stay comfortable during an early drizzle, as well as when we hurtled down the mountain in excess of 50 mph. The impressively lightweight jacket folds down into the size of a baseball, making it easy to stash.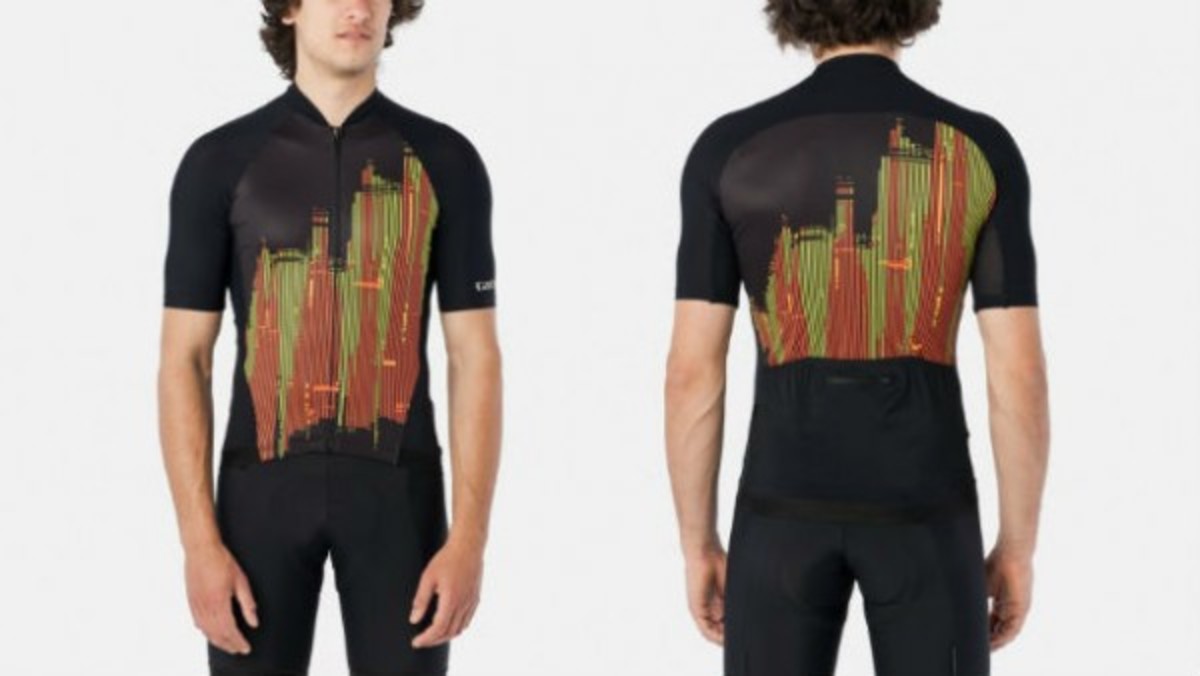 The Giro Chrono Pro Jersey
The full-zip Chrono Pro Jersey ($180) dries quickly and breathes well (thanks in part to its mesh side paneling). The Pro and Expert ($100) jerseys feature the standard three-pocket back, as well as a zipper compartment to keep your ID and cell phone safe. The vibrant Skyline Flame graphic (above) ensured we were looking good even when we were struggling up the steepest grades. And in keeping with the head-to-toe theme, you can also purchase a matching cycling cap, gloves, and socks. The Chrono line items use race-fit cut, so consider ordering a size up if you prefer a bigger fit. [giro.com]
For access to exclusive gear videos, celebrity interviews, and more, subscribe on YouTube!