For many professional athletes, charitable giving is a perfunctory process dictated by an accountant. But for Hall of Fame golfer Ernie Els, raising money for autism is personal. In 2008, his son, Ben, was diagnosed, and soon after, Els and his wife Liezl began committing incalculable amounts of their time and $6 million of their money to create a center in Jupiter, Florida that will function not only as a school for children within the spectrum, but also as a research facility. In order to help reach the center's funding goals, Els partnered with BirdieBox to create the Els for Autism Box — a collection of golf equipment curated by the four-time major champion with proceeds benefiting the Els for Autism Foundation.
We caught up with "the Big Easy" just before The Players Championship to discuss the challenges faced by the parents of autistic children, how his foundation hopes to help, and where he'd play his final round of golf.
As a father of an autistic child, what advice can you offer other parents?
When autism touches your life, it changes everything; it changes your priorities. As a parent it's tough to know where to turn to find information, help, and support. When you speak to other parents, though, that can be a great resource for knowledge and comfort that you aren't the only one going through it.
Many families on the spectrum are crying out for knowledge and advice – their kids need assistance and the proper education — and generally speaking that's been somewhat lacking around the world. That's why Liezl and I established the Els for Autism Foundation and have fought so hard and put so much energy into building the Center of Excellence. We have a profile through golf and sport, which means we can raise awareness of this incredibly common condition, which affects 1 in 68 children in the U.S. And through the Center of Excellence, we can try to help as many people around the world as we can, in a fundamental and meaningful way. So the advice that I would love to be able to give to parents is, "You're not alone; there's help out there."
Why BirdieBox?
Pat DePirro from BirdieBox came to us and wanted to create a curated box that included some great gear from my sponsors, such as TaylorMade TOUR Preferred balls, a special edition blue lion head cover from Daphne's, an Ernie Els Collection polo shirt, Zero Restriction outerwear, Stable 26 socks, and an I-ONICS Power Sport band. Each box also has an autism early-warning signs brochure in there. The team tells me that the box price is roughly half of what these items would collectively retail for, plus a percentage of the proceeds goes to Els for Autism. And the timing has been perfect, launched at the beginning of April, global Autism Awareness Month.
How else can people get involved?
One of the most fun ways people can get involved is through The Golf Challenge, a series of regional tournaments played at some of the finest golf courses in the U.S. and Canada. The series tees off on May 11 at Trump National Doral, which hosts the WGC — Cadillac every year, so that's a chance for players to test their skills on one of the toughest layouts on the PGA TOUR.
Also on the schedule are Harbourtown Golf Links and TPC Boston, alongside major venues such as Baltusrol, Congressional, Hazeltine, and Chambers Bay in Washington, this year's U.S. Open venue. The highest fundraisers from the events progress to the Grand Finale in Las Vegas — that's a really fantastic weekend. Non-golfers can also take part and qualify for Vegas through the Gallery Club. Really, the Golf Challenge has been a huge success. It enables people to have a great day's golf with friends, and at the same time really engage with this wonderful cause and be part of building a better future for individuals and families on the autism spectrum.
Where would you play your final round of golf?
I'd probably fly down to our house at Herold's Bay in South Africa, get a whole bunch of friends and family together, and play 18 holes at Oubaai. It's a beautiful golf course, our first golf course design project in my homeland, and it always makes me happy playing there. We'd then have a Braai afterwards and a few glasses of red wine — the Ernie Els Signature red, obviously. That's a pretty perfect day, right there.
For more information on Els for Autism and The Golf Challenge, please visit: www.elsforautism.com.
[Els for Autism BirdieBox, From $80; birdiebox.com]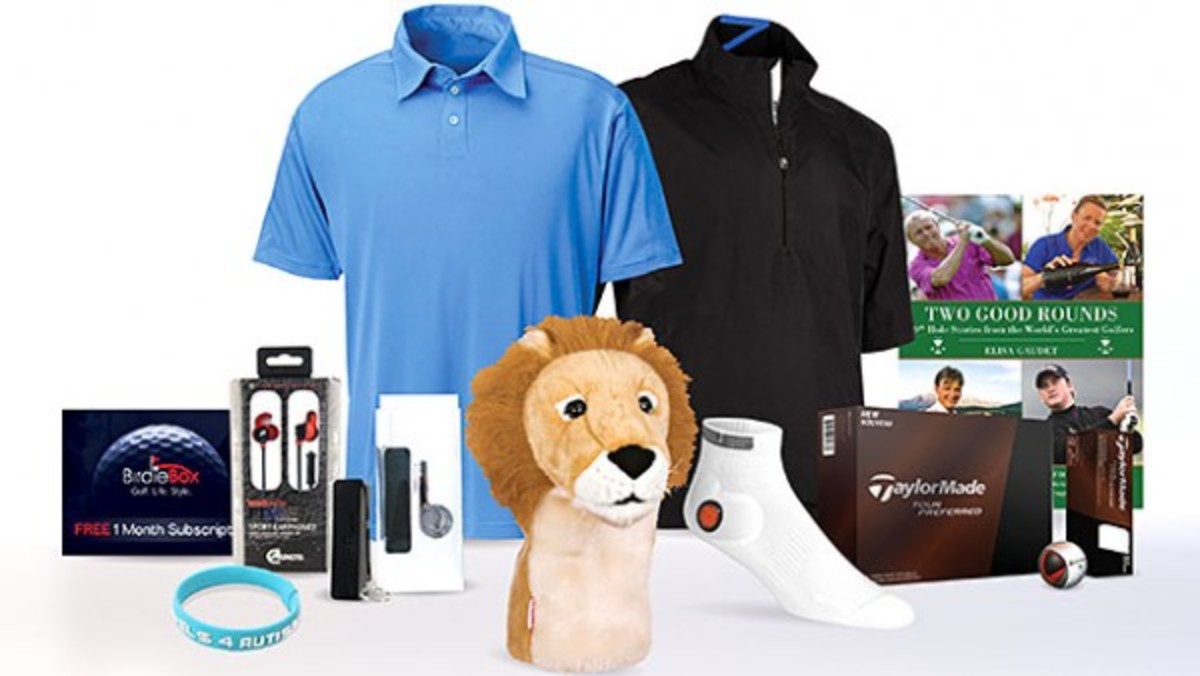 For access to exclusive gear videos, celebrity interviews, and more, subscribe on YouTube!