When the redesigned Fat Bob premiered in the fall of 2017, it was the breakout star of Harley-Davidson's new lineup of motorcycles. Its tough street style, with matte paint, rectangular LED headlamp, fat tires, and stubby fenders, resonated with everyone from millennials to baby boomers, from zealots to newbies. At the bike's debut, the heritage brand had just announced that it was altogether discontinuing its coveted Dyna platform and, of course, purists were pissed. But this badass Fat Bob (almost) single handedly muted the cries of heresy. There was no denying it: This bike is cool.
First, a primer: Bobber style is tres chic in motorcycles these days. Fellow heritage brands Triumph and Indian each have one in their product lines; Harley-Davidson actually has two—this and the slimmer Street Bob. The name "bobber" originally stemmed from the clipped fenders that were vogue in '50s Hot Rod-era cars—as well as bikes. The stripped-down style successfully straddles the line between the gaudy, American Chopper custom bikes of the early aughts and the simpler, trendy cafe motorcycles of a few years ago. Meanwhile, the low, foot-forward riding position puts the pilot closer to the engine and the road, bringing the roar and the rush right up close. So not only do they ooze minimalist cool, bobbers are a kick to ride, blending chopper chill with street bike intensity.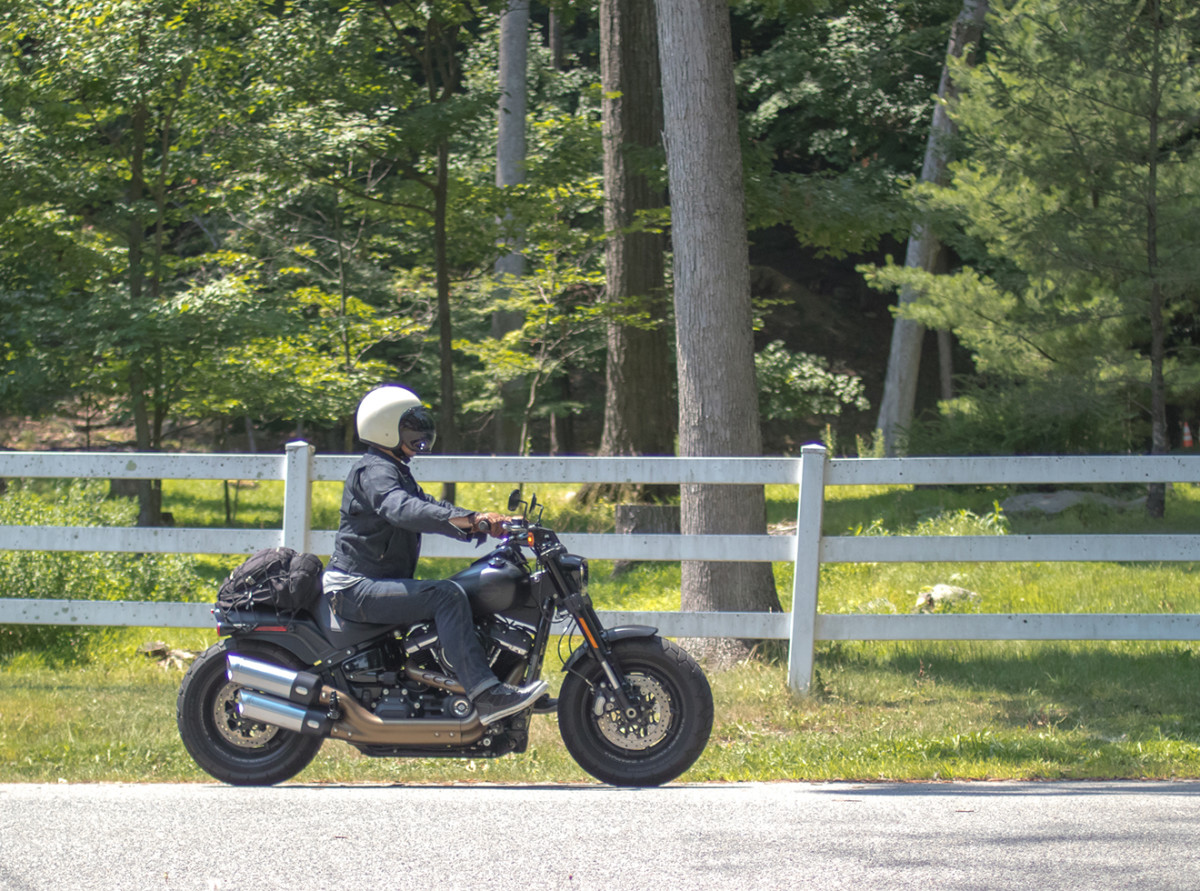 With its broad shoulders and burly hips, the Fat Bob could be called the muscle car of motorcycles. It's tough, it's powerful—and it's not for the timid. The 107-inch Milwaukee-Eight is the same eager 1,746cc V-twin engine that powers H-D's touring bikes, so that signature Harley rumble is quite intact, thank you very much. It's got the bobber look in spades, with sparse affectations: single dial gauge; bullet tail lights; matte paint. Even the engine is fully blacked out, with chrome accents few and far between. The exhaust cover has a nice copper patina, and the thick, upswept dual exhaust cans provide serious hot rod roar. Fat tires complete the brawny appearance.
Muscle car aesthetics aside, the Fat Bob chews up the miles like a muscle bike should—and it's more comfortable and versatile than it looks. This bike's just as happy leaning into lazy country sweepers as it is powering through potholes and other pitfalls of urbanity. And with a relatively comfortable riding position—at least, compared to the bobbers mentioned above—it's actually quite amenable to the long haul; you'll just want to score some saddlebags from the catalog.
Throttle is smooth throughout the power band; just give the grip a twist and the Milwaukee-Eight delivers, whether you're threading through traffic or powering up to highway speed. No matter where you are on the tach or in the gearbox, the dual counterbalancers keep vibrations subtle without rattling your molars. Now, as a rule Harley-Davidson doesn't provide horsepower figures, but there's plenty of throttle left on the top end. Even in sixth gear in the fast lane, a healthy twist will bring the Fat Bob from 65 mph up to 90 (or beyond) in a matter of seconds. Not that we'd know, understand.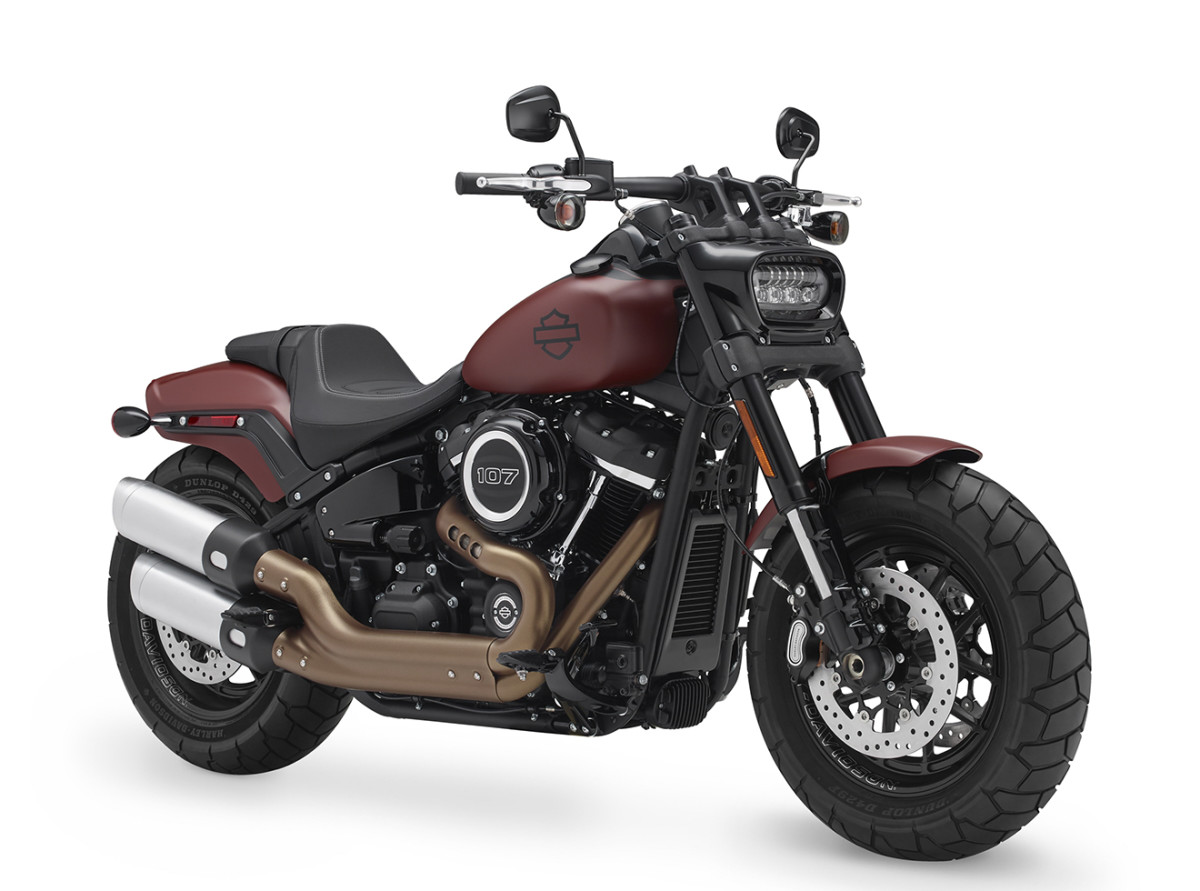 Thanks to that clipped rear fender, the passenger pillion is tiny. As such, the passenger footpegs are so far forward they're really just slightly behind the saddle, making for a nice alternative foot position for the rider—always a blessing after an hour or so on the road. And this actually provides an even sportier riding position in the twisties, pitching the rider forward and offering a fantastic, "locked-in" perspective for diving into corners and powering out of curves.
Another benefit to rider position is the adjustable handlebar. Loosen four Allen bolts and the slightly bent bar rotates fore or aft, raising the hand grips higher as they roll forward away from the rider, or dropping them lower and closer if they're rolled back. Clever in its simplicity, the difference is slight but should a massive difference for Fat Bob owners of all sizes—especially considering the bucket seat provides little or no wiggle room. It's soft and comfortable, but once you're in it, man, you are down in it and there's nowhere else to go. In another benefit for riders of varying sizes, the rear monoshock is easily adjustable with the twist of a knob.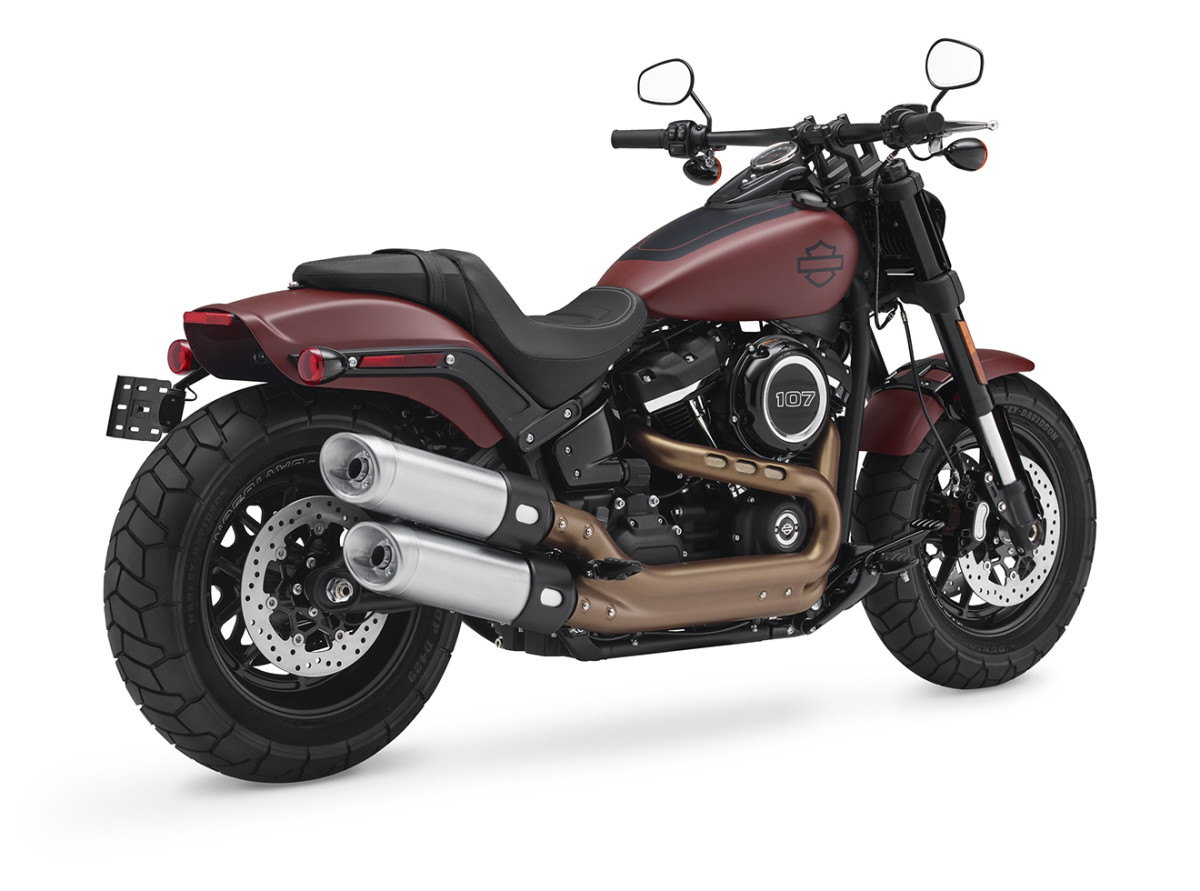 If there's a drawback to the Harley Fat Bob it's that, on paper (or your screen), its squat, stubby appearance can be deceptive. Rest assured this is not an entry-level Harley; the 28-inch seat height will likely prevent most shorter riders from flat-footing it at stop lights. And full of fuel and ready to ride, the Fat Bob tips the scales at a portly 675 pounds. Plus, the relatively tight 64-inch wheelbase and fat tires often wrestle with one another at slow speeds, making parking lot maneuvers and traffic jam negotiations more of a chore than they need to be. Newbie riders who want Harley prestige and style without Harley size and power would be wise to opt instead for the 750cc Street Rod.
Also, despite the aesthetics that make it stand out from the rest of the product line, the Fat Bob is expensive. The all-black scheme starts at $16,999, while color options begin at $17,399 (prices—but not much else—are subject to change for 2019). Meanwhile, the smaller, lighter bobbers mentioned above start about $5k less. But it's not a fair comparison; despite the bobber name and style, because of its size and power, the Fat Bob doesn't have much in common with those motorcycles.
Bottom line: Like the muscle cars of yesteryear, the Fat Bob is big—and it's spectacular. If you aren't afraid to make a statement with muscle car style and Big Twin rumble, open your wallet and just ride.
For access to exclusive gear videos, celebrity interviews, and more, subscribe on YouTube!