This article was produced in partnership with Houdini
As we move through space and time, we make memories, gain wisdom, collect stories, and enjoy experiences that shape the fabric of our lives. In many ways, the clothing we wear symbolizes who we are, what we've seen, and where we've been. Just like every scar has a backstory, so does every hole, stain, patch, pill, and wrinkle. And the longer our garments last, the more they have to share. That's the premise behind Houdini's "The Storyteller" series, in collaboration with Polartec, a creator of premium, sustainable textile solutions. The two are celebrating 30 years of category-defining fabric innovations (yes, it's a partnership made in sustainable heaven).
Not every piece of clothing accompanies us through all seasons of life. Think about how many times you wear the items in your closet. On average, a garment sold today is worn only 10 times before it ends up in the trash, only adding to the world's growing pile of textile waste.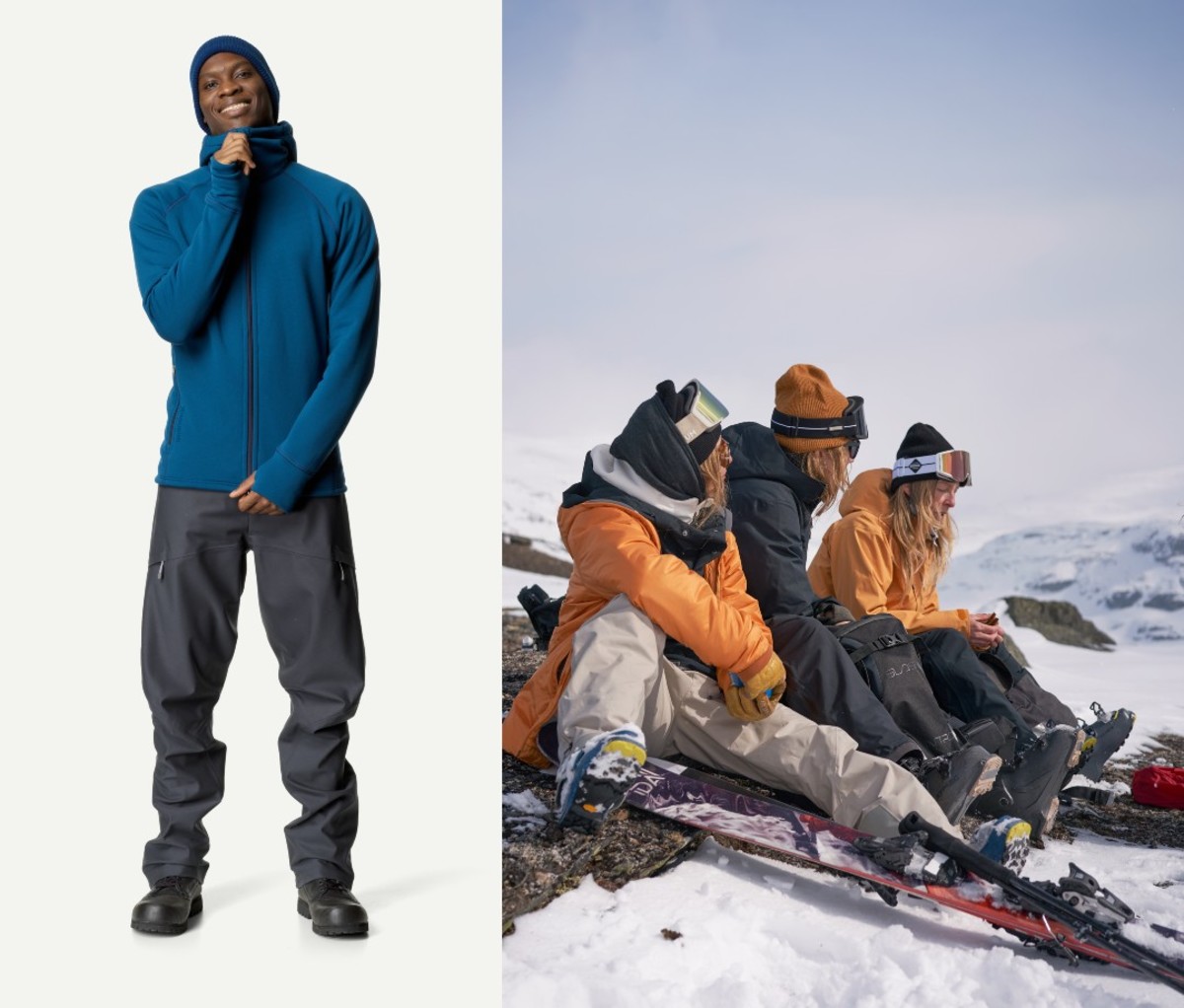 In contrast, Houdini's products are the polar opposite of fast fashion. A survey conducted in 2019 revealed the Power Houdi ($200) is worn on average 100 times more than those other throwaway pieces—that's an average of 1,287 occasions over roughly 10 years. 
Since Houdini's start in 1993, its female founders have been on a quest to reimagine the future of sportswear. If a garment could last decade over decade, how could that impact the world and change the way we view sustainable style? A few years ago, Houdini devised an ambitious plan to achieve 100 percent circularity in materials by 2022. That means products will be made from recycled fibers, and be recyclable, renewable, and biodegradable. By 2030, Houdini's entire ecosystem will be net neutral and on its way to becoming fully regenerative.
Being the everyday companion for thousands of movers and shakers over many decades, each Houdi has a special story to tell. The tears and stains are marks of lives well-lived. If a Houdi could talk, what would it say? Here are just a few stories.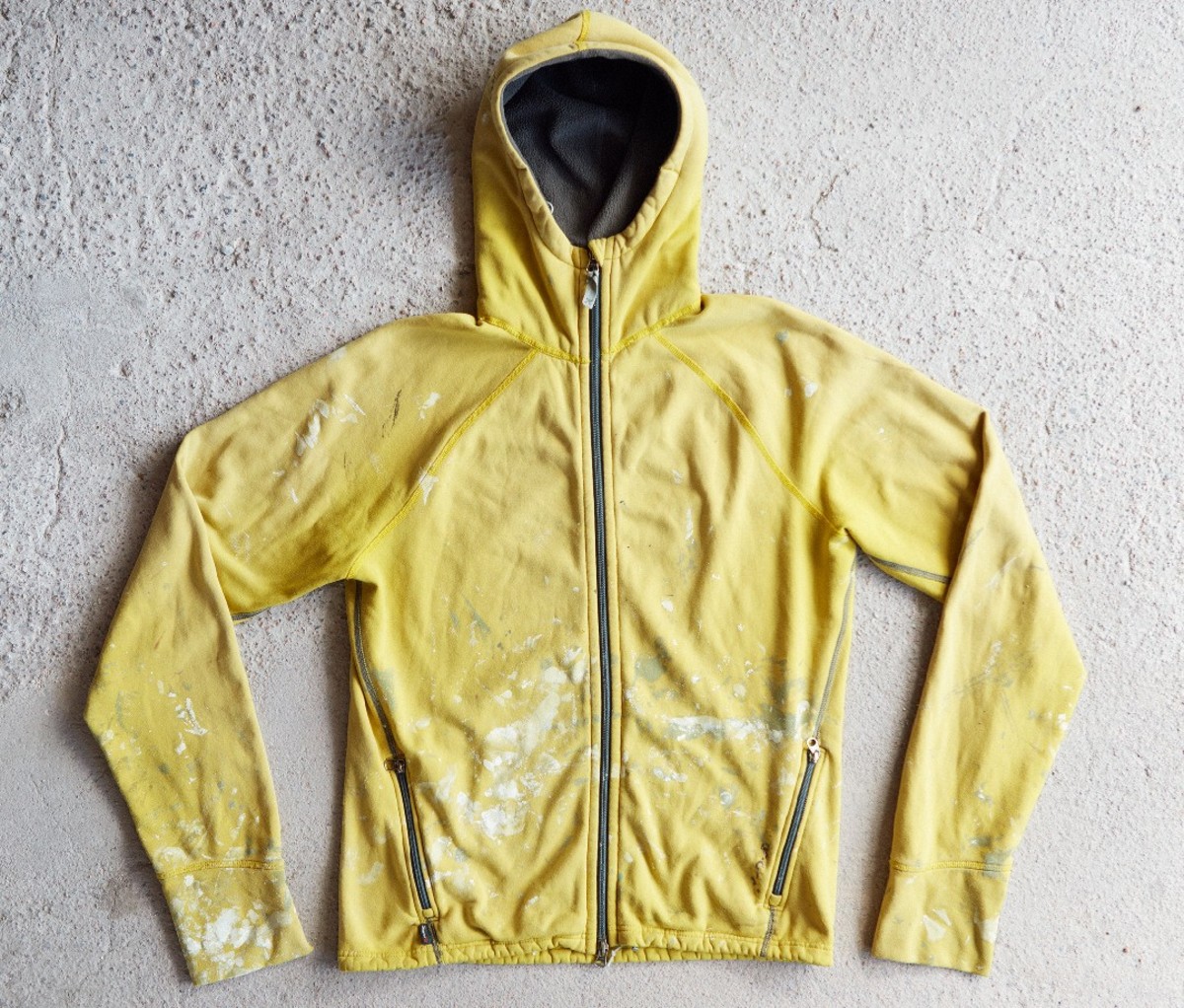 The Artist
"I used to live in the house. Now I live in the garage."
This Power Houdi belongs to artist Per Örås, whose work is inspired by classic and contemporary style. He used to wear his Houdi out in the wild, but the paint stains and welding burns have disqualified the jacket from recreational use.
It's still one of Örås's favorite garments, though. The Power Houdi's fabric is called Polartec® Power Stretch® Pro™, a soft and supple technical fleece that wicks moisture to keep Örås dry and warm. It's incredibly rugged yet comfy.
A high collar and snug hood provide coziness, while thumb loops keep Örås's arms and wrists warm in chilly conditions—like when he's in his workshop in the dead of winter.
Learn More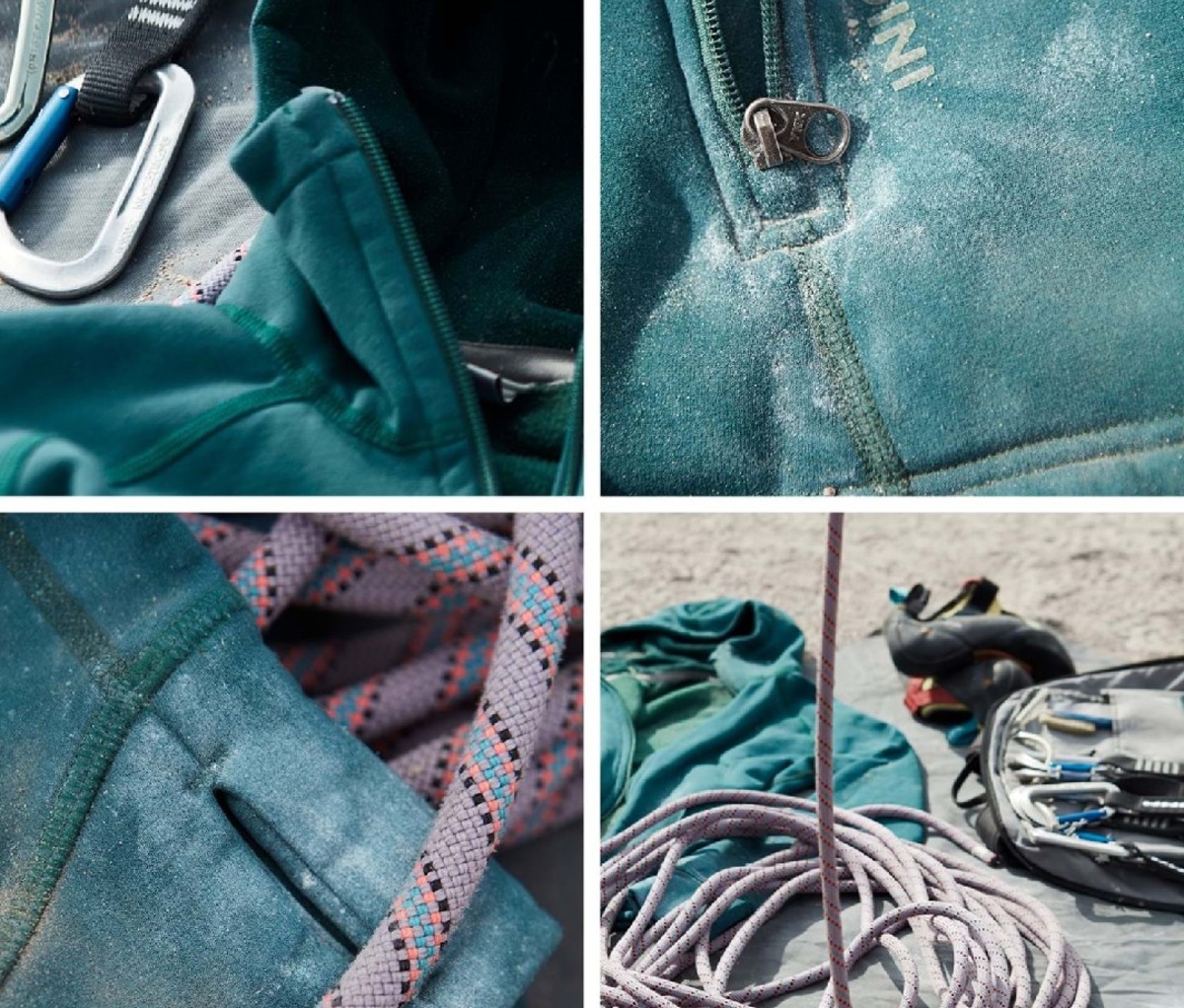 The Climber
"I think she hates me."
This Power Houdi belongs to Swedish climber Stella Plantin, who considers the crag her second home. Her jacket hasn't seen the inside of a closet for the past seven years because it's too busy being thrown off cliffs, covered with chalk, scraped against granite boulders, and occasionally burned by campfire sparks.
But it's still in good condition—and will be for years to come. The jacket's durable nylon face and four-way stretch were built to be tested in these sorts of scenarios. Based on Plantin's experience, it's doing its No.1 job—being indestructible.
Learn More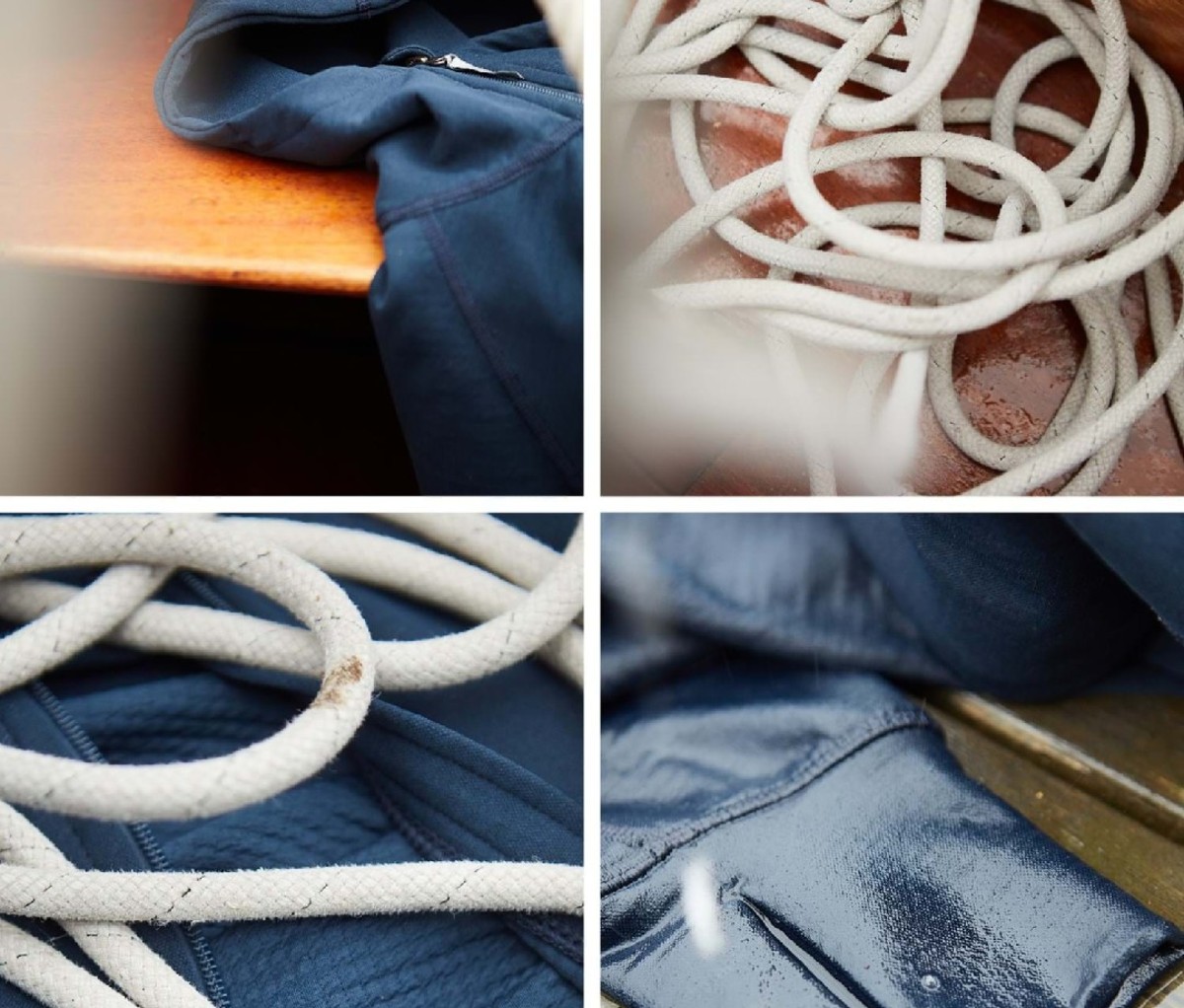 The Sailor
"See the world and then be shredded. That's the plan."
This Mono Air Houdi ($200) lives on a little wooden sailboat outside Stockholm, and its long sea voyage is just getting started. We can only imagine the things it will see and do over its years of salt-stained travel, be it calm waters or turbulent maelstroms.
Just like its owner, the Mono Air Houdi sees water as a precious resource. Its circular performance fabric called Polartec® Power Air™ prevents the shedding of microfibers during wear and in the wash.
Learn More
Courtesy of Houdini
The Old One
"I love getting old."
This Power Houdi has been through more than 10 years of adventures and has had almost as many owners. It's toured the Scandinavian Mountain range on skis and witnessed the sun rise over the Baltic Ocean from a sea kayak. To extend its lifespan, it's been repaired numerous times. The front two-way zipper has already been replaced once, but it's tough and not ready to give up yet. Some say it's just getting started.
Though when it is ready to enter the afterlife, Houdini can recycle the sustainable materials into another quality garment. Its last owner can just bring it to a Houdini shop or retailer, or mail it in.
Learn More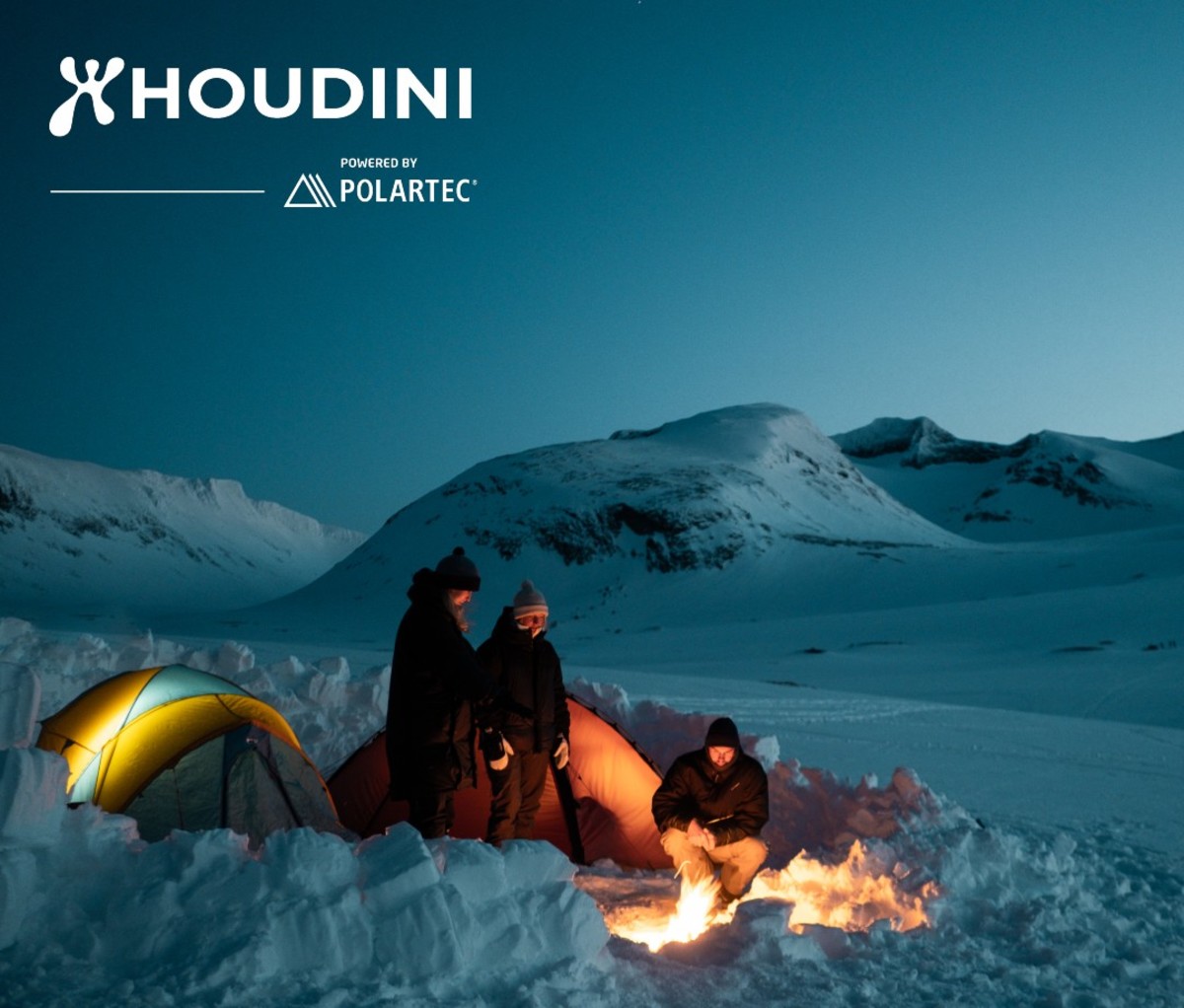 Feeling inspired to take your own Houdini houdi on intrepid adventures? All you need to do is pick which one—and where you're off to first.
Shop the Men's Power Houdi, $200; houdinisportswear.com
Get it
Shop the Men's Mono Air Houdi, $200; houdinisportswear.com
Get it
For access to exclusive gear videos, celebrity interviews, and more, subscribe on YouTube!