In a windowless office park in Little Rock, AR, Tony Karklins holds up a sheaf of black carbon-fiber fabric cut into various trapezoids and rectangles the length of his forearm. "This is your top tube," he says. "Every carbon bike starts like this." With ruddy cheeks and a flop of sandy brown hair, Karklins is the founder of the upstart bike brand Allied Cycle Works. I've come to Arkansas to pick up a test bike. But first, Karklins wants me to help build it.
Under the watchful eye of Allied's head engineer, Sam Pickman, I painstakingly swaddle each sheet of fabric around a form that resembles a plastic-wrapped baseball bat. With only 19 individual pieces, the top tube is one of the simplest parts. An Allied employee can make one in 12 minutes. But I find it tricky, maddening even, to place each piece into perfect alignment without stretching the fabric or letting it wrinkle, which could ruin the bike's sublime ride. It takes me more than 50 minutes to construct my top tube, and it's a humbling lesson in the difficulty of bike manufacturing.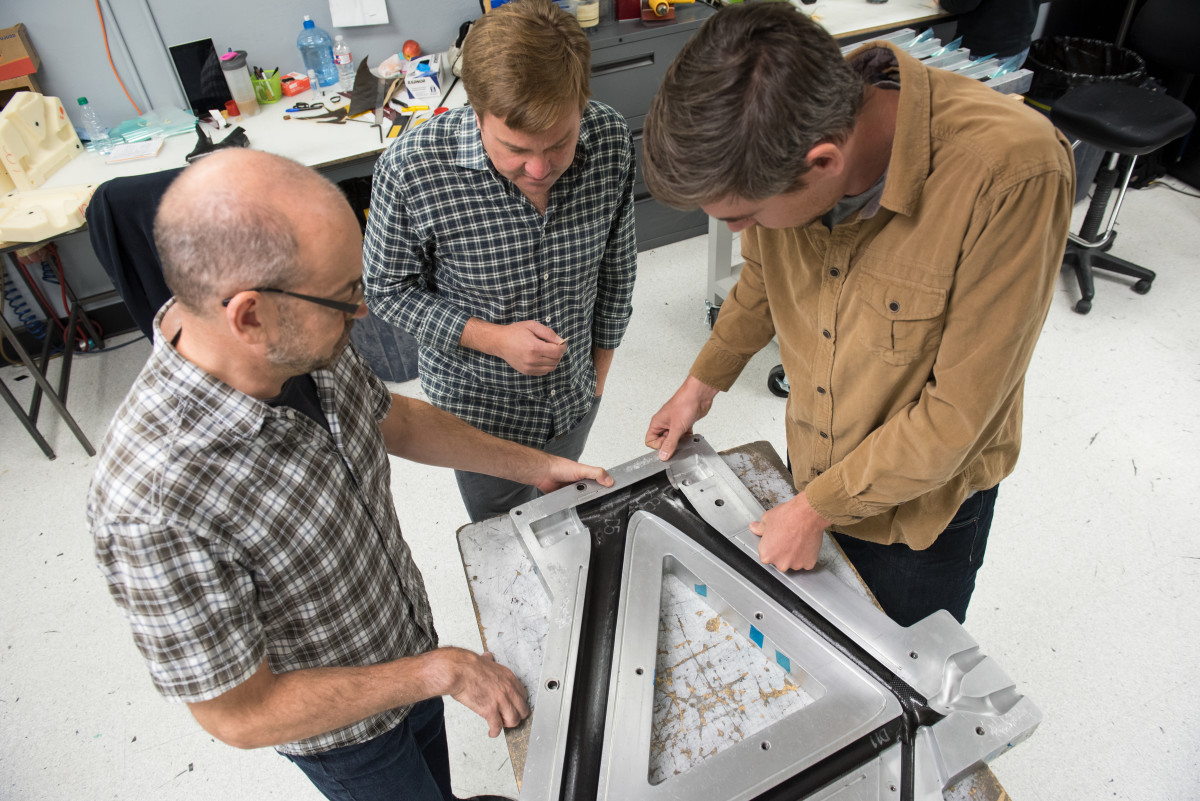 Today, carbon fiber dominates the high-end bike industry. The material, essentially a yarn of carbon atoms bonded together and cured with resin, is lighter and stronger than steel or aluminum. But it's also more labor-intensive, which is why nearly all carbon-fiber manufacturing is done in Asia. Domestic carbon-bike production isn't unheard of, but the only real success stories are industry giant Trek—which builds a tiny fraction of its bicycles out of carbon in Waterloo, WI—and boutique brands like Calfee, Argonaut, and Alchemy, which produce a few hundred frames per year. They also sell them at a premium, often starting at five grand.
"We're successful because we're in a small niche of the market," says Joel Smith, Alchemy's vice president of sales. "It would be very difficult to compete against Specialized or Trek."
"I want to be the comeback brand of American bike manufacturing," Allied's founder says, "and that means doing it better than the big guys."
But that's exactly what Karklins wants Allied to do: bring large-scale carbon-bike manufacturing to the American heartland. "There's no reason we can't take on the big three," he says, referring to Trek, Giant, and Specialized, the largest brands in the U.S., which build the majority of their bikes overseas.
It's lofty talk, but Karklins knows the business as well as anyone. The 47-year-old started working at his first bike shop at age 12, became a part owner at 16, and has been in the cycling industry ever since. In 2000, he founded the U.S. division of Orbea, a Spanish bicycle manufacturer, in Little Rock. He grew the brand so successfully that, 14 years later, the parent company bought him out. It was while at Orbea that Karklins began to believe that building bikes in Asia was a losing proposition.
"Everyone is making the same thing in the same factories, so there's no incentive to innovate," he says. "Meanwhile, price pressures continue to ramp up. It's a huge squeeze."
So in February 2016, Allied's parent company, HIA Velo (Handmade in America), was born with the goal of making high-performance, competitively priced bikes in the U.S.
Building stateside was the way it was done decades ago, when frames were predominantly made of steel or aluminum. That started to change in 1992, after Trek launched the first mass-produced carbon-fiber bicycle, the OCLV 5200. Carbon was lighter and infinitely moldable, so it became possible to use computer-aided design to construct frames that both performed better and were more aerodynamic. But it was also difficult and expensive, and as it caught on, American manufacturers shifted production to Taiwan and China, where companies were already building golf clubs and tennis racquets out of the material.
"I was there when all our U.S. bike factories closed and production moved to Asia," Karklins says. "It was sad. I watched our industry lose its soul."
Setting up Allied in Little Rock, then, is an act of determination—and faith—for Karklins. The state ranks next to last in the country for median household income and second-lowest for the cost of doing business, which has benefited Allied. The company pays $6,000 a month for its factory space, a cavernous warehouse transformed with state-of-the-art equipment. "Everyone wants to be a California brand, but this space would cost us $70,000 in San Diego," says Karklins.
At the factory, which houses makeshift office spaces, walk-in coolers for spools of carbon fiber, separate work areas for carbon layup and finishing, paint booths, and a warehouse out back, 38 full-time employees build bikes. Those trapezoids and rectangles that became my top tube started out as four-foot-wide, 100-pound rolls of carbon fiber shipped in from California. A laser-guided machine then dices the material into an array of patterns. More than 400 pieces constitute each frame, plus an additional 160 pieces for a fork, which workers hand-lay onto forms (as I did). The forms are placed into aluminum molds and heated in 266-degree ovens for two hours, at which point the pre-impregnated resin is released into the fiber so that it cures and sets. From there, the main triangle is coupled to the loose seat stays, chain stays, and drop-out junctions, all built and cured individually, then hand-bonded with epoxy. From raw carbon to rolling bike, the vehicle will be worked on by at least 20 people.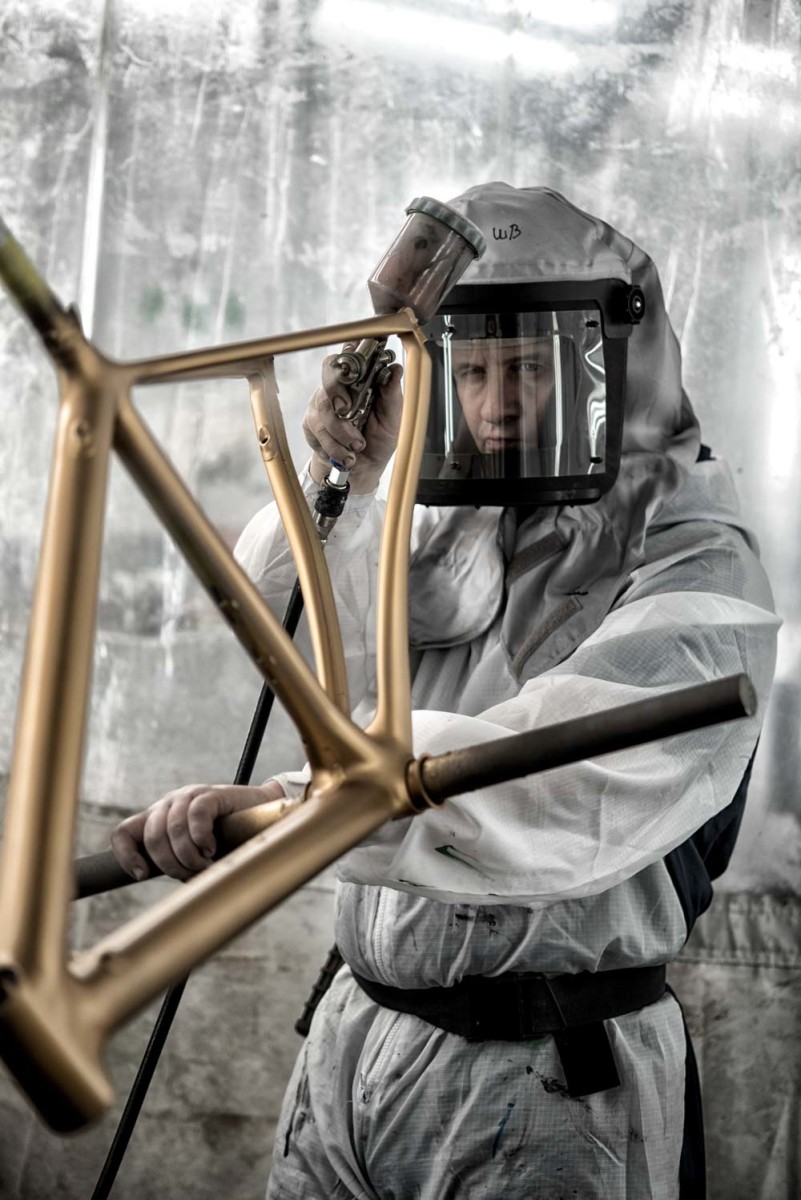 All that labor, which is cheaper in Asia, is a big part of what has deterred other companies from building in the U.S. But bringing the entire process in-house, as Allied has done, has its advantages, too. "When you build in Asia, some of the biggest opportunities in design are left on the table because you don't control the manufacturing," says Pickman. "Doing it all under one roof allows us to explore new ideas, prototype them, and build them quickly."
Companies like Enve and Reynolds, both of which make carbon-fiber wheels in their Utah factories, have already proved that large-scale American manufacturing with the material can be successful. "It can be as economical to build in the U.S. as in Asia," says Jake Pantone, a spokesperson at Enve. "The risks of manufacturing here are higher, but if you do it right, you can build a superior product."
The bundle of carbon fiber patterns in Karklins' hands that I assembled eventually turned into a disc-equipped, multisurface road bike, one of the very first Alfa All Road models off the production line. After eight months of testing the bike, I can say that it's just as good as any gravel machine on the market. Equipped with Shimano Dura-Ace electronic components and Enve carbon wheels, it weighs just 15.3 pounds. Yet with disc brakes and smart touches like a threaded bottom bracket for long-term durability, All Road is as good as any adventure bike. Aboard mine, I've piloted horrendously rutted forest roads, competed in a 180-mile gravel race, spent weekends bikepacking with a full load of camping gear, and still managed to keep pace with the local fast guys on the road. Quite simply, it is among the most versatile road bikes I've ever rid- den. And whereas similarly equipped models from Specialized, Trek, and Cannondale start at $5,000, Allied's are just $4,000. When I first visited the factory for the build, I was skeptical of Karklins' bluster, but Allied just keeps on rolling.
"I want to be the comeback brand of American bike manufacturing," says Karklins, "and that means doing it better than the big guys."
For access to exclusive gear videos, celebrity interviews, and more, subscribe on YouTube!