At first glance, mountain biking can look like a forbiddingly expensive sport. Video clips show riders on carbon fiber, full-suspension dream machines slaloming through trees and hucking over gap jumps. A top-level bike with bleeding edge technology can run you $10,000 or more.
But you can have a surprising amount of fun on a bike that won't break the bank. The same technology powering the most expensive bikes is steadily improving the quality of the bikes you can actually afford. And if you're spending about $1,000, you're looking at high-quality bikes built to excel on serious trails, says James Winchester, a veteran product manager at Haro Bikes. Here's what you need to know to find a quality ride that will still leave you with some cash for post-ride beers. 
Know Where You Want to Ride
Are you planning to ride in the dirt paths, or do you want sinewy singletrack and obstacles? If you want a sturdy bike for getting around town and rail trails, a mountain bike may not be the right bike. Instead, Winchester suggests a dual sport bike like the Trek 8.4 DS or the Haro Astoria. Similar to hybrids, these bikes are adept at cruising pavement as well as dirt roads and hard-packed paths.
If singletrack is your goal, look at aluminum bikes with a front suspension fork. There's a significant improvement in quality between $1,000 and a bike in the $500 range, says Bruce Davis, owner of Hazards Cyclesport in Santa Barbara, California. The brakes, gearing, and suspension, in particular, will be higher quality and last longer. Look for hydraulic brakes, they offer better control on the trail. Winchester also recommends paying close attention to the suspension and gearing, because they are hard to upgrade later.
 The Jamis Durango 29 Comp, $750
Visit Your Local Shop
Buying online or from a big-box store might seem cheaper, but going to a shop that specializes in selling bikes will spare you headaches and save you money in the long-run. They'll explain how to adjust your suspension fork and they'll be there to help you pick out your next pair of tires. If you're riding on dirt regularly, you'll eventually need replacement parts. "At a bike shop, you're dealing with people who actually ride and will help you because they want you to have that same great experience," says Davis. "They're not also selling you 50 pounds of Tide." 
Pick Your Wheelsize
Most new bikes are going to have either 29- or 27.5-inch wheels, instead of the older 26-inch standard. "If fast is the goal, then a 29er is usually the best bike," Winchester says of the wheelsize difference. "The larger wheel is better for rolling over obstacles." A 27.5 bike is ideal for harder trails where traction and cornering are more important than speed. Do you have plans to compete in a cross-country race or an XTerra? You might want to take a closer look at the 29er. Are you planning to tear around your local trails? The 27.5 bike might be the way to go. Also, shorter riders tend to be more comfortable on the smaller wheel. 
But like any rule, there are exceptions and this is where the value of a good shop comes in. They'll be able to point you toward bikes that will fit the trails you're planning to ride and the adventures you have in mind. At the end the end of the day, the bike needs to feel right to you. Davis suggests keeping it simple. "Ride both sizes and decide which you like. If you ride it and it feels right, it's the right bike."
Save Money for Accessories
If you're buying your first mountain bike, make sure you have enough cash on hand to pick up essentials. "It's not just the bike, it's the helmet, shoes, and shorts," Winchester says. Padded shorts and gloves will keep you more comfortable in rough terrain. You may also want the increased efficiency of Shimano SPD-style pedals. A basic pair of pedals and shoes will cost around $100. 
Finally, pick up a seatbag with a key tool to fix flat tires and minor mechanicals. A spare tube, tire levers, mini-pump, and multi-tool will make sure your bike ride doesn't turn into a hike.
Ask Nicely for Discounts
The margins on mountain bikes are pretty thin for shops, so Davis says not to expect much wiggle room on the bike's price. You can ask, but don't be surprised if the answer is no. The shop may be more willing to help you with accessories. "When a customer asks about discounts, we usually point out the extras that come with buying from a shop, like the professional build," Davis says. "But sometimes we'll offer discounts on accessories or throw in a free thing or two."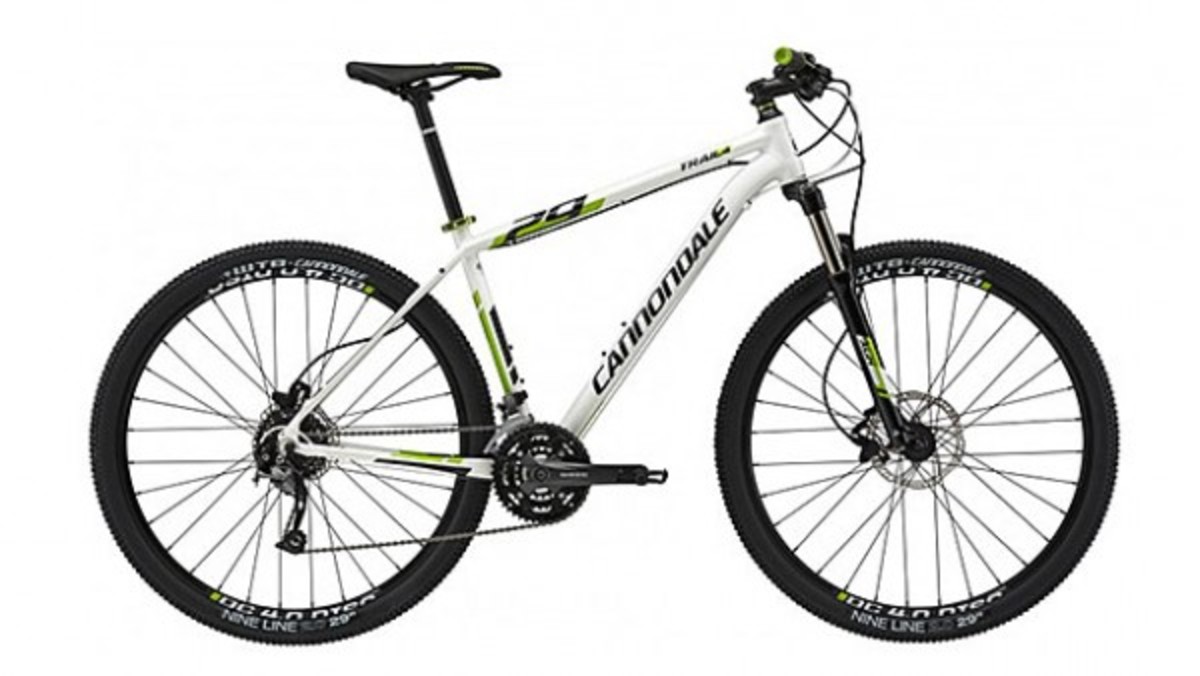 The Cannondale Trail 4, $980
For access to exclusive gear videos, celebrity interviews, and more, subscribe on YouTube!