The performance (and fun) disparity between an entry-level road bike and pro-level race bike is wide. But for cyclists looking to get the most bang for their buck, a sweet spot lies in the $2,500-$4,000 range where speed, technology, and value converge.
"It'll get you a hell of a bike," says Royce Breckon, Trek Bicycle's road brand manager. "And it's a big upgrade from what you could have just five years ago. The carbon frames, drivetrains, and wheels have all trickled down from more expensive price points." So while you may not be able to afford this summer's Tour de France bike, your new bike — even if it's not designed for racing — reaps the benefit of technology developed for last year's race. 
Determine Your Road Bike Type
Before you start shopping, determine what kind of road bike you need. If you're looking to go fast, whether it's in a sanctioned race or just road-sign sprints with your pals, focus on race bikes with an aggressive geometry that will have you in a more aerodynamic and powerful position. 
(The Jamis Xenith Race weight less than 18lbs and costs $2,900.)
If you enjoy century rides, look for a bike that has you sitting up more, easing pressure on your back and core. The emerging category of endurance road bikes is designed to perform similar to a race bike, but with greater comfort for the rider.
Another important difference: Not everyone is flexible enough to be in the aggressive, race bike position, says Derek Fetko, owner of On Your Left Cycles in Louisville, Kentucky. "An endurance road bike with a taller headtube will get your bars up a little higher and allow you to enjoy the ride more. Race frames also typically have a design that makes for a very stiff ride, while an endurance bike will be smoother." 
Carbon or Aluminum
When you're plunking down more than two grand for a bike, most shop employees will direct you to carbon-fiber models, but check out aluminum options too. If you're scheduling a full racing season, a high-end aluminum model, like the Cannondale CAAD10 or Specialized Allez, could be your best bet. New aluminum bikes have dropped the harsh ride characteristic the metal was known for 10 and 20 years ago. The frames are also typically more inexpensive than carbon, meaning you'll get better components or save extra money to put toward race wheels.
Carbon, however, is still a better option for a bike that can soak up road vibrations and create a smooth ride, says Breckon. Unlike metal tubes, "we can manipulate carbon any way we want to," he adds. "We can make certain parts stiffer or more compliant than others."
Electronic Shifting and Disc Brake Options
Bikes in the $2,500-$4,000 sweet spot will almost always come with a reliable, lightweight set of components, such as Shimano Ultegra or SRAM Force, but Shimano's electronic-shifting Di2 components and hydraulic disc brakes have started trickling down into this price range.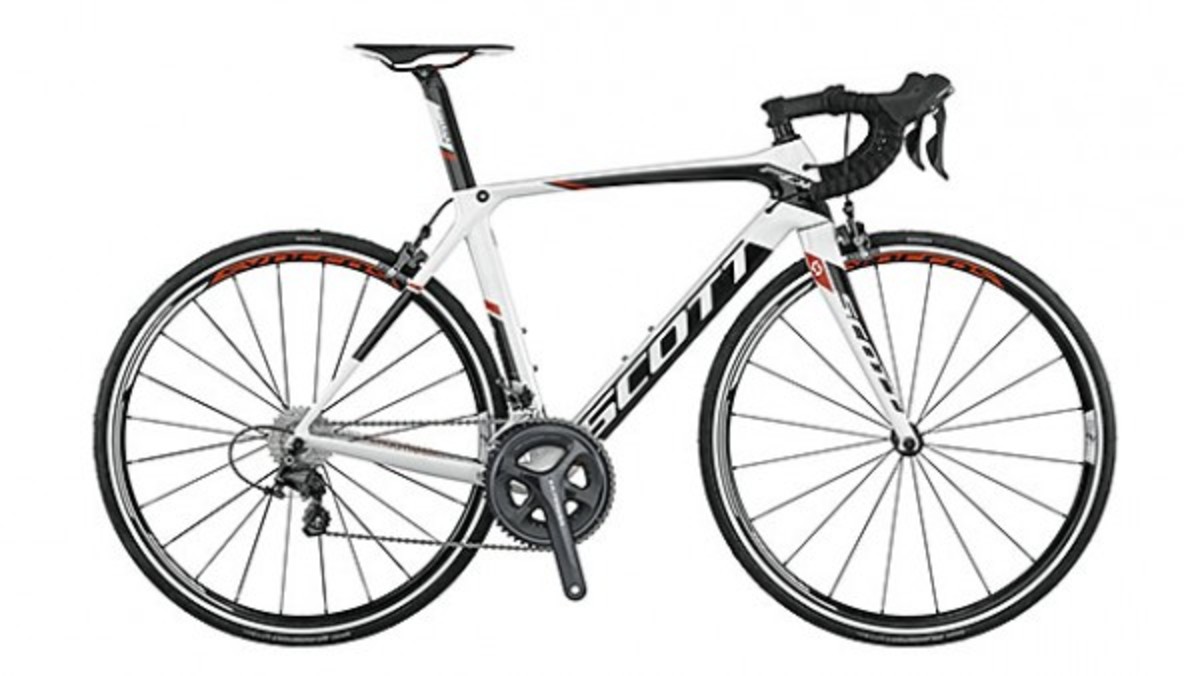 (Scott's Foil 10, at $3,500, uses the same wind-cheating frame design as the brand's top-end race bike.) 
"Bikes with electronic drivetrains start around $3,800," says Fetko. "For the rider who has the budget and isn't super mechanical, this is a big win. Shifting is faster, super crisp, and reliable."
Because the Di2 shifts by electric signals, not tension, riders no longer have to maintain or replace shifter cables. The trade-off? Charging the system two or three times a season. Disc road bikes can also carry a weight penalty of up a pound, says Breckon, but the stopping power greatly exceeds traditional rim brakes, especially in wet conditions.
Wet roads make typical rim brake systems perform about half of what they typically offer, Fetko says. "On a wet ride last fall, I realized how much more comfortable I am descending at higher speed with disc brakes."
For access to exclusive gear videos, celebrity interviews, and more, subscribe on YouTube!