Connor Jaeger prepared for the 2016 Olympics thinking the Rio games might be his last.
The 25-year old swimmer graduated from University of Michigan with a bachelor's in engineering and a master's in management, so his livelihood wasn't anchored to the pool. But after a sixth-place finish in the 1,500-meter freestyle in the 2012 London Olympics, Jaeger figured Rio might represent his final lap.
So Jaeger trained a bit differently. He started wearing a fitness tracker—one of the latest on the market—that promised to measure not only his heart rate but also sleep performance, heart rate variability, and active recovery. It was called the Whoop.
Strapped to his wrist, the Whoop helped Jaeger better understand his body's overnight recovery following a grueling day of workouts. It also opened a new window on how everyday stress affected Jaeger—and, therefore, his Olympic training. When he hopped a late flight to Los Angeles as part of his training cycle, he was shocked to find that his Whoop recovery score—a proprietary measure of how much stress an athlete can handle that day—was his worst one yet.
"I texted my coach the score, and he told me to take it easy," says Jaeger, who had planned a hard practice that day. "I didn't know how much of a toll that flight would have on my body. You think that it's real, but it's different when you have numbers to back it up."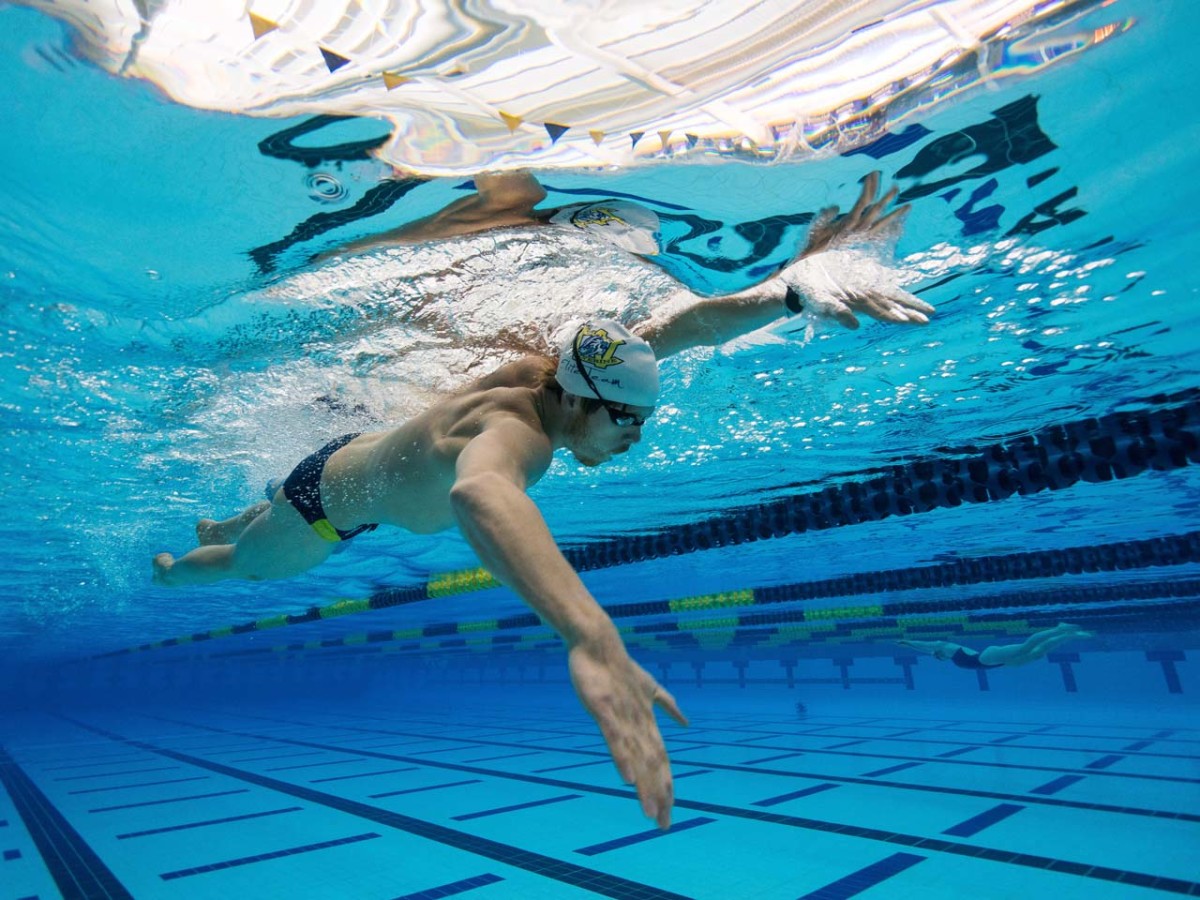 The realization so shook Jaeger that when it came time for July's Olympic Qualifiers, he flew to the trials a day earlier than even he had initially planned. ("I knew how much travel took out of me," he says. "I finally could quantify the amount of damage and stress my body could take.")
And when it came time for the race in Rio, the hyper-accurate training strategy paid off: Jaeger claimed a silver in the 1,500. Now a real estate specialist in New York, Jaeger is quick to credit the Whoop for helping him prep for his final Olympic games. "Athletes are competitive and like to be evaluated," says Jaeger. "I initially just wanted to learn from Whoop, and not follow it all the time, but it really helped me change certain behaviors of mine."
With its squat battery pack, the Whoop looks like no other wearable on the market. "Whenever I talk to other people about Whoop, I joke that it looks like I'm under house arrest," says Darrell Stuckey, a special teams savant for the Los Angeles Chargers.
But packed within that clunky package is a hell of a computer—and one that, for now, has virtually outclassed the competition. Birthed from Harvard's Innovation Lab, Whoop recently made the crossover from professional to amateur. First available to average Joe consumers in November, the Whoop 2.0 doesn't come cheap—$500 is a lot of coin—but, according to co-founder Will Ahmed (who was named to the 2017 Forbes "30 Under 30 list"), Whoop is the only wearable that can perfectly optimize your performance, whether you're a marathoner, triathlete, or a pickup basketball weekend warrior.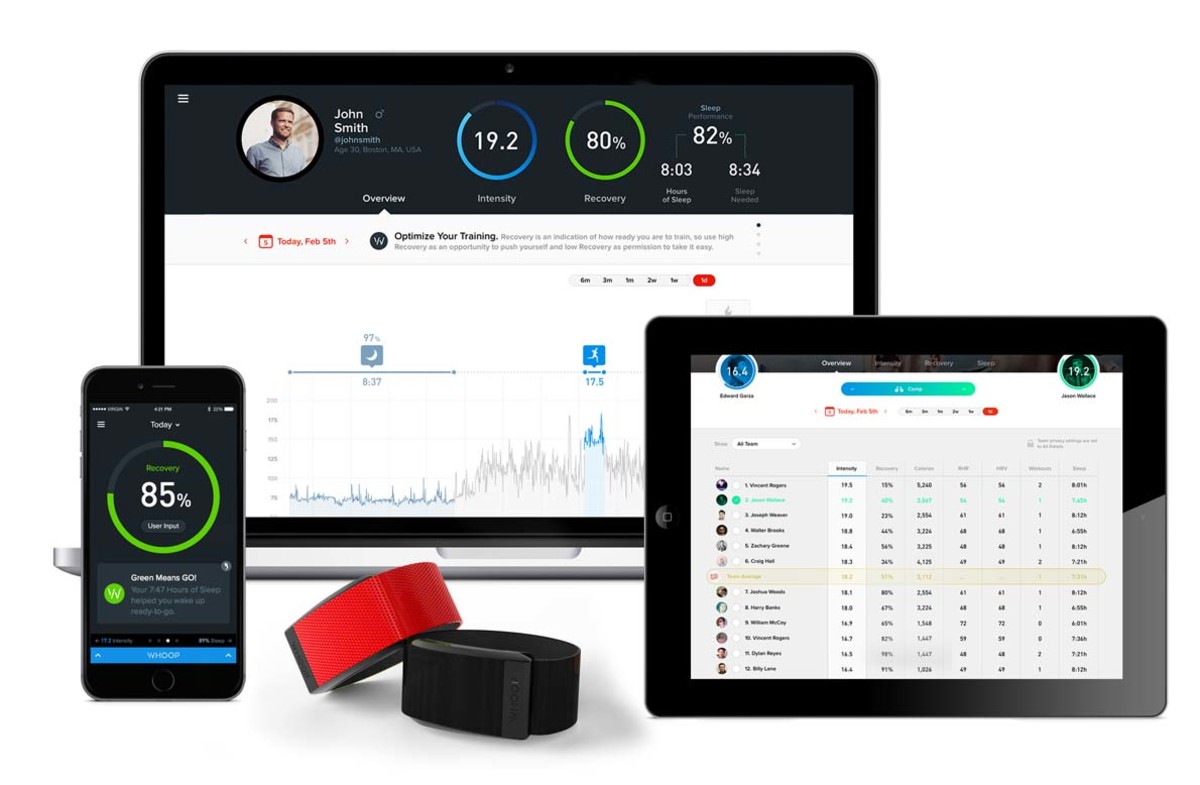 "Whoop's goal is to teach you how to reach your highest level of performance—whether that's through telling you how many hours of sleep you need to get, or what level of strain your body is dealing with, Whoop is all about creating a forward-thinking mindset of how to train properly," Ahmed says.
The information is transmitted via Bluetooth to your smartphone, where you can track your daily strain, how much you've recovered from the preceding day's workout, and how much sleep you'll need that night to fully recover. It also catalogues dozens of different activities—from CrossFit to rowing and yoga—so you can measure your heart rate and calories burned through each, which are then tracked and added to your overall strain.
Whoop executives specifically wanted to first introduce the wearable to pro athletes to build credibility within the marketplace and differentiate the band amid a glut of other products. It also created a wellspring of publicity for the two-plus year old company: LeBron James reportedly wore Whoop during Cleveland Cavaliers practices, while his then-teammate Matthew Dellavedova donned it during games (and was subsequently warned that wearing it while on the court was prohibited). While the company refuses to name or officially speak on other athletes that use Whoop, it's clear the band is gaining momentum among both elite college athletes and pros alike.
Whether that surge continues among average consumers—or even hardcore CrossFit types—remains to be seen. To drop $500 for what, even with all its bells and whistles, is really just another fitness band will test the limits of even the most hardcore amateur athlete. "We've now been focusing on the consumer, and making sure they understand the out-of-the-box experience and what makes Whoop different," says Jack Seitz, the company's VP for business development & creative.
What makes Whoop different, in essence, are two key metrics: heart rate variability—a first for consumer fitness trackers—and sleep tracking.
Whoop measures the amount of time you spent in light sleep, slow-wave (or deep) sleep, and REM; it also tracks how many times you woke during the night and your overall time in bed. The device functions as a pseudo-sleep coach, offering advice on how much your body has recovered and how hard you should train the following day.
For example: I ran 3.5 miles last Wednesday at a clip of eight minutes, and then received just five hours of sleep. I had planned to run again on Thursday, but Whoop informed me that my body had recovered by just 25 percent, and it might be better to do a light workout. "I use it as an indicator of caution," Stuckey says. "I need to prepare my body well and not cut any corners."
Do the lifting, running, cycling, WOD-ing masses demand the same level of detail? That's still up for debate. But for now, it's clear that Whoop has a stranglehold on the elite edge of fitness-tracker tech, and that it could very well pave the way for an even better understanding of human performance among the best of the best.
That, and anyone who uses it can say they train like LeBron.
For access to exclusive gear videos, celebrity interviews, and more, subscribe on YouTube!