Instant Pot is everywhere. As one of the biggest trends in home cooking, there are blogs, cookbooks, Facebook groups, and even an app devoted to living the Instant Pot life. For the uninitiated, the countertop appliance is essentially a pressure cooker and slow cooker combo using modern technology and updated safety mechanisms. That foolproof technology also makes it easier for the home cook to whip up rice or batches of yogurt.
Prior to Instant Pot's overwhelming success, the king of slow cookers was Crock-Pot. They too were once considered revolutionary and now they'd like their crown back. Late last year, Crock-Pot released its own all-in-one appliance, the Express Crock Multi-Cooker. But how does it compare to the current line of Instant Pots? Find out below.
The Stats
The Crock-Pot version comes in one size (6-quart) to Instant Pot's four (3, 5, 6, & 8-quart). At $80, the Express Crock competes in price with Instant Pot's cheapest line, the Lux, not the popular (and more expensive) Duo line. (Instant Pot also offers an Ultra line, which can reach up to $180, and includes a large blue LCD screen and more settings.) The Express Crock is slightly more oval than Instant Pot's 6-quart models and weighs in at a pound heavier.
Verdict: Draw
The Front Panel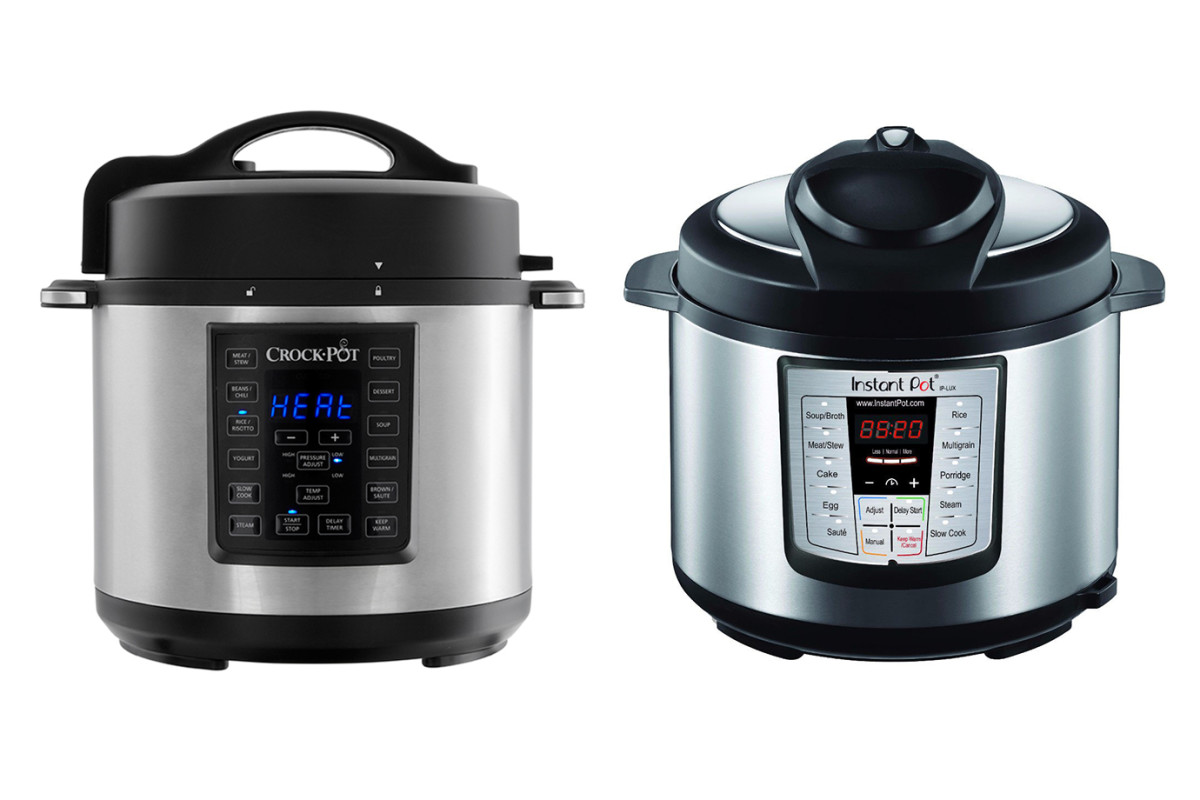 When it comes to the presets, the Express Crock takes direct aim at that higher-end Duo line. Instead of the Duo's "Porridge" button, Crock-Pot has the much more preferable "Dessert." (Other Instant Pots do have a similar, very specific "Cake" function.) The only preset difference is for "Beans/Chili" which is programmed for a shorter amount of time on the Express Crock. Crock-Pot does drop one important element, the "Manual" (older models) or "Pressure Cook" options (newer models). You can work around this, but if you're one to experiment, this may be a deal-breaker. A minor note is the inability to mute Crock-Pot's sounds, for those who like to wake up to slow-cooked meals.
Verdict: Draw
The Insides
The first thing you'll notice when comparing the two is that Crock-Pot comes with a nonstick bowl as opposed to Instant Pot's stainless steel. You'll have to be gentler to avoid scratches, but it makes clean-up easier. But while Instant Pot includes cup markings on the sides of its bowls, Crock-Pot only has markings to let you know when it's ⅓, ½, and ⅔ full. Once the Express Crock's bowl is in place, it's locked in, making it tough to glide around during cooking.
Verdict: Crock-Pot wins by a hair
Cooking
Here's where the Crock-Pot Express Crock Multi-Cooker shines. After testing out a few easy beginner Instant Pot-formulated recipes, one thing was very clear: The Crock-Pot comes to pressure minutes faster than Instant Pot's. You'll know it's coming to or at pressure when the timer starts and you're unable to open the lid—there isn't a visual valve clue like with Instant Pot (and they don't recommend putting your face over the bobber valve). But when you want to release pressure, Crock-Pot's sealing/venting nozzle is easier to reach as it's slightly off the lid's edge (though you should still wear an oven mitt for safety). 
The Winner: Crock-Pot
The Express Crock Multicooker makes the scariest part of pressure-cooking (the actual pressure) slightly less scary for newbies. And in our tests we found it came to pressure sooner than the Instant Pot, which made it the clear winner. After all, the entire point of pressure-cooking is to significantly shorten cooking time from hours to minutes, and shaving a good five to ten minutes off of your recipe is enough to win your personal Quickfire challenges.
For access to exclusive gear videos, celebrity interviews, and more, subscribe on YouTube!