One of the most talked-about gadgets from this year's Consumer Electronics Show in Las Vegas was also the most obsolete. As its name implies, the Kodak Super 8 is a camera that uses 8mm film — actual reels of film, loaded by hand and shipped off to Kodak for processing. It comes at a time when camcorders are vanishing, and smartphones are devouring standalone digital cameras. And if Kodak has risen from the dead — and that remains a giant if — its corpse is looking particularly beautiful. 
The Super 8 prototype was designed by Yves Behar, and it has all the makings of an industrial design masterpiece. The white plastic frame looks toy-like but feels solid in the hand, and the sloping, leather-wrapped carrying handle is the only purely retro touch. Even so, there's nothing cloying or lazy about this resurrection, which could have easily been a design-by-numbers rehash of a vintage Super 8 model. It looks digital, and it is, with a fold-out swiveling viewfinder, and an SD memory card slot for audio recording. That's an advantage over its purely analog predecessors, which either captured silent films, or whose footage had to be mated with audio recorded on a separate device. Now, you're at least grabbing audio with the same machine you're using to film, even if they have to be synced at a later time.
Yes, using the camera requires some extra work, the image quality is pretty poor, and you can't Instagram or share the footage for weeks. But this all appears to be part of the new Super 8's appeal. When you buy an 8mm cartridge from Kodak, the price will include the cost of shipping it to the company, which will process it, and return the developed film, as well as a digital file created by scanning the film. Kodak isn't completely sadistic, and acknowledges that most people will edit from the digitized footage, rather than dusting off ancient film-splicing gear. Still, you'll have to handle the audio yourself, which can be captured with a microphone in the carrying handle, or an external mic (the integrated mic pops off, revealing an input).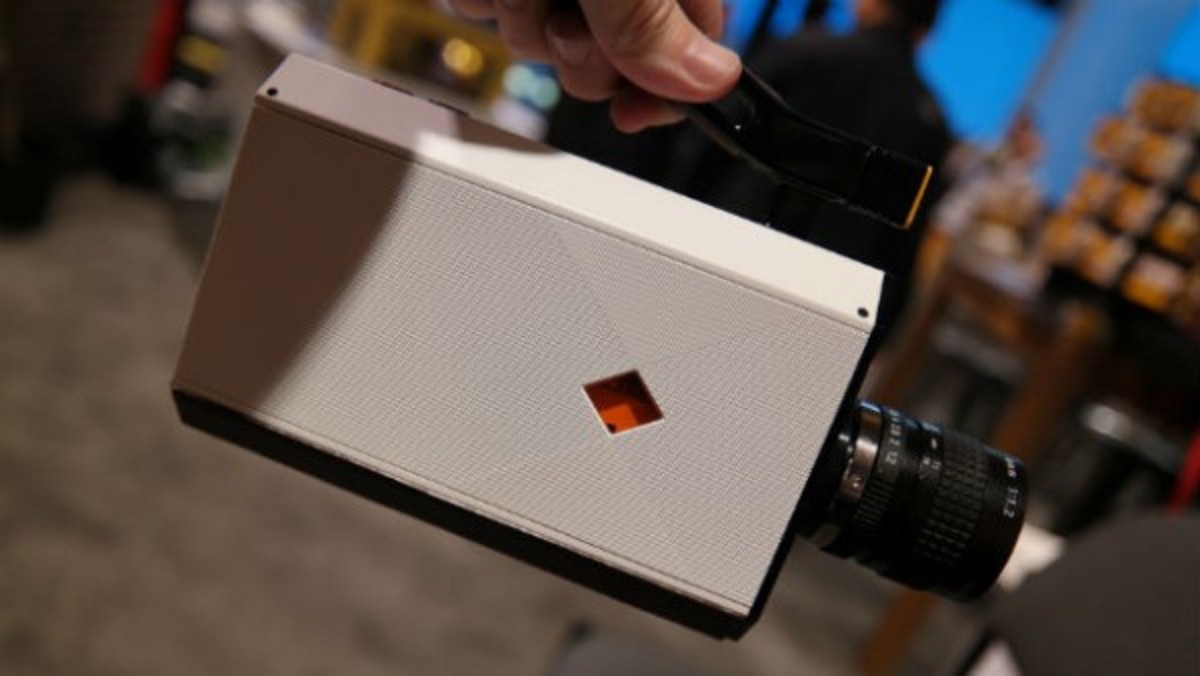 Kodak plans to sell it with an optional pistol-grip-style handle, in keeping with the original Super 8 cameras. Photo: Erik Sofge
Nostalgia has always played a role in consumer electronics, but interest in nostalgia tech is on the upswing. Some of CES's most notable unveilings were intentionally old school. The only standout debut at Monster's bizarre press conference was a boom box, a direct contrast to the shift toward increasingly compact and portable Bluetooth speakers. And the only buzzworthy product unveiled by Sony was a turntable that converts vinyl tracks into digital hi-res audio files. In addition, record players have been a viable product category in recent years, with low-cost models barging into a space traditionally dominated by hi-fi luxury gear. People are primed to be excited about products like Kodak's new Super 8, and however minimal the resulting sales might be, compared to the latest smartphone or TV, and however temporarily, some amount of abandoned technology is rising from the dead.
Whether this interest in nostalgia tech can tell us anything about the state of gadgets in general, or about the larger zeitgeist is a discussion for another time. But if it does signal some greater meaning, then there's a lot riding on Kodak's shoulders. The company didn't release footage shot with the camera, because it doesn't exist yet, and there's no specific price or release date. We'll have to wait until sometime this year to find out just how good, or how artfully bad, nostalgia looks on our modern, high-resolution screens.
For access to exclusive gear videos, celebrity interviews, and more, subscribe on YouTube!