Reinventing the Wild
How KUIU's Innovative Material and Model Is Changing the Game for Technical Mountain Apparel
This article was produced in partnership with KUIU
Last month, big-game hunter Brendan Burns stood where few men, if any, ever stood before him. Seventy miles into a 10-day, unsupported sheep hunt in the remote Yukon, Burns found himself bushwhacking through a near-impassable thicket under pelting rain, weighted with a dressed, 11-year-old ram strapped to his back, along with all the other heavy accoutrement required to extract a stone sheep—the most elusive breed in North America—by foot from deep country.
Clad head-to-toe in the KUIU technical apparel he helped design for such occasions, Burns wasn't deterred.
"Situations like that are why we make the gear we do," Burns later said of the KUIU skin-to-shell system he wore that day. "We build it to perform in the most difficult places on Earth."
Six hard-earned miles later, Burns stepped back into chartered territory and dialed for pickup from his sat phone. Success, another day on the job.
Former co-CEO, now Chief Hunting Officer and Director of Conservation for KUIU, Burns is not your typical corporate executive. Born into a hunting family in northern Montana, he's been firing arrows and bullets since before he can remember, and legally since age 12. He didn't taste meat other than wild game until he left home for college, where he put his obsession with hunting on pause to compete as a wrestler. After college, Burns spent a decade guiding high-profile hunting expeditions, tagging some of the most impressive big game on record and earning stripes to eventually become an exec for KUIU, the most innovative hunting brand on Earth.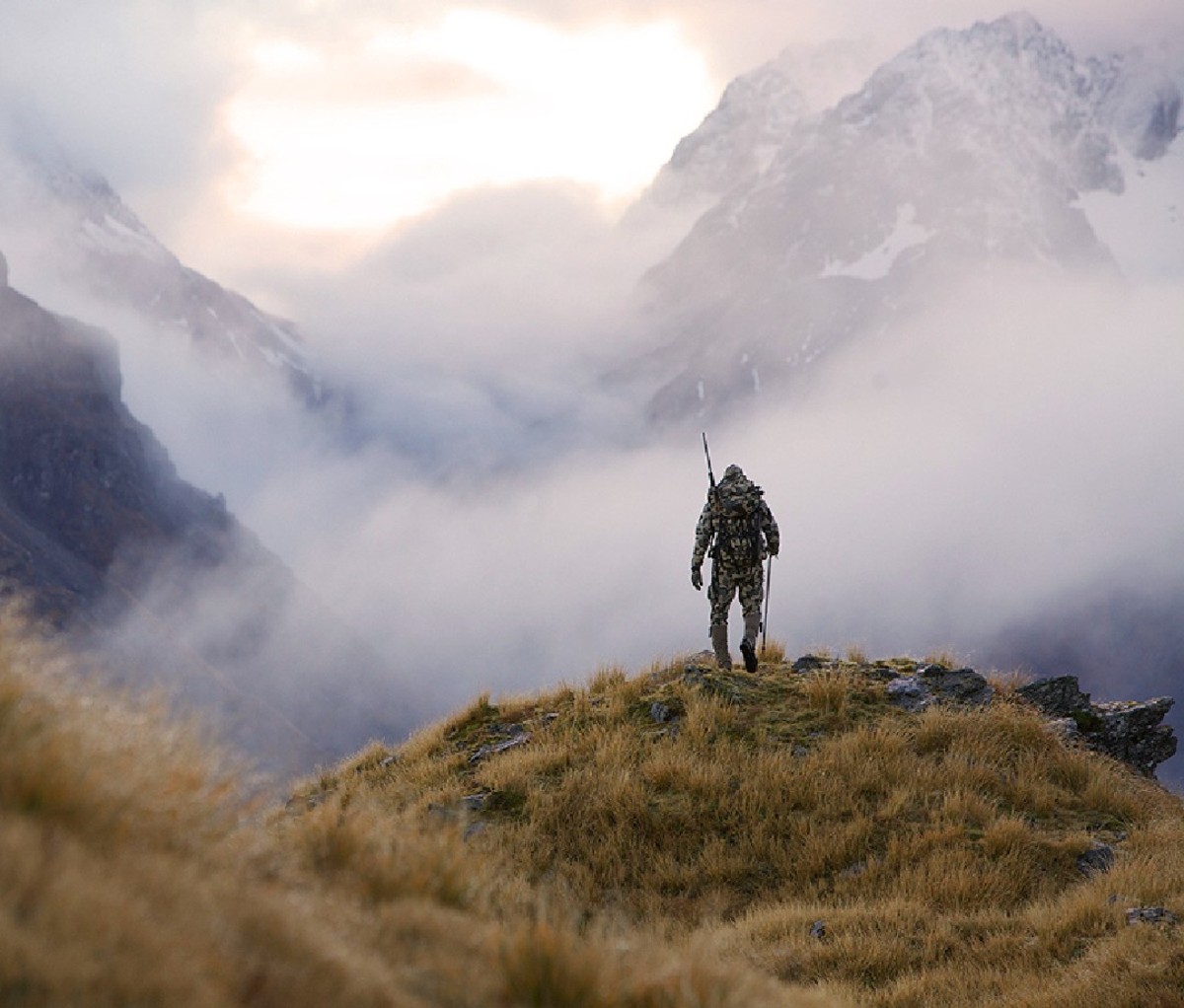 By now the word KUIU is synonymous with excellence in every mountain man's lexicon. Over the past 10 years, it's garnered universal recognition simply by engineering mountaineering-caliber products. KUIU employs a consumer-direct business model to afford cutting-edge materials engineered into precedent-setting products by elite hunters. It's an unapologetic brand created by outdoorsmen, for outdoorsmen, and Burns' expertise is instrumental in the design of every product.
"Myself, and the guides and outfitters who help develop our gear, are the experts in the field," Burns says. "We build it because we need it."
The brainchild of Jason Hairston—a former NFL linebacker—KUIU entered the market in 2011 as the first hunting brand to work directly with consumers, selling products solely from its website rather than in retail stores. Dodging the hefty tax of brick-and-mortar markups, Hairston channeled KUIU's savings into superior materials and a lower cost to the consumer. This advantage positions KUIU in a league of its own among hunting brands, and challenges the quality of technical apparel in any outdoor discipline.
Empowered by a connection to its customers, KUIU operates with total transparency. KUIU lets the product and community speak for itself, instead of relying on kitschy marketing campaigns.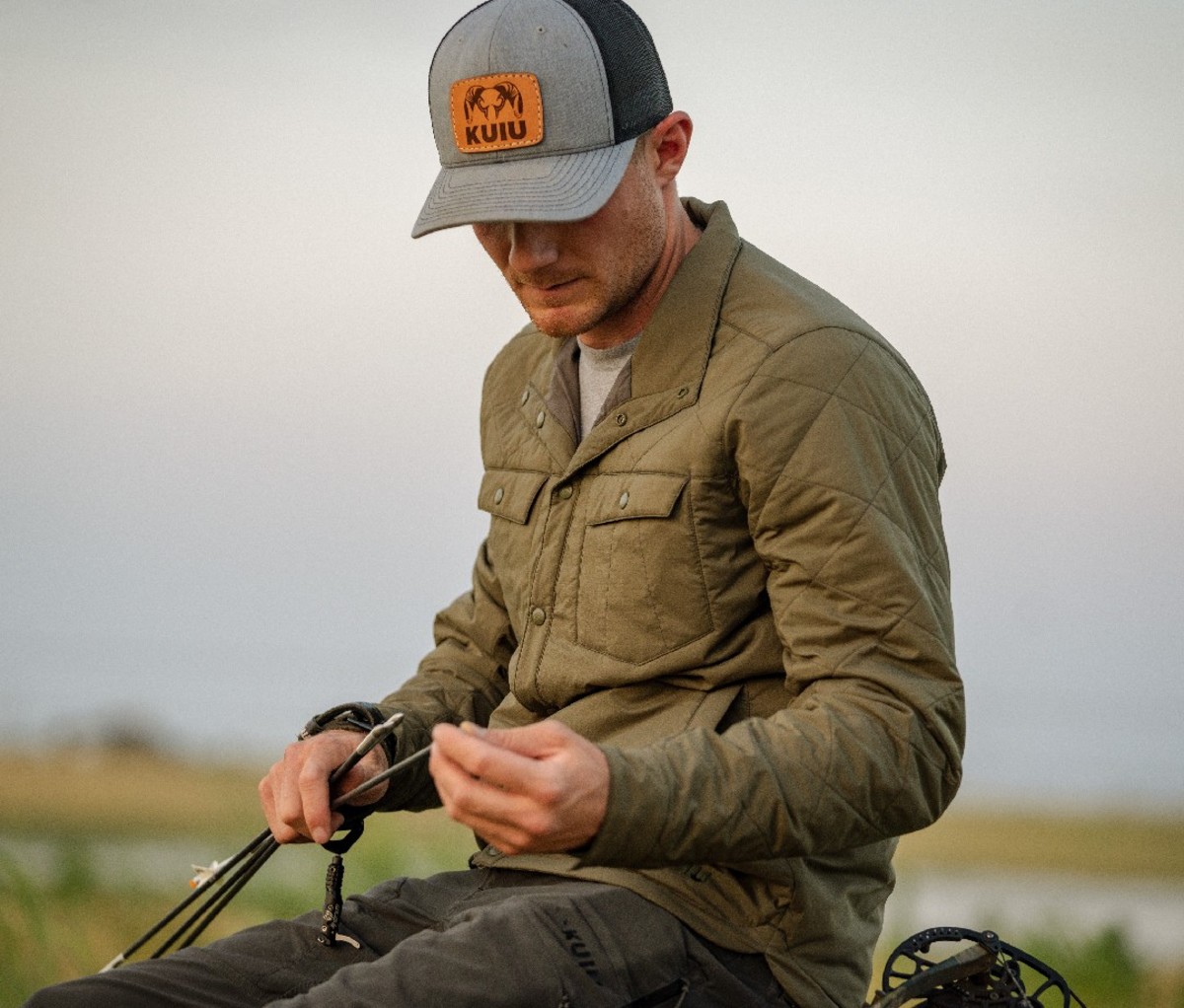 "Because the quality is better, we're able to pull back the curtain and show people exactly what we're making," Burns says. "It's a model that works well, but only if you make the best stuff."
Celebrities and premium guides like Jay Scott—an original user of KUIU who often speaks about its quality on his podcast—sing KUIU's praises. Scott's been an outfitter for 25 years for coues deer, elk, bighorn sheep, and Gould's turkey. Spending all his time in the field, he's developed a deep knowledge of gear that works day in and day out.
"I've been using KUIU gear since they first started making Ultralight Hunting Gear, because I wanted the best," Scott says. "I spend 150 days a year in the harshest elements from extreme cold to burning heat while guiding hunters. Nothing outperforms KUIU gear."
Innovative engineering with intent
"Take the Pro Bino, for instance," Burns says. "We invented it to be the first full-containment optics system on the market. It's made for anyone who needs to carry binoculars comfortably and have quick access to them, not just hunters. One hundred years ago, the mountaineer, the explorer, and the hunter were all the same person. KUIU's goal is to make the best technical products available for anybody who likes to push themselves in the mountains—period."
Promising unmatched performance in the harshest conditions, KUIU teams up with Toray, a Japanese fabric manufacturer on a mission to reimagine mainstream materials at a molecular level.
Toray's Primeflex technology—a novel twist on bio-based nylon that blends two different types of polymer in a single yarn—is a staple in many of KUIU's top-selling technical outer layers. Primeflex enables four-way stretch, breathability, and abrasion resistance without the weight of infused elastic. Weather-proofed with a durable DWR coating, Primeflex products like the Guide DCS Jacket and Attack Pant make good on KUIU's performance promise in the elements.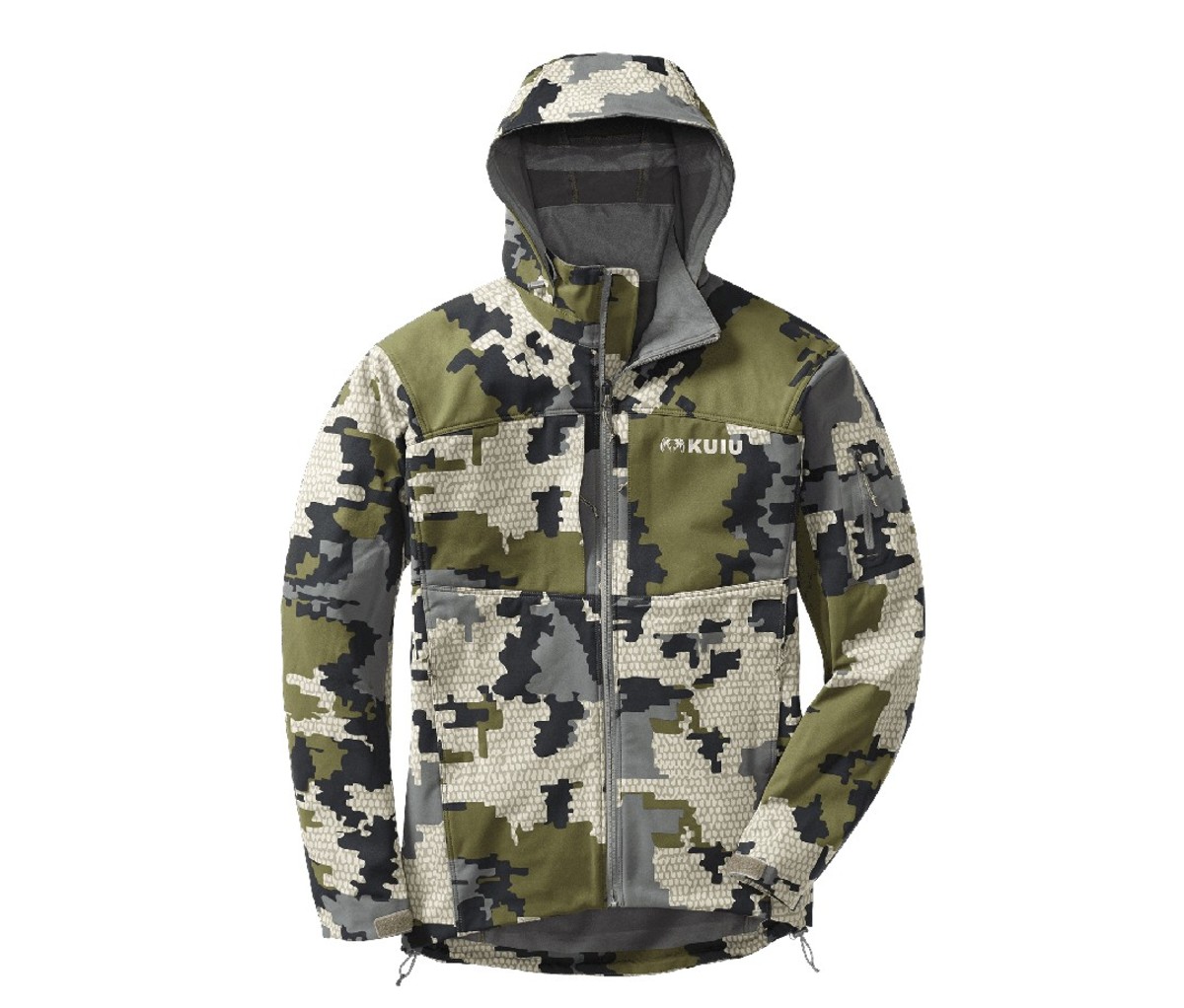 The Guide DCS Jacket
This four-season soft-shell jacket is the industry alpha of outerwear—built to perform under wind, snow, and the prospect of a monumental hunt. Wrapped with fleece-lined Primeflex, it's revered among hunters as the quietest, stretchiest, and most weather-resistant soft shell on the market today. The anatomical fit looks good in a bar and slips comfortably under a raincoat, though with a DWR coating rated to keep a man dry in the shower, the latter won't be necessary. Adorned with zippable pits to shed heat, a two-way adjustable hood to ward off weather, articulated elbows for added mobility, and six zippered pockets with interior mesh vents, the Guide DCS comes in three variations of KUIU's patented camo and a range of solid colors. It's the undisputed champion of technical jackets.
[$239; kuiu.com]
Get it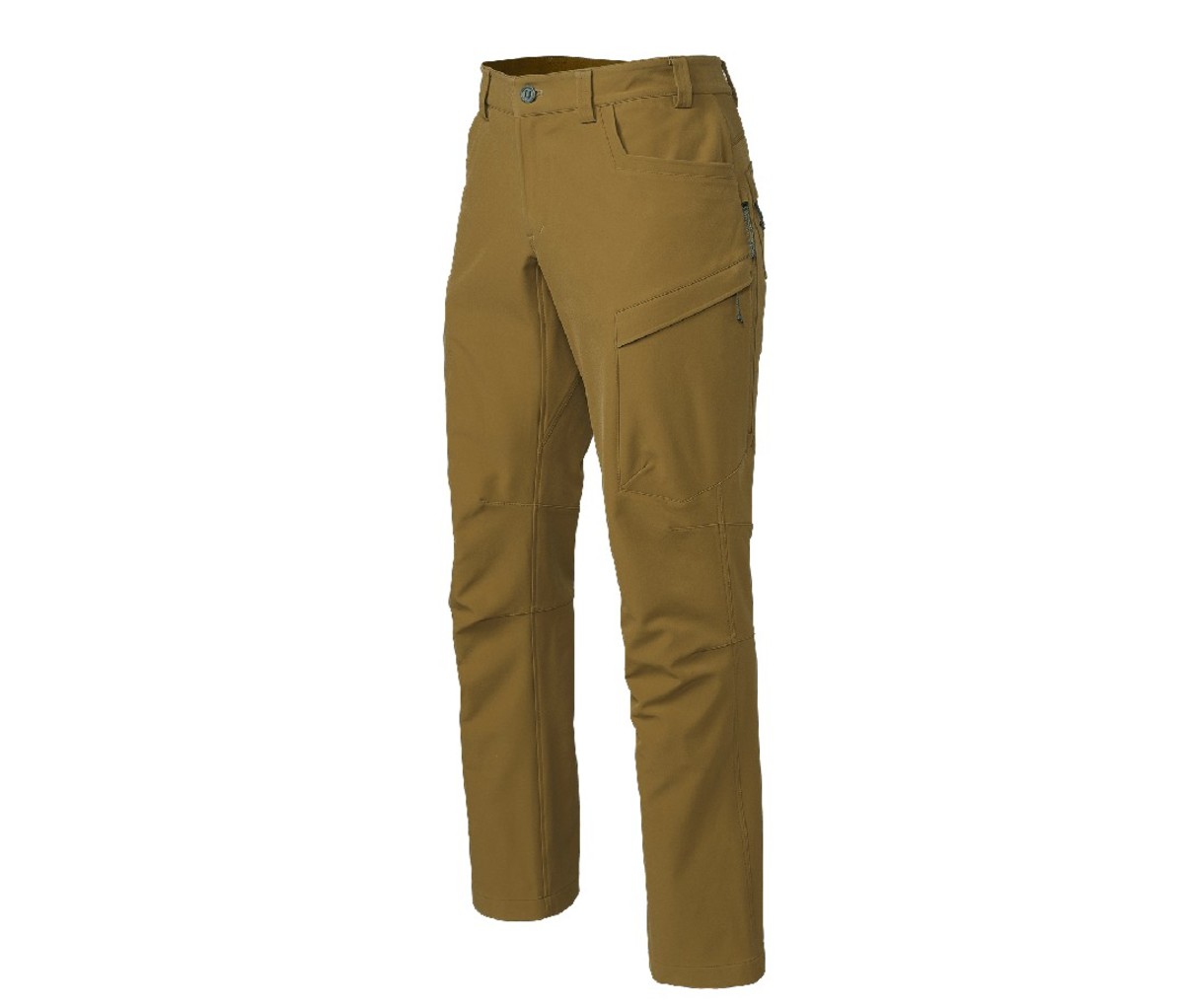 Attack Pant
Considered a hall-of-fame pant by mountaineers and hunters alike, the Attack Pant is KUIU's most versatile lower layer, engineered for comfort in any climate. With zip-open hip vents and low-profile, mesh-lined pockets built to hide bulk and moderate temps, these rugged, no-frills pants work well in any season shy of summer.
"We've built a handful of products that knock the goals we set out of the park," Burns says. "The Attack Pant stakes that claim."
[$139; kuiu.com]
Get it
ULTRA Merino 145 Zip-T Hoodie
When it comes to breathable, moisture-wicking, insulating midlayers, no fabric works harder than merino wool. Similar to KUIU's approach with nylon, its New Zealand-sourced merino reinvents the genre with technical nuances.
"Our merino is different," Burns explains. "We use a 17.5-micron wool woven with a nylon core, so we can go a lot finer than traditional merino, making for much lighter weight."
Another added benefit of the nylon core: KUIU's ULTRA Merino is soft next to skin, a refreshing subtlety for those who love merino wool, but hate the itch it typically inspires.
"If you like merino wool, try our Zip-T hoodie," says Burns. "It's unmatched, as with any KUIU product."
[$119; kuiu.com]
Get it
For access to exclusive gear videos, celebrity interviews, and more, subscribe on YouTube!